Down to Earth
Elon Musk was busy this week entertaining his fans with tidbits about future SpaceX plans, including the tweet below, as well as this picture on Instagram of a tool for their next larger rocket, the BFR.
And then land on a bouncy house

— Elon Musk (@elonmusk) April 16, 2018
NASA's Planetary Science Division Director, Jim Greene, is now the agency's new chief scientist.
Check out this music video by Snow Patrol which uses imagery from the ISS and was partially filmed at ESA.
In Orbit
There were three orbital rocket launches since my last post:
On Monday, April 16th, A SpaceX Falcon 9 rocket will launch carrying NASA's Transiting Exoplanet Survey Satellite (TESS) space telescope.
Around the Solar System
The International Astronautical Union (IAU) has approved official names for features on Pluto's moon Charon, some named after iconic sci-fi figures such as Stanley Kubrick and Arthur C. Clarke.
Because images of Saturn are just so damn stunning, here's Saturn's moon Dione as imaged by the late Cassini spacecraft.
April 15, 2018 11:09 pm
Down to Earth
VSS Unity, the latest spacecraft from Virgin Galactic, made its first powered flight test yesterday. Video below.
The Smithsonian National Air and Space Museum has a new executive director: Ellen Stofan, former NASA chief scientist.
Ars Technica interviewed Peggy Whitson. Check out the video below.
In Orbit
There were only two orbital launches in the past week:
April 2 – SpaceX launched a Falcon 9 rocket carrying a Dragon resupply capsule to the ISS.
April 6 – ESA launched an Ariane 5 rocket carrying a pair of communications satellites.
The Dragon spacecraft arrived at the ISS two days later where the station astronauts grappled it with the robotic arm. A busy month of operations now begins as the astronauts unpack the Dragon and begin new science experiments.
Dragon Arrived! pic.twitter.com/oUzyQ6IhS3

— Scott D. Tingle (@Astro_Maker) April 8, 2018
The Indian space agency (ISRO) lost contact with a communications satellite they launched last week.
Around the Solar System
In case you forgot we have robotic rovers exploring other planets, here are some fresh photos from the surface of Mars.
Out There
Hubble has taken an image of the most distant star ever discovered. The star, which is billions of light years away, was found through gravitational lensing.
April 8, 2018 9:30 pm
Down to Earth
NASA announced last week that the James Webb Space Telescope (JWST) launch date is slipping about a year to May 2020.
Apollo 8 astronauts Frank Borman and Jim Lovell celebrated their 90th birthdays.
Ars Technica got Chris Hadfield to open up on some details of his viral Space Oddity video, shot on the ISS.
The Chinese Tiangong-1 space station completed its long-anticipated uncontrolled re-entry today, somewhere over the South Pacific.
In Orbit
Last Thursday, March 29, astronauts Drew Feustel and Ricky Arnold exited the ISS airlock for a full six-hour spacewalk to conduct repairs and maintenance.
There were five orbital rocket launches since my last post a week ago:
Tomorrow, Monday, April 2, SpaceX will be launching a Falcon 9 rocket carrying a Dragon capsule to the ISS. Below is a video from CASIS with an overview of the science launching on the mission.
Out There
Astronomers have discovered a galaxy which has no dark matter – the first galaxy discovered of this kind.
April 1, 2018 8:35 pm
Down to Earth
Dr. Stephen Hawking died on March 14th, at age 76. The New York Times published a thorough review of his life and accomplishments.
NASA's acting administrator Robert Lightfoot is retiring.
The startup rocket company Rocket Lab plans to launch their first commercial flight this spring. The rocket will be named It's Business Time which follows in the naming tradition of their first two test rockets: It's a Test and Still Testing.
Speaking of small rocket startups, Firefly Aerospace used the popular South by Southwest conference to publicly demonstrate an engine test (video below). The engine would power the upper stage of their planned Firefly Alpha rocket.
If you like rocket engine tests, then watch this new video of Blue Origin's BE-4 engine, posted by Jeff Bezos last week.
New test video of Blue's 550K lbf thrust, ox-rich staged combustion, LNG-fueled BE-4 engine. The test is a mixture ratio sweep at 65% power level and 114 seconds in duration. Methane (or LNG) has proved to be an outstanding fuel choice. @BlueOrigin #GradatimFerociter pic.twitter.com/zWV0jWXIvx

— Jeff Bezos (@JeffBezos) March 13, 2018
The US federal government passed a new funding bill for the remainder of Fiscal Year 2018 last week. The large omnibus bill includes $20.7 for NASA. If you'd like a comparison of NASA's budget over the years, check out this Wikipdia page.
In Orbit
Over the past two weeks there have been only two orbital rocket launches. The first was a Chinese Long March 2D rocket carrying an Earth-observing satellite. The second was a Soyuz rocket launched from Kazakhstan carrying 3 crew members on their way to the International Space Station.
Oleg Artemyev, Drew Feustel, and Ricky Arnold docked to the ISS successfully this past Friday, two days after launch. They join Anton Shkaplerov, Norishige Kanai, and Scott Tingle for the ongoing Expedition 55 mission.
ソユーズ宇宙船が宇宙ステーションに到着し、第55次長期滞在クルー6人が揃いました!

ゲームかアニメで、最後の敵との大決戦の前に、仲間が全員集まったかのような感じがします。
船外活動、ドラゴン宇宙船の打上げなど、大きなイベントが目白押しですが、みんなで協力して乗り切りたいと思います。 pic.twitter.com/Xc67DuzywT

— 金井 宣茂 (@Astro_Kanai) March 24, 2018
Swarm Technologies launched four very small satellites in January without license from the FCC. In fact, the FCC had specifically asked them not to launch because they were too small to track. Now Swarm may not be able to receive future licenses.
Around the Solar System
Mission managers on the New Horizons project have chosen the name Ultima Thule for the small Kuiper Belt object which will be visited by the probe next year. The name would not become official until the International Astronomical Union (IAU) can weigh in.
Recent observations from the Dawn spacecraft reveal that the surface of the asteroid Ceres is dynamic, with changing amounts of visible ice and other materials.
The Kepler space telescope, launched in 2009, will likely run out of fuel this year.
Out There
A couple of interesting new exoplanet systems were announced recently:
March 25, 2018 9:08 am
Down to Earth
Mattell launched a new line of "Inspiring Women" Barbie dolls. The release includes a doll of NASA's Katherine Johnson, made famous by the movie Hidden Figures.
JPL posted a 360-video from inside the InSight lander test lab (this is the next mission to Mars launching in May).
Westworld director Jonah Nola showed the below video during a SXSW panel this weekend.
National Geographic's March issue features NASA astronaut Peggy Whitson on the cover and an article by Nadia Drake which profiles a handful of other astronauts.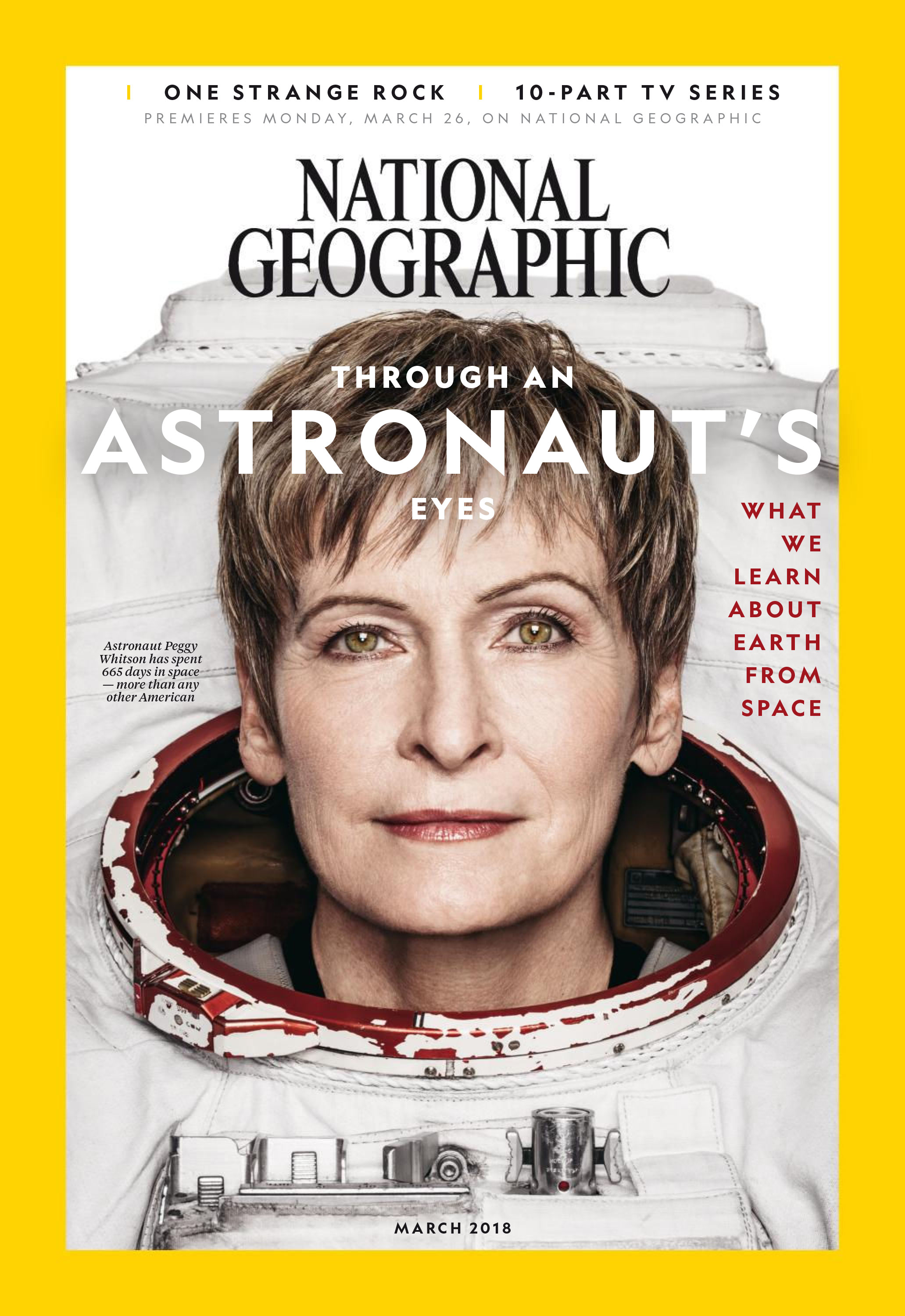 In Orbit
Two rocket launches since my last post a week ago:
March 6 – SpaceX launched a Falcon 9 rocket carrying two satellites for commercial companies.
March 9 – Arianespace launched a Soyuz rocket from Kourou carrying three communications satellites for O3b.
There has been a lot of talk lately of China's defunct Tiangong-1 space station, and it's imminent uncontrolled plunge back to Earth. Predictions are for early April.
Around the Solar System
NASA released some new imagery data and science results from the Juno probe in orbit of Jupiter. Some of the intriguing mysteries uncovered include the strange polar cyclones and the 3,000 kilometer deep wind patters. Phil Plait has an excellent summary at his blog.
Out There
Another asteroid on an interstellar hyperbolic orbit has been discovered. This object is likely from the Oort cloud, which makes it different than 'Omuamua, which is believed to have originated in interstellar space.
March 11, 2018 10:36 pm
Down to earth
The James Webb Space Telescope (JWST) may see another launch slip.
The world's largest airplane, built by Stratolaunch in Mojave, California, was rolled out for runway tests.
Captured new video of @Stratolaunch plane as it reached a top taxi speed of 40 knots (46 mph) with all flight surfaces in place on Sunday. The team verified control responses, building on the first taxi tests conducted in December. pic.twitter.com/OcH1ZkxZRA

— Paul Allen (@PaulGAllen) February 26, 2018
NASA's next Mars lander, InSight, was delivered to the launch site in California.
The Orion crew access arm was installed on the SLS mobile launcher at KSC.
In Orbit
Alexander Misurkin, Joe Acaba, and Mark Vande Hei returned to Earth safely in their Soyuz last week. There are only three crew onboard the ISS until a new crew launches in two weeks.
Two rocket launches last week:
Around the solar system
The Mars Reconnaissance Orbiter (MRO) is still operating normally after its safe mode scare in February.
The amazing engineer's at NASA's JPL have figured out how to use the Mar rover Curiosity's drill, despite the failure of the device in December 2016. The rover should resume scientific drill operations now that the technique has been demonstrated on Mars.
Out There
Astronomers using the Hubble Space Telescope and Spitzer Space Telescope have discovered a distant water-rich planet, Wasp-39b. The planet is not Earth-like – it is a large planet like Saturn. However, the technique used to detect the atmospheric make-up of Wasp-39b is the best spectrum yet taken of an exoplanet.
March 5, 2018 7:45 pm
In Orbit
The new National Space Council hosted their second meeting, this time at Kennedy Space Center.
Bigelow Aerospace has announced a new sister company, Bigelow Space Operations, who will market their future goals of launching and operating independent space stations.
The latest HI-SEAS space analog mission in Hawaii was put on hold due to some kind of medical emergency.
In Orbit
The only launch of the week was a SpaceX Falcon 9 rocket launched from Vandenberg in Californial. The rocket carried three satellites – a payload for the Spanish military and two technology demonstration satellites for SpaceX. The company also tried to "catch" one of the rocket's discarded payload fairings at sea, but missed slightly. Here is a photo from Instagram of the fairing floating near the SpaceX's recovery ship.
A Soyuz carrying three space station residents will undock from the ISS on Tuesday morning and return to Earth. Recovery crews are already getting ready out in Kazakhstan.
In a few hours we'll start pre-staging helos and teams for the landing of @Astro_Sabot @AstroAcaba and Misurkin from @Space_Station. Karaganda, Kazakhstan. pic.twitter.com/SVALfAFaJk

— Bill Ingalls (@ingallsimages) February 25, 2018
Around the Solar System
NASA's Mars Reconnaissance Orbiter had a bit of a scare last week, entering safe mode for about 3 days after a battery malfunction. MRO came out of safe mode on the 23rd and NASA reported that it was being returned to nominal service. MRO is a key asset, as it relays all communications from the two rovers on the surface.
Meanwhile, down on the surface, Opportunity continues to trundle along in Endeavour crater. JPL even announced some new observations this past week.
The Osiris-Rex spacecraft took an image of Earth from 63 million km away. The probe is currently on its way to the asteroid belt.
Out There
I am in love with this unique interpretation of the Hubble Deep Field from the new website Astronomy Sound of the Month. Follow the link and then, with your sound on, move your cursor over the image to hear different notes correlated to the age of each galaxy.
February 25, 2018 9:45 pm
Down to Earth
The Center for the Advancement of Science In Space (CASIS)  – the organization that manages the ISS as a national laboratory – will be looking for a new executive director after Gregory Johnson steps down.
The White House released their proposed federal budget for 2019, including details for NASA. Here's a summary from Parabolic Arc of what the budget would include for the space agency. The Planetary Society also has a great summary up on their blog and also covered it in a recent podcast.
Kennedy Space Center's visitor center has opened a new interactive "Astronaut Training Experience".
In Orbit
After the launch of a Progress resupply craft to the ISS was scrubbed last Sunday, it was launch successful on Tuesday and docked to the ISS two days later.
Other than the Progress, launched on a Soyuz rocket from Baikonaur, the only other launch last week was a Chinese Long March 3B rocket carrying two global navigation satellites.
ESA celebrated the 10th anniversary of the Columbus modules launch to the ISS.
Two astronauts, Mark Vande Hei of NASA and Norishige Kanai of JAXA, completed a spacewalk on Friday to fix the SSRMS, as well as some other maintenance tasks.
Around the Solar System
The Opportunity rover has now spent more than 5,000 martian days (or "sols") on Mars. To commemorate the occasion, the JPL rover team commanded Opportunity to take a "self-portrait" mosaic using the cameras on the end of its robotic arm. This is the first time this has been done with Opportunity.
New Horizons has broken the record held by Voyager's famous Pale Blue Dot image for farthest images taken from Earth. The probe is on its way to an encounter with 2014 MU69 next January. While it is cruising through the Kuiper Belt, it took advantage of its "near" pass to two other objects and took some low resolution images of 2012 HZ84 and 2021 HE85.
February 18, 2018 10:18 pm
Down to Earth
Another government shutdown on Thursday night nearly impacted US federal government operations again (including NASA) but was ended in the middle of the night with a budget deal, before facilities could open for work on Friday.
Sierra Nevada Corporation has received their official launch window from NASA for their first uncrewed resupply mission to the ISS, using their DreamChaser space plane.
A SpaceX booster that survived an ocean crash-landing from the GovSat-1 launch on January 31, was demolished at sea as it as deemed a safety hazard.
In Orbit
The only rocket launch since my last post was a big one: the demo flight of the Falcon Heavy. The rocket launched successfully during its first launch window last Tuesday, to the delight of crowds on the ground in Florida and millions of space fans who watched the livestream online. The next Falcon Heavy is scheduled tentatively a few months out, and will carry more official payloads.
Around the Solar System
Not exactly breaking news, but I love this newly released image of Saturn's moons Titan and Rhea, from the now ended Cassini mission.
Out There
Two new studies of the planets in the Trappist-1 system reveal their atmospheric compositions and densities. It is very possible some of these planets may be habitable with liquid water.
February 10, 2018 2:27 pm