Archive for the 'SpaceX' Category
Down to Earth
United Launch Alliance (ULA) and the International Association of Machinists and Aerospace Workers (IAM) have struck a deal to end a 13-day strike.
Astronaut Drew Feustel received an honorary doctorate from his alma mater, Purdue University, from space.
In Orbit
Last Wednesday, Drew Feustel and Ricky Arnold completed a planned 6-hour and 31-minute spacewalk aboard the International Space Station.
The only orbital rocket launch since my last post on May 15th was a Chinese Long March 4C rocket carrying the Queqiao satellite. Queqiao will be a a communications relay satellite for the upcoming Chang'e 4 lunar rover mission.
China also launched a notable suborbital rocket this past week. A private Chinese company OneSpace Technology, performed the first launch of their OS-X suborbital rocket.
Next week there are some interesting launches planned. On Monday, May 21, Orbital ATK will launch a Cygnus on its way to the ISS from Wallops Island Virginia. On Tuesday, May 22, SpaceX will launch a Falcon 9 rocket form Vandenberg in California.
Around the Solar System
This is a nice composite of images from Juno's first 11 orbits of Jupiter.
NASA is planning to send a small helicopter to Mars along with the 2020 rover mission.
Down to Earth
SpaceX's second Falcon Heavy launch has been delayed until October.
Two New Space rocket companies, Virgin Orbit and Rocket Lab, have both been awarded contracts to fly NASA cubesat missions.
Mark Geyer will replace Ellen Ochoa as director of the Johnson Space Center at the end of May.
Tom Wolfe, the author of The Right Stuff, has died at 88-years old.
In Orbit
There were two orbital rocket launches since my last post:
May 8 – China launched a Long March 4C rocket carrying an Earth-observing satellite.
May 11 – SpaceX launched a Falcon 9 rocket carrying a communications satellite for Bangladesh.
The Falcon 9 rocket was the first "Block 5" version, which is the final upgrade of the design.
A collaboration between JAXA, the University of Nairobi, and the UN deployed the first Kenyan cubesat from the ISS last week.
Tomorrow morning, at roughly 8 AM Eastern, ISS astronauts Ricky Arnold and Drew Feustel will be venturing out the airlock on a scheduled EVA to perform maintenance and upgrades.
Check out this picture of the erupting Hawaiian volcano, Kilauea, taken by the astronauts on ISS:
It is easy to see the activity on Hawaii's #Kilauea Volcano from @Space_Station. We hope those in the vicinity of the eruption can stay out of harm's way. pic.twitter.com/osTn3fH073

— A.J. (Drew) Feustel (@Astro_Feustel) May 14, 2018
Around the Solar System
The Mars Cube One cubesats, on their way to Mars as part of the InSight mission, turned around and took this image of home this week.
A new paper in the journal Nature Astronomy includes a re-analysis of data from the Galileo spacecraft which orbiter Jupiter in the 90s. The magnetic anomalies seen during close fly-bys of the moon Europa seem to confirm the existence of water plumes, which could be sampled by the upcoming Europa Clipper mission.
Down to Earth
The latest SpaceX resupply craft to visit the space station successfully departed and splashed down yesterday morning, returning a large supply of science to NASA scientists.
The picture below is not from the Dragon splashdown but instead an attempt to return a rocket fairing after a Falcon 9 launch earlier this year.
Firefly Aerospace, a young space company out of Austin, has made a deal with the USAF to use a launch pad at Vandenberg Air Force Base in California.
United States Vice President Mike Pence visited JPL in California.
Some new issues emerged this week regarding the preparations for the James Webb Space Telescope (JWST) for its long-awaited launch.
Hundreds of United Launch Alliance employees are on strike as of Sunday.
In Orbit
Only two orbital launches in the last week:
The astronauts on the ISS have been finding time to post many views of Earth on their Twitter feeds. Here are some of their best from the last week.
Let your soul and spirit fly into the mystic
– Van Morrison pic.twitter.com/R8TDg2fYoN

— Ricky Arnold (@astro_ricky) May 1, 2018
Jamming on @Space_Station! pic.twitter.com/FEwnthrtee

— Scott D. Tingle (@Astro_Maker) May 1, 2018
On Monday, I captured this amazing image of all the places I called home for the first 32 years of my life. Many of my family and friends are in this photo, somewhere. #Michigan #Indiana #Ontario #Quebec pic.twitter.com/EVqPSdhxua

— A.J. (Drew) Feustel (@Astro_Feustel) May 2, 2018
Снова пролетали над великим Байкалом. Лёд тает на глазах!
.
Once again we flew over lake #Baikal. The ice is melting every day. pic.twitter.com/DpcoLQqxhx

— Anton Shkaplerov (@Anton_Astrey) May 4, 2018
The smoldering cauldron of Mount Etna on the island of Sicily. #Italy pic.twitter.com/BJwHxBHPzM

— Ricky Arnold (@astro_ricky) May 4, 2018
The @SpaceX #Dragon CRS-14 cargo ship after undocking from the @Space_Station pic.twitter.com/0UwB2g3nCv

— Oleg Artemyev (@OlegMKS) May 6, 2018
Down to Earth
Elon Musk was busy this week entertaining his fans with tidbits about future SpaceX plans, including the tweet below, as well as this picture on Instagram of a tool for their next larger rocket, the BFR.
And then land on a bouncy house

— Elon Musk (@elonmusk) April 16, 2018
NASA's Planetary Science Division Director, Jim Greene, is now the agency's new chief scientist.
Check out this music video by Snow Patrol which uses imagery from the ISS and was partially filmed at ESA.
In Orbit
There were three orbital rocket launches since my last post:
On Monday, April 16th, A SpaceX Falcon 9 rocket will launch carrying NASA's Transiting Exoplanet Survey Satellite (TESS) space telescope.
Around the Solar System
The International Astronautical Union (IAU) has approved official names for features on Pluto's moon Charon, some named after iconic sci-fi figures such as Stanley Kubrick and Arthur C. Clarke.
Because images of Saturn are just so damn stunning, here's Saturn's moon Dione as imaged by the late Cassini spacecraft.
Down to Earth
VSS Unity, the latest spacecraft from Virgin Galactic, made its first powered flight test yesterday. Video below.
The Smithsonian National Air and Space Museum has a new executive director: Ellen Stofan, former NASA chief scientist.
Ars Technica interviewed Peggy Whitson. Check out the video below.
In Orbit
There were only two orbital launches in the past week:
April 2 – SpaceX launched a Falcon 9 rocket carrying a Dragon resupply capsule to the ISS.
April 6 – ESA launched an Ariane 5 rocket carrying a pair of communications satellites.
The Dragon spacecraft arrived at the ISS two days later where the station astronauts grappled it with the robotic arm. A busy month of operations now begins as the astronauts unpack the Dragon and begin new science experiments.
Dragon Arrived! pic.twitter.com/oUzyQ6IhS3

— Scott D. Tingle (@Astro_Maker) April 8, 2018
The Indian space agency (ISRO) lost contact with a communications satellite they launched last week.
Around the Solar System
In case you forgot we have robotic rovers exploring other planets, here are some fresh photos from the surface of Mars.
Out There
Hubble has taken an image of the most distant star ever discovered. The star, which is billions of light years away, was found through gravitational lensing.
Down to Earth
NASA announced last week that the James Webb Space Telescope (JWST) launch date is slipping about a year to May 2020.
Apollo 8 astronauts Frank Borman and Jim Lovell celebrated their 90th birthdays.
Ars Technica got Chris Hadfield to open up on some details of his viral Space Oddity video, shot on the ISS.
The Chinese Tiangong-1 space station completed its long-anticipated uncontrolled re-entry today, somewhere over the South Pacific.
In Orbit
Last Thursday, March 29, astronauts Drew Feustel and Ricky Arnold exited the ISS airlock for a full six-hour spacewalk to conduct repairs and maintenance.
There were five orbital rocket launches since my last post a week ago:
Tomorrow, Monday, April 2, SpaceX will be launching a Falcon 9 rocket carrying a Dragon capsule to the ISS. Below is a video from CASIS with an overview of the science launching on the mission.
Out There
Astronomers have discovered a galaxy which has no dark matter – the first galaxy discovered of this kind.
Down to Earth
Mattell launched a new line of "Inspiring Women" Barbie dolls. The release includes a doll of NASA's Katherine Johnson, made famous by the movie Hidden Figures.
JPL posted a 360-video from inside the InSight lander test lab (this is the next mission to Mars launching in May).
Westworld director Jonah Nola showed the below video during a SXSW panel this weekend.
National Geographic's March issue features NASA astronaut Peggy Whitson on the cover and an article by Nadia Drake which profiles a handful of other astronauts.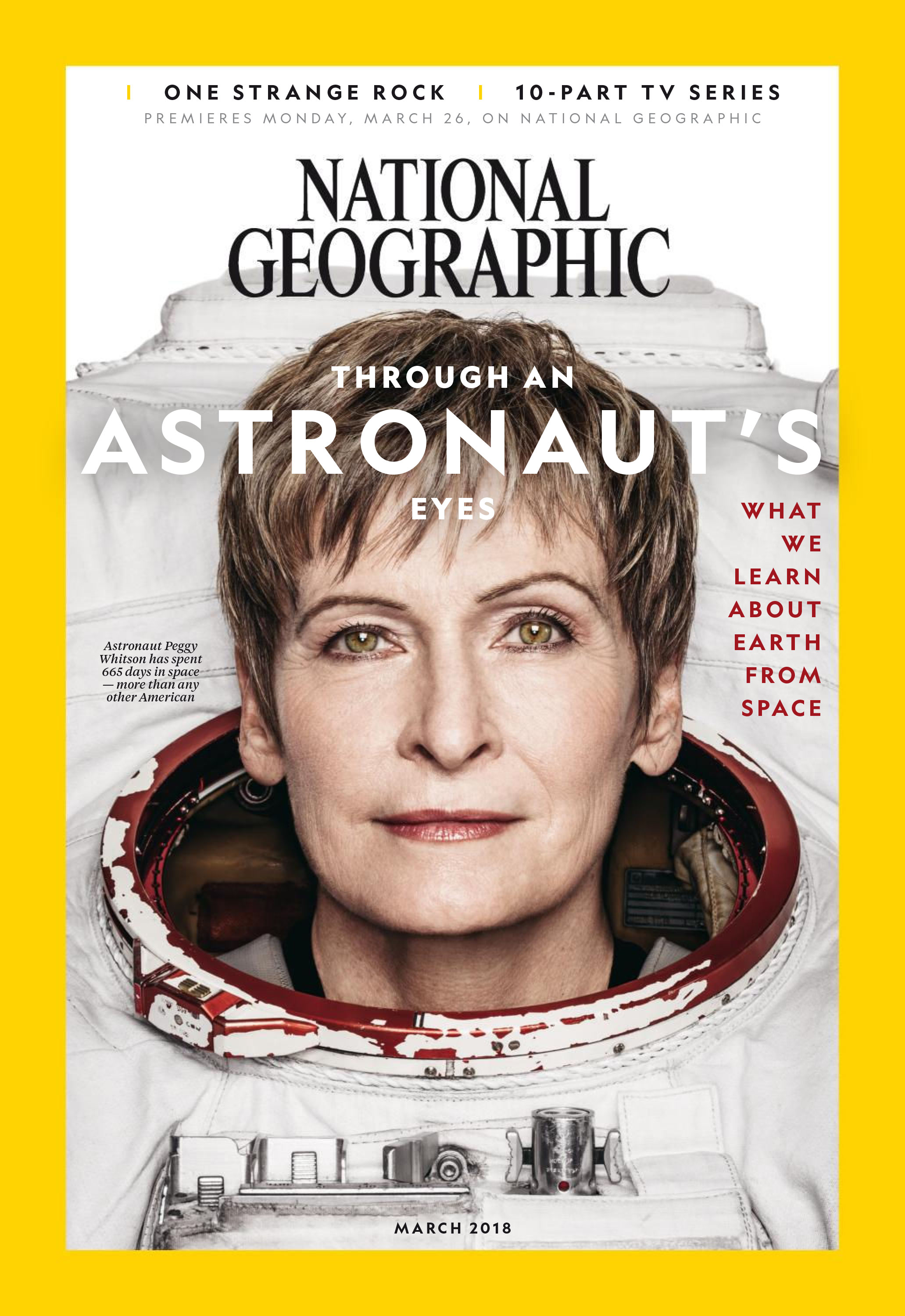 In Orbit
Two rocket launches since my last post a week ago:
March 6 – SpaceX launched a Falcon 9 rocket carrying two satellites for commercial companies.
March 9 – Arianespace launched a Soyuz rocket from Kourou carrying three communications satellites for O3b.
There has been a lot of talk lately of China's defunct Tiangong-1 space station, and it's imminent uncontrolled plunge back to Earth. Predictions are for early April.
Around the Solar System
NASA released some new imagery data and science results from the Juno probe in orbit of Jupiter. Some of the intriguing mysteries uncovered include the strange polar cyclones and the 3,000 kilometer deep wind patters. Phil Plait has an excellent summary at his blog.
Out There
Another asteroid on an interstellar hyperbolic orbit has been discovered. This object is likely from the Oort cloud, which makes it different than 'Omuamua, which is believed to have originated in interstellar space.
Down to Earth
The Center for the Advancement of Science In Space (CASIS)  – the organization that manages the ISS as a national laboratory – will be looking for a new executive director after Gregory Johnson steps down.
The White House released their proposed federal budget for 2019, including details for NASA. Here's a summary from Parabolic Arc of what the budget would include for the space agency. The Planetary Society also has a great summary up on their blog and also covered it in a recent podcast.
Kennedy Space Center's visitor center has opened a new interactive "Astronaut Training Experience".
In Orbit
After the launch of a Progress resupply craft to the ISS was scrubbed last Sunday, it was launch successful on Tuesday and docked to the ISS two days later.
Other than the Progress, launched on a Soyuz rocket from Baikonaur, the only other launch last week was a Chinese Long March 3B rocket carrying two global navigation satellites.
ESA celebrated the 10th anniversary of the Columbus modules launch to the ISS.
Two astronauts, Mark Vande Hei of NASA and Norishige Kanai of JAXA, completed a spacewalk on Friday to fix the SSRMS, as well as some other maintenance tasks.
Around the Solar System
The Opportunity rover has now spent more than 5,000 martian days (or "sols") on Mars. To commemorate the occasion, the JPL rover team commanded Opportunity to take a "self-portrait" mosaic using the cameras on the end of its robotic arm. This is the first time this has been done with Opportunity.
New Horizons has broken the record held by Voyager's famous Pale Blue Dot image for farthest images taken from Earth. The probe is on its way to an encounter with 2014 MU69 next January. While it is cruising through the Kuiper Belt, it took advantage of its "near" pass to two other objects and took some low resolution images of 2012 HZ84 and 2021 HE85.
Down to Earth
Another government shutdown on Thursday night nearly impacted US federal government operations again (including NASA) but was ended in the middle of the night with a budget deal, before facilities could open for work on Friday.
Sierra Nevada Corporation has received their official launch window from NASA for their first uncrewed resupply mission to the ISS, using their DreamChaser space plane.
A SpaceX booster that survived an ocean crash-landing from the GovSat-1 launch on January 31, was demolished at sea as it as deemed a safety hazard.
In Orbit
The only rocket launch since my last post was a big one: the demo flight of the Falcon Heavy. The rocket launched successfully during its first launch window last Tuesday, to the delight of crowds on the ground in Florida and millions of space fans who watched the livestream online. The next Falcon Heavy is scheduled tentatively a few months out, and will carry more official payloads.
Around the Solar System
Not exactly breaking news, but I love this newly released image of Saturn's moons Titan and Rhea, from the now ended Cassini mission.
Out There
Two new studies of the planets in the Trappist-1 system reveal their atmospheric compositions and densities. It is very possible some of these planets may be habitable with liquid water.