Archive for the 'SpaceX' Category
This is the second in a series of posts reviewing the year 2014 in spaceflight. Here is a link to Part I.
If you read my blog it's because you are a lover of space, or you are my mom (hi mom!). So I assume you are not offended by the limited focus of this small slice of the internet. There are of course other things going on in the world besides rockets launching and people flying in space. And even I admit that in many cases those things are more important. For instance, the January 7th terrorist attack on French satirical magazine Charlie Hebdo commanded the world's attention, and rightly so. Such a tragic and visible event is an important moment in the history of our culture – the way we choose to respond says something about how we value our free speech (or not).
The year of 2014 had its share of world events that command more attention than what I write about in this blog. From the threat of ISIS in the middle east, the winter olympics in Sochi, Russia, Ebola virus outbreaks in West Africa, the FIFA World Cup in Brazil, and the normalization of US-Cuba relations, it was a busy year (it's nice to see the Rosetta comet mission on some lists of major world events).
In the same way that my space blog almost completely ignores these events to stay on point, I think the space community at large tends to insulate itself from the outside world. As you might imagine, this can have its downsides. The world is connected, and as much as we want, the fun things we do in space are affected by the rest of the world. Fans of NASA know this as they watch the yo-yo-ing of NASA's slice of the federal budget over the years. I think 2014 drove this lesson home in a way fans of spaceflight hadn't been expecting. When Russia invaded Crimea in late February, most space fans weren't thinking of a connection. We were busy talking about Orbital Sciences' successful cargo mission to ISS or looking at pictures of SpaceX's new rocket with legs. It took until April for "reality" to catch up with us.
Part II – Of trampolines and rockets
In early April, the US state department instructed NASA to cut all contact with Russia. This would of course be very concerning – and hard for the space community to tune out – except for that the ISS program was exempted. The ISS of course being the one major ongoing collaboration between our two space programs. The only other example I can think of is that NASA and Roscosmos are both involved in the ESA-led ExoMars mission.
Things really got interesting when Dmitri Rogozin, Russian Deputy Prime Minister, tweeted "After analyzing the sanctions against our space industry, I suggest to the USA to bring their astronauts to the International Space Station using a trampoline." Most Americans wouldn't have even heard about it – after all, it was tweeted in Cyrillic – except it was too pithy a jab to go unnoticed by American media. In light of the geopolitcal tensions between our nations that had been brewing since February, it was a juicy new angle – Russia might not let American astronauts fly on their Soyuz. It didn't matter that most Americans hadn't heard of Rogozin before, if he was saying that he would cut America off from the ISS, it must mean he could. He said it on Twitter, after all.
Проанализировав санкции против нашего космопрома, предлагаю США доставлять своих астронавтов на МКС с помощью батута http://t.co/8zGQhr9GVi

— Dmitry Rogozin (@Rogozin) April 29, 2014
It seemed that although the US had exempted the ISS program, Russian officials weren't taking it off the table as a political chess piece. Rogozin's anger stemmed from the fact that he was individually targeted in the recent sanctions from the US against Russia for their actions in Ukraine. As ABC News reported,
The sanctions freeze any assets under American jurisdiction and prevent American banks from doing business with the named individual, essentially freezing them out of the international banking system. The sanctions also impose a ban on their travel to the United States.
As Deputy Prime Minister, Rogozin is responsible for the entire Russian space program, including the state-owned corporation NPO Energomash, which produces the RD-180 rocket engine used by the American company United Launch Alliance (ULA) to launch US Department of Defense satellites with the Atlas V rocket… see where this is going?
However, nowhere in the sanctions against Rogozin are the companies and agency's he manages directly called out. Business was going on as usual in the space industry up to this point (the NASA ban on Russian cooperation doesn't apply to a private company, ULA, buying rocket engines). So, the question still stands, what set off Rogozin to author the trampoline tweet?
Enter Elon Musk and his company SpaceX, whose lawyers filed a lawsuit against the government (specifically, the U.S. Air Force) challenging a 36-rocket "block buy" contract with ULA. The main premise of the suit was that the contract was unfair and lacked competition (meaning of course, that SpaceX did not have a chance to offer a bid). Among other statements at the press conference announcing the suit, Musk is quoted as saying (from SpacePolitics.com):
How is it that we're sending hundreds of millions of US taxpayers' money at a time when Russia is in the process of invading Ukraine? It would be hard to imagine that Dmitry Rogozin is not benefiting personally from the dollars that are being sent there. On the surface of it, it appears that there's a good probability of some kind of sanctions violation.
It seems that Elon Musk stoked the fire here, complaining that ULA's use of the RD-180, a powerful engine built and sold by NPO Energomash, should not be allowed during this time of geopolitical tension with Russia. Hard to argue with his logic, isn't it? A few days after the lawsuit was filed and Elon Musk's press conference, Rogozin posted his famous tweet. The next day, a U.S. Court of Federal Claims issued an injunction saying that ULA could not purchase more RD-180 engines from NPO Energomash for Department of Defense rocket launches, citing the sanctions against Rogozin. Your move Dmitri.
How is it that Elon Musk, with his 12-year-old rocket company, had amassed enough influence to directly affect international relations between two of the biggest world powers? Granted, Musk is a billionaire, but his company is just a rocket company, not a media conglomerate or oil company, the traditional ways to have political influence as a rich guy. Founded in 2002, you wouldn't think that SpaceX has a huge share of the world launch market. They have only 19 launches under their belt (a few of which were failures); compare that to the 14 successful launches from ULA just in 2014[1]. A big part of SpaceX's quick rise surely comes from the intriguing personality of Elon Musk, whose vision and ideas capture the imagination of the young generation. His tenacity and commitment to his dreams make it hard to root against him – his three current big ventures (SpaceX, Tesla, and Solar City), if successful, seem to have a clear benefit for society. But this really only explains the cult of SpaceX, not its influence on a political level. To understand why SpaceX is in such a position of influence takes a revelation about the "launch services sector" (or, the rocket business), that I don't think most people understand; I don't think I got it until last year either.
Not to get too technical, but the revelation becomes clear with just a little bit of Wikipedia research. Forgive me for making you look at a data table, but I think it tells the story better than a bunch of links. Let's say you work for Iridium, the satellite phone service company, and you need to buy a rocket to launch a new satellite. If your satellite weighs around 689 kg, then there are only 21 types of rockets in the world that have the power, and a lot of them aren't for sale. Here's the list:
The first thing that should jump out at you is that there are only three companies from the United States that can launch medium-sized satellites. Fortunately for the folks at Iridium, their satellites are not military, and the company has utilized American, Russian, and even Chinese rockets to build their global sat-phone network.
In another scenario, you work at the Pentagon and need to find a large rocket to launch a secret spy satellite that weighs between 2,000 and 3,000 kg. Not only do your options get more limited (the Indian GSLV and Orbital Minotaur fall off the list, among others) but you are going to have to use an American company. You won't be allowed to ship a secret satellite out of the country for launch, obviously.
So now your options are down to the three American companies, all of which have rockets that can launch your big spy satellite. However, if our scenario occurs before 2008, before the first Falcon 9 or Antares flight, there was only one choice – ULA. This is the revelation that 2014 made clear to me. We are 50 years into the "space age" but our grasp on space is hanging on by one company's monopoly and just a few rocket designs. Until the Falcon 9 and Antares rockets, every major government launch – NASA, Air Force, NOAA, or other military – was on either a ULA rocket (or predecessors), or a Space Shuttle. If space is the frontier, then ULA is Union Pacific at Promontory Point.
So, three choices is pretty good, right? It's better than we get in our presidential elections here in the US. Well, the problem is that although 2008 is 7 iPhone versions ago, it is very recent in terms of the space industry. As of April 2014, Orbital Sciences was not pursuing military payloads and SpaceX had not yet received certification from the USAF for their Falcon 9 version 1.1 rocket. ULA was the only game in town for the Pentagon, but SpaceX expected that to change soon, as they had successfully launched the CRS-3 mission to the ISS on April 18th, the all-important third flight needed as part of the certification process. The Russian sanctions and push back from Rogozin could not have been happening at a better time for SpaceX, who appeared to be on the verge of becoming a real direct competitor to ULA. SpaceX is an American company, using American-built rocket engines, seen to be on the verge of being able to fully replace America's areas of dependence on Russia in space. Keep in mind that the Atlas V was also in the pipe to be the launch vehicle for both Boeing and Sierra Nevada if they were to be awarded commercial crew contracts to the ISS. It seemed everything about the US launch sector was wrapped up in this issue. You can bet Musk was going to take advantage of it.
Sounds like this might be a good time to unveil the new Dragon Mk 2 spaceship that @SpaceX has been working on w @NASA. No trampoline needed

— Elon Musk (@elonmusk) April 29, 2014
The story didn't end on April 30th with the injunction against he RD-180 engine. That should be obvious from the way Rogozin responded to Elon Musk's comments days before. Unfortunately for SpaceX's political goals, the injunction against the RD-180 engines was lifted by the court about a week later. Just as things were seeming to thaw out, Rogozin hit Twitter again.
Russia is ready to continue deliveries of RD-180 engines to the US only under the guarantee that they won't (cont) http://t.co/xsr0zuGxBY

— Dmitry Rogozin (@DRogozin) May 13, 2014
Russia is ready to continue deliveries of RD-180 engines to the us only under the guarantee that they won't be used in the interests of the Pentagon."
@fka_roscosmos doesn't plan to continue cooperation with the US on the ISS after 2020

— Dmitry Rogozin (@DRogozin) May 13, 2014
Roscosmos doesn't plan to continue cooperation with the US on the ISS after 2020
It may be tempting to dismiss Rogozin's comments as just posturing on Twitter. However, they came after the topics were discussed at more length at a Russian press conference, and led directly to debate in the U.S. Senate and a letter from Congressmen to NASA Administrator Charlie Bolden questioning how he plans to deal with these threats. It just goes to show that what's most important is who says something, not how. And although a National Reconnaissance Office payload launched on an Atlas V on May 19 with no apparent political repercussions, Rogozin's inflammatory remarks had done their job. An "RD-180 Study Group" was busy investigating the impacts of a potential loss of the RD-180 engine, which recommended allocating funds to develop a new engine. This would turn into a funding debate for the rest of 2015. Ultimately, the 2015 budget passed in December included $220 million to start designing an RD-180 replacement.
In the meantime, over at NASA, things never got much more heated than they were back in April and May. In fact, in August there were reports out of Russia from Roscosmos officials that ISS would likely be operated past 2020. But the "trampoline tweet" was ingrained in the community's mind. Fortunately, optimism was available later in the year when NASA announced that the Commercial Crew Transportation Capability (CCtCap) contracts would go to Boeing for the CST-100 and SpaceX for the Dragon V2. It's no surprise that SpaceX was included as one of the remaining two options – if NASA had gone with both Boeing and Sierra Nevada then NASA astronauts would be flying atop Atlas V's starting in 2017, powered by RD-180 engines. Sierra Nevada immediately protested the award, but the protest was recently thrown out in January 2015.
Optimism turned to shock when on October 28th an Orbital Sciences Antares rocket, carrying cargo to the ISS, exploded spectacularly just seconds after liftoff.
If you remember from our earlier chart, the Antares is the other large US rocket powered by foreign technology. The first stage engine for the Antares is the AJ-26, which is really just the Ukranian NK-33 imported by Aerojet Rocketdyne and refurbished. These imported engines were literally built decades ago, but are an affordable and well-built option. The seemingly excessive use of Russian or Ukranian engines in the US launch sector isn't for nothing – the Soviets were darn good at building rocket engines, and that expertise has continued to today.
Earlier in the year an AJ-26 blew up on a test stand, but a successful launch of a mission to ISS in July eased everyone's concerns. Things seemed to be going well for "commercial space" – SpaceX had recently launched their sixth and final Falcon 9 flight of the year – but everyone immediately thought of that old Soviet NK-33 engine the moment they saw the Antares rocket raining down in flames.
The loss of that Antares rocket unfortunately will be the lasting memory of 2014, a year of uncertainty and debate for rocket companies in the US. While Orbital Sciences has announced a path forward, it doesn't help answer many of the questions raised by events of the past year. Orbital announced in December that it would fly at least its next ISS resupply mission on an Atlas V (yes, that Atlas V) while it works on a plan to replace the aging AJ-26 engines on its own Antares rocket. And finally, in January 2015, Orbital announced it had made a deal with NPO Energomash (yes, that NPO Energomash) to purchase RD-181 engines to power future versions of the Antares, hopefully with a first flight sometime in 2016.
So you can see the tricky spot the industry is left in at the beginning of 2015. Despite Russia not being a political ally of the United States, Russian rocket engines continue to be an important workhorse for American launches – both military and civil – and operations of the ISS cannot continue without Russian cooperation (by design). The good news is that the issues from 2014 are mostly reasons just to be cautious and concerned about the future, and to lay plans accordingly. No scary outcome, like an actual embargo against NASA astronauts flying on a Soyuz, seems at all likely. ISS operations continue as always, and those of us working on the program have not seen any real signs that that won't continue for the life of the space station. Atlas V rocket launches – powered by Russian RD-180 engines – continue apace with no signs of stopping. In fact, an Atlas V will launch from Florida tomorrow night with the MUOS-3 reconnaissance payload.
In 2015, the Falcon 9 rocket is expected to achieve Air Force certification, and hopefully the ongoing lawsuit that SpaceX started in April of last year will be resolved. Will SpaceX win and break the monopoly held by ULA? Also, the next phase of the ISS commercial cargo contract will be awarded by NASA. Will the award go to SpaceX and Orbital Sciences to maintain the status quo? Or will Orbital's launch vehicle uncertainty open the door for a new player like Sierra Nevada? Either way that contract goes, the only fully domestic option available to NASA seems to be SpaceX. All of these questions involve SpaceX in one way or another and the answers will color the future of the rocket launching business in America.
[1] – ULA has actually only existed since 2006, but the parent companies – Lockheed Martin and Boeing – have a long-standing relationship with the U.S. Air Force. The current suite of ULA rockets are part of the Air Force's Evolved Expendable Launch Vehicle Program (EELV) which was started in the mid 1990's.
Down to Earth
Elon Musk released photos on his Twitter feed of the moment that the SpaceX Falcon 9 rocket first stage hit their "autonomous spaceport drone ship" (see, barge) and blew up. This occurred a few minutes after the launch of the latest Dragon resupply craft last Saturday. It seems like they hit their target but came in too hard. Maybe better luck on their next flight in a couple of weeks.
@ID_AA_Carmack Residual fuel and oxygen combine pic.twitter.com/5k07SP8M9n

— Elon Musk (@elonmusk) January 16, 2015
@ID_AA_Carmack Full RUD (rapid unscheduled disassembly) event. Ship is fine minor repairs. Exciting day! pic.twitter.com/tIEctHFKHG

— Elon Musk (@elonmusk) January 16, 2015
Update: Just a little while after I wrote this post, the SpaceX twitter account posted this amazing Vine video.
Close, but no cigar. This time. https://t.co/JowUE6a1D7

— SpaceX (@SpaceX) January 16, 2015
NASA completed a "hot fire" test of the new RS-25 liquid fueled engine at Stennis Space Center in Mississippi. The RS-25 is a modified Space Shuttle main engine which will power the SLS.
Much noise has been made about Ted Cruz (R-TX) being assigned to a US Senate subcommittee that oversees the budget of NASA. The main concern is that Cruz is considered anti-science. At the very least, he is anti-science when it comes to climate research, which NASA supports with a fleet of Earth-observering satellites. Houston Chronicle has the best analysis I have seen of what impact Cruz may actually have on the NASA budget. If you are concerned about this topic, you should read Eric Berger's post. Here's a longer more technical analysis at Space Policy Online.
Virgin Galactic is teaming up with a small satellite company known as OneWeb to launch a large constellation of satellites to bring broadband internet to the entire world. Replacement satellites will be launched by the LauncherOne rocket dropped from Virgin's WhiteKnightTwo carrier aircraft.
There is an idea floating of a new reality show which would be a competition between inventors and scientists to get their research flown to ISS. Sounds cool!
In Orbit
Two big things happened on the ISS this week. on Monday, the latest SpaceX Dragon resupply craft arrived. This was the first cargo delivery to ISS from the US since the loss of an Orbital Sciences Antares rocket in October. There was one Russian Progress resupply flight back in November.
Opening the Dragon hatch for the first time- it has that "new spaceship smell"- very nice! pic.twitter.com/OSe66Ygzsu

— Terry W. Virts (@AstroTerry) January 13, 2015
The SpaceX flight was quickly overshadowed by an emergency alarm onboard the ISS on Wednesday morning. The alarm was for a toxic leak of ammonia, which cools the space station avionics hardware in fluid loops on the outside of ISS. In certain failure cases (for which there is multiple layers of redundancy to prevent) the ammonia can break into the internal fluid lines (which carry water) and endanger the astronauts.
Ground teams and the astronauts took immediate safety actions, as we train for hours and hours for, and evacuated to the Russian side of the space station, which does not have ammonia coolant lines. The emergency alarm was eventually determined to be false, caused by a computer glitch, and the astronauts were allowed to open the hatch to the rest of the station late in the day on Wednesday.
While the astronauts are safe, cleanup from such a major (potential) failure takes some time because of all of the automatic safing software that shut down ISS systems on Wednesday. The Flight Control Team will still be diligently working towards bringing the ISS back to "nominal" during my evening shifts this weekend.
Spending some time with the #Exp42 crew yesterday admiring the cautions and warnings from our false alarm pic.twitter.com/Syk9BkhD3v

— Terry W. Virts (@AstroTerry) January 16, 2015
Around the Solar System
NASA's New Horizons probe has technically begun science operations for its Pluto encounter, although it is still more than 100 million miles from Pluto.
The long-lost Beagle 2 lander has been found on Mars by NASA's Mars Reconnaissance Orbiter (MRO). The lander was lost during EDL phase (Entry, Descent, and Landing) back in 2003, which was a huge disappointment to the United Kingdom's space agency. Incredibly, although the world had assumed that Beagle 2 crashed into the surface – hence the loss of communication – the MRO images show the lander safely on the surface, partially deployed. In honor of deceased mission designer John Pillinger, I think this image deserves an update to show that Beagle 2 made it to the surface.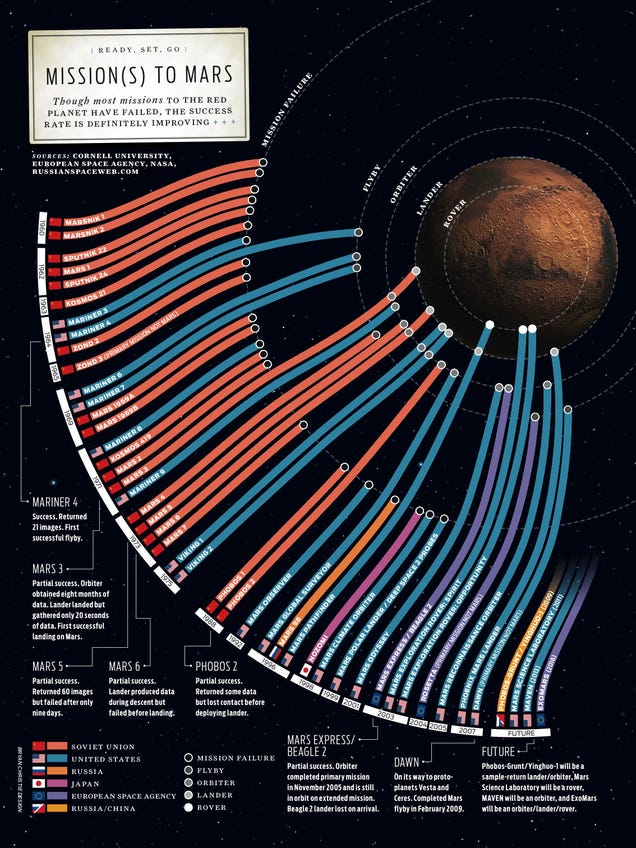 Check out this colorized view from Opportunity on the summit of Cape Tribulation. Image processing done by @mars_stu at his blog The Road to Endeavour (click to embiggen, of course).
Down to Earth
As of Friday night, the next SpaceX Falcon 9 rocket to send a Dragon capsule to the ISS is still on the ground. But the issue that caused launch abort on Tuesday has been dealt with, and the SpaceX launch team is busy prepping for another attempt in just a few hours. Launch is scheduled for 4:47 AM Eastern, Saturday, January 10th. I will be getting up to watch mostly because of the crazy attempt to land the first stage on a barge… I mean autonomous drone ship.
At the Smithsonian's National Air and Space Museum on the National Mall in Washington, D.C., a new exhibit just opened called Outside the Spacecraft. The exhibit celebrates 50 years of Extravehicular Activity (EVA) which started with Russian Alexei Leonov's first spacewalk in 1965.
In Orbit
Space Adventures has announced they have signed on another ISS "spaceflight participant" (or, tourist, if you prefer) – Japanese advertising mogul Satoshi Takamatsu. It is likely that he is the "backup" for Sarah Brightman, who will be flying to ISS later in 2015.
The week in images, from ESA.
Have to include some obligatory tweets from space.
#Wrangell Mountains #Alaska – home to some of the highest peaks in #NorthAmerica pic.twitter.com/z9ETTvl2eJ

— Terry W. Virts (@AstroTerry) January 8, 2015
Port au Prince, Haiti pic.twitter.com/oRHiKrURF7

— Terry W. Virts (@AstroTerry) January 8, 2015
Smooth sailing along the English channel / La Manche. (IT) Il Canale della Manica. #HelloEarth pic.twitter.com/n6C96ltGAy

— Sam Cristoforetti (@AstroSamantha) January 9, 2015
Around the Solar System
NASA's amazing Mars rover Opportunity finally summited Cape Tribulation this week, the highest point Opportunity will see during her mission. She is now over 400 feet above the vast plains that she drove across for years to reach Endeavour Crater. Here is the view.
Out There
2015 is 25 years since the launch of the Hubble Space Telescope, which is still returning amazing astronomical results. The Hubble team knows how to celebrate right, and this week released two amazing images: first a new view of the Pillars of Creation and second an amazingly huge view of the Andromeda galaxy.
Because it's cool

Randall Munroe of XKCD does some fun calculations about building a swimming pool on the moon.
I love these exoplanet "travel posters".
This response, which injects a dose of realism, is even better:
I really liked those @NASA Kepler travel posters so I doodled my own. pic.twitter.com/E4OxUExjXO

— Olly Moss (@ollymoss) January 8, 2015
Down to Earth
The Chinese rocket that launched on December 31st was only carrying a Chinese weather satellite – not super exciting. But check out these incredible images of the first stage of that rocket, which appears to have landed in the middle of a road in a rural Chinese town. I am glad that in the US we have more concern about where our spent rocket stages end up…
The SpaceX Falcon 9 rocket that was supposed to launch to ISS Tuesday is still stuck on the ground. A problem with a hydraulic actuator for the second stage's Merlin 1D engine lead to a launch scrub. They will try again on Friday, January 9th. Here are some shots of the rocket on the pad.
In a pretty awesome outreach move, Elon Musk did an "Ask Me Anything" hour on the website Reddit on Monday night (on the eve of their launch attempt). Here is the link to the whole thread, or you can read some highlights at Parabolic Arc.
The new SpaceX launch site at the extreme southern coast of Texas is likely going to seem more and more real throughout 2015. Just this week, SpaceX has begun posting job openings for the new location near Brownsville, Texas.
Richard Branson wrote a blog post about his thoughts in the immediate aftermath of the SpaceShipTwo accident, and his continued resolve to move forward with Virgin Galactic. As always, Doug Messier has some excellent commentary and dissects Branson's writing.
The US Government Accountability Office has denied Sierra Nevada's protest regarding the awarding of the CCtCap contract for commercial crew flights to ISS. That means that NASA's decision to fund only SpaceX and Boeing will stand.
In Orbit
The Atlantic had an extensive feature article about the ISS titled "5,200 days in space: an exploration of life aboard the International Space Station, and the surprising reasons the mission is still worthwhile." It is one of the most compelling stories covering the ISS that I have ever read.
Surprisingly, at about the same time, Time ran a cover article about Scott Kelly, who will be launching in March for his one-year stay aboard the ISS. It is also a very good story that touches on the human side of life in space.
And of course, our friends in orbit continue to dazzle us on Twitter with views from orbit. Here is a sampling.
#sunrise over #Australia pic.twitter.com/NTc8PCXJX9

— Terry W. Virts (@AstroTerry) January 3, 2015
Some of the amazing geology in Niger #Africa pic.twitter.com/YHxoDvn0OZ

— Terry W. Virts (@AstroTerry) January 3, 2015
A lonely #thunderstorm casts its evening shadow across the Indian Ocean toward #Mumbai. pic.twitter.com/vA7MqBJiHc

— Terry W. Virts (@AstroTerry) January 2, 2015
Some serious air traffic over the Appalachian Mountains in the #US! #HelloEarth pic.twitter.com/yzus1kcOow

— Sam Cristoforetti (@AstroSamantha) January 7, 2015
Hello #Sicily and Mount #Etna, a touch of snow suits you! / Ciao Sicilia ed Etna, la neve ti dona! #Italy #HelloEarth pic.twitter.com/9LlvzVeMiE

— Sam Cristoforetti (@AstroSamantha) January 6, 2015
Around the Solar System
The Mars Exploration Rover Opportunity is getting very close to the summit of Cape Tribulation on the rim of Endeavour crater. It amazes me every time I read an update on Opportunity that the mission is still going and still so successful 11 years later! (Edit: and here is a more detailed MER update from the Planetary Society blog)
On the other side of the planet (Mars that is) Curiosity has made some exciting discoveries. The rover has proven the existence of organics in the rocks of Gale crater and also that there is detectable concentrations of methane in Mars' atmosphere. The methane is important because, due to chemical reactions that must necessarily occur, the methane is transient – meaning something is producing it. A very detailed discussion of this new finding is at the Planetary Society blog. The research was also published in the journal Science.
Out There
The Kepler team announced yesterday that a number of newly confirmed planets (based on old Kepler data) brings the total exoplanets discovered by the space telescope to 1,000. 8 of these new worlds can reasonably be considered "Earth-sized" and even in their stars' habitable zones. Because we don't have details on their composition or atmosphere, we can't actually know how likely it is that life could live on these planets. But, as Phil Plait writes, this is further confirmation that the universe is full of small planets. Eventually, we will find Earth's twin.
Because it's cool
This creative short film titled "Shoot for the Moon":
New footage from the Marianas Trench documents the deepest known fish. An alien world in its own way.
The past year was one of ups and downs in the space sector. The year started with a lot of successes that are lost in the shadows of the bigger stories late in the year, including successful launches for Orbital Sciences and SpaceX, China's Yutu rover on the moon, NASA's LADEE ending a successful mission, and the debut of new live streaming HD camera views from the ISS, among other stories.
The space sector's focus quickly shifted when Russia annexed Crimea from Ukraine in February, which kicked off a ripple effect involving the Russian RD-180 engines, used to launch American Department of Defense assets. The question of whether the US launch sector is too reliant on Russian rocket engines is still playing a huge role in space policy almost a year later. I would go so far as to say the RD-180 story was the start of a year dominated by a focus on launch vehicles, rather than actual ongoing missions.
That dominance came to a head at the end of 2014 with the loss of an Orbital Sciences' Antares rocket and the Virgin Galactic SpaceShipTwo, just days apart. In fact, all 2014 summaries seem to be dominated by the last 10 weeks of the year. There were several triumphs late in the year, such as ESA's Rosetta/Philae mission and NASA's EFT-1 demonstration. However, the vehicle losses were bigger stories (as negative stories often are) and likely have bigger implications for the future. The contrast of the positive and negative events towards the end of the year are a microcosm of how the year feels to me: great ambitions underscored by sobering reality.
I have a series of posts planned to sum up the year in space with a bit of commentary. In particular, it is interesting to put 2014 into context by following the themes that I used when summing up 2013 – they seem to have continued about the same for the last 12 months; the mood continues to be one of cautious anticipation. I'm sure you are waiting for my commentary with bated breath (yeah, right). While you wait, enjoy some high level summaries and top lists from around the internet.
Happy New Year!
Wikipedia Stats
The "2014 in Spaceflight" article is fairly comprehensive at capturing all of the launches of the year. 2014 saw 92 launches (with one from China earlier today), outdoing the last few years by at least several launches. 2014 is the only year I am aware of to hit the 90s as far as number of launches. Update: According to Spaceflight Now, the last time more than 90 launches occurred in a year was in 1992, with 93.
On the ISS, several cosmonauts on the list of most total time in space added to their totals this year, such as Tyurin at 13 and Kotov at 14. Japan's Koichi Wakata commanded Expedition 39 to solidify his spot as one of the few non-Russian or Americans on the list at 35. Richard Mastracchio snuck into the last spot at number 50 on the Wikipedia list during Expedition 39 (but he is going to get bumped next year by Scott Kelly and possibly others).
Speaking of Mastracchio, he did 3 spacewalks while on ISS at the end of 2013 and early 2014. The EVAs totaled 14 hours, bringing his lifetime total above 53 hours and bringing him way up to number 5 on the list of most total EVA time. There were 7 total spacewalks on ISS in 2014. However, none of the other spacewalkers from this year made the Wikipedia list of top 30 for time.
Top Space Stories of 2014
The following outlets have a rundown of the biggest things that happened this year. Usually with a paragraph or two of detail on each topic.
Here are some video summaries from the eyes of the space agencies themselves. First, NASA's "this year @NASA" video.
The European Space Agency also produced a short summary video.
Update: and here is SpaceX's own summary of their year.
Other Top Lists
Universe Today's top space photos of 2014.
Space.com's top astronomy stories of 2014.
While not space-related, The Big Picture's year in pictures photo essay is a must read. Here are parts one, two, and three.
EarthSky has the top 10 new species of 2014.
Jeff Master's at the Wunderground has the top 10 weather stories and top 10 weather videos of 2014.
Top 25 images of Earth from space (all DigitalGlobe).
Scientific American's top science stories of 2014.
With Christmas and New Year's fast approaching (and Chanukah already here), everyone stays a little less connected, since more time is devoted to family and friends. So this week I have a rather short update on space news in the past week. I have plans for a pretty detailed "year in space" retrospective on 2014, which I will write after the holidays. So read this right quick and get back to the post office to ship those late gifts!
Down to Earth
SpaceX did not manage to get their CRS-5 (or 5th ISS resupply flight) off the ground as planned this week. They had an issue with their first attempt at the "static fire test" of the rocket on the pad and had to try again on Friday, December 19. The Friday test went well and launch is now no earlier than January 6th with rendezvous two days later.
In other SpaceX news, the company was awarded an $87 million contract with NASA to launch the Transiting Exoplanet Survey Satellite (TESS) on one of their Falcon 9 rockets in 2017.
The Commercial Cargo Resupply contract, which SpaceX and Orbital Sciences currently hold, will be coming up for rebid (for launches starting in 2018). Boeing is now on record that they plan to bid on the contract with their CST-100 vehicle, which, just this year, received an award for NASA's commercial crew transfer contract.
In Orbit
In a little talked about test flight, India had a successful launch of its new GSLV Mark III rocket, which was carrying a rudimentary test article for a future crew module. Although I put this news in the "In Orbit" section, since it went to space, the mission was actually just a quick sub-orbital hop to 126 km. It's an impressive step for India, but clearly there is a lot of work between here and a manned program.
Things are pretty quiet on the ISS, with the slip of the SpaceX mission to next month and the Christmas and New Year's holidays coming up. With no Dragon to capture this weekend and a day or two off for Christmas next week, I imagine the astronauts will be taking lots of great photos of the Earth, as they always do. You should keep following Terry and Sam especially. Their Earth photography is always fun to look at and posted in near real-time, like this incredible shot of Cyprus in the Mediterranean.
Around the Solar System
Unfortunately, the Venus Express spacecraft could not hold out until 2015. The European Space Agency (ESA) has announced that the spacecraft ran out of fuel and is no longer gathering science data. The mission is over. Congratulations to ESA on an impressive 8 year campaign at Venus!
The two weeks since my last "links" post have been very busy with mostly good news. The best news being a number of successful rocket launches (two of them space exploration related), helping to make up for the bad taste in everyone's mouth from the loss of the Antares rocket back in October. I tried counting how many rockets have launched from Earth this year using this launch log at Spaceflight Now, but its so many that I decided to go with the highly scientific "a lot".
Down to Earth
Let's quickly get a few boring but important things out of the way. We've got a couple of space budget updates from around the world.
First, economic sanctions from the EU on Russia may make it hard for Roscosmos to live up to their current ambitions.
At the European Space Agency ministerial meeting, a few key decisions were made. First they agreed to start development on the new Ariane 6 rocket, which will be a direct competitor with a few American made launchers including those from SpaceX. The Ariane 6 will replace the current Ariane 5, which launches European communications satellites, as well as the ATV to ISS. Secondly, ESA has only agreed to fund their commitment to ISS until 2017. It is assumed at their next meeting in 2016 the funding will be extended until at least 2020.
Back in the USA, Congress has passed a 2015 federal spending bill (in both houses) that includes a boost for NASA. Here is how the bill is summarized by The Planetary Society:
The total amount provided for NASA in this bill is a very solid $18.01 billion. That's about $549 million above the President's request for this year and $364 million above last year. This extra money supports increases to critical programs without raiding others.
The bill still needs to be signed by the President. Follow the link above for a more detailed breakdown. Parabolic Arc has the same data tabulated.
The spending bill also includes $20 million of federal funding to repair the Wallops Island launch pad that was damaged in the Orbital Antares rocket explosion in October. This is an interesting provision because $20 million was the initial assessment of what it would cost for all the repairs – meaning it will be completely paid for with federal money.
Speaking of Orbital Sciences, an announcement was made on December 9th that Orbital will be buying a couple of United Launch Alliance Atlas V rockets to fulfill their CRS contract with ISS. Orbital needs to buy someone else's rocket to fill the gap while they figure out how to upgrade their Antares rocket to no longer use the AJ26 engine, which we can presume is implicated in the rocket failure. Even with the ULA deal, it seems the next launch of cargo aboard a Cygnus spacecraft won't be until late 2015.
In Orbit
Of course, the big news, big enough to get coverage in all the major news outlets in one way or another, was the launch and successful recovery of NASA's Orion spacecraft on its first unmanned test flight. The EFT-1 mission launched one day late, on Friday, December 5th, but other than that the flight pretty much went perfectly. There was a big of a glitch with the airbags at splashdown (they didn't all deploy), which seems to be the only noteworthy problem. Here is a nice photo essay of the mission. Regardless of what you think of NASA's current programs and roadmap for the future, congratulations are deserved by the whole team – especially my colleagues in Flight Operations – who worked on the mission. It is definitely worth getting excited for the next flight, EM-1, but it sure is a long way away.
While I don't usually write about DoD launches, the Atlas V launch from Vandenberg Air Force Base on December 12th was notable because of the time of the launch. The Friday night launch, after sunset at 7:19 PM PST, lit up the sky all the way in Los Angeles, as evidenced by Twitter. It's just too bad that people aren't better informed so that the could have known they had an opportunity to see a rocket launch!
Aboard the International Space Station, the new Made In Space printer is still churning out test prints. Since I last wrote, they have created a jar with a screw-on lid and a ratchet handle for a socket wrench (although I'm not sure it actually "ratchets"?). Here's ISS Commander Butch Wilmore showing off the "honey jar":
Coming up on the ISS before Christmas, the next SpaceX Dragon cargo resupply will be launching this Friday, December 19th. Rendezvous will be on Sunday, December 21st, sometime in the morning. Here's some details about press conferences and NASA TV coverage.
Lastly, if you want to keep up with what's going on on the space station, you should be following Terry Virts and Samantha Cristoforetti on Twitter. Cristoforetti is also active on Google+ where she posts logbook updates. If you want details about specifically what science the astronauts are up to, AmericaSpace has a nice week recap.
Around the Solar System
As usual, there is a lot of activity all over the solar system, since humanity seems to have spacecraft everywhere! Unfortunately, that won't last forever. In the first weeks (or months if we are lucky) of 2015 we will lose both our only active spacecraft at Mercury, NASA's MESSENGER, and our only active spacecraft at Venus, ESA's Venus Express. Both spacecraft are running low on fuel. MESSENGER may be able to do another boost in January to keep it from crashing until the Spring, but Venus Express will not be so lucky.
Back to some good news: on December 3rd, JAXA (that's the Japanese space agency) launched the Hayabusa-2 probe. Hayabusa-2 is a follow-on mission to the successful Hayabusa sample return mission that visited asteroid Itokawa. Check out the launch replay below.
With all these great launches, we are looking to finish out 2014 right, especially if SpaceX gets Dragon to the ISS next weekend.
Elsewhere in the solar system, the Mars rovers have been quietly carrying on their missions. Opportunity is still exploring the rim of the large Endeavour crater, despite some flash memory problems with the rover. Opportunity recently passed 41 kilometers on the odometer and will hit 11 years on Mars in 2015. On the other side of the red planet, Curiosity is busy looking at rock sediments at Mount Sharp. NASA announced earlier this month that Curiosity has discovered that Gale Crater, which contains the central peak of Mount Sharp, once contained a lake – meaning standing water. This is significant in that it means conditions on ancient Mars were warm enough, and had sufficient atmospheric pressure, to maintain a more permanent water cycle.
Speaking of water, Rosetta results recently released by ESA show that the isotope of water found on comet 67P does not match the isotope found on Earth. This means that if Earth's water did come from comets, it was not the same kind of comet at 67P.
Because it's Cool
And of course I need to share this awesome video.
Lots of cool stuff this week. Read all the way to the end for a special treat of a video.
Down to Earth
The James Webb Space Telescope, under assembly and testing at Goddard Spaceflight Center, did a full secondary mirror deploy test in November. NASA published this timelapse of the test, which gives a great sense of the immense scale of this space telescope. Note that this test is with the actual flight hardware.
The iconic – and very old – countdown clock at NASA's Kennedy Space Center was disassembled last week to make way for a new modern clock, which should be ready for the EFT-1 launch later this week.
Admit it, whenever you are catching up on space news, you are wondering what will happen next with the two recent (but unrelated) space accidents – the loss of SpaceShipTwo and an Orbital Sciences' Antares rocket. Well, not a lot has happened in recent weeks. A couple little things have happened, such as Land Rover offering alternatives prizes in their Galactic Discovery Competition and initial damage assessments coming in from the Wallops Island launch pad. In the meantime, you can read this to-the-point discussion of what the accidents say about risk aversion (or acceptance) in the industry.
In Orbit
Last week, NASA and Made In Space were very excited to announce the first replacement part which was printed aboard ISS with the first 3D printer in space. The part was a simple plastic cover for the printer itself, but the point is the proof of concept. Much excitement surrounds the prospect of 3D printers in space – with the Made In Space printer being the first of several printers to make it aboard the space station. This article from the Space Review puts the idea in perspective, by summarizing the findings of the National Research Council Committee on Space-Based Additive Manufacturing.
Also on the ISS last week, the rather large "SpinSat" was deployed using the Japanese robotic arm. SpinSat is a 125 pound satellite designed by the U.S. Naval Research Lab to test out their ground surveillance technologies using lasers. You can read more about it in an NRL press release here. Here are some pictures that ISS commander Butch Wilmore took of the satellite being deployed.
Later this month, the 5th official SpaceX Dragon resupply mission to the ISS will launch from Florida aboard a Falcon 9 rocket. The launch is currently set for December 16th. Although every one of these missions is still exciting (if you haven't seen a Falcon 9 launch, get down there), this mission will be especially interesting to follow because of what will happen to the rocket's first stage. On previous flights, SpaceX has practiced "controlled landing" of the first stage in the open ocean. On this flight, the rocket will actually land on an autonomous floating platform. Elon Musk revealed a picture of the craft on his twitter, and I admit, it's pretty slick. In addition, "grid fins" will help the rocket's guidance on entry – here's a picture of those as well.
The biggest story of this week should be the launch of EFT-1 (or Exploration Flight Test 1), which is the first test flight of the Orion spacecraft, which is the new NASA exploration vehicle. Although the spacecraft will be flying aboard a ULA Delta IV Heavy, rather than the Space Launch System (which isn't ready yet), this is still a major milestone for NASA. The four-and-a-half hour, two-orbit mission will be the first non-ISS spacecraft operations from NASA's Mission Control Center at the Johnson Space Center since STS-135 landed in 2011. Flight controllers (colleagues of mine, no less!) have been training hard for months and years for this first dress rehearsal of our new program.
Parabolic Arc has a great summary of the mission and the Planetary Society put together a very readable timeline of the mission's events. The launch window opens at just after 7 AM EST on Thursday morning, December 4th. I highly suggest you tune in!
Around the Solar System
As if not to be outdone by EFT-1, a big moment in human spaceflight, the world of robotic planetary science has a big launch this week as well: Hayabusa-2. This is a JAXA follow-up to the first Hayabusa mission, which successfully returned samples of asteroid Itokawa in 2010. Hayabusa-2's overall design is at its core the same as the first mission, with some important upgrades ("lessons learned" have no doubt been incorporated). The mission will hopefully launch from Tanegashima on Wednesday, December 3rd, and make it's way to asteroid 1999 JU3 by 2018, where it will collect samples to return to Earth in 2020.
And last but not least, check out this awesome imaginative short film about the future of humanity throughout the solar system: Wanderers.
This was not a good week for spaceflight, with two major mishaps. The first mishap, the loss of Orbital Science's Antares rocket, with ISS cargo onboard, mere seconds after liftoff, was like a gut punch for American spaceflight. But the loss of a Scaled Composites test pilot when SpaceShipTwo was destroyed during Friday's test flight in Mojave was a true disaster. Not only will it be a major setback from Virgin Galactic and the NewSpace industry (and a potential PR nightmare), it was a tragic loss of life. I hope that Scaled and Virgin make the families of the deceased their first priority. You can contribute to a GoFundMe program for deceased pilot Michael Alsbury here.
So, I guess it is ok that I haven't posted for a while; now the bad can be mixed in with a bunch of cool stuff I need to catch you up on. Here are a few of the bigger stories in spaceflight over the past couple months that you should know about.
Down to Earth
One of the biggest stories of the summer was the CCtCAP (basically, NASA contract for private commercial manned flights to the ISS) award to SpaceX and Boeing. Sierra Nevada's Dreamchaser was cut from the competition. However, Sierra Nevada has filed an official protest. The appeal process is expected to take several months, but Boeing and SpaceX will continue working on their vehicles in the meantime. The award was worth a total of $6.8 billion (over several years) with $2.6 billion to SpaceX and the rest to Boeing. Regardless of the results of the protest, space enthusiasts should be getting excited about the first crewed flights now only a few years away!
A bill is being discussed in the US House of Representatives known as the ASTEROIDS Act, which would seek to establish legislative rules regarding the mining of asteroids.
On October 17, the Air Force successfully landed the third of their secret space plane fleet, the X-37B, in California. The spacecraft spent 675 days in orbit (wow!). A fourth flight is planned for next year.
In Orbit
A lot has been going on with the ISS program since my last update just after the end of Expedition 40. Soyuz TMA-14M successfully arrived at ISS in late September with three new crew members onboard. Not long after the crew returned to 6-person strength, three separate spacewalks were conducted (two from the US segment and the RS segment) on October 7, 15 and 22. Rookie astronauts Reid Wiseman and Alex Gerst got their first spacewalks and will be returning to Earth as veterans next week. Reid got two spacewalks while Alex Gerst and Barry Wilmore both got one each.
October was the month of spacewalks, but it also saw some successful ISS vehicle traffic (despite the loss of Orbital-3). SpaceX's fourth Dragon resupply flight was recovered after splashdown in the Pacific ocean on October 24th. Their next mission is planned to launch on December 9th. Also, just the morning after the loss of Orbital-3, a Progress resupply mission launched and docked to ISS without a hitch.
Expedition 41 will come to an end with the undocking and landing of Soyuz TMA-13M on November 10. You should follow Reid and Alex on twitter while they are still up in space taking pictures like mad.
You know Expedition 42 will be a fun time on ISS as well because of this awesome poster they made (most geeks should get the reference).
Around the Solar System
Back on October 8 many people in the Western Hemisphere enjoyed a total lunar eclipse in the early morning hours (at least for us in the USA). But here's the view you didn't expect: a video from Mercury (by NASA's MESSENGER spacecraft) of the moon winking out as it passes into Earth's shadow.
You know what, why don't we just do a whole bunch of cool things spotted from around the solar system?
Next is Phobos transiting the sun as seen from the NASA's Curiosity rover on Mars.
And lastly, we have the NASA spacecraft New Horizons, less than a year from arrival at Pluto. New Horizons is now close enough to its target that it was able to spot Pluto's tiny moon Hydra with its modest onboard imaging systems (originally detected by the Hubble Telescope in 2005).
There is a lot of other exciting solar system news to catch up on. At Mars, two new spacecraft have recently arrived in orbit: India's MOM (Mars Orbiter Mission) and NASA's Maven. MOM is India's first interplanetary mission and has already sent back some very nice images of the red planet. MAVEN is a probe designed to get a better understanding of Mars' atmosphere (which should be a window into the planet's history). MAVEN arrived at Mars in time to get some observations of comet Siding Springs as it had a close approach. Here are some other cool photos of the approach.
Just yesterday, China's Chang'E 5 T1 mission, a technology demonstrator for a future lunar sample return, landed successfully in Mongolia.
Lastly, the Rosetta spacecraft in orbit around comet 67P/Churyumov-Gerasimenko has reached the final orbit form which the Philae lander will be deployed later this month. The landing site, site J, was chosen a few weeks ago in October.
Out There
Astronomers using the HARPS instrument in Chile have discovered a swarm of comets (almost 500!) around a nearby star. More evidence that our solar system is typical, rather than unique.
Wow! What a year so far! There has been a lot of radio silence here on this blog since I was busy with my flight lead assignments at work (lead ADCO for SpaceX-3 cargo flight to ISS and then Expedition 40). Also, I am still very busy planning my wedding next month. I'm not going to try to catch you up on all the amazing and interesting things that have been going on in spaceflight year, for which I apologize. To partially fill the gap, here is a list of spaceflight industry news items that happened in August, helpfully compiled by Doug Messier of Parabolic Arc. Now on to more recent news.
Down to Earth
The crew of Soyuz TMA-12M returned to Earth on Wednesday, bringing to a close the long and eventful Expedition 40 onboard the ISS. I wonder if Swanny was happy to be home? Below is a video summary of their farewell, undocking, and landing.
Flight Engineer Reid Wiseman got this shot of the Soyuz re-entering.
Unfortunately, SpaceShipTwo will likely not have its first flight to space with Richard Branson aboard until at least early next year, according to Branson during an appearance on The Late Show. In just a few weeks it will be the 10 year anniversary of SpaceShipOne's final flight which won the Ansari X Prize. Ten years later, the burgeoning "NewSpace" industry has not sent a single person to space. Let's hope they are finally close.
On Thursday this week the first Orion crew module, which will fly an unmanned test flight in December, was moved from the Neil Armstrong Operations and Checkout Building to the Payload Hazardous Servicing Facility where it will be fueled. Perhaps "the gap" is slowly coming to a close?
In Orbit
With Expedition 40 complete on the ISS, Expedition 41 will start off with just a three-man crew of Alex Gerst, Reid Wiseman, and Maxim Suraev. They will be joined later this month by the crew of Soyuz TMA-14M, which includes the first female cosmonaut, Elena Serova, since Yelena Kondakova flew on STS-84 in 1997. So far, Alex and Reid are kicking off Expedition 41 by continuing to constantly post amazing pictures on Twitter as @astro_reid and @astro_alex. Why aren't you following them?!
Last weekend on September 7, SpaceX successfully launched a Falcon 9 rocket carrying the commercial communications satellite Asiasat-6. The next Falcon 9 rocket on deck will hopefully launch on September 19 carrying a Dragon spacecraft full of cargo to the ISS.
Some high activity on the sun, including an X-class solar flare, is expected to bring some very nice aurora to people living in northern latitudes tonight and tomorrow. Look up!
Around the Solar System
The Rosetta spacecraft is in orbit around the comet 67P/Churyumov–Gerasimenko, arriving earlier this summer, 10 years after launch. This "selfie" is an amazing picture that shows both part of the spacecraft and the comet in the background. Rosetta will deploy the Philae probe to land on the comet later this year. ESA is expected to announce the landing site on the comet next week.
Not wanting to be left out, Opportunity also sent home a cool summer vacation photo from the rim of Endeavour crater on Mars. Yes, this is the same Opportunity rover that landed on January 25, 2004. That would be BEFORE the last flight to space by the NewSpace industry over 10 years ago, but who is counting?
China is getting in on the party too. It seems the Yutu rover is still alive on the moon and has sent back a recent panorama.