Archive for the 'Pop Space' Category
Down to Earth
NASA has announced the chosen landing site of the upcoming 2020 Mars rover: Jezero Crater.
The European Space Agency (ESA) delivered the service module that will be used by NASA's Orion capsule for the EM-1 test mission.
NASA released this new promotional video:
In Orbit
Two orbital rocket launches since my last post:
November 19 – A Chinese Long March 2D rocket carrying a communications satellite as well as other payloads.
November 21 – An ESA Vega rocket launched an earth-observing satellite for Morocco.
Check out this amazing time lapse footage taken by astronauts aboard the ISS of a Soyuz rocket launch on November 16th.
NASA celebrated the 20th anniversary of the launch of the first ISS module in 1998.
Around the Solar System
NASA's InSight Mars lander will land on the red planet tomorrow.
Check out this animation which translates the orbits of the 8 major planets in our solar system into musical notes:
Down to Earth
A major election took place in the USA this month, with implications for the future of NASA and space exploration, among many other policy concerns. Here is a brief summary from The Planetary Society of some of the impacts to members of congressional space and science committees.
The ISS was prominent in pop culture this last week. Check out the short Macy's ad below and then the longer sketch scene from SNL.
In Orbit
Seven orbital launches since my last post on November 4th. With 92 successful launches as of today, 2018 is poised to have the most launches in a year since the early 1990s.
The Progress robotic resupply reached the ISS and successfully docked on Sunday.
An HTV cargo vehicle departed the ISS carrying trash, but also a small return capsule. The return capsule was an experimental new way to return science from the ISS, and was retrieved successfully at sea.
Around the Solar System
Check out this new imagery of asteroid Bennu from the OSIRIS-Rex spacecraft.
🎶 Big asteroid keep on turnin' 🔄
PolyCam keep discernin' 📸 👀
Rollin', rollin', rollin' with a boulder ☄️🎶

On Nov. 2, I captured a full revolution of asteroid Bennu from about 122 miles (197 kilometers) away. More details ➡️ https://t.co/SicqD9MQ6y pic.twitter.com/vYvhyQD6EB

— NASA's OSIRIS-REx (@OSIRISREx) November 6, 2018
Down to Earth
Elon Musk was busy this week entertaining his fans with tidbits about future SpaceX plans, including the tweet below, as well as this picture on Instagram of a tool for their next larger rocket, the BFR.
And then land on a bouncy house

— Elon Musk (@elonmusk) April 16, 2018
NASA's Planetary Science Division Director, Jim Greene, is now the agency's new chief scientist.
Check out this music video by Snow Patrol which uses imagery from the ISS and was partially filmed at ESA.
In Orbit
There were three orbital rocket launches since my last post:
On Monday, April 16th, A SpaceX Falcon 9 rocket will launch carrying NASA's Transiting Exoplanet Survey Satellite (TESS) space telescope.
Around the Solar System
The International Astronautical Union (IAU) has approved official names for features on Pluto's moon Charon, some named after iconic sci-fi figures such as Stanley Kubrick and Arthur C. Clarke.
Because images of Saturn are just so damn stunning, here's Saturn's moon Dione as imaged by the late Cassini spacecraft.
Down to Earth
Mattell launched a new line of "Inspiring Women" Barbie dolls. The release includes a doll of NASA's Katherine Johnson, made famous by the movie Hidden Figures.
JPL posted a 360-video from inside the InSight lander test lab (this is the next mission to Mars launching in May).
Westworld director Jonah Nola showed the below video during a SXSW panel this weekend.
National Geographic's March issue features NASA astronaut Peggy Whitson on the cover and an article by Nadia Drake which profiles a handful of other astronauts.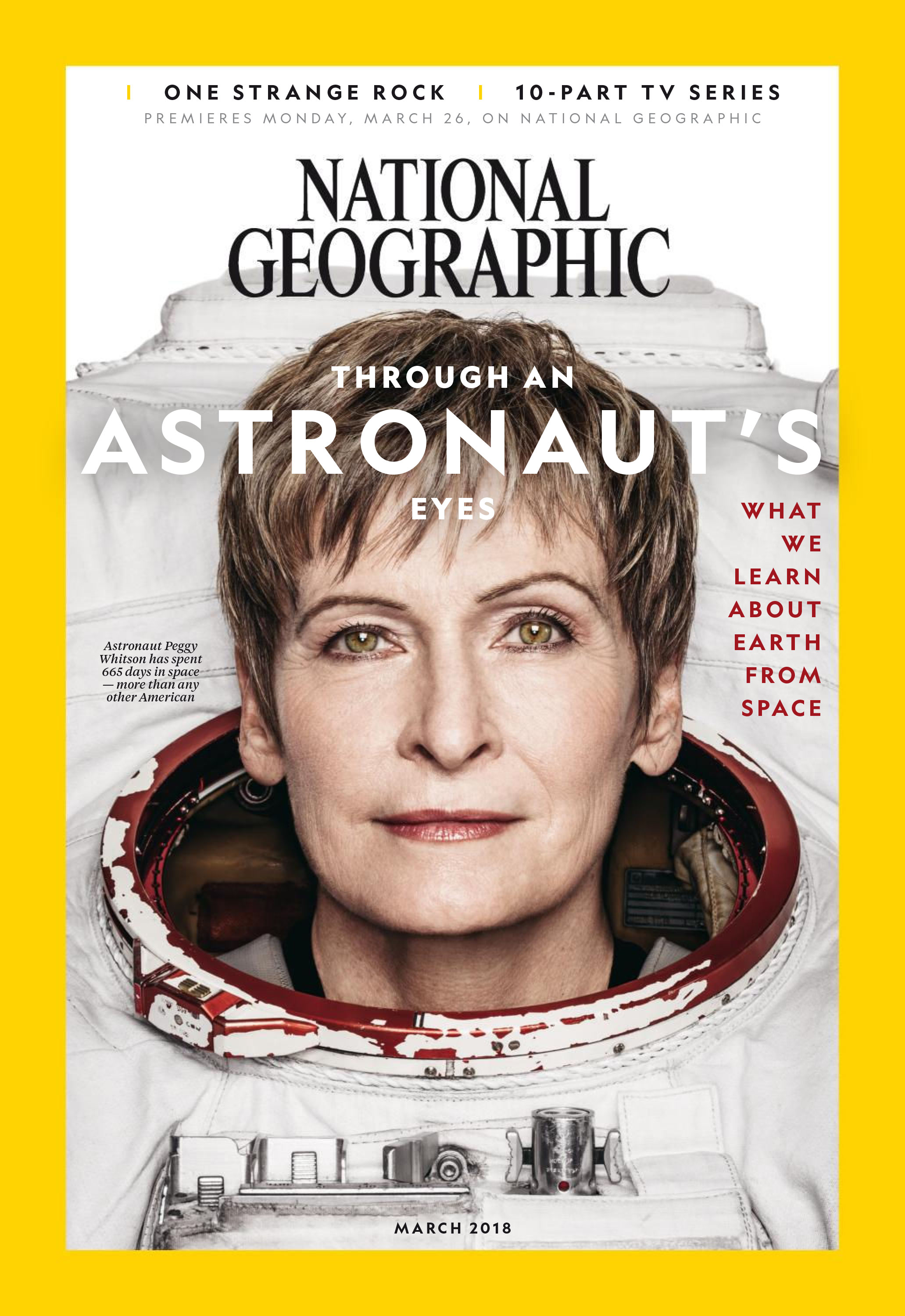 In Orbit
Two rocket launches since my last post a week ago:
March 6 – SpaceX launched a Falcon 9 rocket carrying two satellites for commercial companies.
March 9 – Arianespace launched a Soyuz rocket from Kourou carrying three communications satellites for O3b.
There has been a lot of talk lately of China's defunct Tiangong-1 space station, and it's imminent uncontrolled plunge back to Earth. Predictions are for early April.
Around the Solar System
NASA released some new imagery data and science results from the Juno probe in orbit of Jupiter. Some of the intriguing mysteries uncovered include the strange polar cyclones and the 3,000 kilometer deep wind patters. Phil Plait has an excellent summary at his blog.
Out There
Another asteroid on an interstellar hyperbolic orbit has been discovered. This object is likely from the Oort cloud, which makes it different than 'Omuamua, which is believed to have originated in interstellar space.
Down to Earth
Andy Weir, author of the smash hit The Martian released his second novel, Artemis.
Sierra Nevada released video of last week's successful glide flight of their Dream Chaser space plan:
A long-lost Omega astronaut watch from the Apollo era has been recovered and returned to the Smithsonian.
In Orbit
The Cygnus cargo freighter that launched last week, arrived at the ISS successfully on November 14.
Captain, US Navy, Arriving! SS Gene Cernan joined our crew @Space_Station and greeted us when we opened the hatch. #Cygnus #OA8 pic.twitter.com/UQWnhqbDAc

— Randy Bresnik (@AstroKomrade) November 15, 2017
Two rocket launches last week:
Around the Solar System
A new study in Nature analyzes Pluto's hazy atmosphere and offers an explanation for the planet being colder than expected ( minus 300 deg F instead of minus 280 deg F).
Out There
A newly discovered exoplanet, Ross 128 b, is only 11 light years away and could be in the habitable zone of the red dwarf star it orbits.
Down to Earth
LEGO is releasing a "women of NASA" set.
The Apollo 11 capsule Columbia has started its around the country tour with a new exhibit at Space Center Houston: Destination Moon.
This Lyft commercial referencing the Apollo program is cute, but is missing a shout out to Michael Collins.
Jeff Bezos' company, Blue Origin, conducted the first test fire of their new BE-4 rocket engine.
First hotfire of our BE-4 engine is a success. Huge kudos to the whole @BlueOrigin team for this important step! #GradatimFerociter pic.twitter.com/0gk6k6WuPx

— Jeff Bezos (@JeffBezos) October 19, 2017
In Orbit
The ISS Expedition 53 crew completed the second and third spacewalks in their October series. All planned tasks were completed successfully, leaving the space station with some new cameras and a repaired robotic arm. The rest of the year on ISS will be focused on science research, with some critical deliveries onboard a Cygnus resupply and SpaceX Dragon resupply.
Since my last post on October 9th, there have been four orbital rocket launches:
The Progress freighter docked successfully two days after launch.
Below are a few of the best pictures taken onboard the ISS from the past two weeks. If you want to help maintain the amazing archive of millions of pictures of Earth taken from ISS, now there's a way! Check out Cosmo Quest's new Image Detective project.
On a #spacewalk, the Earth never lets you forget you are 250 miles/400 km high. pic.twitter.com/dMrcQTB5FQ

— Randy Bresnik (@AstroKomrade) October 9, 2017
A closer look at infinity in my visor reflection – the Yin & Yang of Earth & Space. Big thanks to @Astro_Sabot for this #spacewalk photo. pic.twitter.com/bBCglelurK

— Randy Bresnik (@AstroKomrade) October 9, 2017
Остров #Муреа или #Моореа, который расположен во Французской Полинезии в Тихом океане. // #Moorea – a high island in #FrenchPolynesia. pic.twitter.com/cJgBhoYnte

— Сергей Рязанский (@SergeyISS) October 12, 2017
Наш космический грузовик #ПрогрессМС06 успешно пристыковался к #МКС / A few hours ago the #ProgressMS07 cargo spacecraft docked to the #ISS pic.twitter.com/P5zsiBk6UI

— Сергей Рязанский (@SergeyISS) October 16, 2017
The Togo, Benin and Nigeria coastline… And inland a little piece of Ghana! #Africa #citylights #VITAmission pic.twitter.com/XALkd35SRC

— Paolo Nespoli (@astro_paolo) October 17, 2017
Аделаида, Южная Австралия. Столица вина, литературы и искусства // Adelaide, Southern Australia. The capital of wine, literature and art pic.twitter.com/x50loeAKcF

— Сергей Рязанский (@SergeyISS) October 17, 2017
https://twitter.com/astro_paolo/status/920369795111051264
The #ISS orbits at an altitude of around 400 km above the Earth, but I still managed to photograph a tiny #airplane pic.twitter.com/XyQJhhAhd4

— Сергей Рязанский (@SergeyISS) October 15, 2017
#IssykKul is an endorheic lake in the northern Tian Shan mountains in eastern Kyrgyzstan. It is the 10th largest lake in the world by volume pic.twitter.com/KlYnQFZoIc

— Сергей Рязанский (@SergeyISS) October 21, 2017
ISS astronauts tried to capitalize on a cultural craze down here on Earth with this recent video:
Out There
Hot on the heels of the Nobel Prize in Physics announcement, LIGO made another big discovery using gravitational waves: the first signal from the collision of two neutron stars was detected and confirmed. Phil Plait has a wonderful poetic post explaining what this means for our understanding of the universe.
Down to Earth
Leonardo DiCaprio is going to produce a new TV series based on The Right Stuff.
NASA's new TDRS-M satellite had a mishap during pre-flight processing. Launch has been rescheduled while repairs are conducted.
Virgin Galactic conducted another drop test of their SpaceShipTwo vehicle at the Mojave Air and Space Port.
NASA's fourteenth crew of the Human Exploration Research Analog (HERA) program started their 45-day mission yesterday.
Crew trained & ready! @HERA_XIV mission to simulated asteroid starts TONIGHT @NASA! Hatch doors close in 5, 4, 3, 2… engaging autotweet pic.twitter.com/Qst1G4p3v7

— HERA XIV (@HERA_XIV) August 5, 2017
Rocket startup Vector Space Systems conducted a test launch of their suborbital rocket on Thursday. Here's a short video of liftoff.
In Orbit
The International Space Station crew is back up to 6 after a new Soyuz launched from Kazakhstan and docked just a few hours later. The three new ISS crew members, Sergey Ryazanskiy, Paolo Nespoli, and Randy Bresnik, are all spaceflight veterans.
There are now 5 active Twitter users on ISS, sharing their thoughts, activities, and views with us! Check out their posts at this feed.
Signing the wall at the Baikonur Cosmodrome Museum. You can even spot @StationCDRKelly on it! #SpaceflightTradition pic.twitter.com/NJDC55SKFj

— Randy Bresnik (@AstroKomrade) July 25, 2017
Spied this cool view through the Japanese Airlock, great capability for us to pass science in & out to space! https://t.co/yKBNxgYJYq pic.twitter.com/ZTvCitMWtU

— Jack Fischer (@Astro2fish) July 26, 2017
Technology evolves: our Soyuz Procedure Books are now on a tablet (we still carry the paper versions, just in case…) #Poyekhali #VITAmission pic.twitter.com/1DfQOHxhpq

— Paolo Nespoli (@astro_paolo) July 26, 2017
Doing some arts and crafts tonight to prep for our 6-person crew picture next week. Can't wait for the crew to bump up to 6! pic.twitter.com/Z4S3ChrW0O

— Jack Fischer (@Astro2fish) July 27, 2017
Got an interesting pic of the launch… @AstroKomrade, @Astro_Paolo & @Ryazanskiy_ISS are now on our six! See you in a few hours guys! pic.twitter.com/7wZn09oNjM

— Jack Fischer (@Astro2fish) July 28, 2017
638 days in space and the view is still amazing! Soaking up some sunset time in the cupola… pic.twitter.com/AiReQzkjJZ

— Peggy Whitson (@AstroPeggy) August 6, 2017
In addition to the Soyuz launch, the only other rocket launch in the past two weeks was a European Space Agency Vega rocket. The rocket launched on August 2 from French Guiana carrying two earth observing satellites.
Around the Solar System
In case you had forgotten that there are two active NASA rovers on the surface of Mars, here are some beautiful panoramas from Opportunity, on the edge of Endeavour crater.
Results are in of the stellar occultation observation of object 2014 MU69, and astronomers think it may actually be a binary, rather that single piece of rock. 2014 MU69 is the Kuiper Belt Object (KBO) that the New Horizons spacecraft will visit in 2019.
New evidence suggests there may be more water hidden beneath the surface of the moon than previously thought.
Out There
Speaking of moons, a new paper analyzing the light curve data from Kepler of a distant star shows the possibility of a large planet with a large moon in orbit. Hubble is scheduled to do follow up observations in October to confirm the finding.