Archive for the 'Planetary science' Category
Down to Earth
Ron Howard is working on a TV a miniseries based on Elon Musk and his plans to colonize Mars.
Bulgaria has joined ESA as a "cooperating state".
Orbital ATK has been contracted by Lockheed Martin to provide the launch abort motor for Orion.
Blue Origin will reportedly resume test flights of their New Shepard rocket later this year.
Check out these very creative animations of NASA's Apollo mission patches (via CollectSpace).
The members of the Made in Space ISS 3-D printer team received their shipment recently. In fact, you can watch them unboxing it on YouTube (via Parabolic Arc):
In Orbit
SpaceX will launch their next ISS resupply mission today, April 13, and will also be giving the barge landing another shot. The static fire test happened on Saturday, which is an important milestone before launch. I suspect they won't stream imagery of the barge landing live (like last time) but hopefully they will have dramatic imagery of a success or failure to share afterwards! Among other cargo, food, and science that this CRS-6 mission is hauling to the ISS, there is also a cubesat known as Arkyd-3, which is a demonstration mission for the asteroid mining company Planetary Resources.
Brown: next SpaceX CRS flight, SpX-6, will carry 8 CubeSat deployers, including 14 Planet Labs sats and Arkyd-3 reflight. #NRISSWorkshop

— Jeff Foust (@jeff_foust) February 17, 2015
The forecast for the launch window is only 60% as of last night. There is another launch window on Tuesday. Here is Spaceflight Now's live stream with "mission status center".
And of course I need to share a few recent tweets and pictures from the ISS:
#Namibia, in southwestern Africa, home to the tallest sand dunes on earth. pic.twitter.com/OMI7419JFR

— Terry W. Virts (@AstroTerry) April 10, 2015
#Riodejaneiro You seem to have much to offer. Need to see up close someday. #YearInSpace pic.twitter.com/YG1h1tLhUT

— Scott Kelly (@StationCDRKelly) April 10, 2015
Moonglint over the Mediterranean. Il riflesso della luna sul Mediterraneo. #HelloEarth pic.twitter.com/Bwv5TbUPa7

— Sam Cristoforetti (@AstroSamantha) April 11, 2015
Some more #ColorsOfTheEarth! pic.twitter.com/txct9XuEqZ

— Sam Cristoforetti (@AstroSamantha) April 11, 2015
A touch of everything #SpaceVine. https://t.co/DjBg6F57ki

— Terry W. Virts (@AstroTerry) April 12, 2015
Last glow of the Sun before orbital sunset. L'ultimo bagliore del Sole prima del tramonto in orbita. pic.twitter.com/07AVp5YlnB

— Sam Cristoforetti (@AstroSamantha) April 12, 2015
Not sure what is going on on this beach in #Mexico but it's a striking image. #YearInSpace pic.twitter.com/RUQwMk7F2R

— Scott Kelly (@StationCDRKelly) April 12, 2015
"Starry Night," it's not quite Van Gogh, but a pretty cool perspective from up here in space. pic.twitter.com/TcAAiiAOQ5

— Terry W. Virts (@AstroTerry) April 13, 2015
Around the Solar System
Curiosity has been very busy in Gusev Crater on Mars ever since the team resolved the issue with the instruments on the robotic arm earlier this year. They recently did a few good drives and got some great images. You can see them and follow along with the mission at The Martian Chronicles blog. I love this picture. Curiosity should be reaching the 10 kilometer mark soon.
NASA's MAVEN spacecraft has completed 1,000 orbits of Mars.
Mission planners for ESA's Rosetta are rethinking their future close flybys of the comet 67P due to the navigation hazard caused by dust. A flyby in March sent the spacecraft into safe mode.
And don't forget Cassini, still orbiting Saturn taking amazing pictures and doing science!
Sorry for the delayed post this week. It has been a busy month, as I prepare for my trip to the 31st Space Symposium in just over a week. Plus, I recently got a new Amazon Kindle and have been diving into the world of spaceflight historical fiction (I know, I was surprised too!). I recently finished reading both Zero Phase and Public Loneliness by Gerald Brennan. Check them out!
The most exciting space news since my last post on March 20th of course was the launch of Soyuz TMA-16M last Friday. Here's a video of the launch. More on what's been going on ISS under "In Orbit", below.
Down to Earth
United Space Alliance is having a public contest to vote on the name of their new rocket, which they hope will replace their medium lift Atlas V and Delta IV rockets by the 2020s.
Speaking of naming contests, the SETI Institute has launched the "Our Pluto" campaign for the public to help suggest names for features on Pluto, which will soon be discovered by the New Horizons spacecraft. From what I can tell, NASA and the IAU are onboard, so the names may actually become official.
Ellington Airport, just a few miles from the Johnson Space Center, has a new agreement with Sierra Nevada Corporation to land unmanned Dream Chaser spaceplanes here in Houston. If Sierra Nevada is awarded the CRS-2 contract, this could provide a nice logistical advantage for the ISS program.
The next SpaceX Falcon 9 launch, which is another cargo resupply flight to ISS, has been delayed to April 13 (a 3-day slip).
NASA has selected "Option B" for the Asteroid Redirect Mission (ARM). The mission will involve an unmanned robotic mission retrieving a small boulder from the surface of a Near Earth Object (NEO) which will be visited later by astronauts in lunar orbit.
In Orbit
Lots of rocket launches in late March, in addition to the Soyuz launch that sent Scott Kelly, Mikhail Kornienko, and Gennady Padalka to ISS. The list of launches includes: an Atlas V with a new GPS satellite, A Japanese reconnaissance satellite on an H-II rocket, two European Galileo navigation satellites on a Soyuz rocket, and at least one other Indian, Russian, and Chinese rocket. The Chinese launch reportedly included a test flight of a new mini-space plane. The number of rocket launches this year now stands at 21 to orbit, with no failures.
As for that Soyuz flight to the ISS, it was a picture perfect launch, rendezvous, and docking, with Kelly and crewmates arriving at ISS only 6 hours after departing Kazakhstan. The number of humans off-world is now back up to 6, and the number of people tweeting from space is now at 4, with Kelly joining Cristoforetti, Virts, and Shkaplerov. Here's a sample of their recent posts:
A clear moonlit Mediterranean turns into an impressive #thunderstorm over Turkey. https://t.co/S5BeysqJUg

— Terry W. Virts (@AstroTerry) March 31, 2015
Emergency training today with the full 6 person Expedition 43 crew. pic.twitter.com/3zZFMnDqUH

— Terry W. Virts (@AstroTerry) March 30, 2015
Colorful #aurora dancing behind our Soyuz. #spacevine https://t.co/7GLtz3sem9

— Sam Cristoforetti (@AstroSamantha) March 30, 2015
Soyuz 42S launch as seen from @Space_Station. It's quieter than in person, but a very cool view! pic.twitter.com/KDHlHA24FK

— Terry W. Virts (@AstroTerry) March 27, 2015
Commands respect even from #space: we just flew over typhoon #Maysak. pic.twitter.com/w86GnxmaO2

— Sam Cristoforetti (@AstroSamantha) March 31, 2015
Around the Solar System
The annual Lunar and Planetary Science conference took place in March, which usually means interesting news from spacecraft exploring the solar system. Some of the best stories from this year's LPSC are:
Out There
I was excited to learn that there are still astronomers diligently watching the Alpha Centauri system, with HST even, to try to confirm the potential worlds detected orbiting there several years ago. The latest data indicates that perhaps there are two worlds, not just one, orbiting Alpha Centauri B. Unfortunately, the data is not strong enough to say they are there for sure… yet.
Down to Earth
Last week, on Wednesday, March 11th, Orbital ATK conducted a successful static test fire of one of the solid propellant rocket motors that will be used for the SLS rocket.
This is too cool! This is our rocket Booster test as seen from an airplane! #SLSFiredUp #JourneyToMars #OrbitalATK pic.twitter.com/tOctJRTB48

— Gordie (@BoosterBud) March 12, 2015
The next day, on the 12th, the Soyuz carrying Butch Wilmore, Elena Serova, and Alexander Samokutyaev returned to Earth. Check out these incredible pictures of their descent and landing. Looks like it was a beautiful (cold) day in Kazakhstan.
With Butch and crew on the ground, Expedition 43 is underway with only three crew members onboard – Terry Virts, Samantha Cristoforetti, and Anton Shkaplerov. They are a good trio to have onboard together, as they are all very active on Twitter, providing us awesome views of Earth from on orbit! However, they will be joined very shortly by Scott Kelly, Gennady Padalka, and Mikhail Korniyenko who are launching next Friday, March 27th.
On March 18th, many space fans celebrated the 50th anniversary of the first ever spacewalk, conducted by Alexei Leonov on the Voskhod 2 mission.
First space walk 50 years ago today. Congratulations Major General Alexey Arkhipovich Leonov! pic.twitter.com/zbpO0W6cVR

— Scott Kelly (@StationCDRKelly) March 18, 2015
Поздравляю, Алексеи Архипович Леонов! 50 years ago today; the first #spacewalk; March 18, 1965 http://t.co/V1ftY2jROw pic.twitter.com/iLBYhKQNrP

— Douglas H. Wheelock (@Astro_Wheels) March 18, 2015
Leonov is 80 years old, and did a press circuit for the occassion!
Leonov interviewed in front of Sergei Korolov's house in Moscow. The 50-yr 1st EVA celebration continues today pic.twitter.com/DCnIaVdlcE

— Christer (@CFuglesang) March 19, 2015
In less fun news, there has been a lot of talk about a couple of space-related hearings in Washington, D.C. that happened earlier this month. Let me break it down into the biggest talking points for you:
1. On March 4th, NASA Administrator Charles Bolden appeared before the "House Appropriations Committee" for a budget hearing. Some folks latched on to a discussion between Bolden and Congressman John Culbertson about whether NASA has a plan for ISS if Russia decides to no longer participate. Given that the program is a joint venture that depends on both parties, it seems to me like an unfair premise.
2. On March 12th, Bolden appeared before the "Senate Subcommittee on Space, Science, and Competitiveness". One of the big takeaways was Bolden's comments about why the Opportunity's rover's budget is being cancelled in 2016. The Planetary Society has a pretty good explanation of why that is a bad idea.
3. In the same hearing, Bolden was asked by Texas Senator Ted Cruz why NASA spends so much time on Earth science instead of exploring space. Of course, Earth science is part of NASA's core mission. Parabolic Arc explains why Ted Cruz doesn't seem to know what he is talking about.
4. Lastly, the senate held an "Army and Air Force hearing" on March 18th. There was some discussion about the RD-180 engine issues (see my earlier post) and whether the Air Force could provide a replacement by the 2019 deadline. USAF and ULA officials say it is not possible. Some of the senators scolded that no progress has been made. However, Aerojet recently conducted a test of their new AR1 engine, which may be a starting point for a replacement.
In Orbit
I will optimistically put this news in the "in orbit" section: with bids on the CRS-2 (commercial resupply services) contract due, both Lockheed Martin and Sierra Nevada have been promoting their ideas for how to get cargo to and from the ISS. Lockheed Martin has a unique design involving a reusable cargo ferry that stays in orbit and transfers cargo to a rocket stage with a robotic arm. Sierra Nevada is proposing an unmanned variant of their Dreamchaser spaceplane, which recently lost out on the ISS crew transfer contract (CCtCAP).
Speaking of ISS cargo, NASA has extended the contracts with SpaceX and Orbital ATK by a few additional flights in 2017 to close the gap between CRS and CRS-2.
Alright, back to the fun stuff. Up in space, the pretty pictures from the ISS crew just keep on coming:
Captivating view… Progress cargo spaceship ablaze in a ghostly green and red glow. #OurOutpostInSpace pic.twitter.com/bkEykYCM93

— Sam Cristoforetti (@AstroSamantha) March 18, 2015
#HappyStPatrickDay with best wishes from the #E43 crew! From space you can see the "Emerald Isle" is very green! pic.twitter.com/cMdhCd0zCb

— Terry W. Virts (@AstroTerry) March 17, 2015
An unusual self-portrait in the #cupola. pic.twitter.com/THPGTXvcjE

— Terry W. Virts (@AstroTerry) March 16, 2015
#Europe fisheye https://t.co/C5B5lbvKnD

— Terry W. Virts (@AstroTerry) March 13, 2015
Today there is a total solar eclipse in the Northern Atlantic and Arctic. Hopefully the astronauts can get some views from the ISS! In fact, Cristoforetti just posted the below picture just a few minutes ago, as I write this.
I think this is it: the umbra. Looking aft on our flightpath around maximum obscuration time. #SolarEclipse pic.twitter.com/rYz7UTpHLv

— Sam Cristoforetti (@AstroSamantha) March 20, 2015
Around the Solar System
Recent observations of Jupiter's moon Ganymede using the Hubble Space Telescope confirms the presence of a sub-surface ocean. Wicked.
Meanwhile, Cassini has discovered evidence or hydrothermal activity below the surface of Saturn's moon, Enceladus.
The MAVEN spacecraft has discovered ultraviolet aurora at Mars.
Out There
There is a new nova in the constellation Sagittarius bright enough to see with binoculars. It was too cloudy this morning in Houston to spot it but I will keep looking!
Before I get into my recap of what has happened over the past week and a half, I want to make sure to note that tomorrow, Wednesday, March 11, there will be two big events covered on NASA TV. First, Orbital ATK will conduct a test firing of a solid rocket motor in support of SLS development. The coverage will start at 11 AM Eastern with the test firing at 11:30 AM. Secondly, Soyuz TMA-14M will undock from the ISS at 6:44 PM Eastern and land at around 10:07 PM in Kazakhstan. There is NASA TV coverage throughout the day, including at 3 PM for hatch closing. Here is the change of command ceremony from earlier today:
Down to Earth
Sci-fi icon Leonard Nimoy (Mr. Spock on Star Trek) died on February 27th.
"Of all the souls I have encountered.. his was the most human." Thx @TheRealNimoy for bringing Spock to life for us. pic.twitter.com/mE12wLQKrU

— Sam Cristoforetti (@AstroSamantha) February 28, 2015
One of Chris Hadfield's old flight suits (not worn in space) was bought at a random Toronto thrift store. Seriously.
Although SpaceX's lawsuit against the USAF seems to have been resolved, there has been another interesting piece of space legal work going on. SpaceX is suing over Blue Origin's patent on landing a rocket stage on a platform at sea.
United Launch Alliance plans to retire the Delta IV launch vehicle (but not the Heavy variant).
China has made some of their future manned spaceflight plans public, including the launch of a new larger space station next year.
I don't know what to call this other than a "trailer". Check out this video about the LHC starting up again this year:
In Orbit
A USAF weather satellite known as DMSP-13 broke apart at a 500 mile altitude in early February.
On March 1st, SpaceX launched its third Falcon 9 launch of the year. Quite a good pace so far in 2015…
Also on March 1st, astronauts Terry Virts and Butch Wilmore completed the third of their trilogy of spacewalks outside the ISS to "wire up" the US segment for the new docking ports to be delivered starting later this year.
ISS Commander Butch has been posting some excellent Vine's in his last few weeks aboard. Here is a sample (follow @space_station on Twitter or Vine):
"Rise and shine! Full #moon over the Gulf of Mexico. Less than one week before I come home." #AstroButch https://t.co/3nMdEYcdkp

— Intl. Space Station (@Space_Station) March 5, 2015
"From sea to shining sea, the #UnitedStates is a beautiful place to be." #AstroButch #SpaceVine https://t.co/VIQpeTlTop

— Intl. Space Station (@Space_Station) March 8, 2015
Of course, Samantha Cristoforetti has been just as busy on social media. Here is a shot she got of some cubesats recently launched from the Japanese robotic arm on the ISS.
And here they start to go their separate ways! #Cubesats pic.twitter.com/WhbmyL1pZR

— Sam Cristoforetti (@AstroSamantha) February 27, 2015
Around the Solar System
The Dawn spacecraft has reached Ceres! However, as you can see in the animation below, the spacecraft is in a bit of an odd "orbit" above the dark side of the asteroid until early April. That is why we won't get better sunlit images of the asteroid for several weeks.
Check out this awesome shot of Mars' moon Phobos in silhoutte, by India's MOM.
Check out this picture that the Rosetta spacecraft took of its own shadow.
Some scary news from Mars at the end of last month – a short circuit in the instruments at the end of Curiosity's robotic arm caused the missions's flight control team to halt operations for troubleshooting. It sounds like as of this week, they have determined it is safe to continue operations. Excellent!
In my first post looking back on 2014 in space, I discussed how the year in spaceflight might be remembered. A few major events happened that may stick in the public's mind – Rosetta/Philae's comet encounter and the first Orion capsule launch. For the average person, that may be all they remember from last year. Definitely not a banner year for space, although the world rightly celebrated the triumph of landing on a comet for the first time. So not a bad year either. Overall, as I concluded in that earlier post, 2014 was a building year. For those of us who pay closer attention to space news, 2014 was also a year to worry about policy, budgets, and the future of the launch sector, as I wrote about in my second post.
While 2014 was a building year, 2015 looks to be a year of action. Action that goes beyond just NASA and extends to the "New Space" sector, as SpaceX plows forward aggressively, Virgin Galactic attempts to regroup from last year's tragedy, and some lesser-knowns like XCOR might have their first flights.
2015 looks to be an exciting year. The question is not whether it will be an exciting or busy year, but rather, what will grab the public's attention more? Will the old childlike excitement over new discoveries be stirred up by NASA's ambitious missions arriving at Pluto and the asteroid Ceres? Or will the sexy sleek SpaceX rockets – launching ever more frequently – grab the most headlines?
The Year of the Dwarf Planet?
This will be a big year for NASA's planetary science program. 2014 had a lot of great action at Mars. Unfortunately, Mars has a "been there, done that" tone for the general public (perhaps the 2015 release of Ridley Scott's The Martian will help turn that around?). Mars makes headlines if there is a daring rover landing or a manned mission, or of course if we discovered life. Otherwise, Mars is cool, but not front page cool. ESA's Philae landing on comet 67P/Churyumov-Gerasimenko proved that robotic exploration is still front page cool, but that it takes a new destination these days. That's exactly why 2015 is exciting. Two robotic missions launched almost a decade ago will rendezvous with their destinations: two unexplored worlds, both newly classified as "dwarf planets" back in 2006. There's a whole new category of world out there which we will get to see for the first time this year.
As I write this, the Dawn spacecraft is mere days away from the March 6th rendezvous with dwarf planet Ceres, king of the asteroid belt. Dawn will go into orbit around the asteroid, where it will stay for the rest of its mission. The popular space blogs have already been getting pretty excited about the high(er) resolution images coming back from the probe, including mysterious bright spots in a crater. Could they be ice geysers? Or something else unexpected?
Much farther from home, the New Horizons probe is now only months away from a July flyby of distant dwarf planet Pluto. New Horizons was launched in 2006; so long ago that the probe was actually launched before the International Astronomical Union (IAU) made its controversial decision to change the definition of "planet." Of course, this sets up for the pithy quip that the probe took so long to get there that when it left, Pluto was a planet! I suppose we will be hearing that line a lot more, come July.
The public loves Pluto. So much so that it make front page news back in 2006 just due to a classification debate. I have no doubt that the public will get pretty excited over the upcoming encounter. The mission has all the drama a good space rendezvous needs: the promise of views of a new world and new discoveries with the very real danger of the probe being destroyed by some rogue undiscovered moon. Success or failure, it's a win-win for the media. People love the tension.
If rendezvous goes well for both Dawn and New Horizons, the American public will be reminded how exciting it is to discover new worlds. That excitement can likely be funneled by NASA and organizations like The Planetary Society into support for future missions like the Europa Clipper. 2015 is a chance for NASA's crown jewel, planetary science, to take center stage.
The Year of SpaceX?
Unfortunately for NASA, Dawn and New Horizons may get overshadowed by the new kid on the block. Elon Musk's Space Exploration Technologies (SpaceX) stands poised to have their busiest year yet. Their manifest calls for somewhere between 12 and 18 launches in 2015. SpaceX only launched 3 rockets in 2013 and doubled that to 6 in 2014. With 3 launches already this year as of March 2nd, I am starting to believe they can double their launch rate again this year.
Of course, a bunch of rocket launches isn't by definition more exciting than the first flyby of Pluto or Ceres. The reason NASA stands to get overshadowed is the story of SpaceX. SpaceX isn't just another rocket company out for profit – they are a product of one billionaire's crazy vision of the future. And 13 years after their founding, with thousands of employees and billion dollar government contracts, the company has somehow stayed focused on their longterm goals. Other startups with dreams of Mars have been called "scams". Meanwhile, SpaceX has proven their technical expertise with the reliability of their Falcon 9 rocket and has become a major player in the industry, continuing to snap up government and private launch contracts. Sexy rockets, an eccentric billionaire, and dreams of Mars. Usually the news is full of negative stories – airplane crashes, war, corrupt politicians, police brutality, racial tensions – but SpaceX is exactly the kind of positive story people love. And SpaceX has manages to hook us in by being just transparent enough to make us take them seriously, but also keep us guessing. For instance, the SpaceX twitter feed was fairly silent through much of December as they tried to launched their fifth resupply flight to ISS. Then 6 days after this launch they posted this incredible Vine of their failure to land the first stage safely on their autonomous drone ship. I don't know about you, but I've watched it about a thousand times.
Close, but no cigar. This time. https://t.co/JowUE6a1D7

— SpaceX (@SpaceX) January 16, 2015
Besides a record number of launches, here are a few of the things SpaceX is planning to do this year:
four missions to resupply the International Space Station
build a new hangar and launch tower for crew launches in Florida
build a new spaceport near South Padre Island in Texas
pad abort tests for new Dragon V2
land a rocket on an autonomous drone ship (minus the explosion)
the first demo launch of the new Falcon Heavy rocket
New Space has been on a slow crawl for years, full of promise but few results. With Virgin Galactic likely out of commission for at least many more months and no planned launches in the Google Lunar X Prize competition until 2016, SpaceX is seemingly alone in the New Space business – at least as far as going to space is concerned. All the buzz about mining asteroids, billionaire funded flybys of Mars, and crowd-sourced space missions seems to have faded into the background noise. A lot of people seem to have the attitude of "I'll believe it when I see it," myself included. But even the cynics and naysayers have to be impressed by SpaceX's continued progress. If they can achieve most of their goals for this year while continuing to fly safely and reliably, it just might be the year of SpaceX.
The Year of ISS?
As if dwarf planets and SpaceX aren't enough, I think there is a third possibility for the biggest story of 2015. In fact, it made front page news before 2015 even started. In case you missed it, here was the cover of Time for their "2015: the year ahead" issue.
What's the big deal? Astronauts have been living and working on the ISS non-stop since November 2000. The following major world events have all happened with a continuous human presence in space (from Futuretimeline.net and Wikipedia): George Bush sworn in, terrorist attack on 9/11/01, iPod launched, iPhone launched, Space Shuttle Columbia lost, invasion of Iraq, Facebook, YouTube, Twitter, three summer Olympic Games, four FIFA World Cup Finals, the Great Recession, Barack Obama sworn in, Burj Khalifa constructed, two new Popes, and all 7 Harry Potter films released.
Ok, maybe I got a little carried away. The point is, astronauts living and working on the ISS is nothing new. Even the story of the Kelly twins – a major focus of the Time issue – is not new. Scott Kelly already commanded the ISS once during Expedition 26 and Mark Kelly, husband of Gabby Giffords, commanded STS-134. But just like the two NASA probes visiting new worlds this year, Scott Kelly's missions is new territory for NASA. His stay aboard the ISS of almost a year will beat the next longest flight by an American by over four months. America loves a hero figures and pioneers. So when Commander Kelly got a personal invitation to the State of the Union Address, he got the biggest ovation of the night.
Having a single human face to connect with the space program this year may bring more attention to NASA than we have seen in a while. Only half a decade ago, the ISS was thought of by a good segment of the space community as a "white elephant" that sucked up money and the public largely didn't know it existed (or would be reminded and then promptly forget). Now the ISS is featured in major motion pictures like Gravity and video games like Call of Duty: Modern Warfare. NASA public affairs has embraced social media and at least one member of every space station crew regularly tweets stunning views and thoughts from space. When school kids or the morning news shows get to interview the astronauts on ISS, no one ever asks "is the space station a waste of money?" Instead they ask, "what is it like?"
Scott Kelly won't be the only famous face people will connect with the ISS this year. In September 2015 the next space tourist, Sarah Brightman, will launch to the ISS as part of a "ferry crew". She will spend less than 2 weeks in space while crews and Soyuz capsules are shuffled on the ISS – Scott Kelly's long stay will mess up the regular and predictable 4 month cycle of 3-person crews. Brightman will be the first tourist on the ISS since Guy Laliberte in 2009. While she is not exactly a household name, people love to talk about rich people and the expensive things they buy. What is more glamorous than paying your way into space? A human story is just what NASA needs to bring attention to the ISS, and NASA has two of those stories this year. If Mark Kelly is open to media interviews while he goes through the same experiments as his brother, it may even make an interesting recurring story in the media, if it gets picked up. It could be a big story – or maybe the ISS was only front page news for one week at the beginning of the year? We will have to wait and see!
Conclusion
Of course, there is a lot more that might happen this year. The XCOR Lynx spaceplane may take flight finally; Virgin Galactic may return to flight; Curiosity may continue to build a case for organics on Mars; the Philae lander may wake up as comet 67P/Churyumov-Gerasimenko approaches the sun. Going in to 2014, it was predictable that the Rosetta mission and Philae lander would be a big story. But nobody predicted that 2014 would be largely remembered for two major spaceflight accidents, nor that a lot of sweat would be spent on the impacts to the launch sector from deteriorating international relations in Eastern Europe.
Although the unexpected may happen, I'm kind of hoping for a predictable year with lots of success and increasing media and public attention. I want to learn some new and surprising things about Ceres and Pluto while also checking Twitter every day for some stunning Earth views posted by Commander Kelly. I want to see thousands of people flock to the Space Coast for an on time launch of a SpaceX Falcon Heavy rocket.
Space exploration of all kinds is a great positive endeavor for us to share as a society, especially as a seemingly improving economy opens up space in our culture to look outward. I think a good year in all sectors of spaceflight could lead to even more bipartisan support of manned and robotic exploration alike in the NASA budget, and we can start to see a way out of the woods towards a clear space policy. Or I could be wrong, and distractions like the upcoming 2016 US presidential election could keep us in limbo for a while longer. What I like about the future is that anything is possible. Either way, I get to find out what those bright spots on Ceres are in just 4 days. Are you excited too?
Down to Earth
Hungary is the newest member of the European Space Agency (ESA). With the addition of Hungary and Estonia, ESA will need to revise their astronauts' flag-covered shoulder patch (seen below on Andre Kuipers' flight suit).
Since I mentioned ESA, it is always nice to share their Week in Images post.
The Intelsat 603 satellite, which was rescued to a higher orbit on the first 3-person EVA on STS-49 in 1992, has been disposed of in a "graveyard orbit".
Eddie Redmayne, who won the Oscar for best actor last weekend, is a NASA supporter.
It's a rare week that goes by without some news related to SpaceX worth mentioning. A few things this week. First, SpaceX has a new contract with SES for the launch of two communications satellites which may be the first to launch from the new facility in the Southernmost part of Texas. Secondly, SpaceX has started construction of their hangar near launchpad 39A at the Kennedy Space Center. 39A is one of the two historic launchpads built for the Apollo program and also used during the Space Shuttle program. Lastly, SpaceX will be launching their next Falcon 9 rocket in a few days. The current date is listed by Spaceflight Now with an uncertain "March 1/2″. This launch is of commercial payloads and will liftoff from Florida.
In Orbit
No notable rocket launches this week, except for a Russian military satellite on a Soyuz rocket, which launched this morning. Instead, there was another spacewalk up on the ISS. Terry Virts and ISS Commander Butch Wilmore have one more spacewalk this coming weekend to finish out their tasks laying cable for future commercial crew dockings.
#AstroButch in the vacuum of space today. #spacewalk pic.twitter.com/kXcdvk4t7e

— Terry W. Virts (@AstroTerry) February 25, 2015
Speaking of the ISS, the Russian Federal Space Agency (I'm not sure what to call it, as they are in the middle of a re-organization) announced this week that they now intend to continue ISS operations through 2024. Previously, Russia had only committed through 2020, so this is good news.
The Soil Moisture Active Passive (SMAP) satellite, launched by NASA on a Delta II rocket earlier this year, deployed its impressive sensing array this week and is getting ready to start its science campaign. Here's an animation of what it would have looked like.
Around the Solar System
NASA's Curiosity rover took an impressive self-portrait (or "selfie", if you must) of its current location on the foothills of Mount Sharp on Mars. Curiosity is currently at a site called Pahrump Hills where it has been drilling various rocks.
Meanwhile, out in the asteroid belt, NASA's Dawn spacecraft is just a week away from entering orbit around Ceres, the largest asteroid. The pictures coming down are already remarkable and include a strange pair of bright spots in a crater.
Down to Earth
Last week the European Space Agency welcomed Estonia as their newest member.
Last Monday, February 2, was "Budget day" with the President of the United States announcing his budget proposal for 2016, which includes an $18.5 billion request for NASA. The 2015 budget is at just over $18 billion – so this would be a welcome increase, if approved. Some of the highlights were the apparent canceling or shutting down of the Mars rover Opportunity, the continued commitment to a mission to Europa, and a request for a significant increase to "commercial crew" funding. Here's the detailed dollar-by-dollar breakdown from NASA if you are interested.
While waiting for the commercial crew program to bear fruit, NASA has purchased additional Soyuz seats to the ISS for 2018, just in case.
ESA's IXV test vehicle is now atop the Vega rocket for launch later this week.
In Orbit
Today is shaping up to be "SpaceX day". SpaceX's Dragon is still in orbit at the International Space Station for a few more hours. Later today it will be leaving the ISS and splashing down in the Pacific near a waiting recovery ship. Less than two hours earlier a Falcon 9 rocket will launch from Florida putting NOAA's DSCOVER mission on its way to the Earth-Sun L1 point. Another recovery team will be waiting in the Atlantic for the rocket's first stage to hopefully touch down on their "autonomous spaceport drone ship".
Back on February 2nd, Iran successfully launched a test satellite to orbit, marking the 6th successful launch of 2015 and Iran's second orbital launch (the first was in 2009).
And of course the busy astronauts on the ISS have continued to share their perspective with us:
I never get tired of taking pics of the #Bahamas! / (IT) Non mi stanco mai di fotografare le #Bahamas! #HelloEarth pic.twitter.com/FOvcX5tNqb

— Sam Cristoforetti (@AstroSamantha) February 10, 2015
Hello #California! Salton sea and the Imperial Valley. What a contrast of landscapes. pic.twitter.com/PoPKPM6MX6

— Sam Cristoforetti (@AstroSamantha) February 9, 2015
.@AstroSamantha and I kick off a year of "reconfig", preparing for multiple docked cargo and manned vehicles pic.twitter.com/9dWcGXKXnn

— Terry W. Virts (@AstroTerry) February 9, 2015
The white dots in the blue water are a group of South Atlantic icebergs pic.twitter.com/HPmk0W6qNi

— Anton Shkaplerov (@AntonAstrey) February 9, 2015
#Moscow shining like a bright star under the aurora pic.twitter.com/8W0MUoj1Mj

— Terry W. Virts (@AstroTerry) February 8, 2015
Around the Solar System
The New Horizons probe sent back some awesome new photos of Pluto and its moon Charon.
The always impressive Mars Reconnaissance Orbiter (MRO) took a picture of the Curiosity rover on Mars, busy at work at the Pahrump Hills. Here's the ground-level view from the rover:
Down to Earth
February 2nd is "budget day": when NASA will announce the preliminary 2016 budget request for the agency as proposed by the White House.
Rookie European astronaut Andreas Mogensen has been posting video blogs of his training for launch. The latest entry is posted from Moscow and focuses on the Sokol spacesuit which is worn in the Soyuz.
The European Space Agency has a new unmanned spaceplane they plan to launch on a technology demonstration on February 11th. The IXV, or Intermediate Experimental Vehicle, has been undergoing launch preparations at the launch site in French Guinea.
Speaking of ESA, here's their Week In Images, which is always a good click.
SpaceX has announced in a statement on their website that they are essentially dropping their lawsuit against the U.S. Air Force over the Evolved Expendable Launch Vehicle (EELV) contract which awarded 36 rocket launches to United Launch Alliance (ULA). SpaceX and USAF have apparently made a deal which allows USAF to honor current contracts with ULA but also work to certify SpaceX's rockets soon and open competition to them for future payloads.
SpaceX also released a new animation to stir up excitement for the first test flight of their Falcon Heavy rocket later this year.
And in the last SpaceX news from last week, the company completed a static fire test on the launch pad in Florida in preparation for their next launch on February 8.
The Planetary Society has secured a launch aboard an Atlas V rocket this May for their LightSail solar sailing prototype. I am super excited for this mission! Check out this great video explaining the spacecraft.
In Orbit
Last week Wednesday, the ISS did a "deboost", or an orbital correction maneuver to slow/lower the orbit. Usually we do reboosts to keep the orbit higher as the ISS is slowly degraded due to drag. In this particular case, the trajectory officers found a deboost the best solution for upcoming trajectory needs, and we had the extra propellant that we could afford it. I was lucky enough to be assigned the early morning shift on Wednesday to command the OPM (Optimized Propellant Maneuver) to spin the ISS around in preparation for the burn – which went well later in the day.
ISS astronauts got some nice photography of the blizzard that hit the US east coast last week:
And here is a selection of a few other great shots from ISS over the last week. If you want to follow Twitter posts from the ISS, follow my list, "people in space," which I will always have updated with any astronauts who are tweeting from ISS.
I wish I could bring all of you up to see this! pic.twitter.com/V1AizkRjqj

— Terry W. Virts (@AstroTerry) January 31, 2015
Tropical cyclone #Eunice this afternoon. Sinister look! Il ciclone tropicale Eunice, ha un aspetto sinistro! pic.twitter.com/5bYj2AUwjl

— Sam Cristoforetti (@AstroSamantha) January 30, 2015
The beginning of the outback- central Australia looking west pic.twitter.com/dw8UGbeB92

— Terry W. Virts (@AstroTerry) January 29, 2015
Three little atolls in a row – jewels of the ocean! / (IT) Tre piccoli atolli in riga come gioielli nell'oceano! pic.twitter.com/szhL45QGVm

— Sam Cristoforetti (@AstroSamantha) January 28, 2015
The ISS over Mauritania. Eye of the Sahara (The Richat Structure) is easy to see even from the space. pic.twitter.com/cpxZU6VrmW

— Anton Shkaplerov (@AntonAstrey) January 27, 2015
Three launches occurred in the last week, bringing this year's total up to 5 launches. NASA's Soil Moisture Active Passive (SMAP) Earth-observing satellite was the third launch of the year – and third from the US – but almost didn't beat a Japanese launch and then a Russian launch due to a scrub first for weather and then for technical issues. They finally got off the ground from Vandenberg Air Force Base in California on Saturday morning. Here's a video.
The other two launches were this morning, Sunday, February 1st. Japan launches a spy satellite on an H-2A rocket (the same rocket that sends the HTV cargo vehicle to ISS) and Russia launched a communications satellite on a Proton rocket from Kazakhstan. This was the 5th successful Proton flight since their most recent failure last May.
Around the Solar System
Newly released high resolution images from the Rosetta spacecraft reveal a rather large crack in the comet 67P/Churyumov-Gerasimenko. Could the comet split in two when it gets closer to the sun? Exciting!
The image release also included some new shots of the Philae lander descending to the comet from the perspective of the orbiter.
Last Monday a rather large asteroid named 2004 BL86 flew by the Earth at about 3 lunar distances (750,000 miles). The asteroid is 325 meters (1,066 feet) in diameter and has a tiny moon! Check out this radar imagery from NASA's Goldstone antenna:
As NASA's Dawn spacecraft gets closer and closer to the solar system's largest asteroid, Ceres, it is now returning images of the world that are better than what Hubble has shown us in the past.
Pop Space
Adidas is releasing a spacesuit-inspired shoe.
Phil Plait's Crash Course Astronomy Episode 3 is up:
Down to Earth
Elon Musk released photos on his Twitter feed of the moment that the SpaceX Falcon 9 rocket first stage hit their "autonomous spaceport drone ship" (see, barge) and blew up. This occurred a few minutes after the launch of the latest Dragon resupply craft last Saturday. It seems like they hit their target but came in too hard. Maybe better luck on their next flight in a couple of weeks.
@ID_AA_Carmack Residual fuel and oxygen combine pic.twitter.com/5k07SP8M9n

— Elon Musk (@elonmusk) January 16, 2015
@ID_AA_Carmack Full RUD (rapid unscheduled disassembly) event. Ship is fine minor repairs. Exciting day! pic.twitter.com/tIEctHFKHG

— Elon Musk (@elonmusk) January 16, 2015
Update: Just a little while after I wrote this post, the SpaceX twitter account posted this amazing Vine video.
Close, but no cigar. This time. https://t.co/JowUE6a1D7

— SpaceX (@SpaceX) January 16, 2015
NASA completed a "hot fire" test of the new RS-25 liquid fueled engine at Stennis Space Center in Mississippi. The RS-25 is a modified Space Shuttle main engine which will power the SLS.
Much noise has been made about Ted Cruz (R-TX) being assigned to a US Senate subcommittee that oversees the budget of NASA. The main concern is that Cruz is considered anti-science. At the very least, he is anti-science when it comes to climate research, which NASA supports with a fleet of Earth-observering satellites. Houston Chronicle has the best analysis I have seen of what impact Cruz may actually have on the NASA budget. If you are concerned about this topic, you should read Eric Berger's post. Here's a longer more technical analysis at Space Policy Online.
Virgin Galactic is teaming up with a small satellite company known as OneWeb to launch a large constellation of satellites to bring broadband internet to the entire world. Replacement satellites will be launched by the LauncherOne rocket dropped from Virgin's WhiteKnightTwo carrier aircraft.
There is an idea floating of a new reality show which would be a competition between inventors and scientists to get their research flown to ISS. Sounds cool!
In Orbit
Two big things happened on the ISS this week. on Monday, the latest SpaceX Dragon resupply craft arrived. This was the first cargo delivery to ISS from the US since the loss of an Orbital Sciences Antares rocket in October. There was one Russian Progress resupply flight back in November.
Opening the Dragon hatch for the first time- it has that "new spaceship smell"- very nice! pic.twitter.com/OSe66Ygzsu

— Terry W. Virts (@AstroTerry) January 13, 2015
The SpaceX flight was quickly overshadowed by an emergency alarm onboard the ISS on Wednesday morning. The alarm was for a toxic leak of ammonia, which cools the space station avionics hardware in fluid loops on the outside of ISS. In certain failure cases (for which there is multiple layers of redundancy to prevent) the ammonia can break into the internal fluid lines (which carry water) and endanger the astronauts.
Ground teams and the astronauts took immediate safety actions, as we train for hours and hours for, and evacuated to the Russian side of the space station, which does not have ammonia coolant lines. The emergency alarm was eventually determined to be false, caused by a computer glitch, and the astronauts were allowed to open the hatch to the rest of the station late in the day on Wednesday.
While the astronauts are safe, cleanup from such a major (potential) failure takes some time because of all of the automatic safing software that shut down ISS systems on Wednesday. The Flight Control Team will still be diligently working towards bringing the ISS back to "nominal" during my evening shifts this weekend.
Spending some time with the #Exp42 crew yesterday admiring the cautions and warnings from our false alarm pic.twitter.com/Syk9BkhD3v

— Terry W. Virts (@AstroTerry) January 16, 2015
Around the Solar System
NASA's New Horizons probe has technically begun science operations for its Pluto encounter, although it is still more than 100 million miles from Pluto.
The long-lost Beagle 2 lander has been found on Mars by NASA's Mars Reconnaissance Orbiter (MRO). The lander was lost during EDL phase (Entry, Descent, and Landing) back in 2003, which was a huge disappointment to the United Kingdom's space agency. Incredibly, although the world had assumed that Beagle 2 crashed into the surface – hence the loss of communication – the MRO images show the lander safely on the surface, partially deployed. In honor of deceased mission designer John Pillinger, I think this image deserves an update to show that Beagle 2 made it to the surface.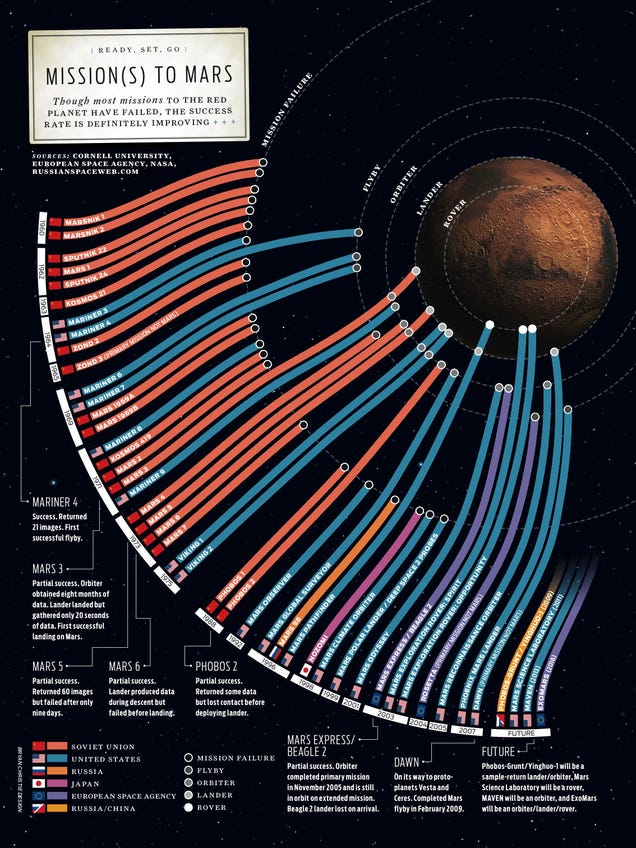 Check out this colorized view from Opportunity on the summit of Cape Tribulation. Image processing done by @mars_stu at his blog The Road to Endeavour (click to embiggen, of course).
Down to Earth
As of Friday night, the next SpaceX Falcon 9 rocket to send a Dragon capsule to the ISS is still on the ground. But the issue that caused launch abort on Tuesday has been dealt with, and the SpaceX launch team is busy prepping for another attempt in just a few hours. Launch is scheduled for 4:47 AM Eastern, Saturday, January 10th. I will be getting up to watch mostly because of the crazy attempt to land the first stage on a barge… I mean autonomous drone ship.
At the Smithsonian's National Air and Space Museum on the National Mall in Washington, D.C., a new exhibit just opened called Outside the Spacecraft. The exhibit celebrates 50 years of Extravehicular Activity (EVA) which started with Russian Alexei Leonov's first spacewalk in 1965.
In Orbit
Space Adventures has announced they have signed on another ISS "spaceflight participant" (or, tourist, if you prefer) – Japanese advertising mogul Satoshi Takamatsu. It is likely that he is the "backup" for Sarah Brightman, who will be flying to ISS later in 2015.
The week in images, from ESA.
Have to include some obligatory tweets from space.
#Wrangell Mountains #Alaska – home to some of the highest peaks in #NorthAmerica pic.twitter.com/z9ETTvl2eJ

— Terry W. Virts (@AstroTerry) January 8, 2015
Port au Prince, Haiti pic.twitter.com/oRHiKrURF7

— Terry W. Virts (@AstroTerry) January 8, 2015
Smooth sailing along the English channel / La Manche. (IT) Il Canale della Manica. #HelloEarth pic.twitter.com/n6C96ltGAy

— Sam Cristoforetti (@AstroSamantha) January 9, 2015
Around the Solar System
NASA's amazing Mars rover Opportunity finally summited Cape Tribulation this week, the highest point Opportunity will see during her mission. She is now over 400 feet above the vast plains that she drove across for years to reach Endeavour Crater. Here is the view.
Out There
2015 is 25 years since the launch of the Hubble Space Telescope, which is still returning amazing astronomical results. The Hubble team knows how to celebrate right, and this week released two amazing images: first a new view of the Pillars of Creation and second an amazingly huge view of the Andromeda galaxy.
Because it's cool

Randall Munroe of XKCD does some fun calculations about building a swimming pool on the moon.
I love these exoplanet "travel posters".
This response, which injects a dose of realism, is even better:
I really liked those @NASA Kepler travel posters so I doodled my own. pic.twitter.com/E4OxUExjXO

— Olly Moss (@ollymoss) January 8, 2015