Archive for the 'MER Rovers' Category
Down to Earth
VSS Unity, the latest spacecraft from Virgin Galactic, made its first powered flight test yesterday. Video below.
The Smithsonian National Air and Space Museum has a new executive director: Ellen Stofan, former NASA chief scientist.
Ars Technica interviewed Peggy Whitson. Check out the video below.
In Orbit
There were only two orbital launches in the past week:
April 2 – SpaceX launched a Falcon 9 rocket carrying a Dragon resupply capsule to the ISS.
April 6 – ESA launched an Ariane 5 rocket carrying a pair of communications satellites.
The Dragon spacecraft arrived at the ISS two days later where the station astronauts grappled it with the robotic arm. A busy month of operations now begins as the astronauts unpack the Dragon and begin new science experiments.
Dragon Arrived! pic.twitter.com/oUzyQ6IhS3

— Scott D. Tingle (@Astro_Maker) April 8, 2018
The Indian space agency (ISRO) lost contact with a communications satellite they launched last week.
Around the Solar System
In case you forgot we have robotic rovers exploring other planets, here are some fresh photos from the surface of Mars.
Out There
Hubble has taken an image of the most distant star ever discovered. The star, which is billions of light years away, was found through gravitational lensing.
In Orbit
The new National Space Council hosted their second meeting, this time at Kennedy Space Center.
Bigelow Aerospace has announced a new sister company, Bigelow Space Operations, who will market their future goals of launching and operating independent space stations.
The latest HI-SEAS space analog mission in Hawaii was put on hold due to some kind of medical emergency.
In Orbit
The only launch of the week was a SpaceX Falcon 9 rocket launched from Vandenberg in Californial. The rocket carried three satellites – a payload for the Spanish military and two technology demonstration satellites for SpaceX. The company also tried to "catch" one of the rocket's discarded payload fairings at sea, but missed slightly. Here is a photo from Instagram of the fairing floating near the SpaceX's recovery ship.
A Soyuz carrying three space station residents will undock from the ISS on Tuesday morning and return to Earth. Recovery crews are already getting ready out in Kazakhstan.
In a few hours we'll start pre-staging helos and teams for the landing of @Astro_Sabot @AstroAcaba and Misurkin from @Space_Station. Karaganda, Kazakhstan. pic.twitter.com/SVALfAFaJk

— Bill Ingalls (@ingallsimages) February 25, 2018
Around the Solar System
NASA's Mars Reconnaissance Orbiter had a bit of a scare last week, entering safe mode for about 3 days after a battery malfunction. MRO came out of safe mode on the 23rd and NASA reported that it was being returned to nominal service. MRO is a key asset, as it relays all communications from the two rovers on the surface.
Meanwhile, down on the surface, Opportunity continues to trundle along in Endeavour crater. JPL even announced some new observations this past week.
The Osiris-Rex spacecraft took an image of Earth from 63 million km away. The probe is currently on its way to the asteroid belt.
Out There
I am in love with this unique interpretation of the Hubble Deep Field from the new website Astronomy Sound of the Month. Follow the link and then, with your sound on, move your cursor over the image to hear different notes correlated to the age of each galaxy.
Down to Earth
The Center for the Advancement of Science In Space (CASIS)  – the organization that manages the ISS as a national laboratory – will be looking for a new executive director after Gregory Johnson steps down.
The White House released their proposed federal budget for 2019, including details for NASA. Here's a summary from Parabolic Arc of what the budget would include for the space agency. The Planetary Society also has a great summary up on their blog and also covered it in a recent podcast.
Kennedy Space Center's visitor center has opened a new interactive "Astronaut Training Experience".
In Orbit
After the launch of a Progress resupply craft to the ISS was scrubbed last Sunday, it was launch successful on Tuesday and docked to the ISS two days later.
Other than the Progress, launched on a Soyuz rocket from Baikonaur, the only other launch last week was a Chinese Long March 3B rocket carrying two global navigation satellites.
ESA celebrated the 10th anniversary of the Columbus modules launch to the ISS.
Two astronauts, Mark Vande Hei of NASA and Norishige Kanai of JAXA, completed a spacewalk on Friday to fix the SSRMS, as well as some other maintenance tasks.
Around the Solar System
The Opportunity rover has now spent more than 5,000 martian days (or "sols") on Mars. To commemorate the occasion, the JPL rover team commanded Opportunity to take a "self-portrait" mosaic using the cameras on the end of its robotic arm. This is the first time this has been done with Opportunity.
New Horizons has broken the record held by Voyager's famous Pale Blue Dot image for farthest images taken from Earth. The probe is on its way to an encounter with 2014 MU69 next January. While it is cruising through the Kuiper Belt, it took advantage of its "near" pass to two other objects and took some low resolution images of 2012 HZ84 and 2021 HE85.
The year of 2017 will be remembered by most of my readers for reasons totally unrelated to spaceflight. It was a tumultuous year with political turmoil, social strife, acts of violence, and devastating natural disasters. Unfortunately, it is these negative stories that tend to embed themselves in our memories as we witness the arc of history unfold. Even when we zoom out to a wide angle view of decades or centuries, it is violence and conflict we remember. What were the biggest events of the 20th century? Wars, economic collapse, threats of annihilation, and social strife. I don't have to remind you though, as a space fan, that most of the world shares at least one bright memory of the difficult last century: Apollo 11.
In a similar way, I'm hoping that through all the difficult times we face as a society in the 21st century, that spaceflight can be one of those bright spots that is a source of optimism and hope (although, surely not the only source). As Bill Nye is fond of saying "space brings out the best in us." Spaceflight is an outlet for positive creative energy. Spaceflight applies technology in new ways, often leading to new inventions and sometimes entire industries. Spaceflight allows us to conduct important research that applies directly to the interests and concerns of everyone on Earth – from medical studies onboard the ISS to weather and climate satellites to space telescopes looking out for Near Earth Objects (NEOs).
Spaceflight is a bipartisan endeavor universally loved by young and old alike because it taps into something innate in us. Whether it's the love of exploration and discovery or just the appeal of astronauts as wholesome hometown heroes, space has always been an easy sell to the public. Very few other uses of time and money are as generally noncontroversial (although we like to argue over specifics). There was a chance for space to get swallowed up in the political turmoil in Washington, DC this past year. Luckily, that didn't happen. Instead, the space industry had another great year with very few setbacks.
Some readers may take issue with that statement and want to argue that it was not a great year for space. After all, NASA still has no confirmed administrator, XCOR went out of business, several programs slipped their launch dates (JWST, SLS, Orion), and Cassini ended its mission at Saturn (leaving us with a dearth of outer solar system probes). But if we look at those space programs or missions that are active and flying, we see lots of success in 2017 with few failures. The loss of Cassini should probably be spun as a positive story anyway – the planned retirement of a historic program of exploration – 13 years in Saturn orbit.
Other than the few things I listed above, the only other major setbacks of 2017 would be the five complete launch failures shown below (there were one or two other partial failures). Both Japan and New Zealand (Rocket Lab) lost rockets on their maiden launch. India, China, and Russia all lost one rocket each. The two remaining major space powers – ESA and USA – did not have any launch failures.
| | | | |
| --- | --- | --- | --- |
| Country | Vehicle | Payload | Maiden launch? |
| Japan | SS-520 | nanosat | Yes |
| New Zealand | Electron | none | Yes |
| China | Long March 5 | Comm sat | No |
| India | PSLV | Nav sat | No |
| Russia | Soyuz | Various | No |
2017 actually had the lowest launch success rate since 2011 and yet overall it felt like a very successful year (launch success was about 93% instead of the usual 95%). A few things contribute to this being a good year for rockets. First of course, is that 2 of the failures were test launches. If you remove them from the accounting, we are back at 95%. The second big reason is that none of the other failures led to an interruption in logistical support for the ISS. From 2014 to 2016, ISS operations lost four uncrewed logistical support rockets. After a string that bad, the last 13 months of successful flights (ten missions in all) feels positively blissful.
The third, and maybe most important reason this was a great year for rockets, was that SpaceX had no failures this year. In 2015 they lost an ISS resupply mission on ascent. In 2016 their year was cut short at 8 missions when a rocket blew up on pad 40 at Cape Canaveral. The backlog of customers was looming for a long 6 months while SpaceX worked on recovering from that latest failure. Then, last January they returned to flight with a launch for Iridium and haven't let up since. Their accomplishments include: no launch failures, a record 18 launches, a record 15 first stage recoveries, and first reuse of a first stage. The other American providers, ULA and Orbital ATK, also had good years with 8 and 3 successful launches each with no failures.
As long as we get to space with chemically propelled rockets, everything hinges on how well our rockets are flying. We can't really do a retrospective on the year without looking at these numbers. This has always been true, but what is particularly poignant from 2017 are those 18 launches from SpaceX. That's fully 20% of all launches. Not only that, but they flew a lot of important missions. In 2017 alone they launched four times to the ISS and at least twice for the US military. In 2018 they plan to launch several times for NASA, including to the ISS as well as the Transiting Exoplanet Survey Satellite (TESS). At this point, it's pretty clear that when SpaceX has a good year, the space industry has a good year.
In addition to the 10 successful cargo launches to the ISS this year, there were also 4 flawless crew launches to keep the record of 17 straight years of crewed operations going. NASA stepped up to 4 full-time USOS crew (which includes Japanese, Canadian, and European flyers), enabling even more research. NASA is now in full utilization mode of the ISS. Hundreds of experiments are being conducted each year – from physical science to medicine to biology to botany to astronomy – and each SpaceX Dragon brings up more externally mounted autonomous payloads such as last year's aerosol monitoring payload (SAGE III) and a neutron star telescope (NICER), among others. The ISS has become an important platform for efficiently deploying small satellites, with dozens launched from the Japanese robotic arm last year.
The ISS looks well positioned for the future, with a healthy manifest of crew and payloads coming up as well as the exciting prospect of even larger crews, once Boeing and SpaceX successfully demonstrate flight of their new crew transportation systems. In the meantime, important maintenance has been ongoing to ensure that ISS can operate well into the 2020s. Early in the year a Japanese cargo vehicle, an HTV, brought up a new set of lithium ion batteries, the first in a series of battery replacements over the next few years that will keep the solar power flowing. The batteries were replaced in a series of 3 spacewalks last January. Ultimately, ISS astronauts would complete 10 successful spacewalks last year with no major issues.
The year in ISS was underscored by Peggy Whitson's amazing flight. At 57 years old, Whitson now holds the record for most days in space of any American astronaut in history (665) as well as an impressive 60 hours of EVA time that puts her number 3 all time behind Anatoly Solovyev and Michael Lopez-Alegria. Peggy's 289 day mission was almost entirely unprecedented. Not only was Whitson praised as a "space ninja" by her crew mates for her work onboard the ISS, but even made a wide impression outside of NASA and received a Woman of the Year award from Glamour Magazine. The crews aboard the ISS continue to bring the wonder of spaceflight home to us through their social media engagement and excellent educational outreach events. If you aren't checking this link for the latest pictures from space every morning, you are missing out on a little bit of daily wonder.
The ISS is of course not the only game in town. NASA has very active planetary science and astronomy programs, not to mention similar missions from ESA, JAXA, and other agencies. 2017 saw no new launches of solar system probes (that's right, zero) but many active missions made progress and the only "failure" being the end of Cassini. Mars is incredibly active with 8 missions. Two NASA rovers, Opportunity and Curiosity, are providing a wealth of insights into the wet history of Mars. The most exciting discoveries from those robots are likely yet to come. Two asteroid sample return missions, OSIRIS-Rex from NASA and Hayabusa 2 from JAXA, remain in interplanetary cruise phase. New Horizons is on its way to visit a Kuiper Belt Object next year, Juno remains in orbit at Jupiter, and Dawn continues to explore the largest asteroid, Ceres.
Some of these missions we heard big news from this year, such as Cassini's analysis of the ocean plumes from icy Enceladus. We also gained a new understanding of the winds and storms of Jupiter from Juno. Not to mention the absolutely stunning images we have been treated to from JunoCam.
But overall, space exploration, especially planetary exploration, is a long game. Spacecraft take years to reach their targets and then spend sometimes months or years (at least for orbiters and rovers) slowly collecting the data they need to learn something new from our mysterious solar system neighbors. So there were no splashy launches or touchdowns in 2017. Instead, the hard work from years past continued to pay off with well built spacecraft going about their daily business. 2017 was a great year in this respect. Years like this lay the foundation for big discoveries to come; it's just that we have to wait a bit for the papers to be published. The only real downer this year is probably that Curiosity's drill is still out of commission.
There is of course, a lot more to cover. Spaceflight is a big industry that goes far beyond just the ISS or big planetary exploration missions. New Space, for instance, had a lot of interesting updates this year. In addition to Rocket Lab making their first launch attempt, Blue Origin demonstrated further progress on their New Shepard vehicle as well as their BE-4 engine, Virgin Orbit moved a few steps closer to their first test launch with several engine tests, and Sierra Nevada conducted their first free glide flight in several years.
Then there's astronomy. So much is happening in astronomy these days that it deserves a lengthy retrospective all its own. Here are some highlights of last year in a quick paragraph. Many interesting exoplanets were discovered, such as the fascinating Trappist-1 system with three potentially habitable planets. But Ross 128b is my favorite potentially habitable planet, because it is less than 11 light years from Earth. Let's go! Other exciting developments in astronomy included more neutron star collisions discovered via gravitational waves and also the fascinating cigar shaped something known as 'Omuamua which flew through our solar system from somewhere this past October (more to come on this we hope).
As we look to the future, we can see that there is a lot to learn. The ISS has years of science to conduct – managers are furiously looking for more ways to maximize timelines and target the most likely breakthroughs. Meanwhile there are dozens of worlds here at home in our solar system yet to explore, not just with probes already launched but many to come (launches to Mars, Mercury, and the Moon in 2018). And most intriguing of all, there are thousands upon thousands of worlds to explore out there, beyond our own star.
The more we look, the more we find. And the more we find, the more questions we think to ask. This is the optimistic and worldview expanding impact of science. We are losing the explorers of the last century – Apollo legends Gene Cernan, Dick Gordon, and John Young all passed away in their 80s in the past year. But it's hard not to see the vast opportunity available to the current generation of explorers in this century. Perhaps some day we will look back at this time period as a changing of the guard. It is hard to say without the benefit of hindsight. If nothing else, for those of us that are inspired by scientific discovery and exploration, 2017 showed us that spaceflight can be – and probably always will be – a candle in the dark.
 Previous year in review posts
Down to Earth
The United Arab Emirates has begun looking for astronaut candidates for their space program.
In Orbit
It's been a quiet week: no orbital launches since my last post, although several were planned. Here's the packed schedule coming up*:
Dec 10 – Chinese launch of a communications satellite for Algeria (this occurred successfully this morning)
Dec 11 – Rocket Lab test launch in New Zealand
Dec 12 – SpaceX launch to ISS
Dec 12 – ESA nav sat launch from French Guiana
Dec 17 – Three astronauts launch to ISS from Kazakhstan
The Orbital ATK Cygnus cargo craft departed the ISS last week.
Godspeed S.S. Gene Cernan #Cygnus #OA8, thank you everyone @OrbitalATK for a stellar mission. pic.twitter.com/eZu3Sgsf9j

— Randy Bresnik (@AstroKomrade) December 6, 2017
Cygnus will remain in orbit until December 18th, giving it enough time to deploy a payload of cubesats.
Speaking of cubesats, a JPL-built cubesat was deployed from the ISS to prove that valuable astronomy can be done in a small orbital package.
The astronauts on the ISS have been taking some incredible pictures of the fires in Southern California:
#Fires in Southern #California…The smoke plume from the California wildfires as seen from the International Space Station. pic.twitter.com/sP40CO3tIl

— Сергей Рязанский (@SergeyISS) December 7, 2017
Today's pass over SoCal unfortunately doesn't look any better. The fires east of Camp Pendleton and in Baja are visible as well. #CaliforniaWildfires pic.twitter.com/khM9TK1u0F

— Randy Bresnik (@AstroKomrade) December 7, 2017
Some new photos of forest #fires in Southern #California… pic.twitter.com/fb8qKZE2Sj

— Сергей Рязанский (@SergeyISS) December 8, 2017
From @Space_Station it looks like the winds have shifted and hopefully dying down, nice to see Point Mugu and Oxnard again, hopefully Ventura soon. #CaliforniaWildfires pic.twitter.com/7qN8u1M0Q6

— Randy Bresnik (@AstroKomrade) December 8, 2017
Around the Solar System
Spring is coming to the northern hemisphere on Mars and Opportunity has survived another winter – nearly 14 years after landing.
The New Horizons spacecraft completed a course correction burn as it continues on its way to Kuiper Belt object 2014 MU69.
Out There
Astronomers have confirmed an exoplanet system containing K2-18b and K2-18c, both large potentailly habitable rocky worlds orbiting a red dwarf star. Phil Plait has an interesting observation about what this news means for our perspective about our own solar system.
*Best references for upcoming launches are LaunchLibrary.net or 2017 in Spaceflight on Wikipedia
2015 year in review posts: Part I and Part II.
2014 year in review posts: Part I and Part II.
2013 year in review posts: Part I and Part II.
Part I – Exploration
Spaceflight, as a many-hundred billion-dollar sector, is a broad and complex industry. Even if we focus in on "exploration" – which is the primary focus of this blog – so that we can ignore military and commercial uses of Earth orbit, we are still left with a global list of activities, studies, missions, and companies. This means there is a lot of stuff going on. 2016 was a busy year with many exciting missions from several different countries. This diversity is great, but makes it hard to boil down the events of last year into a coherent story. Even within NASA, we have the ISS program, with its own highs and lows, and the totally separate and just as successful planetary science portfolio of missions. Those missions keep on going, regardless of whether the most recent cargo delivery has made it to our astronauts in orbit, for instance. Meanwhile, in China, the CNSA is continuing to grow as a nascent space power with new rockets, new launch sites, and a brand new space station. Then there's Russia, Japan, Europe, India, and more. If any theme can be found at all in the events of last year it is that space exploration continues to be a diverse and global endeavor. Putting any nationalism aside, this should give us hope that despite the ups and downs of the economies or space budgets in any given country, that exciting times lie ahead.
It's hard to start a summary of 2016 in spaceflight without acknowledging that the United States had a major election, with a new President to be inaugurated this week. Any presidential transition leads to uncertainty in the future of government programs, including NASA. Often election years leave the federal government in a continuing resolution. A continuing resolution means that Congress has yet to pass a budget for the year. This leaves NASA and other agencies working under last year's budget levels, with no increase for inflation or otherwise. The election was a big story for the country in a lot of ways, but NASA and its programs are most likely to feel the effects in 2017, as it tries to continue with business as usual as it waits for new priorities and a new budget.
While 2017 may bring about change (or not), 2016 was another good year for NASA's flagship space exploration missions. NASA had no major failures last year, just the usual hiccups and challenges (space is hard, after all) and even launched a new planetary exploration mission: OSIRIS-REX, which is on its way to visit an asteroid in 2023. In fact, last year showed that NASA is still a clear leader in planetary exploration, with probes in action all over the solar system. The NASA fleet at Mars remains strong, with two rovers on the surface and two probes in orbit. New Horizons received a mission extension and is on its way to a Kuiper Belt Object rendezvous in a few years. Meanwhile, the probe Juno made orbit at Jupiter and started scientific observations. Unfortunately, Juno has some sticky propellant valves and missed some of its early science orbits when it entered "safe mode." Fortunately, the probe was brought out of safe mode and completed a Jupiter flyby in December. Most of the probe's 20-month mission is ahead. Hopefully Juno's worst days are in the past! Out at Saturn, NASA is still operating the Cassini probe, which has been in orbit since 2004. Sadly, 2017 will see the end of Cassini, as it destroys itself in dramatic fashion, with a dive into Saturn's atmosphere.
Two other planetary missions of note from other countries had some action last year. ExoMars (a joint mission between ESA and Russia) launched and made it to Mars. However, its companion lander, Schiaparelli, was unable to make it safely to the Martian surface and crash-landed. Thus, NASA remains the sole space agency to have safely brought a spacecraft to the surface of Mars… having done so seven times. Of course, we shouldn't forget that the Soviet Union is the only country to have ever landed a probe on Venus! A feat which has not been repeated since 1982, and does not appear to be repeated any time soon, as most space agencies focus on asteroids and the outer solar system in their planetary science missions. Venus is not forgotten though, as Japan was able to begin doing science with their Akatsuki orbiter at Venus last year.
Following the theme of "space is hard," Japan had a pretty devastating failure when their new X-ray telescope Astro-H, or Hitomi, went out of contact after reaching orbit. Fortunately, Japan already has a strong space program and seems mature and professional enough to learn from their mistakes – they released a failure report very quickly after the accident. They currently have an asteroid sample return mission, Hayabusa 2, en route to its target in 2018, which we should all be very excited about. NASA has a strong relationship with JAXA, and will be curating the Hayabusa samples here at the Johnson Space Center when they return.
In human space exploration, the story continues to be the International Space Station. The ISS had an exciting year, partly because NASA and ESA continue to send charismatic astronauts who manage to make the mission feel very personal to all of us following back on Earth. It was a great year for following astronauts on Twitter, including Jeff Williams, Kate Rubins, Tim Kopra, Tim Peake, Scott Kelly, Shane Kimbrough, Thomas Pesquet, and Peggy Whitson. It's hard to see how this trend will do anything but accelerate, as it's a cheap and easy way for NASA to connect with the American public and share its mission. Scott Kelly of course returned from space early in the year and retired from NASA on a high note. Since the "year in space" was such a success, both operationally and as a public affairs bonanza, it seems likely NASA will want to try more longer duration expeditions in the future.
On the more nuts and bolts side of things for the ISS, all major mission events went well last year, with both the arrival and installation of the new IDA2 docking adapter and the Bigelow Expandable Activity Module (BEAM). BEAM is an exciting demonstration of where human habitability in Earth orbit may be able to go in the future with inflatable structures. It is exciting to think that the technology may spinoff a private-public partnership with either or both of the companies Bigelow and Axiom to expand the ISS with new large inflatable modules in the future.
The ISS did face some minor setbacks of its own, although not quite as dramatic as in more recent years. Two rocket failures impacted ISS logistics: the SpaceX explosion on the pad in Florida in September and the loss of a Russian Progress resupply mission in December. The good news for NASA was that the SpaceX failure was not an ISS mission, but it meant a delay to the next planned resupply flight of a Dragon capsule, now scheduled for February. ISS is well stocked on supplies thanks to a Japanese resupply mission that also flew in December and the Orbital ATK Antares rocket returning to flight status in October. Even with both Japanese and American rockets able to keep ISS supplied, having the Russian Soyuz rocket family grounded must always make mission managers uneasy. After all, it is the same rocket family that failed in December that also delivers crews to the station. We are not in uncharted territory, as expedition schedules were in limbo after similar accidents in 2011 and 2015. But the ups and downs of the launch vehicle sector are a continual challenge not only for NASA's ISS program but for dreamers who envision hundreds of people at a time into deep space for colonization. ISS truly is the foothold where we must learn first, and is a great proving ground for those dreamers.
The ISS accounts for over 2,000 person days of space experience a year. The day-in and day-out slog of operating an aging orbital laboratory and learning to live there is slowly but surely preparing us for what comes next. This experience is shared by a partnership of 15 nations (USA, Canada, Russia, Japan, and 11 countries from ESA). However, the rising nation of China finds itself on the outside. Just like in many other sectors, China is finding its own way in space. Last year was a good one for the China National Space Agency (CNSA). Not only did they launch a brand new space station, Tiangong-2 and send a crew of 2 on a 30-day mission to the outpost, they also debuted a brand new Long March 5 heavy lift launcher while matching the US in successful launches on the year – twenty-two. A new medium-lift rocket, Long March 7, also debuted from a new coastal spaceport on Hainan Island, which should give CNSA more flexibility. CNSA's recent white paper publically published outlining their five-year plan shows ambition but also should be a douse of cold water on people expecting a space race between China and the USA. China certainly has a lot to be proud of as only the third independent nation to place humans in space. But they have a long way to go to put themselves on par with the modern space programs in America and elsewhere. I look forward to their planned lunar sample return mission in 2017, which will give them a lot of "street cred" if they pull it off!
Obviously these are not the only happenings in space exploration and related science areas. I could go on about the exciting developments in exoplanet astronomy, a field that may provide worlds to explore decades or centuries from now, for example. We continue to live in a golden age of space exploration that started with the Galileo probe to Jupiter in the early 90s. For me, 2016 was a testament to the true diversity of the state of space exploration and should serve as a reminder to avoid tunnel vision. There are many facets to how we explore. It's not just about shiny new rockets and capsules and astronauts, but its also not just about gathering science through a space telescope or a distant robotic probe. All these pieces fit together to move forward the state of our knowledge about the universe together. One of my favorite examples of this from last year was astronaut Kate Rubins' work on gene sequencing while aboard the ISS. Talk about two sectors that do not traditionally intersect, at least not in the minds of the general public. Diversity – both in the space agencies doing the exploration as well as the type of exploration – will keep the dream alive. I can't wait to see what we do on ISS this year but I also look forward to news out of China and India as they learn what it takes to fly in space.
The biggest problem with keeping up this steady cadence of exploration is how all these space agencies will pay for it, as the world faces challenging fiscal and security issues. Space is exciting – and important – but it is far from the first priority when it comes to setting budgets in most parts of the world. Fortunately, we have disruptive new players in the launch sector that can help us keep costs down. More on that in my next post.
Obviously the huge news this week is the successful launch of a SpaceX Falcon 9 rocket with the return to flight of the Dragon capsule and a successful landing on the Autonomous Spaceport Drone Ship (ASDS). See the "In Orbit" section for more details!
Down to Earth
Blue Origin achieved an impressive feat last week, flying the same suborbital New Shepard rocket for the third time since November.
Following a rocket anomaly in the launch of a Cygnus resupply craft last month the ULA Atlas V rocket is grounded.
Accomplished NASA astronaut, and current NASA science chief, John Grunsfeld, will be retiring.
Roscosmos is selling the perennially financially troubled venture Sea Launch.
In Orbit
There have been 4 orbital launches since my last blog update on March 27. Here they are in chronological order: China launched a single Beidou navigation satellite on March 29, Russia launched a Progress resupply craft from Baikonaur on March 31, China launched a microgravity science payload on April 6, and of course SpaceX launched a Dragon resupply capsule on April 8.
The flawless Falcon 9 ascent and capsule deploy was overshadowed by SpaceX achieving the impressive feat of recovering the rocket's first stage on the ASDS, out in the Atlantic Ocean. This video says it all.
This delivery of cargo aboard Dragon will wrap up a very busy time period aboard ISS. Starting with the Soyuz undocking at the beginning of March, which brought Scott Kelly home and started Expedition 47, there have been 6 different visiting vehicle events, with Dragon being the third cargo resupply in 2 weeks.
One of the payloads aboard Dragon that everyone is excited about is the Bigelow Expandable Activity Module, or BEAM. Here is a simple infographic about BEAM (via Parabolic Arc).
Around the Solar System
Meanwhile, on Mars, NASA's rovers are quietly doing science. Check out this panorama from Curiosity. On the other side of the planet, Opportunity has been exploring Marathon Valley and braving slopes above 30 degrees tilt in the name of science.
Down To Earth
The European Space Agency published a thought-provoking video about the future of lunar exploration.
Here is some interesting PR from the aspiring asteroid mining company Planetary Resources. At the Consumer Electronics Show they revealed a prototype that they 3D printed from a meteorite.
SpaceX's next Falcon 9 launch will be from Vandenberg in California on January 17th. The rocket will be carrying the NOAA's Jason-3 satellite. In addition, SpaceX will attempt to recover the first stage on their autonomous drone ship.
The United States Postal Service will issue new stamps with images of the New Horizons spacecraft and Pluto.
Speaking of New Horizons, that NASA team has won the annual Goddard Memorial Trophy.
NASA has officially organized a new Planetary Defense Coordination Office for overall management of projects for detection and characterization of Near Earth Objects (NEOs).
In Orbit
Next Friday "the Tims" (astronauts Tim Peake and Tim Kopra) will get to do a spacewalk.
Around the Solar System
On Mars, the Curiosity rover has driven right up to a 13 foot tall sand dune and is sending us some pretty cool pictures.
Also on Mars, the long-lived Opportunity rover is celebrating 12 Earth-years on the surface.
Down to Earth
NASA has selected five new flight directors for manned spaceflight programs.
Last week in Houston a new opera titled 'O Columbia' premiered for just two nights at the Houston Grand Opera. The production incorporated the tragic loss of Space Shuttle Columbia in the second act. I didn't get to see the show, but according to The Houston Chronicle a preview at the Johnson Space Center received a standing ovation.
Don't forget to go out Sunday evening, September 27th, and see the lunar eclipse!
In Orbit
Two more orbital rocket launches last week. The first was a Rokot launch vehicle from Russia with several military communications satellites. China seems to be on a roll this month and launched another new rocket, the Long March 11, with several cubesats.
On Monday, September 28th, the Japanese HTV5 cargo vehicle will leave the ISS. You can follow along on NASA TV.
Since it's a bit of a slow week for spaceflight news, here are some cool pictures from ISS as filler!
Woke up to this small island outside my window on the world. #GoodMorning from @Space_Station #YearInSpace pic.twitter.com/Bo80VcsPle

— Scott Kelly (@StationCDRKelly) September 26, 2015
#GoodMorning to the Holy City of #Mecca #Makkah! #YearInSpace pic.twitter.com/pEeRKPla0G

— Scott Kelly (@StationCDRKelly) September 23, 2015
HTV, beautiful ocean and Oahu) I went to Hawaii three times, but those were business trip, so I was not able to swim. pic.twitter.com/YOGgHtgXmw

— 油井 亀美也 Kimiya.Yui (@Astro_Kimiya) September 22, 2015
#EarthArt made in #China. #YearInSpace pic.twitter.com/ZM7f2gEbM1

— Scott Kelly (@StationCDRKelly) September 22, 2015
Mt.Aso,Japan.「こうのとり君。今日の日本も天気が良いね。日本に帰ったら、阿蘇山にも行ってみたいんだ。君のマスコットも連れて行くよ」なんて語りかけながら、さっき写真を撮りました。皆さん、おやすみなさい。」 pic.twitter.com/HpqJoNk4mO

— 油井 亀美也 Kimiya.Yui (@Astro_Kimiya) September 21, 2015
Around the Solar System
NASA's Opportunity rover is preparing for the Martian winter by positioning itself on a North-facing slope in Marathon Valley.
Out There
Check out this actual imagery loop of the planet Beta Pictoris b as it moves through its orbit 63 light-years away.
Down To Earth
Some good stuff from NASA's astronaut office this week. First, the members of ISS Expeditions 48, 49, and 50 were announced. The crews have some veterans such as Jeffrey Williams and Peggy Whitson but also some rookies such as Katie Rubins and Takuya Onishi. Then, the Expedition 45 crew gave us this awesome mission promo poster.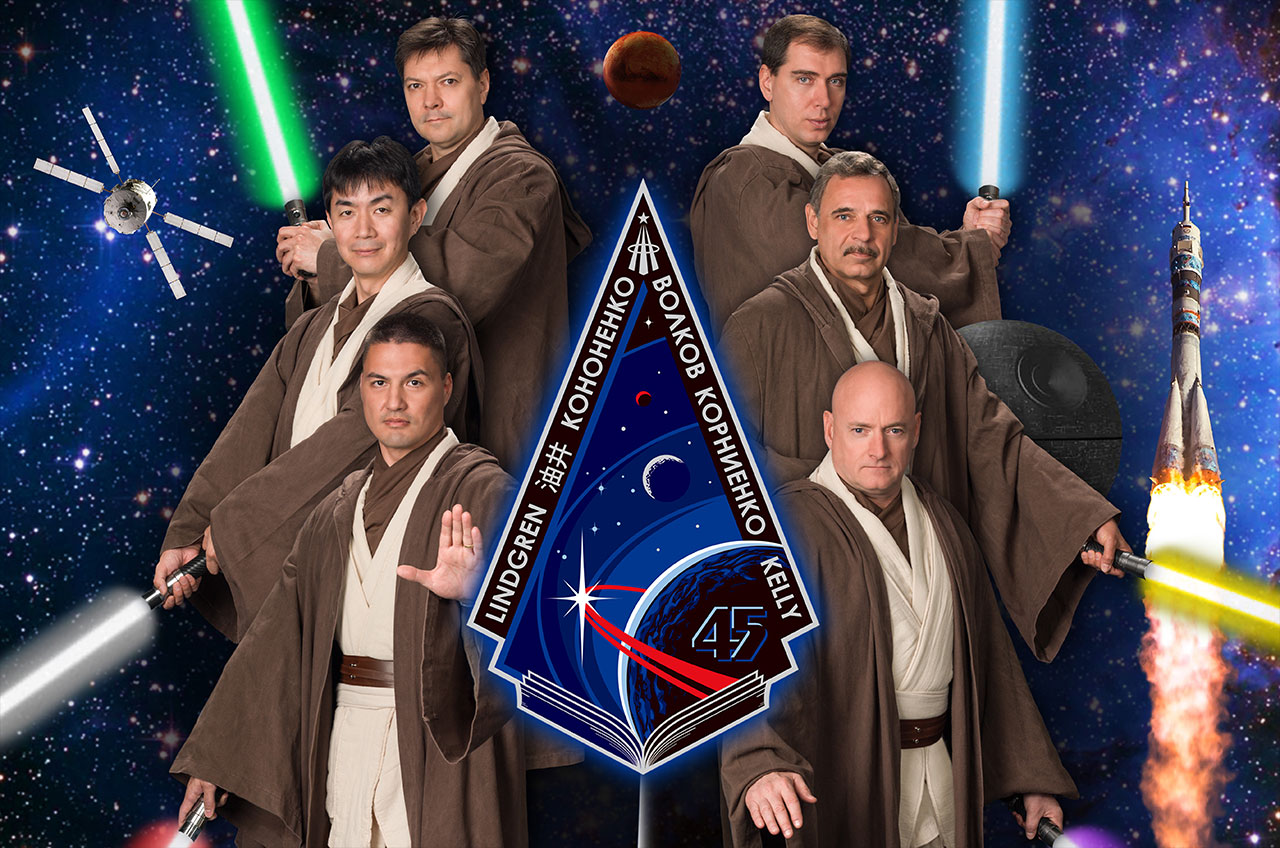 Arianespace scooped some recent commercial launch contracts that SpaceX probably would have liked to win. Interestingly, the two companies each won 7 new contracts last year.
Items from a long-forgotten bag of odds and ends from the Apollo 11 mission are on display at the National Air and Space Museum in Washington, D.C. The bag was found in Neil Armstrong's closet by his widow. You can't make this stuff up!
In Orbit
It has been a busy week in space! On Tuesday, SpaceX brought home a Dragon capsule from the ISS and then a day later launched another Falcon 9 rocket, this time with NOAA's DSCOVR spacecraft. The launch was at just about sunset making for some great pictures, which are all over the internet: Spaceflight Now has some good ones, or you can just browse Twitter.
Relive Wednesday's sunset launch in photos → http://t.co/TTlXYEaKHV pic.twitter.com/JIOwsPcJGm

— SpaceX (@SpaceX) February 13, 2015
Also on Wednesday, ESA launched a Vega rocket on a suborbital test mission of a small reusable spaceplane-like spacecraft (technically a "lifting body"). Watch how fast this rocket jumps off the pad!
#IXV safely aboard recovery ship, in great shape! Heading back to Europe for full analysis. http://t.co/TRovBGUlCS pic.twitter.com/5t39ZXM57L

— ESA (@esa) February 12, 2015
The excitement extended into the weekend, with the departure of ESA's last ATV cargo vehicle from ISS this morning. Here is the final status report from the ATV mission manager from prior to undocking. Unfortunately, the undocking was during orbital night so it is hard to find any good pictures. Here you can see ATV's navigation lights shining in the darkness.
Hey #SpaceInvader, #ATV5 just left #ISS… wasn't that the spacecraft that brought you up here? #space2iss pic.twitter.com/LtUxXO4raR

— Sam Cristoforetti (@AstroSamantha) February 14, 2015
Next week a new Progress cargo vehicle will launch from Kazakhstan taking ATV's place at the aft port of ISS. Then late in the week, Barry Wilmore and Terry Virts will step outside on the first of three upcoming spacewalks.
With such a busy and memorable week for ESA, it would be remiss of me not to share their Week in Images post!
And of course Terry and Samantha continue to take amazing photos of the Earth and post them quickly on Twitter for us to enjoy! Here is your weekly selection:
Not far from Timbuktu in Mali, the river Niger splits in many streams, highlighted by the sunglint. pic.twitter.com/1n1fmTUaDZ

— Sam Cristoforetti (@AstroSamantha) February 11, 2015
Final stretch for the #Ganges river, most sacred river to Hindus.#HelloEarth pic.twitter.com/8xUQdQkYh1

— Sam Cristoforetti (@AstroSamantha) February 13, 2015
There are things that only the darkness can frame. Turn off the light and turn on the imagination. #MilluminoDiMeno. pic.twitter.com/kHzNRZrcFW

— Sam Cristoforetti (@AstroSamantha) February 13, 2015
bright and sunny day in #NewOrleans pic.twitter.com/UZvsj1kfkt

— Terry W. Virts (@AstroTerry) February 13, 2015
#LongIsland pic.twitter.com/2vjHrcX4CA

— Terry W. Virts (@AstroTerry) February 14, 2015
#Boston pic.twitter.com/braEhRU0Of

— Terry W. Virts (@AstroTerry) February 14, 2015
And a #Florida pic after all the snow, to give people hope for spring. Pitchers and catchers report soon… pic.twitter.com/FDUnkczZ8x

— Terry W. Virts (@AstroTerry) February 14, 2015
Around the Solar System
As always, the rover Opportunity is slowly trudging along on Mars. She is approaching "Marathon Valley," the point where her odometer will reach 26.2 miles. At over 11 years, her time won't break any records; but she sure is determined.
Because it's Cool
Two new episodes of Phil Plait's Crash Course Astronomy are up!