Archive for the 'Mars' Category
Down to Earth
There was a workshop in Houston last week for technical discussion about selecting future landings sites for missions to Mars. It may seem a bit premature, with NASA saying missions to Mars won't occur for 20 years, but engineers would like to take advantage of the excellent capabilities of the Mars Reconnaissance Orbiter to get early high resolution imagery of potential targets.
The US Congress passed a federal budget bill that avoids "continuing resolution" levels of funding for the rest of Fiscal Year 2016. The appropriations negotiations for specifics, like how much money NASA will receive, is not yet decided, but generally a budget provides more flexibility than a continuing resolution. Bottom line is that space policy fans have to wait to see how their favorite NASA programs are affected, but this is hopefully good news.
Check out this article at The Atlantic that does a good job of explaining the complexities and nuances in the political battle over the construction of the Thirty Meter Telescope on Maunakea in Hawai'i.
In Orbit
In rocket news, only one Chinese launch along with the launch of a new GPS satellite from Florida this past week. The next launch to the ISS will be a Cygnus resupply on top of an Atlas V rocket in early December. Later today, the first orbital launch from Hawai'i's island of Kauai will take off from USAF's Pacific Missile Range Facility.
Up on the ISS, astronauts Scott Kelly and Kjell Lindgren got to go on their first EVA ever! The EVA had a variety of tasks (it was in fact referred to here at mission control ambiguously as simply the "ISS Upgrades EVA"). The guys get a second walk outside later this week on Friday, November 2nd.
Coming back in yesterday. Still trying to wrap my head around why we call it #spacewalk, not spacework. #YearInSpace pic.twitter.com/F8Hvq1xVcm

— Scott Kelly (@StationCDRKelly) October 29, 2015
Making my way to the US Lab to start my cable routing task. Thanks for the photo @Astro_Kimiya! #USEVA32 #spacewalk pic.twitter.com/P4pXlM2auh

— Kjell Lindgren (@astro_kjell) November 1, 2015
Meanwhile, on November 2nd, NASA marked 15 continuous years of habitation onboard the ISS.
Around the Solar System
The Cassini spacecraft conducted one of its closest flybys of Saturn's icy moon Enceladus, passing within 30 miles of the surface and flying right through the "plumes" of water ice flowing out from the subsurface ocean.
A recent astronomical study of Europa – an icy moon of Jupiter with an ocean, much like Enceladus – revealed areas on the surface that appear to have a unique composition, probably caused by the sea water mixing with the surface ice.
A very large asteroid (2,000 feet) called 2015 TB145 flew past Earth this past weekend at a distance of about half a million kilometers. Heres a radar image of the rock; here's some videos of the flyby.
The New Horizons spacecraft has conducted the first of its course correction thruster firings needed to reach its next target – a small Kuiper Belt object flyby in 2019.
Down to Earth
At the "grand opening" of Boeing's new spacecraft processing facility, the new name for their space capsule was announced. Boeing CST-100 is now called Starliner. In addition, the former Orbiter Processing Facility (OPF) at Kennedy Space Center will now be known as the Commercial Crew and Cargo Processing Facility (C3PF). Check out the new mural on the side of the building!
A couple of "design nerds" are running a Kickstarter campaign to reproduce the "NASA design manual" from 1976 which introduced the NASA worm logo, which the agency used until 1992. Given that I was born in 1987, I actually have such mixed memories of NASA imagery from my childhood that I didn't realize that " themeatball" (currently used logo) and "the worm" were mutually exclusive, and never used by NASA at the same time.
In Orbit
The big news in orbit this past week was the launch and docking of Soyuz 44, or TMA-18M, with crew of Sergey Volkov, Andreas Mogensen, and Aydyn Aimbetov. They docked this past Friday, September 4th. There will be 9 people on the ISS until Soyuz 42 (TMA-16M) undocks on September 11th. Mogensen and Aimbetov will be flying home with Gennady Padalka on the 11th.
In preparation for the crew rotation next week, Gennady Padalka handed command of the ISS over to Scott Kelly, who will command two consecutive missions, Expedition 45 and 46, until he ends his one-year mission next year.
In other launch news, a Navy communications satellite launched from Florida on an Atlas V rocket last Wednesday (actually, only a few hours after the Soyuz launch!).
Unfortunately, the big radar on NASA's Soil Moisture Active Passive (SMAP) spacecraft (launched on a Delta II rocket earlier this year) has failed. The probe has one other science instrument so it will continue operations.
An old Soviet satellite called Kosmos 1315 re-entered the atmosphere over Hawaii on August 31st, which many locals caught on film.
Around the Solar System
The Curiosity rover spotted some really interesting wind-eroded rock formations on Mars.
I know I shared one of these before but this new Pluto flyby animation is even better than the last one.
Down to Earth
Russia recently made it official that they are willing to fund joint operations of ISS through 2024. Meanwhile, NASA sent Russia almost half of a billion dollars to renew the contract for sending astronauts to the ISS on Soyuz spacecraft. The new contract is to protect against further slips in the commercial crew program schedule, as insufficient funds are being allocated by Congress, according to administrator Charlie Bolden.
NASA's ISS program manager, Mike Suffredini, is retiring from NASA. His replacement will be Kirk Shireman.
Buzz Aldrin has taken a faculty position at Florida Tech.
Don't forget that the Perseid Meteor Shower is this week!
In Orbit
Two cosmonauts on the ISS will go for a spacewalk Monday morning (August 10). You can watch live on NASA TV.
NASA has named the astronauts that will make up Expeditions 51 and 52 in 2017.
Check out this view of the moon passing in front of the Earth from the DISCOVR satellite.
As usual, lots of great tweets from the crew on the ISS this week, including stunning shots of Super Typhoon Soudelor.
Ready to steady my aim & share the awe out this window. Puerto Deseado #Argentina. What makes the northern lake red? pic.twitter.com/wLxt4DdkwR

— Kjell Lindgren (@astro_kjell) August 2, 2015
#MondayMotivation There's something beautiful over every mountain. #YearInSpace pic.twitter.com/svbKxUNwYf

— Scott Kelly (@StationCDRKelly) August 3, 2015
#EarthArt Still waters run deep. #YearInSpace pic.twitter.com/CusVmIoh2W

— Scott Kelly (@StationCDRKelly) August 4, 2015
猛烈な強さの台風が接近中です。台風の情報に注意し、準備を怠りなく行って下さい。 Very strong Typhoon is moving toward Taiwan. Please be prepared and be safe. pic.twitter.com/KSDLieZwCL

— 油井 亀美也 Kimiya.Yui (@Astro_Kimiya) August 4, 2015
Typhoon #Soudelor from @space_station. It's a monster. We'll try to keep an eye on it. Be safe #Taiwan. #YearInSpace pic.twitter.com/pHWanZ0hTB

— Scott Kelly (@StationCDRKelly) August 5, 2015
どうか、この雲の下に居られる方々が、無事でありますように・・・ I am praying for the safety of the people who are living under this huge cloud… pic.twitter.com/go9Ubghpl0

— 油井 亀美也 Kimiya.Yui (@Astro_Kimiya) August 7, 2015
#GoodMorning #Earth! Sometimes you appear as an island in space. #YearInSpace pic.twitter.com/nlGbn3CKMW

— Scott Kelly (@StationCDRKelly) August 9, 2015
— Kjell Lindgren (@astro_kjell) August 9, 2015
Southern tip of Madagascar – so much going on here! Reefs, dunes, a plume of silty water…beautiful. pic.twitter.com/sNxVf8NmgJ

— Kjell Lindgren (@astro_kjell) August 9, 2015
Around the Solar System
Check out this animation of our current map of the asteroid Ceres, from NASA's Dawn spacecraft.
Comet 67P, Where ESA's Rosetta probe is in orbit, will reach perihelion this week. ESA is hosting a Google Hangout on August 13th.
The number of potential landing sites for NASA's "Mars 2020″ rover has been reduced to 8 candidates.
Meanwhile, Curiosity just celebrated its third anniversary on Mars.
Down to Earth
Astronauts Stephen Frick and Michael Foreman announced their retirement from NASA this week. If you are interested, NASA maintains an updated list of active astronauts here, which can be easily copied into a spreadsheet. With the addition of the class of 2013 as active astronauts, the number is currently at 46 after recent retirements. Interestingly, the oldest class still represented is the class of 1996, of which Scott Kelly (currently in space) and Peggy Whitson and Jeff Williams (upcoming ISS commanders), are all members.
The National Transportation Safety Board (NTSB) released their findings regarding the accident last fall that destroyed the Virgin Galactic SpaceShipTwo spacecraft and one of its pilots. Their findings are summarized nicely at Parabolic Arc or you can read the longer executive summary of the report. In short, it was indeed the "early unlocking" of the spaceplanes "feather system" that doomed the craft. the NTSB's analysis found that the risk of human error was not properly taken into account during development.
Rumors out of Russia is that a new "Manned Spaceflight Center", analogous to NASA's Johnson Space Center, is in the planning stages, and would be headed by former cosmonaut Sergei Krikalev.
In Orbit
Last weekend, on Saturday, July 25th, ISS flight controllers had to command a debris avoidance maneuver to dodge orbital debris that was headed to the ISS.
Check out this absolutely awesome virtual ISS tour published by ESA and narrated by Samantha Cristoforetti. Some people are calling it "Google Street View on ISS" but it's really just an old school click-through VR tour. It's very well done!
ESA is exposing the bacteria found in kombucha to space on the ISS to see how it fares in the harsh environment.
Another cool experiment I learned about while at an ISS payloads meeting in Huntsville, Alabama last week is a small genetic sequencer called minION, which will launch next year.
Peggy Whitson, who will command ISS Expedition 51 in 2017, has joined Twitter!
Hello, Twitter! Join my adventure as I get ready for a six-month mission to @Space_Station. pic.twitter.com/gyJYn1WbMv

— Peggy Whitson (@AstroPeggy) July 31, 2015
Speaking of Twitter, here are some good posts from the three tweeters in space right now:
日没直後の地球を見ていたら、雷が光っていました。あの雲の下にいる人たちは大丈夫かな?と考えてしまいます。自然の猛威も宇宙から見ると美しく見えてしまうなんて。そんな中、金星と木星が並んで地球へ沈んでいきました。宇宙の大きさを実感します。 pic.twitter.com/wOI4hwKk6a

— 油井 亀美也 Kimiya.Yui (@Astro_Kimiya) July 26, 2015
#EarthArt The analogy of onion layers should be replaced with Earth. #YearInSpace pic.twitter.com/IQq0lUEyFD

— Scott Kelly (@StationCDRKelly) July 27, 2015
#EarthArt Clouds adrift an emerald valley in #China create cool contrast from 250 miles above. #YearInSpace pic.twitter.com/wTKX8WekMk

— Scott Kelly (@StationCDRKelly) July 28, 2015
#EarthArt The color psychology of orange is optimistic. From my view things are looking up down there. #YearInSpace pic.twitter.com/RUudlFgboh

— Scott Kelly (@StationCDRKelly) July 29, 2015
High sun angles we're at on @Space_Station make for striking images of the mountains of #SouthAmerica. #YearInSpace pic.twitter.com/oxloRnWqiJ

— Scott Kelly (@StationCDRKelly) July 30, 2015
Around the Solar System
The Cassini spacecraft has discovered strange red stripes or streaks on the surface of Saturn's moon, Tethys. Check it out.
The Curiosity rover is busy investigating some interesting new rocks it has found on the slopes of Mount Sharp on Mars.
Out There
A combination of observations from the HARPS-North ground telescope and NASA's Spitzer Space Telescope have confirmed the existence of a rocky exoplanet just about 21 light-years away.
While studying another star that is about 20 light-years away, NASA astronomers from JPL have discovered aurora in the atmosphere of a brown dwarf star.
Down To Earth
Claudia Alexander, a successful planetary scientist who has been a project manager for NASA, died Saturday, July 11th.
Devastating news today in the passing of Claudia Alexander @claudiauthorsci, scientist, teacher, author, role model. https://t.co/tKkqf4Eyea

— Robert Pappalardo (@RPappalardo) July 12, 2015
William Borucki, Principal Investigator of the Kepler Space Telescope, has retired from NASA after over 50 years with the agency.
A few announcements out of NASA's astronaut office this week: Chris Cassidy is the new chief of the astronaut office, replacing Bob Behnken, who will be busy training as one of the four astronauts chosen for the first commercial crew flights in 2017. The other three are Sunita Williams, Eric Boe, and Doug Hurley. Also, the class of 2013 has officially graduated from ASCANs (astronaut candidates) to astronauts, after finishing what is basically their "basic training".
Nicole Stott, who recently retired from the astronaut office, is taking up space-themed art as her new mission. Very cool!
In Orbit
Follow-up to the launch news from last week: the Progress resupply vehicle launched on July 3rd made it to ISS on the 5th, keeping the supply chains flowing. The next ISS cargo mission is a Japanese HTV flight in August.
Also in rocket news, there was one orbital launch last week from India, carrying several commercial and technology demonstration satellites. Upcoming launches include an Ariane 5 launch from Kourou and an Atlas V launch from Florida, both on the 15th (I use this Wiki page to track launch schedules).
You've got to love a good ISS transit photo. Here's one of the station passing in front of the moon.
Around the Solar System
It's time! New Horizons will fly past Pluto on Tuesday! Here is a summary of NASA TV's coverage of the flyby. The probe gave us a scare last weekend when it went into safe mode briefly, but it is back up and running now and sending home new pictures every day.
The Dawn spacecraft, in orbit around dwarf planet Ceres, also went into safe mode recently, but was also recovered. Dawn was planning to spiral down to a lower mapping orbit but the issue has delayed that next step in the flight plan.
Mission controllers for the Curiosity rover are dealing with some troubles of their own on Mars. The rovers wheels are continuing to show signs of worsening wheel damage. However, the JPL guys know what they are doing, and they don't seem too worried yet. Here are some good details from Space.com.
Down to Earth
The next SpaceX resupply flight to ISS will now be on June 28.
NASA's "Europa Clipper" mission, which will explore the icy moon of Jupiter, has moved on to development phase.
US Senator from Texas John Cornyn visited mission control last week.
Honored to speak with @StationCDRKelly on the Int'l Space Station today. Thx to all @NASA_Johnson for your service. pic.twitter.com/pR7UVM2sHh

— JohnCornyn (@JohnCornyn) June 19, 2015
In Orbit
For the rocket junkies, the first launch since June 5th occurred today. The ESA Earth-observing satellite Sentinel-2 launched from French Guiana just a little while ago as I write this. There are no press releases up about the successful launch yet, so here is the Wikipedia page about the mission. Russia is launching a reconnaissance mission on a Soyuz rocket tomorrow, and then there is the SpaceX launch next Monday (see Wikipedia page 2015 in spaceflight for launch schedule).
On Thursday, ISS flight control teams commanded a reboost burn in order to slightly changing the station's orbit. This is done to make sure that upcoming rendezvous events, like the next Soyuz launch and docking in July, happen when and where they are planned.
Robonaut 2, which lives aboard the ISS, was named the 2014 Government Invention of the Year (US).
New high definition videos of cities, filmed from the ISS, were released by UrtheCast. From 200+ miles up, you can see cars moving on streets and boats on rivers. More than that though, I think I like watching the buildings "move" as the perspective shifts at 17,500 mph.
The Planetary Society's LightSail solar sailing test re-entered Earth's atmosphere last Sunday, June 13th. Their next test launch will be late in 2016.
Roscosmos has announced that Sarah Brightman's empty seat on Soyuz TMA-18M later this year will be filled by a cosmonaut from Kazakhstan.
Scott Kelly is doing a great job still posting a great variety of beautiful images from ISS on Twitter all by himself. Here is a sampling:
There seems to be more green in the #African desert lately. This is a good thing. #YearInSpace pic.twitter.com/zwl4VBE4RW

— Scott Kelly (@StationCDRKelly) June 14, 2015
#SaturdaySelfie Earth shine. Top-N. African desert, bottom- few seconds later over the Mediterranean #YearInSpace pic.twitter.com/QLNLOyYc9p

— Scott Kelly (@StationCDRKelly) June 20, 2015
Whenever I think I've seen all the desert scenes #Earth has to offer I see something new and amazing. #YearInSpace pic.twitter.com/LUcSx87U0w

— Scott Kelly (@StationCDRKelly) June 18, 2015
Day 84. Opalescent #EarthArt. The world is your oyster. Good night from @space_station! #YearInSpace pic.twitter.com/ZJS59Z1BlD

— Scott Kelly (@StationCDRKelly) June 19, 2015
Around the Solar System
ESA's Philae lander, which has been hibernating on comet 67P since November, has woken up! Data was received by the Rosetta orbiter on June 13 and 14, prompting the mission team to start making plans for when they gain a more solid link with the probe.
Scientists have discovered methane in Martian meteorites (pieces of Mars that came to Earth as a meteorite), thus confirming and deepening the mystery around the methane that has been detected at Mars by various spacecraft.
Check out this epic trailer for the upcoming rendezvous of the New Horizons spacecraft at Pluto:
Down to Earth
Jack King, who provided launch commentary for NASA missions in the 1960s and 1970s, has died at 84.
The United States Senate is busy working on a markup of a budget in the Commerce-Justice-Science (CJS) subcommittee, which includes money for NASA. The current budget, if passed, would include about $18.5 billion for NASA. However, there is some debate about how that money is being spent, including whether enough money is being allocated to the "commercial crew" program for launching astronauts to ISS on spacecraft built by SpaceX and Boeing.
NASA has awarded $30 million to SpaceX for their launch abort test milestone last month.
NASA's Low Density Supersonic Decelerator (LDSD) had a second drop test over Hawaii this week. The technology will help with Martian EDL for large mass spacecraft. Unfortunately, the parachute failed at high altitudes. More test flights are planned.
In Orbit
It was a very busy week up on the ISS. The most important update is that Expedition 43 ended on Wednesday when Terry Virts handed over command to Gennady Padalka for Expedition 44. Then on Thursday morning the crew of TMA-15M (consisting of Terry Virts, Samantha Cristoforetti, and Anton Shkaplerov) undocked from the ISS and landed safely in Kazakhstan a few hours later.
Earlier in the week, there was some unrelated excitement: first, on Monday, June 8th, the mission control teams in Moscow and Houston had to work together to execute a Pre-determined Debris Avoidance Maneuver (PDAM) to change the ISS orbit to dodge some space junk.
Then, on Tuesday, an unexpected thruster firing from a docked Soyuz vehicle caused ISS to take contingency actions. The Soyuz thruster firing overwhelmed the NASA-owned Control Moment Gyroscopes (CMGs), requiring use of Russian Segment attitude control thrusters to "right the ship" so to speak. Long story short, this is exactly the kind of contingency we plan for and practice hundreds of times in the ADCO group. From what I have heard, the situation was handled very well!
With Expedition 44 underway, there are only 3 astronauts aboard ISS. According to official launch dates from Roscosmos, we won't see 6 people aboard again until TMA-17M launches in late July.
The LightSail mission has been declared a success, now that there are images of the mylar solar sails deployed! Can't wait for the next test flight next year.
Around the Solar System
NASA's Mars Reconnaissance Orbiter has found evidence of impact glass, which may preserve evidence of past life.
Here is some new imagery of Ceres from the Dawn spacecraft, featuring a new high resolution look at the "bright spots". Ceres is slowly moving to lower and lower mapping orbits.
There is also new imagery of Pluto from New Horizons:
THIS IS THE GREATEST IMAGE OF PLUTO AND CHARON EVER TAKEN. (Saying this will never get old.) (Taken 20 hours ago!) pic.twitter.com/l0WesvG7Cm

— Emily Lakdawalla (@elakdawalla) June 12, 2015
Because its Cool
Check out the first official trailer for the highly anticipated (at least by geeks) movie, The Martian:
This post will have to cover the last two weeks, as I missed last week's update partly due to being on the evening shift at the ADCO console. I happened to be on duty in mission control when the lost Progress cargo ship re-entered the Earth's atmosphere over the Pacific. Unfortunately, ISS was too far away for us to see anything from the onboard cameras.
Down to Earth
The crew of Expedition 43 will not be coming back down to Earth as planned this month. NASA and the other ISS partners announced this week that upcoming crew rotation dates will be delayed due to the ongoing investigation of the Progress resupply craft that failed to reach ISS. The next launch was also postponed by a couple of months.
Fortunately, the astronauts aboard ISS seem to be in high spirits and are making the best of it:
Looks like it's not time to get my spacesuit ready yet… what a present! #MoreTimeInSpace http://t.co/i26pwWu8Oo pic.twitter.com/HzSuRjFQpE

— Sam Cristoforetti (@AstroSamantha) May 12, 2015
Today was our original landing date but we got extended, @astrosamantha, @antonastrey and I are very glad to stay! pic.twitter.com/DKDax710XZ

— Terry W. Virts (@AstroTerry) May 13, 2015
In a seemingly unrelated announcement, British singer and spaceflight hopeful, Sarah Brightman, has postponed her plans to fly on a Soyuz to the International Space Station, according to a press release on her website. No official word yet if her backup Satoshi Takamatsu will take her Soyuz seat on TMA-18M later this year.
A new astronaut movie called Pale Blue Dot will star Reese Witherspoon. Let's hope it lives up to the pedigree of its namesake. Based on what little we know about it so far, I don't know if I am convinced.
The company that designed the capillary flow coffee cups for serving espresso on the ISS wants to commercially produce the cups for sale on Earth. You can pledge to their Kickstarter here.
The UAE space agency has produced a pretty interesting promo video for their Martian orbiter mission plans:
In Orbit
Check out this awesome video blog from Smarter Every Day about the window shutters in the Cupola on ISS (via Bad Astronomy).
Here are some of my favorite posts from the astronauts in space from the last week or so:
Looking at the sands of #Earth it's hard to imagine there are more stars than every grain on our planet.#YearInSpace pic.twitter.com/NJlP9Hi6eD

— Scott Kelly (@StationCDRKelly) May 8, 2015
The rising sun casts shadows upon the US #SouthWest this morning creating a striking image. #YearInSpace pic.twitter.com/dj4aB2hyoq

— Scott Kelly (@StationCDRKelly) May 8, 2015
Subtropical Storm #Ana churns off the East coast of USA. #Wx from @Space_Station. #YearInSpace pic.twitter.com/uaMRGDO8JG

— Scott Kelly (@StationCDRKelly) May 8, 2015
Massive lightning storm over #India. A majestic performance that inspires awe and respect. #SpaceVine https://t.co/yrMpOV2J1D

— Terry W. Virts (@AstroTerry) May 9, 2015
These dark clouds in the US heartland look very threatening. Be safe! #wxreport #YearInSpace pic.twitter.com/eIFbbKAxsi

— Scott Kelly (@StationCDRKelly) May 10, 2015
Fishing boats… what an intriguing visual effects as the light shines through a cloud layer! pic.twitter.com/ugdIYu2m6I

— Sam Cristoforetti (@AstroSamantha) May 11, 2015
Fun with candy: I am a human centrifuge in this #spacevine https://t.co/IQh1wr4kQv

— Sam Cristoforetti (@AstroSamantha) May 11, 2015
My first look out the window today. #YearInSpace pic.twitter.com/61hpRPE9KB

— Scott Kelly (@StationCDRKelly) May 14, 2015
Around the Solar System
The small Japanese probe Procyon was unable to recover its ion engine in time for a needed course correction and will miss its asteroid rendezvous. Procyon launched with Hayabusa 2 in December.
New Horizons is now close enough to Pluto to image all 5 of its known moons!
The "tiger stripes" on Europa could be "sea salt" from beneath the surface.
In other icy moon news, the geysers on Enceladus, seen by the Cassini probe, may actually be curtains rather than geysers.
Check out this awesome Vine from Saturn:
And How could I not share this sunset image taken by the Curiosity rover on Mars.
Out There
Astronomers may have found the first volcanoes on a planet around another star.
Astronomers from Yale University discovered the most distant galaxy ever seen – a stunning 13 billion light years distant.
Down to Earth
Ron Howard is working on a TV a miniseries based on Elon Musk and his plans to colonize Mars.
Bulgaria has joined ESA as a "cooperating state".
Orbital ATK has been contracted by Lockheed Martin to provide the launch abort motor for Orion.
Blue Origin will reportedly resume test flights of their New Shepard rocket later this year.
Check out these very creative animations of NASA's Apollo mission patches (via CollectSpace).
The members of the Made in Space ISS 3-D printer team received their shipment recently. In fact, you can watch them unboxing it on YouTube (via Parabolic Arc):
In Orbit
SpaceX will launch their next ISS resupply mission today, April 13, and will also be giving the barge landing another shot. The static fire test happened on Saturday, which is an important milestone before launch. I suspect they won't stream imagery of the barge landing live (like last time) but hopefully they will have dramatic imagery of a success or failure to share afterwards! Among other cargo, food, and science that this CRS-6 mission is hauling to the ISS, there is also a cubesat known as Arkyd-3, which is a demonstration mission for the asteroid mining company Planetary Resources.
Brown: next SpaceX CRS flight, SpX-6, will carry 8 CubeSat deployers, including 14 Planet Labs sats and Arkyd-3 reflight. #NRISSWorkshop

— Jeff Foust (@jeff_foust) February 17, 2015
The forecast for the launch window is only 60% as of last night. There is another launch window on Tuesday. Here is Spaceflight Now's live stream with "mission status center".
And of course I need to share a few recent tweets and pictures from the ISS:
#Namibia, in southwestern Africa, home to the tallest sand dunes on earth. pic.twitter.com/OMI7419JFR

— Terry W. Virts (@AstroTerry) April 10, 2015
#Riodejaneiro You seem to have much to offer. Need to see up close someday. #YearInSpace pic.twitter.com/YG1h1tLhUT

— Scott Kelly (@StationCDRKelly) April 10, 2015
Moonglint over the Mediterranean. Il riflesso della luna sul Mediterraneo. #HelloEarth pic.twitter.com/Bwv5TbUPa7

— Sam Cristoforetti (@AstroSamantha) April 11, 2015
Some more #ColorsOfTheEarth! pic.twitter.com/txct9XuEqZ

— Sam Cristoforetti (@AstroSamantha) April 11, 2015
A touch of everything #SpaceVine. https://t.co/DjBg6F57ki

— Terry W. Virts (@AstroTerry) April 12, 2015
Last glow of the Sun before orbital sunset. L'ultimo bagliore del Sole prima del tramonto in orbita. pic.twitter.com/07AVp5YlnB

— Sam Cristoforetti (@AstroSamantha) April 12, 2015
Not sure what is going on on this beach in #Mexico but it's a striking image. #YearInSpace pic.twitter.com/RUQwMk7F2R

— Scott Kelly (@StationCDRKelly) April 12, 2015
"Starry Night," it's not quite Van Gogh, but a pretty cool perspective from up here in space. pic.twitter.com/TcAAiiAOQ5

— Terry W. Virts (@AstroTerry) April 13, 2015
Around the Solar System
Curiosity has been very busy in Gusev Crater on Mars ever since the team resolved the issue with the instruments on the robotic arm earlier this year. They recently did a few good drives and got some great images. You can see them and follow along with the mission at The Martian Chronicles blog. I love this picture. Curiosity should be reaching the 10 kilometer mark soon.
NASA's MAVEN spacecraft has completed 1,000 orbits of Mars.
Mission planners for ESA's Rosetta are rethinking their future close flybys of the comet 67P due to the navigation hazard caused by dust. A flyby in March sent the spacecraft into safe mode.
And don't forget Cassini, still orbiting Saturn taking amazing pictures and doing science!
Down to Earth
The California Senate has voted to replace one of their statues in Statuary Hall in Washington, D.C. with a likeness of late astronaut Sally Ride. Awesome! The bill still has a few legislative hurdles before it is law though.
The user-proposed LEGO model of the ISS has received enough votes for the company to move it to "production review".
United Launch Alliance announced their plans for their Next Generation Launch System (NGLS) which will replace the Atlas family of rockets in a few short years (hopefully). The new rocket will be named Vulcan and will be ULA's answer to the US Congress's order to stop using the Russian built RD-180 engine to launch DoD assets. Not only does Vulcan solve the RD-180 problem by contracting with Blue Origin to develop a new liquid propellant first stage, the BE-4, but it answers SpaceX's innovative attempts at reusability with their own system (see graphic below).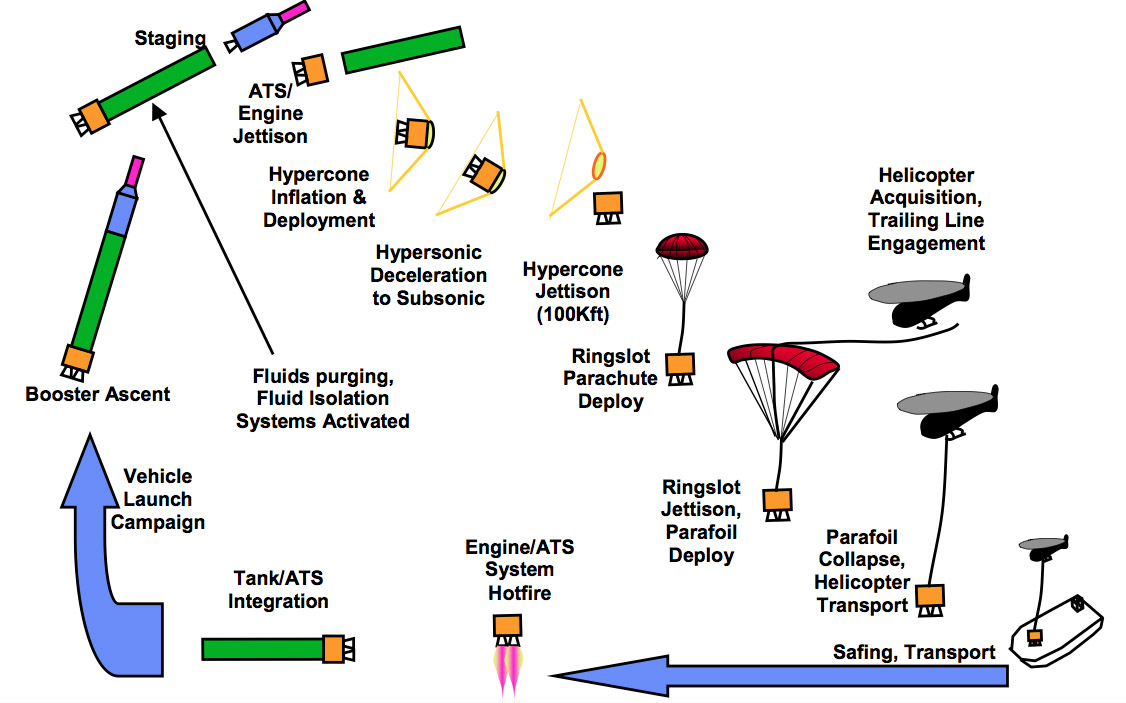 Sierra Nevada Corporation and the Germany space agency DLR signed an agreement to cooperate on future uses of the Dream Chaser space plane.
In Orbit
SpaceX launched CRS-6, another ISS resupply mission, last Tuesday. The cargo arrived safely on Friday when Samantha Cristoforetti captured the vehicle with the Canadarm-2.
Congrats @SpaceX and @NASA team on a successful launch! Watched with my crewmates aboard #ISS. #YearInSpace pic.twitter.com/kVeCevGCjQ

— Scott Kelly (@StationCDRKelly) April 14, 2015
Great job @AstroSamantha and @AstroTerry capturing #SpaceX Dragon this morning! #YearInSpace pic.twitter.com/mECacqaGhV

— Scott Kelly (@StationCDRKelly) April 17, 2015
The Dragon spacecraft has a new ISSpresso machine onboard, built by an Italian company to be delivered while Samantha Cristoforetti is on ISS.
SpaceX's attempt to land their Falcon 9 rocket's first stage on a barge (ahem, the Autonomous Spaceport Droneship) was not successful. Luckily, we got what we were all waiting for: awesome footage of the not-landing! Good job, SpaceX! They will likely stick it next time (YouTube link via Parabolic Arc).
Some SpaceX employees had some fun (honestly, I don't know how they found the time) producing a music video parody of Uptown Funk entitled Launch You Up. Enjoy. (Update: I've been informed that these are not actually SpaceX employees. The video is by Cinesaurus which is in the business of producing parodies on YouTube. It is entertaining nevertheless)
Those guys better get back to work. The next Falcon 9 launch is scheduled for April 27, which would be the fastest time between two Falcon 9 launches, 10 days, beating the previous record of 13 days.
This Hyundai commercial entitled "A Message To Space" may be an ad, but it is still inspirational and I love seeing the ISS on TV. I hope to see more things like this in the future!
And here's the obligatory list of best pictures taken from the ISS astronauts over the last week. They never fail to impress:
I've never heard of #Moa #Cuba but it's a very colorful place from @Space_Station. #YearInSpace pic.twitter.com/eX3gFXIQOS

— Scott Kelly (@StationCDRKelly) April 15, 2015
An unknown river snakes its way through the #Amazon jungle. I didn't notice it until it caught the sun glint. pic.twitter.com/q4L3yCe3SK

— Terry W. Virts (@AstroTerry) April 15, 2015
Salut #Paris! pic.twitter.com/Lmgq09tArT

— Sam Cristoforetti (@AstroSamantha) April 16, 2015
Performed spacesuit torso transplant w/ @StationCDRKelly. 1st time that has been done in space. #SpaceVine https://t.co/wFUEo47XrS

— Terry W. Virts (@AstroTerry) April 18, 2015
.@AstroTerry and I in our #Dragon slaying gear (vehicle entry protection equipment) today. #YearInSpace pic.twitter.com/UVv42Hit5Q

— Scott Kelly (@StationCDRKelly) April 18, 2015
Physics is fun in zero gravity. Spinning chain #SpaceVine shows centripetal force causes circular shape. https://t.co/C28dPDM7uC

— Terry W. Virts (@AstroTerry) April 19, 2015
The future of human space exploration – #Moon and #Mars setting behind one of our solar arrays. pic.twitter.com/45JI8GHaGU

— Terry W. Virts (@AstroTerry) April 19, 2015
Around the Solar System
Measurements from the Curiosity rover indicate that liquid water could exist in the soil at night on Mars. In short, the speculated process requires two key factors: salts in the soil, and then humid air during the day that freezes into frost in the evening. This frost then combines with the salts to make a brine which has a higher freezing point, such that it might melt and exist as liquid. Exciting!
Curiosity also stopped to watch a sunset on Sol 956 last week in order to catch images of a Mercury transit. As far as I have found, the images have not been released yet.
Meanwhile, Dawn is getting closer to Ceres and New Horizons is getting closer to Pluto. Both probes returned some exciting new imagery over the last week, including the first color view of Pluto and Charon from New Horizons.
I just learned about the small probe PROCYON that is heading towards asteroid 2000 DP107. PROCYON was launched as a secondary payload with Japan's Hayabusa-2. Unfortunately, PROCYON is having a bit of a problem with its ion propulsion. I hope they get it fixed soon!