Archive for the 'Juno' Category
Down to Earth
Peggy Whitson, the American astronaut with the most day's in space, has retired from NASA.
Orbital ATK is no officially a division of Northrop Grumman.
An interesting Pew Research Center poll was getting some media coverage last week, after it showed that the American public's priorities for NASA do not line up with its official priorities (at least when you measure "priorities" by funding levels).
Check out the trailer for the upcoming film First Man.
The new NASA Johnson Space Center director, Mark Geyer, now has a twitter account.
The soccer ball used to kickoff the 2018 FIFA World Cup was previously flown to the ISS.
In Orbit
There were four orbital rocket launches since my last post on June 5th:
In upcoming launches, Rocket Lab will launch its first commercial flight from New Zealand on June 23rd.
Perfect wet dress today from the team and Electron. #ItsBusinessTime is ready for flight next week! #INeverWantToHoldAgain pic.twitter.com/blwoZUWE1N

— Peter Beck (@Peter_J_Beck) June 16, 2018
The Soyuz crew arrived at the ISS a couple of days after launch, bringing the onboard crew to six withSergey Prokopyev, Serena Auñón-Chancellor, and Alex Gerst now onboard.
Astronauts Drew Feustel and Ricky Arnold completed a nearly 7-hour spacewalk at the ISS last Thursday, in order to complete maintenance activities and install new cameras.
Around the Solar System
A major dust storm on Mars has caused NASA to lose contact with the solar-powered Mars rover Opportunity. The rover is in low power mode waiting out the storm. Mission controllers are waiting for sufficient battery charge to allow the rover to restore communications.
Fortunately, the nuclear powered rover Curiosity can keep on roaming through the dust storm. It captured this image of the hazy sky from Gale Crater.
Scientists with the Curiosity mission published two new papers detailing discoveries related to season methane concentrations in the atmosphere and ancient organic molecules in rock samples.
An extension to NASA's Juno mission, currently in orbit of Jupiter, has been approved.
Japan's Hayabusa-2 spacecraft is now close enough to asteroid Ryugu that it has been able to image the small rock.
Out There
Astronomers have made observation of a "tidal event" in which a star is seen falling into a supermassive black hole in a distant galaxy.
Down to Earth
United Launch Alliance (ULA) and the International Association of Machinists and Aerospace Workers (IAM) have struck a deal to end a 13-day strike.
Astronaut Drew Feustel received an honorary doctorate from his alma mater, Purdue University, from space.
In Orbit
Last Wednesday, Drew Feustel and Ricky Arnold completed a planned 6-hour and 31-minute spacewalk aboard the International Space Station.
The only orbital rocket launch since my last post on May 15th was a Chinese Long March 4C rocket carrying the Queqiao satellite. Queqiao will be a a communications relay satellite for the upcoming Chang'e 4 lunar rover mission.
China also launched a notable suborbital rocket this past week. A private Chinese company OneSpace Technology, performed the first launch of their OS-X suborbital rocket.
Next week there are some interesting launches planned. On Monday, May 21, Orbital ATK will launch a Cygnus on its way to the ISS from Wallops Island Virginia. On Tuesday, May 22, SpaceX will launch a Falcon 9 rocket form Vandenberg in California.
Around the Solar System
This is a nice composite of images from Juno's first 11 orbits of Jupiter.
NASA is planning to send a small helicopter to Mars along with the 2020 rover mission.
Down to Earth
Mattell launched a new line of "Inspiring Women" Barbie dolls. The release includes a doll of NASA's Katherine Johnson, made famous by the movie Hidden Figures.
JPL posted a 360-video from inside the InSight lander test lab (this is the next mission to Mars launching in May).
Westworld director Jonah Nola showed the below video during a SXSW panel this weekend.
National Geographic's March issue features NASA astronaut Peggy Whitson on the cover and an article by Nadia Drake which profiles a handful of other astronauts.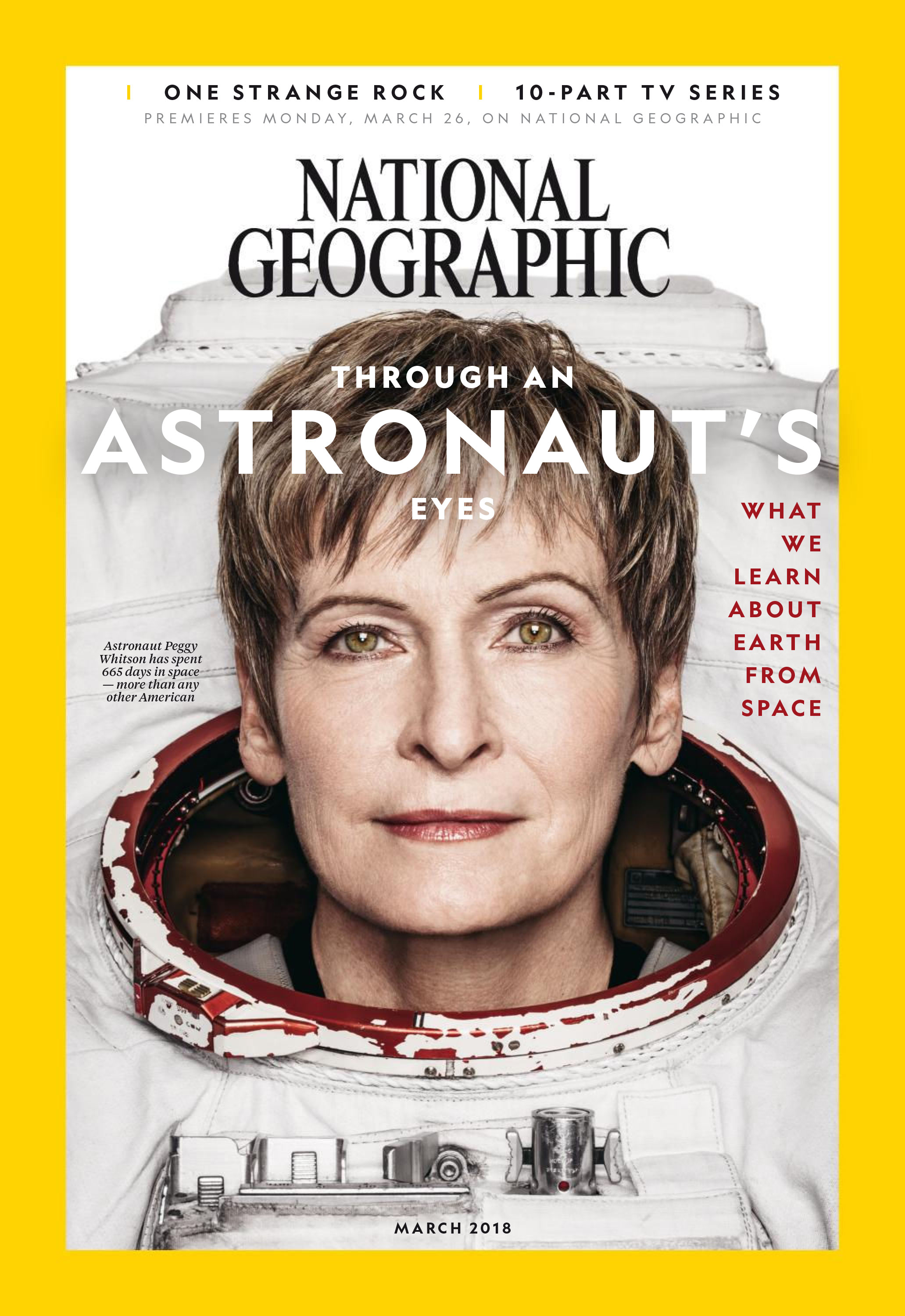 In Orbit
Two rocket launches since my last post a week ago:
March 6 – SpaceX launched a Falcon 9 rocket carrying two satellites for commercial companies.
March 9 – Arianespace launched a Soyuz rocket from Kourou carrying three communications satellites for O3b.
There has been a lot of talk lately of China's defunct Tiangong-1 space station, and it's imminent uncontrolled plunge back to Earth. Predictions are for early April.
Around the Solar System
NASA released some new imagery data and science results from the Juno probe in orbit of Jupiter. Some of the intriguing mysteries uncovered include the strange polar cyclones and the 3,000 kilometer deep wind patters. Phil Plait has an excellent summary at his blog.
Out There
Another asteroid on an interstellar hyperbolic orbit has been discovered. This object is likely from the Oort cloud, which makes it different than 'Omuamua, which is believed to have originated in interstellar space.
The year of 2017 will be remembered by most of my readers for reasons totally unrelated to spaceflight. It was a tumultuous year with political turmoil, social strife, acts of violence, and devastating natural disasters. Unfortunately, it is these negative stories that tend to embed themselves in our memories as we witness the arc of history unfold. Even when we zoom out to a wide angle view of decades or centuries, it is violence and conflict we remember. What were the biggest events of the 20th century? Wars, economic collapse, threats of annihilation, and social strife. I don't have to remind you though, as a space fan, that most of the world shares at least one bright memory of the difficult last century: Apollo 11.
In a similar way, I'm hoping that through all the difficult times we face as a society in the 21st century, that spaceflight can be one of those bright spots that is a source of optimism and hope (although, surely not the only source). As Bill Nye is fond of saying "space brings out the best in us." Spaceflight is an outlet for positive creative energy. Spaceflight applies technology in new ways, often leading to new inventions and sometimes entire industries. Spaceflight allows us to conduct important research that applies directly to the interests and concerns of everyone on Earth – from medical studies onboard the ISS to weather and climate satellites to space telescopes looking out for Near Earth Objects (NEOs).
Spaceflight is a bipartisan endeavor universally loved by young and old alike because it taps into something innate in us. Whether it's the love of exploration and discovery or just the appeal of astronauts as wholesome hometown heroes, space has always been an easy sell to the public. Very few other uses of time and money are as generally noncontroversial (although we like to argue over specifics). There was a chance for space to get swallowed up in the political turmoil in Washington, DC this past year. Luckily, that didn't happen. Instead, the space industry had another great year with very few setbacks.
Some readers may take issue with that statement and want to argue that it was not a great year for space. After all, NASA still has no confirmed administrator, XCOR went out of business, several programs slipped their launch dates (JWST, SLS, Orion), and Cassini ended its mission at Saturn (leaving us with a dearth of outer solar system probes). But if we look at those space programs or missions that are active and flying, we see lots of success in 2017 with few failures. The loss of Cassini should probably be spun as a positive story anyway – the planned retirement of a historic program of exploration – 13 years in Saturn orbit.
Other than the few things I listed above, the only other major setbacks of 2017 would be the five complete launch failures shown below (there were one or two other partial failures). Both Japan and New Zealand (Rocket Lab) lost rockets on their maiden launch. India, China, and Russia all lost one rocket each. The two remaining major space powers – ESA and USA – did not have any launch failures.
| | | | |
| --- | --- | --- | --- |
| Country | Vehicle | Payload | Maiden launch? |
| Japan | SS-520 | nanosat | Yes |
| New Zealand | Electron | none | Yes |
| China | Long March 5 | Comm sat | No |
| India | PSLV | Nav sat | No |
| Russia | Soyuz | Various | No |
2017 actually had the lowest launch success rate since 2011 and yet overall it felt like a very successful year (launch success was about 93% instead of the usual 95%). A few things contribute to this being a good year for rockets. First of course, is that 2 of the failures were test launches. If you remove them from the accounting, we are back at 95%. The second big reason is that none of the other failures led to an interruption in logistical support for the ISS. From 2014 to 2016, ISS operations lost four uncrewed logistical support rockets. After a string that bad, the last 13 months of successful flights (ten missions in all) feels positively blissful.
The third, and maybe most important reason this was a great year for rockets, was that SpaceX had no failures this year. In 2015 they lost an ISS resupply mission on ascent. In 2016 their year was cut short at 8 missions when a rocket blew up on pad 40 at Cape Canaveral. The backlog of customers was looming for a long 6 months while SpaceX worked on recovering from that latest failure. Then, last January they returned to flight with a launch for Iridium and haven't let up since. Their accomplishments include: no launch failures, a record 18 launches, a record 15 first stage recoveries, and first reuse of a first stage. The other American providers, ULA and Orbital ATK, also had good years with 8 and 3 successful launches each with no failures.
As long as we get to space with chemically propelled rockets, everything hinges on how well our rockets are flying. We can't really do a retrospective on the year without looking at these numbers. This has always been true, but what is particularly poignant from 2017 are those 18 launches from SpaceX. That's fully 20% of all launches. Not only that, but they flew a lot of important missions. In 2017 alone they launched four times to the ISS and at least twice for the US military. In 2018 they plan to launch several times for NASA, including to the ISS as well as the Transiting Exoplanet Survey Satellite (TESS). At this point, it's pretty clear that when SpaceX has a good year, the space industry has a good year.
In addition to the 10 successful cargo launches to the ISS this year, there were also 4 flawless crew launches to keep the record of 17 straight years of crewed operations going. NASA stepped up to 4 full-time USOS crew (which includes Japanese, Canadian, and European flyers), enabling even more research. NASA is now in full utilization mode of the ISS. Hundreds of experiments are being conducted each year – from physical science to medicine to biology to botany to astronomy – and each SpaceX Dragon brings up more externally mounted autonomous payloads such as last year's aerosol monitoring payload (SAGE III) and a neutron star telescope (NICER), among others. The ISS has become an important platform for efficiently deploying small satellites, with dozens launched from the Japanese robotic arm last year.
The ISS looks well positioned for the future, with a healthy manifest of crew and payloads coming up as well as the exciting prospect of even larger crews, once Boeing and SpaceX successfully demonstrate flight of their new crew transportation systems. In the meantime, important maintenance has been ongoing to ensure that ISS can operate well into the 2020s. Early in the year a Japanese cargo vehicle, an HTV, brought up a new set of lithium ion batteries, the first in a series of battery replacements over the next few years that will keep the solar power flowing. The batteries were replaced in a series of 3 spacewalks last January. Ultimately, ISS astronauts would complete 10 successful spacewalks last year with no major issues.
The year in ISS was underscored by Peggy Whitson's amazing flight. At 57 years old, Whitson now holds the record for most days in space of any American astronaut in history (665) as well as an impressive 60 hours of EVA time that puts her number 3 all time behind Anatoly Solovyev and Michael Lopez-Alegria. Peggy's 289 day mission was almost entirely unprecedented. Not only was Whitson praised as a "space ninja" by her crew mates for her work onboard the ISS, but even made a wide impression outside of NASA and received a Woman of the Year award from Glamour Magazine. The crews aboard the ISS continue to bring the wonder of spaceflight home to us through their social media engagement and excellent educational outreach events. If you aren't checking this link for the latest pictures from space every morning, you are missing out on a little bit of daily wonder.
The ISS is of course not the only game in town. NASA has very active planetary science and astronomy programs, not to mention similar missions from ESA, JAXA, and other agencies. 2017 saw no new launches of solar system probes (that's right, zero) but many active missions made progress and the only "failure" being the end of Cassini. Mars is incredibly active with 8 missions. Two NASA rovers, Opportunity and Curiosity, are providing a wealth of insights into the wet history of Mars. The most exciting discoveries from those robots are likely yet to come. Two asteroid sample return missions, OSIRIS-Rex from NASA and Hayabusa 2 from JAXA, remain in interplanetary cruise phase. New Horizons is on its way to visit a Kuiper Belt Object next year, Juno remains in orbit at Jupiter, and Dawn continues to explore the largest asteroid, Ceres.
Some of these missions we heard big news from this year, such as Cassini's analysis of the ocean plumes from icy Enceladus. We also gained a new understanding of the winds and storms of Jupiter from Juno. Not to mention the absolutely stunning images we have been treated to from JunoCam.
But overall, space exploration, especially planetary exploration, is a long game. Spacecraft take years to reach their targets and then spend sometimes months or years (at least for orbiters and rovers) slowly collecting the data they need to learn something new from our mysterious solar system neighbors. So there were no splashy launches or touchdowns in 2017. Instead, the hard work from years past continued to pay off with well built spacecraft going about their daily business. 2017 was a great year in this respect. Years like this lay the foundation for big discoveries to come; it's just that we have to wait a bit for the papers to be published. The only real downer this year is probably that Curiosity's drill is still out of commission.
There is of course, a lot more to cover. Spaceflight is a big industry that goes far beyond just the ISS or big planetary exploration missions. New Space, for instance, had a lot of interesting updates this year. In addition to Rocket Lab making their first launch attempt, Blue Origin demonstrated further progress on their New Shepard vehicle as well as their BE-4 engine, Virgin Orbit moved a few steps closer to their first test launch with several engine tests, and Sierra Nevada conducted their first free glide flight in several years.
Then there's astronomy. So much is happening in astronomy these days that it deserves a lengthy retrospective all its own. Here are some highlights of last year in a quick paragraph. Many interesting exoplanets were discovered, such as the fascinating Trappist-1 system with three potentially habitable planets. But Ross 128b is my favorite potentially habitable planet, because it is less than 11 light years from Earth. Let's go! Other exciting developments in astronomy included more neutron star collisions discovered via gravitational waves and also the fascinating cigar shaped something known as 'Omuamua which flew through our solar system from somewhere this past October (more to come on this we hope).
As we look to the future, we can see that there is a lot to learn. The ISS has years of science to conduct – managers are furiously looking for more ways to maximize timelines and target the most likely breakthroughs. Meanwhile there are dozens of worlds here at home in our solar system yet to explore, not just with probes already launched but many to come (launches to Mars, Mercury, and the Moon in 2018). And most intriguing of all, there are thousands upon thousands of worlds to explore out there, beyond our own star.
The more we look, the more we find. And the more we find, the more questions we think to ask. This is the optimistic and worldview expanding impact of science. We are losing the explorers of the last century – Apollo legends Gene Cernan, Dick Gordon, and John Young all passed away in their 80s in the past year. But it's hard not to see the vast opportunity available to the current generation of explorers in this century. Perhaps some day we will look back at this time period as a changing of the guard. It is hard to say without the benefit of hindsight. If nothing else, for those of us that are inspired by scientific discovery and exploration, 2017 showed us that spaceflight can be – and probably always will be – a candle in the dark.
 Previous year in review posts
Down to Earth
Space Camp USA, in Huntsville, Alabama, unveiled a new outdoor display of one of the former Shuttle Training Aircraft.
NASA completed some egress testing of the Orion capsule in the Gulf of Mexico.
Here's a nice short video that will help you get to know Randy Bresnik, who is launching to the ISS next week.
I also enjoyed this short biographical video about Ana Fisher, one of the first American women astronauts.
The latest of NASA's medium-duration isolation spaceflight analog crews, HERA 13, finished their mission last week.
The independent NASA visitor center in Houston, Space Center Houston, has announced a Kickstarter campaign to help raise additional funds for their project to restore MOCR2 in the Christopher C. Kraft Mission Control Center on the Johnson Space Center campus. MOCR2 is most famous for being the flight control room during the Apollo 11 lunar landing. However, it was used for every Apollo flight starting with Apollo 8, as well as many Space Shuttle missions. In addition to being a site of much triumph (Apollo 8, Apollo 11, STS-1, etc) it was also the active control room during the Apollo 1 fire and the launch of Challenger on STS-51L. Here's the Kickstarter link. I have already pledged!
Google has posted a brand new "street view" tour from inside the International Space Station! To get to it, navigate to NASA Johnson Space Center on Google Maps and drop the street view icon right on top of Building 9 Space Vehicle Mockup Facility.
In Orbit
Up on the actual ISS, the crew has been busy getting ready for the arrival of the next crew on July 27th. The Progress cargo craft departed with trash on July 20th.
But the NASA crew of Jack Fischer and Peggy Whitson still had time to share their mission with us with a couple informative videos:
Only one rocket launch since my last post on July 9th. Russia launched a Soyuz rocket from Kazakhstan carrying payloads for commercial companies, including an impressive array of small "Dove" satellites for American company Planet. Even more impressively, Planet captured this beautiful footage of the launch from one of their spacecraft already in orbit:
Around the Solar System
To celebrate two years since the New Horizons flyby of Pluto, NASA released this amazing video that simulates a flyover of Pluto using mission imagery.
Speaking of the New Horizons mission, NASA's amazing airborne observatory SOFIA did a special mission to catch an occultation of 2014 MU69, the Kuiper Belt object that the probe will visit next. Check out Phil Plait's post on the event for some actual images of the occultation.
Out at Jupiter, NASA's  Juno probe did a close flyby of the Great Red Spot and returned some amazing images.
Down to Earth
Funeral services were held for Gemini and Apollo astronaut Eugene Cernan in Houston on January 24th.
The Russian workhorse heavy-lift rocket, the Proton, is currently grounded due to a new hardware recall. The rocket may be grounded through the spring, delaying a backlog of commercial flights.
The new US presidential administration and Congress are starting to have an impact on NASA's plans. A few notable things happened in the beltway over the past few months.
Acting NASA administrator Robert Lightfoot is looking into whether the first SLS flight could be crewed by astronauts rather than unmanned. This would potentially move up the timeline for NASA's exploration plans by several years.
An authorization bill in Congress could direct NASA back to having Orion capable of supporting ISS crew flights as a backup to the Commercial Crew plan.
The Sierra Nevada Corporation is proposing that their Dreamchaser spacecraft could be used for a sixth Hubble servicing mission.
Severe weather in Louisiana on February 7th included a tornado which struck NASA's Michoud facility near New Orleans. NASA facilities sustained damage but all employees are safe with no major injuries.
In Orbit
There have been five successful orbital rocket launches since my last update on January 23rd:
And of course, here's the awesome video of the Falcon 9's first stage booster returning to Landing Zone 1 at CCAFS.
Up on the ISS, two cargo spacecraft departed. First, the Japanese HTV left ISS in late January. It stayed in orbit for another week with plans to conduct a tether experiment. However, the tether failed to deploy. HTV was followed quickly by the departure of Progress MS-03 from a nadir facing port of the space station.
Around the Solar System
NASA has decided to leave the Juno probe in it's longer 56-day orbit around Jupiter instead of the planned closer 14-day orbit. This decision is based on anomalies seen with the probe's main engine and worries that another burn will not go per plan.
2015 year in review posts: Part I and Part II.
2014 year in review posts: Part I and Part II.
2013 year in review posts: Part I and Part II.
Part I – Exploration
Spaceflight, as a many-hundred billion-dollar sector, is a broad and complex industry. Even if we focus in on "exploration" – which is the primary focus of this blog – so that we can ignore military and commercial uses of Earth orbit, we are still left with a global list of activities, studies, missions, and companies. This means there is a lot of stuff going on. 2016 was a busy year with many exciting missions from several different countries. This diversity is great, but makes it hard to boil down the events of last year into a coherent story. Even within NASA, we have the ISS program, with its own highs and lows, and the totally separate and just as successful planetary science portfolio of missions. Those missions keep on going, regardless of whether the most recent cargo delivery has made it to our astronauts in orbit, for instance. Meanwhile, in China, the CNSA is continuing to grow as a nascent space power with new rockets, new launch sites, and a brand new space station. Then there's Russia, Japan, Europe, India, and more. If any theme can be found at all in the events of last year it is that space exploration continues to be a diverse and global endeavor. Putting any nationalism aside, this should give us hope that despite the ups and downs of the economies or space budgets in any given country, that exciting times lie ahead.
It's hard to start a summary of 2016 in spaceflight without acknowledging that the United States had a major election, with a new President to be inaugurated this week. Any presidential transition leads to uncertainty in the future of government programs, including NASA. Often election years leave the federal government in a continuing resolution. A continuing resolution means that Congress has yet to pass a budget for the year. This leaves NASA and other agencies working under last year's budget levels, with no increase for inflation or otherwise. The election was a big story for the country in a lot of ways, but NASA and its programs are most likely to feel the effects in 2017, as it tries to continue with business as usual as it waits for new priorities and a new budget.
While 2017 may bring about change (or not), 2016 was another good year for NASA's flagship space exploration missions. NASA had no major failures last year, just the usual hiccups and challenges (space is hard, after all) and even launched a new planetary exploration mission: OSIRIS-REX, which is on its way to visit an asteroid in 2023. In fact, last year showed that NASA is still a clear leader in planetary exploration, with probes in action all over the solar system. The NASA fleet at Mars remains strong, with two rovers on the surface and two probes in orbit. New Horizons received a mission extension and is on its way to a Kuiper Belt Object rendezvous in a few years. Meanwhile, the probe Juno made orbit at Jupiter and started scientific observations. Unfortunately, Juno has some sticky propellant valves and missed some of its early science orbits when it entered "safe mode." Fortunately, the probe was brought out of safe mode and completed a Jupiter flyby in December. Most of the probe's 20-month mission is ahead. Hopefully Juno's worst days are in the past! Out at Saturn, NASA is still operating the Cassini probe, which has been in orbit since 2004. Sadly, 2017 will see the end of Cassini, as it destroys itself in dramatic fashion, with a dive into Saturn's atmosphere.
Two other planetary missions of note from other countries had some action last year. ExoMars (a joint mission between ESA and Russia) launched and made it to Mars. However, its companion lander, Schiaparelli, was unable to make it safely to the Martian surface and crash-landed. Thus, NASA remains the sole space agency to have safely brought a spacecraft to the surface of Mars… having done so seven times. Of course, we shouldn't forget that the Soviet Union is the only country to have ever landed a probe on Venus! A feat which has not been repeated since 1982, and does not appear to be repeated any time soon, as most space agencies focus on asteroids and the outer solar system in their planetary science missions. Venus is not forgotten though, as Japan was able to begin doing science with their Akatsuki orbiter at Venus last year.
Following the theme of "space is hard," Japan had a pretty devastating failure when their new X-ray telescope Astro-H, or Hitomi, went out of contact after reaching orbit. Fortunately, Japan already has a strong space program and seems mature and professional enough to learn from their mistakes – they released a failure report very quickly after the accident. They currently have an asteroid sample return mission, Hayabusa 2, en route to its target in 2018, which we should all be very excited about. NASA has a strong relationship with JAXA, and will be curating the Hayabusa samples here at the Johnson Space Center when they return.
In human space exploration, the story continues to be the International Space Station. The ISS had an exciting year, partly because NASA and ESA continue to send charismatic astronauts who manage to make the mission feel very personal to all of us following back on Earth. It was a great year for following astronauts on Twitter, including Jeff Williams, Kate Rubins, Tim Kopra, Tim Peake, Scott Kelly, Shane Kimbrough, Thomas Pesquet, and Peggy Whitson. It's hard to see how this trend will do anything but accelerate, as it's a cheap and easy way for NASA to connect with the American public and share its mission. Scott Kelly of course returned from space early in the year and retired from NASA on a high note. Since the "year in space" was such a success, both operationally and as a public affairs bonanza, it seems likely NASA will want to try more longer duration expeditions in the future.
On the more nuts and bolts side of things for the ISS, all major mission events went well last year, with both the arrival and installation of the new IDA2 docking adapter and the Bigelow Expandable Activity Module (BEAM). BEAM is an exciting demonstration of where human habitability in Earth orbit may be able to go in the future with inflatable structures. It is exciting to think that the technology may spinoff a private-public partnership with either or both of the companies Bigelow and Axiom to expand the ISS with new large inflatable modules in the future.
The ISS did face some minor setbacks of its own, although not quite as dramatic as in more recent years. Two rocket failures impacted ISS logistics: the SpaceX explosion on the pad in Florida in September and the loss of a Russian Progress resupply mission in December. The good news for NASA was that the SpaceX failure was not an ISS mission, but it meant a delay to the next planned resupply flight of a Dragon capsule, now scheduled for February. ISS is well stocked on supplies thanks to a Japanese resupply mission that also flew in December and the Orbital ATK Antares rocket returning to flight status in October. Even with both Japanese and American rockets able to keep ISS supplied, having the Russian Soyuz rocket family grounded must always make mission managers uneasy. After all, it is the same rocket family that failed in December that also delivers crews to the station. We are not in uncharted territory, as expedition schedules were in limbo after similar accidents in 2011 and 2015. But the ups and downs of the launch vehicle sector are a continual challenge not only for NASA's ISS program but for dreamers who envision hundreds of people at a time into deep space for colonization. ISS truly is the foothold where we must learn first, and is a great proving ground for those dreamers.
The ISS accounts for over 2,000 person days of space experience a year. The day-in and day-out slog of operating an aging orbital laboratory and learning to live there is slowly but surely preparing us for what comes next. This experience is shared by a partnership of 15 nations (USA, Canada, Russia, Japan, and 11 countries from ESA). However, the rising nation of China finds itself on the outside. Just like in many other sectors, China is finding its own way in space. Last year was a good one for the China National Space Agency (CNSA). Not only did they launch a brand new space station, Tiangong-2 and send a crew of 2 on a 30-day mission to the outpost, they also debuted a brand new Long March 5 heavy lift launcher while matching the US in successful launches on the year – twenty-two. A new medium-lift rocket, Long March 7, also debuted from a new coastal spaceport on Hainan Island, which should give CNSA more flexibility. CNSA's recent white paper publically published outlining their five-year plan shows ambition but also should be a douse of cold water on people expecting a space race between China and the USA. China certainly has a lot to be proud of as only the third independent nation to place humans in space. But they have a long way to go to put themselves on par with the modern space programs in America and elsewhere. I look forward to their planned lunar sample return mission in 2017, which will give them a lot of "street cred" if they pull it off!
Obviously these are not the only happenings in space exploration and related science areas. I could go on about the exciting developments in exoplanet astronomy, a field that may provide worlds to explore decades or centuries from now, for example. We continue to live in a golden age of space exploration that started with the Galileo probe to Jupiter in the early 90s. For me, 2016 was a testament to the true diversity of the state of space exploration and should serve as a reminder to avoid tunnel vision. There are many facets to how we explore. It's not just about shiny new rockets and capsules and astronauts, but its also not just about gathering science through a space telescope or a distant robotic probe. All these pieces fit together to move forward the state of our knowledge about the universe together. One of my favorite examples of this from last year was astronaut Kate Rubins' work on gene sequencing while aboard the ISS. Talk about two sectors that do not traditionally intersect, at least not in the minds of the general public. Diversity – both in the space agencies doing the exploration as well as the type of exploration – will keep the dream alive. I can't wait to see what we do on ISS this year but I also look forward to news out of China and India as they learn what it takes to fly in space.
The biggest problem with keeping up this steady cadence of exploration is how all these space agencies will pay for it, as the world faces challenging fiscal and security issues. Space is exciting – and important – but it is far from the first priority when it comes to setting budgets in most parts of the world. Fortunately, we have disruptive new players in the launch sector that can help us keep costs down. More on that in my next post.
Down to Earth
SpaceX posted an update to their accident investigation regarding the rocket that was lost on a launch pad in September. Here's a direct link to their anomaly updates page. They hope to return to flight this year.
In Orbit
In launches, it has been a slow couple of weeks, with only two orbital launches since my last post on October 16th. It was quality over quantity though, as both launches were important and anticipated missions for ISS operations.
First, Orbital ATK was able to finally launch their upgraded Antares rocket with a Cygnus cargo craft on its way to ISS. The rocket launched on Monday October 17th and was captured at the ISS almost a week later on Sunday the 23rd. The delay was necessary due a higher priority launch and docking of three crew aboard a Soyuz (see below).
On Wednesday, October 19, the Soyuz rocket carrying the second half of Expedition 50 finally launched (after a spacecraft problem delayed them several weeks). The launch, rendezvous, and docking were flawless. The new crew of Shane Kimbrough Andrei Borisenko, and Sergey Ryzhikov arrived at ISS on the 21st.
There were 8 people in space only briefly (recall that two Chinese taikonauts are hanging out on their own space station right now). Expedition 49 had to hand over command to new Expedition 50 commander Kimbrough on the 28th before Anatoli Ivanishin, Kate Rubins, and Takuya Onishi undocked on Saturday night and landed safely a few hours later.
Speaking of the Chinese taikonauts, they docked successfully to the Tiangong-2 space station on October 20th and plan to stay for several weeks.
Around the Solar System
The ExoMars mission arrived at Mars on October 19th. The orbiter (known as TGO – Trace Gas Orbiter) made a successful orbital insertion burn but unfortunately, contact with the Schiaparelli lander was lost at the planned time of touchdown. The lander is suspected to be lost, but NASA's Mars Reconnaissance Orbiter (MRO) was able to image the lander's crash site, which should help with investigations. Below is an animated GIF showing the recent appearance of the lander in MRO imagery:
And here's a closeup from the MRO's HiRise camera.
In other bad news, the Juno spacecraft went into safe mode during its closest approach to Jupiter on October 18 and was not able to obtain scientific data. This came only a few days after an engine burn had been cancelled. Fortunately, mission controllers were able to command Juno out of safe mode on October 24 and perform at least one "trim" maneuver. The mission timeline will be impacted by the problem but there are still dozens of orbits left in the primary mission to gather data.
Here is a nice post with images about the preliminary results from Juno so far.
Speaking of spacecraft beaming data back to Earth, the data downlink from the New Horizons probe of its Pluto flyby last July has finally completed, 15 months later!
Down to Earth
An opinion piece by Barack Obama appeared in CNN last week discussing his vision for America's future in space and particularly, future missions to Mars.
Amid talk of a schedule slip of the first Starliner missions, Boeing announced they will need to add an aeroskirt for their launch configuration atop the Atlas V rocket (follow the link for an illustration).
In Orbit
Astronauts on the ISS opened up the BEAM module for another round of inspections (that's the "expandable" module that was added back in May). Meanwhile, NASA announced that it is seeking commercial partners to build new functional modules for the ISS. Of course, the supplier of BEAM, Bigelow Aerospace, is one of the companies seeking the contract.
The launch of Orbital ATK's Antares rocket (returning to flight almost 2 years after the last one failed after launch) was delayed until tomorrow evening due to a technical issue.
Earlier this evening, China launched a manned Shenzhou capsule with two crew aboard. They are heading to the new Tiangong-2 space station for an extended mission. When the latest ISS Soyuz crew launches in a couple of days, there will be 8 people in space! It has been very rare for the number to grow above 6 since the last Space Shuttle mission five years ago.
Around the Solar System
Due to some sticky valves in the Juno spacecraft's propulsion system, the probe will not be making a scheduled burn to reduce its orbital period from over 50 days to just 14 days. NASA is waiting another orbit (so, until December) to investigate and then try again.
Astronomers have discovered a new distant unnamed object (2014 UZ224) which may be large enough to qualify as a "dwarf planet". The object is smaller than Pluto and orbits about 5 times farther from the sun.
The ExoMars/Schiaparelli mission – a joint mission between ESA and Roscosmos – had some critical mission events today, including separation of the Schiaparelli lander and a critical orbital maneuver to setup for orbital insertion next week.
.@ESA_EDM & me now travelling last 3 days to Mars separately. Schiaparelli will land while I'm entering orbit on 19 Oct #ExoMars pic.twitter.com/f8Pl4wcaNp

— ExoMars orbiter (@ESA_TGO) October 16, 2016
Orbit-raising manoeuvre at 04:42 CEST will run no longer than 1min:46secs and deliver a change in speed/direction of 11.6 m/sec #ExoMars

— ESA Operations (@esaoperations) October 17, 2016
The engine burn will raise @ESA_TGO's trajectory to several hundred km above #Mars, so that we miss the surface, unlike @ESA_EDM #ExoMars

— ESA Operations (@esaoperations) October 17, 2016