Archive for the 'JPL' Category
Down to Earth
Legendary astronaut and moonwalker, Alan Bean, died at age 86.
Air Force test pilot and Shuttle astronaut, Don Peterson, died at age 84.
Virgin Galactic's SpaceShipTwo had another powered test flight.
Garrett Reisman, a former astronaut who had been serving at SpaceX as the director of space operations, has taken a new faculty position at USC.
NASA obtained imagery of the volcanic eruption in Guatemala.
The President of the United States signed Space Policy Directive 2, which aims to reduce the regulatory burden on commercial spaceflight.
In Orbit
A number of orbital rocket launches since my last post on May 20th:
Notable rocket launches coming up include a Soyuz rocket with 3 astronauts launching form Kazakhstan on Wednesday morning.
The Cygnus spacecraft was successfully captured by the ISS robotic arm on May 24 and installed on a docking port, delivering tons of supplies.
#tbt! The @OrbitalATK #Cygnus brings the goods to @Space_Station and @Astro_Maker uses #Canadarm to go out and grab them. pic.twitter.com/WtVWGZeVXL

— Ricky Arnold (@astro_ricky) May 31, 2018
NOAA's new GOES-17 weather satellite has a serious problem that will prevent it from retrieving all the intended data.
On June 3rd, three crew members undocked from the ISS and landed back in Kazakhstan in their Soyuz after 168 days in space.
Around the Solar System
The discovery of an asteroid in a retrograde orbit (backwards) has raised questions about whether it could be a captured interstellar object.
The Curiosity rover on Mars is back to drilling samples, after that particular instrument had been held in reserve for about a year.
A new study of Pluto data from New Horizons finds that there are likely dunes made of solid methane on its surface.
Down to Earth
SpaceX's second Falcon Heavy launch has been delayed until October.
Two New Space rocket companies, Virgin Orbit and Rocket Lab, have both been awarded contracts to fly NASA cubesat missions.
Mark Geyer will replace Ellen Ochoa as director of the Johnson Space Center at the end of May.
Tom Wolfe, the author of The Right Stuff, has died at 88-years old.
In Orbit
There were two orbital rocket launches since my last post:
May 8 – China launched a Long March 4C rocket carrying an Earth-observing satellite.
May 11 – SpaceX launched a Falcon 9 rocket carrying a communications satellite for Bangladesh.
The Falcon 9 rocket was the first "Block 5" version, which is the final upgrade of the design.
A collaboration between JAXA, the University of Nairobi, and the UN deployed the first Kenyan cubesat from the ISS last week.
Tomorrow morning, at roughly 8 AM Eastern, ISS astronauts Ricky Arnold and Drew Feustel will be venturing out the airlock on a scheduled EVA to perform maintenance and upgrades.
Check out this picture of the erupting Hawaiian volcano, Kilauea, taken by the astronauts on ISS:
It is easy to see the activity on Hawaii's #Kilauea Volcano from @Space_Station. We hope those in the vicinity of the eruption can stay out of harm's way. pic.twitter.com/osTn3fH073

— A.J. (Drew) Feustel (@Astro_Feustel) May 14, 2018
Around the Solar System
The Mars Cube One cubesats, on their way to Mars as part of the InSight mission, turned around and took this image of home this week.
A new paper in the journal Nature Astronomy includes a re-analysis of data from the Galileo spacecraft which orbiter Jupiter in the 90s. The magnetic anomalies seen during close fly-bys of the moon Europa seem to confirm the existence of water plumes, which could be sampled by the upcoming Europa Clipper mission.
Down to Earth
The latest SpaceX resupply craft to visit the space station successfully departed and splashed down yesterday morning, returning a large supply of science to NASA scientists.
The picture below is not from the Dragon splashdown but instead an attempt to return a rocket fairing after a Falcon 9 launch earlier this year.
Firefly Aerospace, a young space company out of Austin, has made a deal with the USAF to use a launch pad at Vandenberg Air Force Base in California.
United States Vice President Mike Pence visited JPL in California.
Some new issues emerged this week regarding the preparations for the James Webb Space Telescope (JWST) for its long-awaited launch.
Hundreds of United Launch Alliance employees are on strike as of Sunday.
In Orbit
Only two orbital launches in the last week:
The astronauts on the ISS have been finding time to post many views of Earth on their Twitter feeds. Here are some of their best from the last week.
Let your soul and spirit fly into the mystic
– Van Morrison pic.twitter.com/R8TDg2fYoN

— Ricky Arnold (@astro_ricky) May 1, 2018
Jamming on @Space_Station! pic.twitter.com/FEwnthrtee

— Scott D. Tingle (@Astro_Maker) May 1, 2018
On Monday, I captured this amazing image of all the places I called home for the first 32 years of my life. Many of my family and friends are in this photo, somewhere. #Michigan #Indiana #Ontario #Quebec pic.twitter.com/EVqPSdhxua

— A.J. (Drew) Feustel (@Astro_Feustel) May 2, 2018
Снова пролетали над великим Байкалом. Лёд тает на глазах!
.
Once again we flew over lake #Baikal. The ice is melting every day. pic.twitter.com/DpcoLQqxhx

— Anton Shkaplerov (@Anton_Astrey) May 4, 2018
The smoldering cauldron of Mount Etna on the island of Sicily. #Italy pic.twitter.com/BJwHxBHPzM

— Ricky Arnold (@astro_ricky) May 4, 2018
The @SpaceX #Dragon CRS-14 cargo ship after undocking from the @Space_Station pic.twitter.com/0UwB2g3nCv

— Oleg Artemyev (@OlegMKS) May 6, 2018
Down to Earth
Mattell launched a new line of "Inspiring Women" Barbie dolls. The release includes a doll of NASA's Katherine Johnson, made famous by the movie Hidden Figures.
JPL posted a 360-video from inside the InSight lander test lab (this is the next mission to Mars launching in May).
Westworld director Jonah Nola showed the below video during a SXSW panel this weekend.
National Geographic's March issue features NASA astronaut Peggy Whitson on the cover and an article by Nadia Drake which profiles a handful of other astronauts.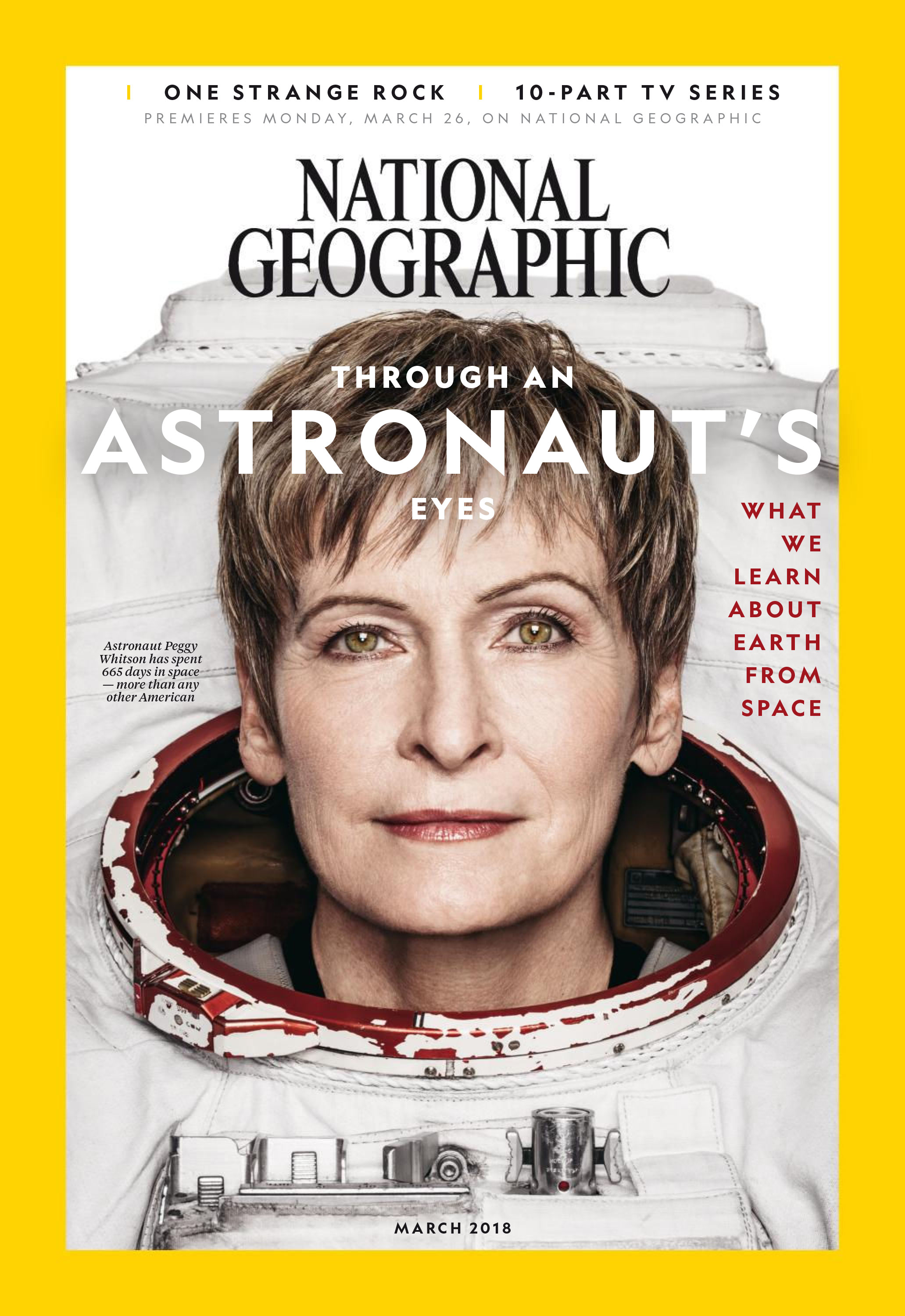 In Orbit
Two rocket launches since my last post a week ago:
March 6 – SpaceX launched a Falcon 9 rocket carrying two satellites for commercial companies.
March 9 – Arianespace launched a Soyuz rocket from Kourou carrying three communications satellites for O3b.
There has been a lot of talk lately of China's defunct Tiangong-1 space station, and it's imminent uncontrolled plunge back to Earth. Predictions are for early April.
Around the Solar System
NASA released some new imagery data and science results from the Juno probe in orbit of Jupiter. Some of the intriguing mysteries uncovered include the strange polar cyclones and the 3,000 kilometer deep wind patters. Phil Plait has an excellent summary at his blog.
Out There
Another asteroid on an interstellar hyperbolic orbit has been discovered. This object is likely from the Oort cloud, which makes it different than 'Omuamua, which is believed to have originated in interstellar space.
In Orbit
The new National Space Council hosted their second meeting, this time at Kennedy Space Center.
Bigelow Aerospace has announced a new sister company, Bigelow Space Operations, who will market their future goals of launching and operating independent space stations.
The latest HI-SEAS space analog mission in Hawaii was put on hold due to some kind of medical emergency.
In Orbit
The only launch of the week was a SpaceX Falcon 9 rocket launched from Vandenberg in Californial. The rocket carried three satellites – a payload for the Spanish military and two technology demonstration satellites for SpaceX. The company also tried to "catch" one of the rocket's discarded payload fairings at sea, but missed slightly. Here is a photo from Instagram of the fairing floating near the SpaceX's recovery ship.
A Soyuz carrying three space station residents will undock from the ISS on Tuesday morning and return to Earth. Recovery crews are already getting ready out in Kazakhstan.
In a few hours we'll start pre-staging helos and teams for the landing of @Astro_Sabot @AstroAcaba and Misurkin from @Space_Station. Karaganda, Kazakhstan. pic.twitter.com/SVALfAFaJk

— Bill Ingalls (@ingallsimages) February 25, 2018
Around the Solar System
NASA's Mars Reconnaissance Orbiter had a bit of a scare last week, entering safe mode for about 3 days after a battery malfunction. MRO came out of safe mode on the 23rd and NASA reported that it was being returned to nominal service. MRO is a key asset, as it relays all communications from the two rovers on the surface.
Meanwhile, down on the surface, Opportunity continues to trundle along in Endeavour crater. JPL even announced some new observations this past week.
The Osiris-Rex spacecraft took an image of Earth from 63 million km away. The probe is currently on its way to the asteroid belt.
Out There
I am in love with this unique interpretation of the Hubble Deep Field from the new website Astronomy Sound of the Month. Follow the link and then, with your sound on, move your cursor over the image to hear different notes correlated to the age of each galaxy.
Down to Earth
A new Kickstarter campaign seeks to build replicas of the Apollo guidance computer DSKY (Display and Keyboard) interface.
NASA's 15th Human Exploration Research Analog (HERA) mission started last week at Johnson Space Center. Four crew members will spend 45 days isolated on a simulated deep space mission.
The much anticipated Falcon Heavy launch is now less than 48 hours away. Eric Berger of Ars Technica has an excellent discussion about the new rocket and what it could mean for the industry (if successful).
In Orbit
Four successful orbital rocket launches since my last post
A spacewalk conducted by Alexander Misurkin and Anton Shkaplerov on the International Space Station broke the Russian record for longest spacewalk, at 8 hours and 13 minutes.
An amateur astronomy discovered a NASA satellite that had been missing for over 10 years.
Around the Solar System
NASA published a beautiful composite panorama from the Curiosity rover looking back down the slopes of Mt. Sharp.
Curiosity also took a new selfie, looking the other direction.
Out There
Astronomers have announced that using gravitational microlensing they have discovered evidence of planets in another galaxy for the firs time.
Down to Earth
The United Arab Emirates has begun looking for astronaut candidates for their space program.
In Orbit
It's been a quiet week: no orbital launches since my last post, although several were planned. Here's the packed schedule coming up*:
Dec 10 – Chinese launch of a communications satellite for Algeria (this occurred successfully this morning)
Dec 11 – Rocket Lab test launch in New Zealand
Dec 12 – SpaceX launch to ISS
Dec 12 – ESA nav sat launch from French Guiana
Dec 17 – Three astronauts launch to ISS from Kazakhstan
The Orbital ATK Cygnus cargo craft departed the ISS last week.
Godspeed S.S. Gene Cernan #Cygnus #OA8, thank you everyone @OrbitalATK for a stellar mission. pic.twitter.com/eZu3Sgsf9j

— Randy Bresnik (@AstroKomrade) December 6, 2017
Cygnus will remain in orbit until December 18th, giving it enough time to deploy a payload of cubesats.
Speaking of cubesats, a JPL-built cubesat was deployed from the ISS to prove that valuable astronomy can be done in a small orbital package.
The astronauts on the ISS have been taking some incredible pictures of the fires in Southern California:
#Fires in Southern #California…The smoke plume from the California wildfires as seen from the International Space Station. pic.twitter.com/sP40CO3tIl

— Сергей Рязанский (@SergeyISS) December 7, 2017
Today's pass over SoCal unfortunately doesn't look any better. The fires east of Camp Pendleton and in Baja are visible as well. #CaliforniaWildfires pic.twitter.com/khM9TK1u0F

— Randy Bresnik (@AstroKomrade) December 7, 2017
Some new photos of forest #fires in Southern #California… pic.twitter.com/fb8qKZE2Sj

— Сергей Рязанский (@SergeyISS) December 8, 2017
From @Space_Station it looks like the winds have shifted and hopefully dying down, nice to see Point Mugu and Oxnard again, hopefully Ventura soon. #CaliforniaWildfires pic.twitter.com/7qN8u1M0Q6

— Randy Bresnik (@AstroKomrade) December 8, 2017
Around the Solar System
Spring is coming to the northern hemisphere on Mars and Opportunity has survived another winter – nearly 14 years after landing.
The New Horizons spacecraft completed a course correction burn as it continues on its way to Kuiper Belt object 2014 MU69.
Out There
Astronomers have confirmed an exoplanet system containing K2-18b and K2-18c, both large potentailly habitable rocky worlds orbiting a red dwarf star. Phil Plait has an interesting observation about what this news means for our perspective about our own solar system.
*Best references for upcoming launches are LaunchLibrary.net or 2017 in Spaceflight on Wikipedia
Down to Earth
SpaceX's CEO Elon Must tweeted this fun video compilation of the companies many rocket failures over the past few years. You can tell they are learning a lot of lessons that have led to their recent successes.
Meanwhile, their Dragon capsule which has been docked to the International Space Station for about a month will be returning to Earth Sunday.
.@NASA TV covers departure of @SpaceX #Dragon from station Sunday morning, Sept. 17 at 4:30am ET. https://t.co/TXJ6jCkLzf pic.twitter.com/Ye6jilWQ7N

— Intl. Space Station (@Space_Station) September 16, 2017
In Orbit
Two rocket launches since my last post, both from Baikonaur Kazakhstan:
First, a Russian Proton rocket launched a Latin American communications satellite.
Then a Soyuz rocket carried three crew members to the International Space Station: Alexander Misurkin, Mark Vande Hei, and Joe Acaba. They joined their Expedition 53 crewmates early last week to make a full crew of 6 onboard.
Around the Solar System
The incomparable Cassini probe ended its mission this past Friday with a planned suicide dive into the clouds of Saturn. The probe was launched in 1997 and was one of the most successful planetary missions of all time, but it had finally run out of fuel. This Ars Technica article has a brief photo gallery of Cassini's greatest hits.
One of Cassini's last acts was a flyby of the moon Titan. Here are some pictures.
And here's a gallery of photos from mission control at JPL during Cassini's last day.
Or if you prefer silly things, here is actor Robert Picardo singing an opera parody about Cassini:
A farewell to @CassiniSaturn, in the style @RobertPicardo sings best: opera! #GrandFinale pic.twitter.com/7bbTTdqW3G

— Planetary Society (@exploreplanets) September 12, 2017