Archive for the 'JPL' Category
Down to Earth
Mattell launched a new line of "Inspiring Women" Barbie dolls. The release includes a doll of NASA's Katherine Johnson, made famous by the movie Hidden Figures.
JPL posted a 360-video from inside the InSight lander test lab (this is the next mission to Mars launching in May).
Westworld director Jonah Nola showed the below video during a SXSW panel this weekend.
National Geographic's March issue features NASA astronaut Peggy Whitson on the cover and an article by Nadia Drake which profiles a handful of other astronauts.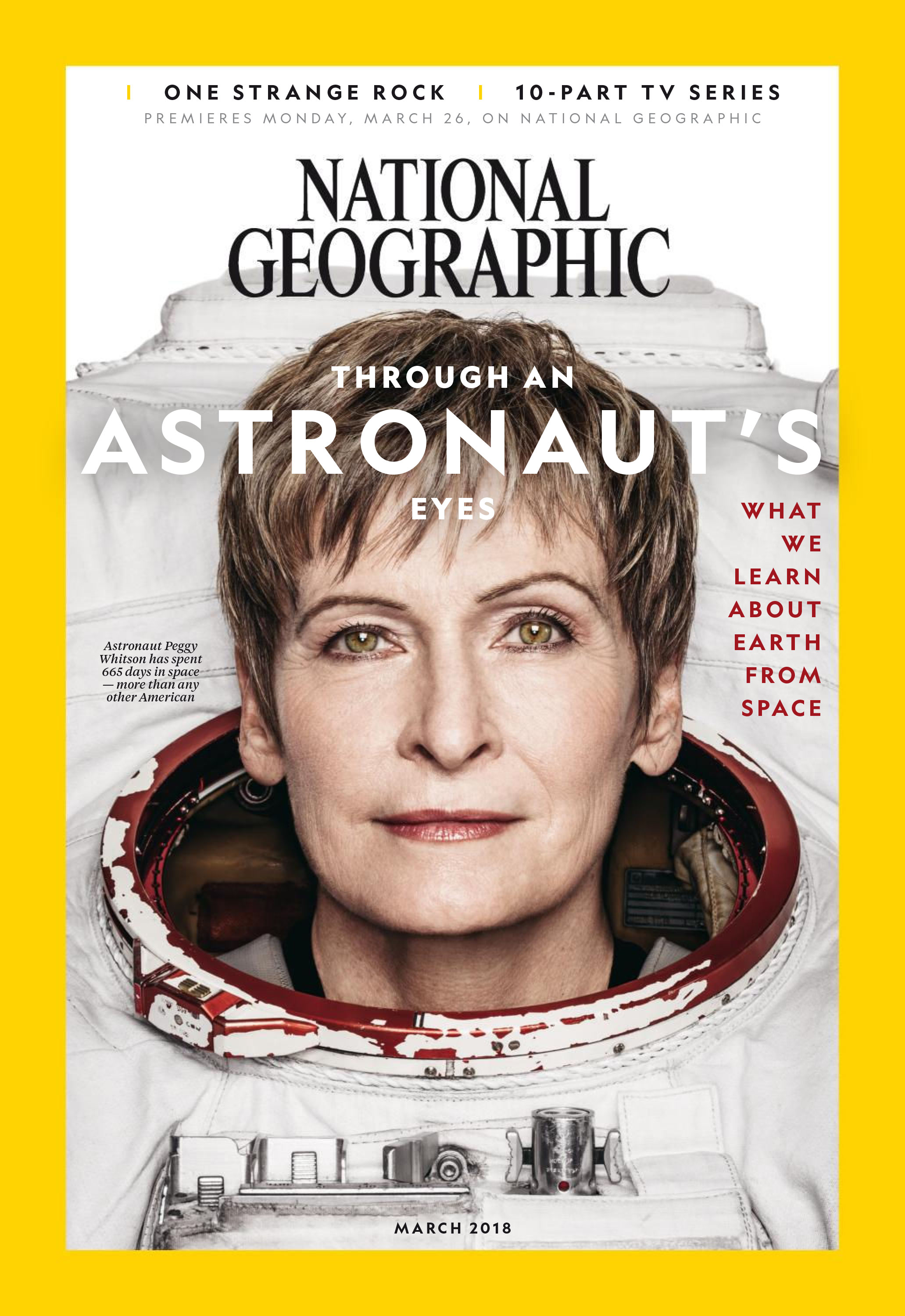 In Orbit
Two rocket launches since my last post a week ago:
March 6 – SpaceX launched a Falcon 9 rocket carrying two satellites for commercial companies.
March 9 – Arianespace launched a Soyuz rocket from Kourou carrying three communications satellites for O3b.
There has been a lot of talk lately of China's defunct Tiangong-1 space station, and it's imminent uncontrolled plunge back to Earth. Predictions are for early April.
Around the Solar System
NASA released some new imagery data and science results from the Juno probe in orbit of Jupiter. Some of the intriguing mysteries uncovered include the strange polar cyclones and the 3,000 kilometer deep wind patters. Phil Plait has an excellent summary at his blog.
Out There
Another asteroid on an interstellar hyperbolic orbit has been discovered. This object is likely from the Oort cloud, which makes it different than 'Omuamua, which is believed to have originated in interstellar space.
In Orbit
The new National Space Council hosted their second meeting, this time at Kennedy Space Center.
Bigelow Aerospace has announced a new sister company, Bigelow Space Operations, who will market their future goals of launching and operating independent space stations.
The latest HI-SEAS space analog mission in Hawaii was put on hold due to some kind of medical emergency.
In Orbit
The only launch of the week was a SpaceX Falcon 9 rocket launched from Vandenberg in Californial. The rocket carried three satellites – a payload for the Spanish military and two technology demonstration satellites for SpaceX. The company also tried to "catch" one of the rocket's discarded payload fairings at sea, but missed slightly. Here is a photo from Instagram of the fairing floating near the SpaceX's recovery ship.
A Soyuz carrying three space station residents will undock from the ISS on Tuesday morning and return to Earth. Recovery crews are already getting ready out in Kazakhstan.
In a few hours we'll start pre-staging helos and teams for the landing of @Astro_Sabot @AstroAcaba and Misurkin from @Space_Station. Karaganda, Kazakhstan. pic.twitter.com/SVALfAFaJk

— Bill Ingalls (@ingallsimages) February 25, 2018
Around the Solar System
NASA's Mars Reconnaissance Orbiter had a bit of a scare last week, entering safe mode for about 3 days after a battery malfunction. MRO came out of safe mode on the 23rd and NASA reported that it was being returned to nominal service. MRO is a key asset, as it relays all communications from the two rovers on the surface.
Meanwhile, down on the surface, Opportunity continues to trundle along in Endeavour crater. JPL even announced some new observations this past week.
The Osiris-Rex spacecraft took an image of Earth from 63 million km away. The probe is currently on its way to the asteroid belt.
Out There
I am in love with this unique interpretation of the Hubble Deep Field from the new website Astronomy Sound of the Month. Follow the link and then, with your sound on, move your cursor over the image to hear different notes correlated to the age of each galaxy.
Down to Earth
A new Kickstarter campaign seeks to build replicas of the Apollo guidance computer DSKY (Display and Keyboard) interface.
NASA's 15th Human Exploration Research Analog (HERA) mission started last week at Johnson Space Center. Four crew members will spend 45 days isolated on a simulated deep space mission.
The much anticipated Falcon Heavy launch is now less than 48 hours away. Eric Berger of Ars Technica has an excellent discussion about the new rocket and what it could mean for the industry (if successful).
In Orbit
Four successful orbital rocket launches since my last post
A spacewalk conducted by Alexander Misurkin and Anton Shkaplerov on the International Space Station broke the Russian record for longest spacewalk, at 8 hours and 13 minutes.
An amateur astronomy discovered a NASA satellite that had been missing for over 10 years.
Around the Solar System
NASA published a beautiful composite panorama from the Curiosity rover looking back down the slopes of Mt. Sharp.
Curiosity also took a new selfie, looking the other direction.
Out There
Astronomers have announced that using gravitational microlensing they have discovered evidence of planets in another galaxy for the firs time.
Down to Earth
The United Arab Emirates has begun looking for astronaut candidates for their space program.
In Orbit
It's been a quiet week: no orbital launches since my last post, although several were planned. Here's the packed schedule coming up*:
Dec 10 – Chinese launch of a communications satellite for Algeria (this occurred successfully this morning)
Dec 11 – Rocket Lab test launch in New Zealand
Dec 12 – SpaceX launch to ISS
Dec 12 – ESA nav sat launch from French Guiana
Dec 17 – Three astronauts launch to ISS from Kazakhstan
The Orbital ATK Cygnus cargo craft departed the ISS last week.
Godspeed S.S. Gene Cernan #Cygnus #OA8, thank you everyone @OrbitalATK for a stellar mission. pic.twitter.com/eZu3Sgsf9j

— Randy Bresnik (@AstroKomrade) December 6, 2017
Cygnus will remain in orbit until December 18th, giving it enough time to deploy a payload of cubesats.
Speaking of cubesats, a JPL-built cubesat was deployed from the ISS to prove that valuable astronomy can be done in a small orbital package.
The astronauts on the ISS have been taking some incredible pictures of the fires in Southern California:
#Fires in Southern #California…The smoke plume from the California wildfires as seen from the International Space Station. pic.twitter.com/sP40CO3tIl

— Сергей Рязанский (@SergeyISS) December 7, 2017
Today's pass over SoCal unfortunately doesn't look any better. The fires east of Camp Pendleton and in Baja are visible as well. #CaliforniaWildfires pic.twitter.com/khM9TK1u0F

— Randy Bresnik (@AstroKomrade) December 7, 2017
Some new photos of forest #fires in Southern #California… pic.twitter.com/fb8qKZE2Sj

— Сергей Рязанский (@SergeyISS) December 8, 2017
From @Space_Station it looks like the winds have shifted and hopefully dying down, nice to see Point Mugu and Oxnard again, hopefully Ventura soon. #CaliforniaWildfires pic.twitter.com/7qN8u1M0Q6

— Randy Bresnik (@AstroKomrade) December 8, 2017
Around the Solar System
Spring is coming to the northern hemisphere on Mars and Opportunity has survived another winter – nearly 14 years after landing.
The New Horizons spacecraft completed a course correction burn as it continues on its way to Kuiper Belt object 2014 MU69.
Out There
Astronomers have confirmed an exoplanet system containing K2-18b and K2-18c, both large potentailly habitable rocky worlds orbiting a red dwarf star. Phil Plait has an interesting observation about what this news means for our perspective about our own solar system.
*Best references for upcoming launches are LaunchLibrary.net or 2017 in Spaceflight on Wikipedia
Down to Earth
SpaceX's CEO Elon Must tweeted this fun video compilation of the companies many rocket failures over the past few years. You can tell they are learning a lot of lessons that have led to their recent successes.
Meanwhile, their Dragon capsule which has been docked to the International Space Station for about a month will be returning to Earth Sunday.
.@NASA TV covers departure of @SpaceX #Dragon from station Sunday morning, Sept. 17 at 4:30am ET. https://t.co/TXJ6jCkLzf pic.twitter.com/Ye6jilWQ7N

— Intl. Space Station (@Space_Station) September 16, 2017
In Orbit
Two rocket launches since my last post, both from Baikonaur Kazakhstan:
First, a Russian Proton rocket launched a Latin American communications satellite.
Then a Soyuz rocket carried three crew members to the International Space Station: Alexander Misurkin, Mark Vande Hei, and Joe Acaba. They joined their Expedition 53 crewmates early last week to make a full crew of 6 onboard.
Around the Solar System
The incomparable Cassini probe ended its mission this past Friday with a planned suicide dive into the clouds of Saturn. The probe was launched in 1997 and was one of the most successful planetary missions of all time, but it had finally run out of fuel. This Ars Technica article has a brief photo gallery of Cassini's greatest hits.
One of Cassini's last acts was a flyby of the moon Titan. Here are some pictures.
And here's a gallery of photos from mission control at JPL during Cassini's last day.
Or if you prefer silly things, here is actor Robert Picardo singing an opera parody about Cassini:
A farewell to @CassiniSaturn, in the style @RobertPicardo sings best: opera! #GrandFinale pic.twitter.com/7bbTTdqW3G

— Planetary Society (@exploreplanets) September 12, 2017
Down to Earth
With no new NASA administrator named as of last week, NASA has now broken the record for longest transition period under a new presidential administration.
Virgin Orbit published a video of a full duration test firing of their Newton Four upper stage.
Blue Origin announced that it was build a new rocket engine factory in Huntsville, Alabama, as part of its contract with United Launch Alliance to supply engines for the future Vulcan Rocket.
In Orbit
On July 2, the Chinese space agency attempted to launch a communications satellite on their heavy lift Long March 5 rocket. Unfortunately, the second stage failed and the payload did not make it to orbit.
On July 5, SpaceX launched a Falcon 9 rocket carrying a commercial communications satellite for Intelsat. The satellite was delivered to geosynchronous orbit. Due to the high performance requirements of the mission, the first stage was disposable, rather than being recovered. This was their 10th launch of the year (the most of any year for SpaceX).
Meanwhile, up on the ISS on July 3rd, the Expedition 52 astronauts unberthed and released the visiting SpaceX Dragon capsule, which splashed down and was recovered that same day.
Monday its goodbye #Dragon 11 after working through 6,000 lbs of science/cargo-can't wait to see what breakthroughs those samples may hold! pic.twitter.com/kIpFEK95qU

— Jack Fischer (@Astro2fish) July 2, 2017
And there goes #Dragon… Goodbye to our 1st return visitor since Atlantis in 2011–Come on back anytime, we'll leave the lights on for you! pic.twitter.com/D55Hg4yAhd

— Jack Fischer (@Astro2fish) July 3, 2017
Around the Solar System
Engineers at JPL have uploaded new driving software to the Curiosity rover on Mars. The software underwent extensive testing on Earth before it was approved for use. NASA hopes the new algorithm will reduce wear on the rover's wheels by 10 to 20 percent.
Down to Earth
Orbital ATK performed a qualification test firing of the abort motor for the Orion spacecraft.
A recent study at the University of Nevada – Las Vegas (UNLV) found that the cancer risk for a journey to Mars may be higher than previously thought. Spaceflight Insider published a response opinion piece by Robert Zubrin (author of The Case for Mars).
Jeffrey Kluger (science editor at time and coauthor with Jim Lovell of Apollo 13) has published a new book Apollo 8 about humanity's first mission to orbit the moon. I am currently listening to the book on Audible and will publish a review next week.
A private company based in Europe called Bake In Space has announced plans to fly an experimental zero-gravity oven and dough recipe to the space station.
In Orbit
There have been two orbital rocket launches in the last week:
The Progress freighter arrived at ISS this past Friday and docked successfully, delivering supplies from station propellant to food, water, and science experiments.
Tragically, an employee of the Russian space program died after he was deployed to the cleanup zone after the Soyuz launch and a fire engulfed his truck.
The Chinese space agency has tested robotic refueling with their uncrewed Tianzhou freighter at the Tiangong-2 space station.
Ever since the SpaceX Dragon capsule docked to the ISS last week, robotics engineers have been busy at work unloading new science experiments, including the NICER neutron star observatory and the Roll Out Solar Array (ROSA).
Out There
Astronomers continue to search for habitable, Earth-like planets around other stars. However, other oddball planets also continue to pop up, like KELT-9b, which is the hottest planet ever discovered.
Down to Earth
JAXA has included a replacement for their lost Hitomi X-Ray astronomy satellite in next year's budget.
A new documentary about the early days of NASA Mission Control: The Unsung Heroes of Mission Control was released last week.
Marine, astronaut, and Senator John Glenn was laid to rest at the Arlington National Cemetery last week.
In Orbit
There have been only two orbital rocket launches since my last post on March 28th:
The first launch was a much-anticipated flight from SpaceX. The launch on March 30th was a relatively routine launch of a communications satellite to geosynchronous orbit. What made it unique was the the first stage of the Falcon 9 rocket had previously been flown before on a NASA cargo launch last spring. The launch was flawless, including recovery of the first stage booster on the droneship at sea, marking the first operational reuse of a rocket by a commercial company (components of the Space Shuttle system, such as the Orbiter and the SRBs, were frequently reflown).
The second launch was a Chinese Long March 3B rocket with a communications satellite aboard. This launch was mostly notable for this incredible video of the launch filmed from a dangerously close range:
2017.04.12 CZ-3B危险的距离 pic.twitter.com/PuToaL51ba

— ChinaSpaceflight (@cnspaceflight) April 12, 2017
Meanwhile, things have been very busy at the International Space Station. Astronauts Shane Kimbrough and Peggy Whitson conducted another spacewalk (designated US EVA 41) on March 30th. The pair of experienced spacewalkers managed to complete all planned tasks, including hooking up a new docking port at the front of the space station. However, the EVA was not without some excitement: one of four special thermal "shields" was accidentally dropped overboard and mission control teams had to come up with a plan to replace the shield in order to keep components of the ISS thermally protected.
Shortly after the spacewalk, Commander Shane Kimbrough handed the space station over the Whitson and then returned to Earth with the rest of his Soyuz crew, completing Expedition 50.
It was then announced that Peggy Whitson has agreed to stay onboard the ISS an extra 3 months and use a bonus empty seat on next week's Soyuz mission to come home in September. Peggy will be the most experienced non-Russian astronaut in history when she comes home.
Around the Solar System
New results from the Cassini spacecraft, which orbits Saturn, have shown that the "plumes" coming from the ocean moon Enceladus' subsurface seas contain molecular hydrogen, which could be used by microbial life to conduct methanogenesis (like the life living near Earth's deep sea hydrothermal vents).
Measurements of elemental argon in Mars' atmosphere by the MAVEN spacecraft have revealed that most of the planet's atmosphere has been lost to space.