Archive for the 'Friday Links' Category
Lots of cool stuff this week. Read all the way to the end for a special treat of a video.
Down to Earth
The James Webb Space Telescope, under assembly and testing at Goddard Spaceflight Center, did a full secondary mirror deploy test in November. NASA published this timelapse of the test, which gives a great sense of the immense scale of this space telescope. Note that this test is with the actual flight hardware.
The iconic – and very old – countdown clock at NASA's Kennedy Space Center was disassembled last week to make way for a new modern clock, which should be ready for the EFT-1 launch later this week.
Admit it, whenever you are catching up on space news, you are wondering what will happen next with the two recent (but unrelated) space accidents – the loss of SpaceShipTwo and an Orbital Sciences' Antares rocket. Well, not a lot has happened in recent weeks. A couple little things have happened, such as Land Rover offering alternatives prizes in their Galactic Discovery Competition and initial damage assessments coming in from the Wallops Island launch pad. In the meantime, you can read this to-the-point discussion of what the accidents say about risk aversion (or acceptance) in the industry.
In Orbit
Last week, NASA and Made In Space were very excited to announce the first replacement part which was printed aboard ISS with the first 3D printer in space. The part was a simple plastic cover for the printer itself, but the point is the proof of concept. Much excitement surrounds the prospect of 3D printers in space – with the Made In Space printer being the first of several printers to make it aboard the space station. This article from the Space Review puts the idea in perspective, by summarizing the findings of the National Research Council Committee on Space-Based Additive Manufacturing.
Also on the ISS last week, the rather large "SpinSat" was deployed using the Japanese robotic arm. SpinSat is a 125 pound satellite designed by the U.S. Naval Research Lab to test out their ground surveillance technologies using lasers. You can read more about it in an NRL press release here. Here are some pictures that ISS commander Butch Wilmore took of the satellite being deployed.
Later this month, the 5th official SpaceX Dragon resupply mission to the ISS will launch from Florida aboard a Falcon 9 rocket. The launch is currently set for December 16th. Although every one of these missions is still exciting (if you haven't seen a Falcon 9 launch, get down there), this mission will be especially interesting to follow because of what will happen to the rocket's first stage. On previous flights, SpaceX has practiced "controlled landing" of the first stage in the open ocean. On this flight, the rocket will actually land on an autonomous floating platform. Elon Musk revealed a picture of the craft on his twitter, and I admit, it's pretty slick. In addition, "grid fins" will help the rocket's guidance on entry – here's a picture of those as well.
The biggest story of this week should be the launch of EFT-1 (or Exploration Flight Test 1), which is the first test flight of the Orion spacecraft, which is the new NASA exploration vehicle. Although the spacecraft will be flying aboard a ULA Delta IV Heavy, rather than the Space Launch System (which isn't ready yet), this is still a major milestone for NASA. The four-and-a-half hour, two-orbit mission will be the first non-ISS spacecraft operations from NASA's Mission Control Center at the Johnson Space Center since STS-135 landed in 2011. Flight controllers (colleagues of mine, no less!) have been training hard for months and years for this first dress rehearsal of our new program.
Parabolic Arc has a great summary of the mission and the Planetary Society put together a very readable timeline of the mission's events. The launch window opens at just after 7 AM EST on Thursday morning, December 4th. I highly suggest you tune in!
Around the Solar System
As if not to be outdone by EFT-1, a big moment in human spaceflight, the world of robotic planetary science has a big launch this week as well: Hayabusa-2. This is a JAXA follow-up to the first Hayabusa mission, which successfully returned samples of asteroid Itokawa in 2010. Hayabusa-2's overall design is at its core the same as the first mission, with some important upgrades ("lessons learned" have no doubt been incorporated). The mission will hopefully launch from Tanegashima on Wednesday, December 3rd, and make it's way to asteroid 1999 JU3 by 2018, where it will collect samples to return to Earth in 2020.
And last but not least, check out this awesome imaginative short film about the future of humanity throughout the solar system: Wanderers.
I am in between a string of four "Orbit 1″ (meaning, "graveyard") shifts, but I wanted to drop in to give a quick space news roundup, especially since three human being are launching to space aboard a Soyuz rocket tomorrow!
Down to Earth
The crew of the TMA13-M Soyuz returned to Earth successfully in the early hours of November 10th after an uneventful undocking from the ISS. Maxim Surayev, Alexander Gerst, and Reid Wiseman are all back in their respective countries recuperating and debriefing. Congratulations to Expedition 41 on a successful mission.
On Wednesday, November 19, a new British space project known as Lunar Mission One was announced and they rolled out their Kickstarter campaign. The mission is noble in its goals – crowdfund a private mission to do basic lunar science, while also promising its backers a unique opportunity to be  part of a major time capsule to be buried many meters deep on the lunar south pole. The science of course involves drilling deep into the moon – never done before – hence they can then fill in the hole with a time capsule afterwards. They are already halfway to their crowdfunding goal of 600,00 GBP.
I am still very skeptical of these kinds of projects, which are in vogue amongst ambitious space enthusiasts lately. There have been many other similar crowdfunding projects launched (Mars One, Arkyd, Northern Light, Uwingu, etc) but none have yet proved that something so expensive and technically challenging can be successfully funded in this way. Elizabeth Howell gave us a bit of an understatement when she said in her Universe Today piece about the project that "…success is not necssarily a guarantee." Best of luck to them.
Happily, Chris Hadfield has been allowed to repost his Space Oddity cover which he filmed aboard ISS during Expedition 35. Enjoy!
Lastly, if you're into the more meat and potatoes discussion of the space industry, Space News has a good article about "5 companies to watch", which includes discussion of Virgin Galactic and Orbital Sciences, among others.
In Orbit
Last week, ISS commander and US astronaut, Butch Wilmore, installed the new "Made in Space" 3D printer in the orbiting laboratory.
This weekend, on Sunday, November 23rd, the crew of TMA15-M Soyuz will launch from Baikonaur and arrive at ISS a few hours later. The second half of the Expedition 42 crew is made up of Anton Shkaplerov, Samantha Cristoforetti, and Terry Virts. Cristoforetti will be joining cosmonaut Yelena Serova who is already onboard, bringing the ISS female contingent up to two for the first time in a while. During Expedition 26, Cady Coleman was joined by Space Shuttle Mission Specialist Nicole Stott during STS-133 to mark the last time two women were onboard the ISSat the same time; that was in early 2011. The last time two women were ISS crewmates was during Expedition 24 in the summer of 2010: Shannon Walker and Tracy Caldwell Dyson.
Around the Solar System
A dedicated observing campaign using the Hubble Space Telescope was able to identify potential KBOs (Kuiper Belt Objects) for the New Horizons probe to visit after its encounter with Pluto next year. I'm very glad for them that they got the Hubble observing time! I was starting to worry that they would never find a target. New Horizons may very well be the biggest space story of 2015.
Of course, the biggest news of the last two weeks was that on Wednesday, November 12: the European Space Agency's Rosetta probe deployed the Philae lander, which successfully touched down on the surface of comet 67P/Churyumov-Gerasimenko. This is a huge milestone in humanity's exploration of the solar system. Unfortunately, the lander's harpoons, which were meant to help Philae get a firm grip on the comet, which has very low gravity, did not fire as planned. Thus, when Philae made contact with the comet, it bounced off the surface and landed again, two hours later. But, it did land again! Check out these pictures from the surface of a comet.
Up above the lander, the Rosetta probe was able to snap some shots of Philae while it was mid-bounce. Very cool. While it was lucky that Philae did settle down onto 67P, it landed a bit on its side, with less sun on its solar panels than it needed to keep its batteries charge. So after just a couple of days of gathering science data, Philae went dormant.
Early science results from the comet are already being reported. The lander was able to detect organic molecules, assess the water ice quantity of the comet, and do a 3D radar mapping with Rosetta's help, among other measurements.
Because it's Cool
Here's some perspective on the size of the solar system: all the planets fit between the Earth and the moon.
Not much needs to be said about this. Enjoy.
Check out this timelapse of a meteor blowing up in the atmosphere.
Down to Earth
Thankfully, this week was a bit quieter than last. However, speculation, discussion, and official press conferences and releases continue in the wake of the loss of both an Orbital Sciences' Antares rocket and SpaceShipTwo.
Orbital Sciences has stated that the first stage AJ26 engine – in particular, a turbopump failure – is suspected in the accident that ended their ISS resupply flight only 15 seconds after launch. Fortunately for NASA, Orbital has a plan to maintain their logistics contract to ISS. The company plans to accelerate an already scheduled upgrade to the Antares rocket propulsion system. The implication seems to be that the AJ26 engines will be retired (which are refurbished Soviet NK-33 engines built decades ago). The second piece of the plan is that Orbital will contract out ISS cargo flights to other launchers (exactly who is not identified) until the new Antares upgrade is ready. Therefore, no further flights of Antares with the AJ26 will be attempted. The company announced both the initial findings of the accident investigation and their forward plans in a press release on November 5th.
On the other side of the country in the Mojave Desert, there are still a lot of questions concerning what caused the loss of SpaceShipTwo and one of her pilots, as well as what the impact might be on the project. In the fourth daily onsite press conference from the NTSB (full briefing below), it was revealed that cockpit video shows Michael Alsbury (who did not survive) prematurely unlocked the SpaceShipTwo wing feather system. However, the feather was not actually deployed. Further investigation is needed to determine the complete error chain.
Unfortunately for Virgin Galactic, but unsurprisingly, a number of ticket holders are known to have already asked the company for a refund on their deposit for a future ride on SpaceShipTwo. The company is likely to experience significant delays before their first commercial flights, but at least their replacement vehicle is already under construction.
Before we move on to the cool stuff actually happening in space, there are two more earthbound topics I wanted to cover.
First, the midterm elections in the United States. The senate is now controlled by the Republican party and Casey Dreier of the Planetary Society has a brief but comprehensive assessment of what this will likely mean for spaceflight (including planetary science, manned spaceflight, and commercial enterprises). The summary is that no sweeping change, good or bad, is likely to be a direct result of this political swing. But it is hard to know.
Lastly, the much anticipated science fiction film Interstellar was released to what appears to be mostly great reviews. Users on IMDB are rating the film a staggering 9.1 out of 10 (keep in mind that most hyped films have very large IMDB rating inflation at release). I saw the film last night in IMAX and enjoyed it quite a bit. My recommendation is that anyone who is a fan of space, science fiction, and movies, should see this film and see it in the big format; but don't expect to see a film that feels completely without plot holes or twinges of fantasy. This movie is "hard" science fiction in the flavor of 2001: A Space Odyssey. Recall that ASO involves advanced aliens and interstellar worm hole travel. So if you go into Interstellar expecting to not have to suspend your disbelief somewhat, you will be disappointed. I recommend you see it before reading any reviews, but if you must, here is a good one from Tim Reyes of Universe today (who liked it) and an iffy one from Phil Plait (who didn't like it).
CollectSpace has a nice piece on how the actors in Interstellar consulted with Space Shuttle astronaut Marsha Ivins.
In Orbit
Coming up on Sunday, November 9, the crew of Expedition 41 (which ended with a change of command ceremony today) will return to Earth after their Soyuz undocks from the ISS. Maxim Suraev, Reid Wiseman, and Alex Gerst will depart ISS in the evening, around 7:30 PM Eastern, and land in Kazakhstan only about 3.5 hours later. Reid and Alex have been excellent ambassadors of the ISS on social media with their great posts on Twitter and Vine. You should follow them during their last day (and look at all their old posts)! Expedition 42 should be an exciting one with additional spacewalks planned.
Around the Solar System
A proposed Canadian mission (yes, Canadian!) would endeavor to search directly for life on Mars. The mission would consist of a small lander and just as small a rover. It is unclear what their budget would be, but since they are using an IndieGoGo campaign to raise a modest (in spaceflight terms) $1 million, I would suspect it is what could be called "shoestring"! Nevertheless, The "Northern Light" lander is exciting in its simple goal of scrapping away at the Martian dirt and looking for the color green. The presumption being that photosynthetic organisms may be alive just below the surface. With a launch window in 2018, the idea is ambitions, but exciting. I donated!
NASA held a press conference on November 7 to give an update on the science gained from observations of comet Siding Spring's encounter with Mars back in October. One of the most interesting observations, to me, were the many kinds of metal detected by observing the chemical composition of Mars' atmosphere during the encounter; the atmosphere changed as it was pelted with the dust and rock from the comet. Since Siding Spring is from the distant Oort cloud, these measurements are a window into the chemistry of our solar system as far back as the formation of the sun. The observations were done by the fleet of spacecraft humanity now has at Mars (6 in all counting rovers). Unfortunately, no pictures have come out from the surface of Mars (maybe from Curiosity, which can operate at night?) of the meteor storm that was likely visible from surface.
While comet Siding Spring's encounter with Mars was an anticipated event, the events at comet 67P/Churyumov-Gerasimenko next week will be a highlight of the year, or even the decade, in space… if the Rosetta spacecrafts Philae lander is able to touchdown on the comet. You could read about the mission on their website here, or just watch these two brilliantly produced videos that should get anyone excited about the mission!
Talk about having a good PR department! Philae will be released from Rosetta on Wednesday, November 12, with a touchdown signal confirming landing reaching Earth at about 11 AM Eastern. NASA TV will cover the event.
Out There
Happily, There is some cool astronomy news to cover this week as well!
The ALMA (Atacama Large Millimeter/submillimeter Array) Observatory has taken a stunning image of the planet-forming disc around star HL Tau, which is 450 light years away. I should note that the data was not taken in visible light, but in wavelengths closer to radio. The gaps in the dust around the star are understood to be the orbits of planet-sized bodies forming around the star as we watch. Wow.
Observations from the W.M. Keck Observatory in Hawai'i showed an object known as G2 approach the supermassive black hole at the center of the Milky Way. G2 was thought to be a large glass cloud that would get torn apart by the black hole. But when G2 survived, scientists were forced to revise their hypothesis. The new working theory is that G2 was a binary star system that merged into one massive star due to the gravitational affects of the black hole. I wonder if the system had planets?
This was not a good week for spaceflight, with two major mishaps. The first mishap, the loss of Orbital Science's Antares rocket, with ISS cargo onboard, mere seconds after liftoff, was like a gut punch for American spaceflight. But the loss of a Scaled Composites test pilot when SpaceShipTwo was destroyed during Friday's test flight in Mojave was a true disaster. Not only will it be a major setback from Virgin Galactic and the NewSpace industry (and a potential PR nightmare), it was a tragic loss of life. I hope that Scaled and Virgin make the families of the deceased their first priority. You can contribute to a GoFundMe program for deceased pilot Michael Alsbury here.
So, I guess it is ok that I haven't posted for a while; now the bad can be mixed in with a bunch of cool stuff I need to catch you up on. Here are a few of the bigger stories in spaceflight over the past couple months that you should know about.
Down to Earth
One of the biggest stories of the summer was the CCtCAP (basically, NASA contract for private commercial manned flights to the ISS) award to SpaceX and Boeing. Sierra Nevada's Dreamchaser was cut from the competition. However, Sierra Nevada has filed an official protest. The appeal process is expected to take several months, but Boeing and SpaceX will continue working on their vehicles in the meantime. The award was worth a total of $6.8 billion (over several years) with $2.6 billion to SpaceX and the rest to Boeing. Regardless of the results of the protest, space enthusiasts should be getting excited about the first crewed flights now only a few years away!
A bill is being discussed in the US House of Representatives known as the ASTEROIDS Act, which would seek to establish legislative rules regarding the mining of asteroids.
On October 17, the Air Force successfully landed the third of their secret space plane fleet, the X-37B, in California. The spacecraft spent 675 days in orbit (wow!). A fourth flight is planned for next year.
In Orbit
A lot has been going on with the ISS program since my last update just after the end of Expedition 40. Soyuz TMA-14M successfully arrived at ISS in late September with three new crew members onboard. Not long after the crew returned to 6-person strength, three separate spacewalks were conducted (two from the US segment and the RS segment) on October 7, 15 and 22. Rookie astronauts Reid Wiseman and Alex Gerst got their first spacewalks and will be returning to Earth as veterans next week. Reid got two spacewalks while Alex Gerst and Barry Wilmore both got one each.
October was the month of spacewalks, but it also saw some successful ISS vehicle traffic (despite the loss of Orbital-3). SpaceX's fourth Dragon resupply flight was recovered after splashdown in the Pacific ocean on October 24th. Their next mission is planned to launch on December 9th. Also, just the morning after the loss of Orbital-3, a Progress resupply mission launched and docked to ISS without a hitch.
Expedition 41 will come to an end with the undocking and landing of Soyuz TMA-13M on November 10. You should follow Reid and Alex on twitter while they are still up in space taking pictures like mad.
You know Expedition 42 will be a fun time on ISS as well because of this awesome poster they made (most geeks should get the reference).
Around the Solar System
Back on October 8 many people in the Western Hemisphere enjoyed a total lunar eclipse in the early morning hours (at least for us in the USA). But here's the view you didn't expect: a video from Mercury (by NASA's MESSENGER spacecraft) of the moon winking out as it passes into Earth's shadow.
You know what, why don't we just do a whole bunch of cool things spotted from around the solar system?
Next is Phobos transiting the sun as seen from the NASA's Curiosity rover on Mars.
And lastly, we have the NASA spacecraft New Horizons, less than a year from arrival at Pluto. New Horizons is now close enough to its target that it was able to spot Pluto's tiny moon Hydra with its modest onboard imaging systems (originally detected by the Hubble Telescope in 2005).
There is a lot of other exciting solar system news to catch up on. At Mars, two new spacecraft have recently arrived in orbit: India's MOM (Mars Orbiter Mission) and NASA's Maven. MOM is India's first interplanetary mission and has already sent back some very nice images of the red planet. MAVEN is a probe designed to get a better understanding of Mars' atmosphere (which should be a window into the planet's history). MAVEN arrived at Mars in time to get some observations of comet Siding Springs as it had a close approach. Here are some other cool photos of the approach.
Just yesterday, China's Chang'E 5 T1 mission, a technology demonstrator for a future lunar sample return, landed successfully in Mongolia.
Lastly, the Rosetta spacecraft in orbit around comet 67P/Churyumov-Gerasimenko has reached the final orbit form which the Philae lander will be deployed later this month. The landing site, site J, was chosen a few weeks ago in October.
Out There
Astronomers using the HARPS instrument in Chile have discovered a swarm of comets (almost 500!) around a nearby star. More evidence that our solar system is typical, rather than unique.
Wow! What a year so far! There has been a lot of radio silence here on this blog since I was busy with my flight lead assignments at work (lead ADCO for SpaceX-3 cargo flight to ISS and then Expedition 40). Also, I am still very busy planning my wedding next month. I'm not going to try to catch you up on all the amazing and interesting things that have been going on in spaceflight year, for which I apologize. To partially fill the gap, here is a list of spaceflight industry news items that happened in August, helpfully compiled by Doug Messier of Parabolic Arc. Now on to more recent news.
Down to Earth
The crew of Soyuz TMA-12M returned to Earth on Wednesday, bringing to a close the long and eventful Expedition 40 onboard the ISS. I wonder if Swanny was happy to be home? Below is a video summary of their farewell, undocking, and landing.
Flight Engineer Reid Wiseman got this shot of the Soyuz re-entering.
Unfortunately, SpaceShipTwo will likely not have its first flight to space with Richard Branson aboard until at least early next year, according to Branson during an appearance on The Late Show. In just a few weeks it will be the 10 year anniversary of SpaceShipOne's final flight which won the Ansari X Prize. Ten years later, the burgeoning "NewSpace" industry has not sent a single person to space. Let's hope they are finally close.
On Thursday this week the first Orion crew module, which will fly an unmanned test flight in December, was moved from the Neil Armstrong Operations and Checkout Building to the Payload Hazardous Servicing Facility where it will be fueled. Perhaps "the gap" is slowly coming to a close?
In Orbit
With Expedition 40 complete on the ISS, Expedition 41 will start off with just a three-man crew of Alex Gerst, Reid Wiseman, and Maxim Suraev. They will be joined later this month by the crew of Soyuz TMA-14M, which includes the first female cosmonaut, Elena Serova, since Yelena Kondakova flew on STS-84 in 1997. So far, Alex and Reid are kicking off Expedition 41 by continuing to constantly post amazing pictures on Twitter as @astro_reid and @astro_alex. Why aren't you following them?!
Last weekend on September 7, SpaceX successfully launched a Falcon 9 rocket carrying the commercial communications satellite Asiasat-6. The next Falcon 9 rocket on deck will hopefully launch on September 19 carrying a Dragon spacecraft full of cargo to the ISS.
Some high activity on the sun, including an X-class solar flare, is expected to bring some very nice aurora to people living in northern latitudes tonight and tomorrow. Look up!
Around the Solar System
The Rosetta spacecraft is in orbit around the comet 67P/Churyumov–Gerasimenko, arriving earlier this summer, 10 years after launch. This "selfie" is an amazing picture that shows both part of the spacecraft and the comet in the background. Rosetta will deploy the Philae probe to land on the comet later this year. ESA is expected to announce the landing site on the comet next week.
Not wanting to be left out, Opportunity also sent home a cool summer vacation photo from the rim of Endeavour crater on Mars. Yes, this is the same Opportunity rover that landed on January 25, 2004. That would be BEFORE the last flight to space by the NewSpace industry over 10 years ago, but who is counting?
China is getting in on the party too. It seems the Yutu rover is still alive on the moon and has sent back a recent panorama.
Down to Earth
In early January, Boeing announced that it will be leasing Orbiter Processing Facility 1 (or OPF-1 to NASA) near the VAB at KSC for launch processing of their X-37B spaceplane, which flies secret missions for the United States military. There are three OPFs at Kennedy Space Center. OPF-3 is already under a lease contract by Boeing for processing of their CST-100 crewed space capsule. CST-100 is one of three spacecraft (along with SpaceX's DragonRider and Sierra Nevada's DreamChaser) competing for commercial ISS crew transport contracts with NASA.
Speaking of the commercial crew contract, Sierra Nevada announced in January that they will be purchasing a United Launch Alliance (ULA) Atlas V rocket for an unmanned test flight of the DreamChaser in 2016. The launch would be from existing ULA launch sites at Cape Canaveral Air Force Station in Florida.
Also launching in 2016 is the first part of the European ExoMars mission. The core module of the European Space Agency's (ESA) ExoMars Trace Gas Orbiter was delivered in Germany last month. ExoMars is a flagship ESA mission to explore Mars, which will consist of an orbiter, a lander, and a rover.
A LEGO model of NASA's Mars rover Curiosity was launched in early January.
Since operations at KSC are ramping up for new spacecraft (like the Orion flight this fall) the VAB will be closing for tours on February 23rd. I am very happy to have seen space shuttle Endeavour in the VAB back in 2011.
The small town of Webster, adjacent to NASA's Johnson Space Center here in the Clear Lake area of Houston, is planning an ambitious visitor center that will pay tribute to America's space program and feature an 80-foot tall astronaut statue.
Former astronauts Jerry Ross and Shannon Lucid will be inducted into the astronaut hall of fame this year.
In Orbit
Up on the ISS, the first official Orbital Sciences' Cygnus cargo mission arrived on January 12th. The private spacecraft is expected to stay another week or two before departing and burning up in the atmosphere.
Meanwhile, SpaceX had another successful Falcon 9 version 1.1 launch, putting a commercial payload into geosynchronous orbit. Their next launch is a Dragon cargo spacecraft on its way to the ISS, with a plethora of other launches on the manifest for this year. The ISS flight was recently moved to a March 16 launch.
Around the Solar System
On Mars, a big anniversary happened last month. January 4th was the 10-year anniversary of Spirit landing at Columbia Memorial Station and just a few weeks later Opportunity landed at Eagle Crater on January 28, 2004. Today, Opportunity is still trucking along at Endeavour crater, after driving over 35 kilometers since landing. Pretty good for a rover expected to live 90 days and drive maybe a kilometer or two.
There were a lot of NASA media events and discussions of the missions online. Universe Today put together a list of the top 10 discoveries made by the MER rovers. The Smithsonian National Air and Space Museum is running an exhibition on the MER rovers through September.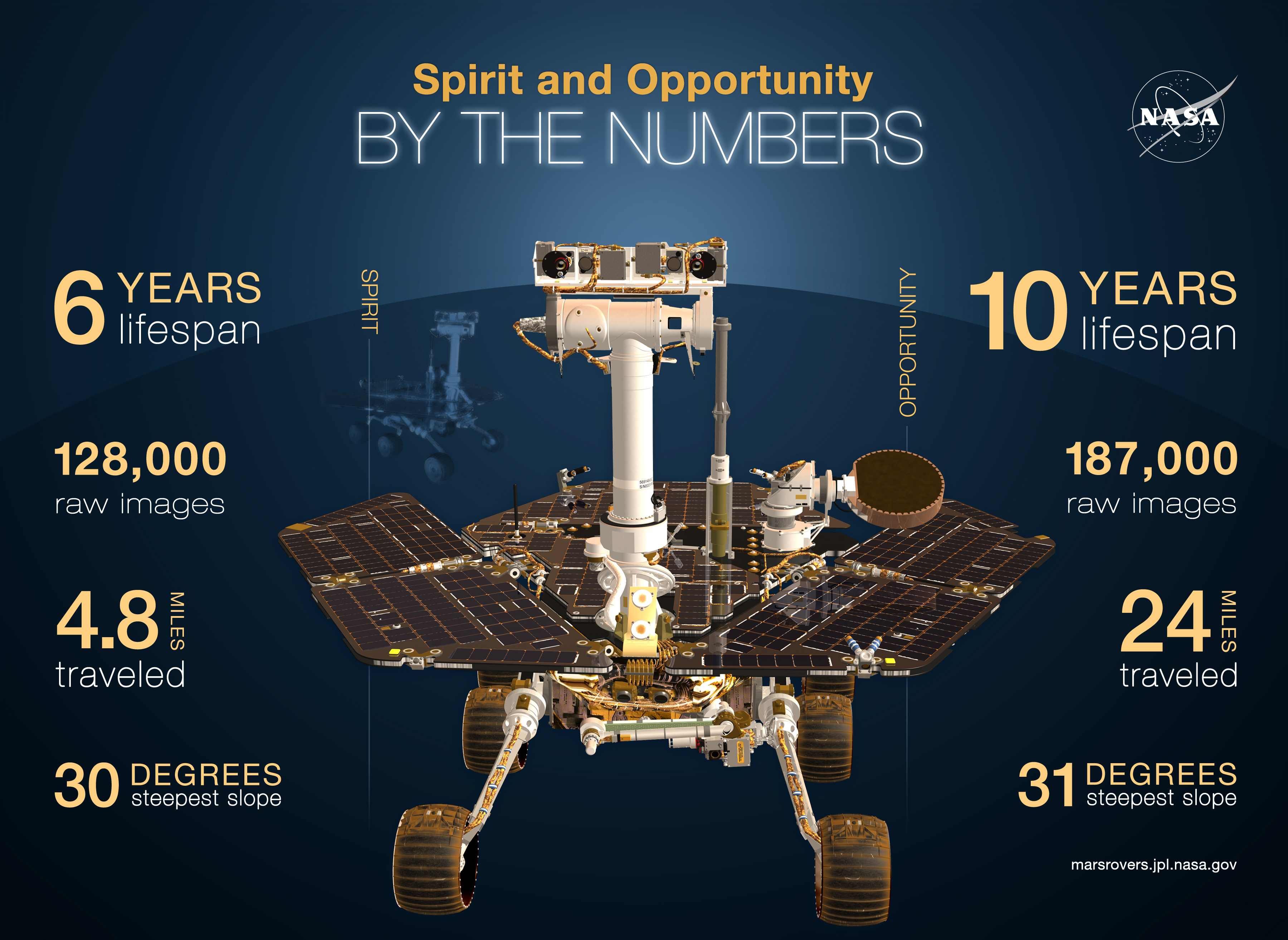 For some nice retro entertainment, here's the landing video from 2004. Most of the exciting stuff is in the first minute or two, so you don't have to watch all 8 minutes.
Opportunity is currently on the rim of Endeavour Crater – where she has been exploring since 2011. She has had some mild winter weather and is expected to make it through the solstice coming up in February. While exploring some rock outcrops at her winter stop point, Opportunity did a bit of a piroute and noticed something strange. In an area that had already been imaged by the rover, sat a new mysterious rock.
Leading theories initially were that it could be a fallen meteorite or ejecta from a meteorite impact somewhere nearby. Other theories are that it was simply dislodged by Opportunity's wheels and simply "kicked" or dropped into the new location. An interesting mystery for the 10 year anniversary. Rove on, Opportunity!
Meanwhile on the other side of Mars, the younger but much larger Curiosity rover is navigating the "Dingo Gap" on its way to Mount Sharp and was currently parked atop a sand dune when I started to draft this post early last week. Nice view. Since then, Curiosity has successfully made it over the dune into the "valley" beyond. Curiosity is getting closer and closer to Mount Sharp, but spending lots of time stopping to do science along the way.
While waiting to cross the dune last week, the rover team released a stunning image of Earth in the Martian sky, as photographed by Curiosity on a clear twilit day. Beautiful.
Speaking of rovers, on the moon, the Chinese rover Yutu headed into its second lunar night in late January. Unfortunately, reports from the Chinese space program are that the rover suffered some kind of mechanical anomaly and is in danger of not surviving the two week "night". It seems that some of the mechanical systems that are supposed to fold up the solar panels to provide thermal protection for sensitive components did not work properly. There has been no new news since the first reports more than a week ago. We will likely have to wait until "morning" on the moon (sometime next week) to know the rover's fate.
Farther out in the solar system, the European comet-chasing spacecraft, Rosetta, has been woken up from hibernation. The spacecraft will be approaching comet 67P/Churyumov-Gerasimenko later this year and in an exciting and challenging mission will drop a lander onto the comet's surface.
Out There
A new sensitive camera on the Gemini telescope in Hawaii took an impressive infrared light image of the distant planet Beta Pictoris b. This kind of direct imaging is certainly the future of exoplanet astronomy.
The NEOWISE mission (a re-purposing on the WISE infrared orbital observatory) has found its first near-Earth asteroid.
Astronomers at the European Southern Observatory were following up on an interesting binary star system, two brown dwarfs only a few lightyears from Earth, when data suggested that the star system contains a third companion, a jupiter-mass planet.  More study is expected to confirm the planet's existence.
It's been a busy of December since my last post. A hectic week at work, following the thermal pump malfunction on December 11th, kept me very busy right up until my vacation to visit family around Christmas for a week. I am back in Houston now and working on catching up on what's been happening outside of my little world for the past few weeks. This post will be followed shortly by a 2013 year in review post, so stay tuned!
Down to Earth
On December 10th, NASA JSC's Morpheus vertical take-off and landing test vehicle conducted its first free flight since the previous model was destroyed in August 2012. Very cool to watch.
Edit: and they flew another flight just a few days later on December 17th, which I missed when I first wrote this post.
On December 11th, Virgin Galactic's SpaceShipTwo conducted a glide test in Mojave. More test are always good, but the frequency of glide tests without powered flights over the past few months was pretty much the nail in the coffin for Richard Branson's prediction that he and his family would fly into space on the first suborbital flight on Christmas of this year. Clearly that didn't happen. It seems likely however that Virgin will conduct another powered flight soon, possibly in the first week of January.
Doug Messier at Parabolic Arc is calling the first few days of 2014 "Launch Week". Details on the various launches can be found over at his blog, but the quick summary is: SpaceX Falcon 9 commercial launch on Jan 3, Indian comm sat launch on Jan 5, Orbital Sciences ISS resupply flight on Jan 7, and a possible SpaceShipTwo flight.
Did you enjoy the movie Gravity? I liked it so much I saw it twice. Too bad the DVD wasn't available for Christmas. Anyway, if you liked the movie, then take the time to watch this short behind-the-scenes clip that gives a glimpse at how some of the complex special effects were done.
The Las Vegas based company Bigelow Aerospace has put out a call for applicants to their "astronaut in-space simulations". Basically the company wants to do their own independent look at how astronauts interact in closed quarters and also use the opportunity to improve their "crew systems" (in other words, the interior details of their inflatable space stations). Why not apply? Can't hurt.
Be sure to go outside on January 3rd to look for the Quadrantid Meteors. They are supposed to be one of the best showers of the year, and this year the peak occurs on a new moon.
Astronaut Kevin Ford reminisced about spending Christmas in space during expedition 34 one year ago.
Folks are talking about Beyonce's new song XO which opens with a sampling from the NASA broadcast of STS-51-L launch on January 28, 1986. The audio used is of the Public Affairs Officer reacting shortly after the shuttle Challenger was lost. The choice seems pretty tasteless and disrespectful, even if one can construe an ambiguous connection between the lyrics and the idea of a lost loved one. I personally can't figure out if it is just a simple love song that has nothing to do with Challenger, or if it is intended to be something deeper. Listen for yourself.
In Orbit
The big news in orbit over the past couple of weeks was the malfunction onboard the International Space Station that led to two contingency EVAs that were prepared and executed right before Christmas. The issue also caused NASA to have to delay the launch and rendezvous of the second Orbital Sciences cargo flight to ISS, planned for a December 18th launch. The launch is now to occur in early January.
The summary of what happened is that on December 11th flight controllers started seeing anomalies in the ISS thermal cooling system. The problem was narrowed down to a faulty Flow Control Valve in one of the two pumps that flows ammonia to cool components on the outside of the station. Over the ensuing days, a few different teams were convened – one team was planning contingency EVAs to replace the pump, another was doing troubleshooting and thinking of ways to try to make the system work with the faulty valve, and another team was preparing a procedure to be executed in case the second pump failed (I was part of this team). After these teams worked night and day for over a week, it was determined that the pump should be replaced, and the first EVA was conducted on December 21st. The spacewalk was very successful; the pump removal went much better than a similar operation that replaced the same pump after a failure in 2010 during Expedition 24.
The second spacewalk was conducted on December 24th and left the station with a brand new pump and no more concerns about the thermal system for the time being. A potential third EVA was cancelled and the space station crew (and ground teams!) got a much needed break for Christmas.
The quick repair even allowed the Russian space agency to conduct their spacewalk that had already been scheduled for December 27th. One of the key objectives of the Russian EVA was to install some commercial cameras on the outside of the station. The purpose of the cameras is to make a live feed of Earth images, in fairly good resolution, available to the public. The cosmonauts got the cameras installed but they would not boot up, so they unfortately had to be brought back inside for troubleshooting.
Christmas 2013 is the 45th anniversary of an iconic photo taken by the crew of Apollo 8 while in orbit around the moon: Earthrise.
A team from NASA Goddard (with Andrew Chaikin for narration) put together a very cool (in an extremely nerdy way) recreation of how the image was captured that day (via Bad Astronomy).
Around the Solar System
On December 14th, the Chinese Chang'e 3 spacecraft came to a soft landing in the Bay of Rainbows on the Moon and quickly deployed the Yutu rover. Chang'e 3 is the first soft landing on the moon since the Soviet Luna 24 in 1976. Since that was over 37 years ago, almost 60% of the world's population was not alive the last time there was an active rover on the moon. Emily Lakdawalla of the Planetary Society has been doing an excellent job, as usual, gathering information and compiling the best photos and video clips of the Chang'e 3 mission. Here is an update from December 14th and  from December 23rd, but I recommend just following her blog directly for the best stuff!
Very cool news from the Hubble Space Telescope; recent data in ultraviolet wavelengths reveals strong evidence of liquid water geysers coming from Europa, a frozen moon of Jupiter. Previously, water geysers have been imaged in visible light coming from Saturn's moon, Enceladus. The images are stunning. Water geysers imply an ample supply of subsurface water (either in a vast ocean or just pockets or lakes in the ice) as well as the possibility for a medium for life, and a way for our spacecraft to sample that water without needing to drill deep into the ice. More science needs to be done to confirm the Europa geysers but the current data seems very compelling. Unfortunately, it is unlikely that the Juno spacecraft, currently on its way to Jupiter, will be able to confirm the geysers. This is because Juno's missions objectives are related to the planet Jupiter itself, not its moons, and the visible light camera on Juno is more of an outreach tool than a primary instrument.
Lastly in planetary science news, the European orbiter Mars Express should have completed its very close flyby of the Mars moon Phobos by now. As Phil Plait writes, we don't expect to get any close up pictures from the 27 mile flyby, but the data should help scientists nail down the exact mass of Phobos.
Down to Earth
Many space enthusiasts and planetary scientists were unsettled by a NASA announcement on December 3rd about a restructuring of the planetary science budget. In particular, the money allocated for planetary science grants is being reorganized into new programs – and half of that money will not be used for new grants in 2014. In short, this means there is less money available to scientists writing new proposals.
In other disappointing news, some vandals in Houston spray-painted graffiti on the side of the Space Shuttle mock-up Independence. Independence lived for almost 20 years at KSC where it was known as Explorer. The mock-up is displayed outside near the Space Center Houston parking lot, with no significant security at night (in contrast to the nearby Rocket Park which is behind a locked fence at night).
On December 3rd, NASA scientist and former JPL director Ed Stone was on Stephen Colbert to talk about Voyager entering interstellar space. At the end of the episode, Stephen Colbert surprised Dr. Stone with the NASA distinguished service medal. You can watch the interview here and the award presentation here (both links to the Colbert Report's website and the clips come with ads).
On December 6, 1957 (56 years ago today), the Vanguard TV3 was the first attempted launch of a satellite by the United States – which ended in a spectacular explosion on the launch pad.
41 years later, December 4, 1998, the Space Shuttle mission STS-88 attached the "Unity" Node to Russia's "Zarya" – the first step in what would be over 10 years of ISS assembly.
Thanks to a post from Parabolic Arc, I have bookmarked this interactive map from SpaceWorks Software that maps all planned, active, and former spaceports around the world.
Around the Solar System
According to Chinese media, the Chang'e 3 probe has reached lunar orbit. The lander is expected to make it to the surface on December 14th.
While we have seen imagery of Saturn's mysterious North Pole hexagon before, the newly released images (and movie!) from Cassini is the highest resolution view yet, through multiple color filters. Pretty.
Out There
Astronomers using the Keck II telescope in Hawaii have taken images of 3 large (bigger than Jupiter) exoplanets. So few planets from other systems have been directly imaged that each new one is notable, even if the planets are unlikely to be habitable or otherwise remarkable. Phil Plait provides the images at the top of his post on the results.
Down to Earth
SpaceX has purchased more land on the coast near Brownsville and South Padre Island in Texas, making their intentions fairly clear.
The United States Congressional Budget Office issued a report with options for reducing the national deficit. One option outlined includes completely eliminating all NASA spending on manned spaceflight. Oh dear.
In Orbit
The big news in the past two weeks, in my opinion, was the launch of Chang'e 3, a Chinese lunar lander. Chang'e 1 and 2 were successful moon orbiters, and the third mission, launched December 2nd, is scheduled to land a large rover on the lunar surface – the first to do so in 37 years – on December 14th. So far, China is putting their money where their mouth is when it comes to their spaceflight program.
Today, December 3rd, SpaceX launched a Falcon 9 version 1.1  with a commercial telecommunications satellite onboard. The SES-8 satellite was successfully sent on the planned geostationary transfer orbit – proving that SpaceX had sussed out and fixed the problem that marred an earlier test launch back in September. The failure of the upper stage to relight back on September 29 was traced back to frozen igniter fluid lines. As SpaceX points out in their press release, this mission is a big step towards fulfilling their long launch manifest, which includes many commercial launches, some requiring a geostationary orbit insertion. One more successful Falcon 9 v1.1 launch is needed for DOD certification. Also, the first ISS resupply flight aboard a Falcon 9 v1.1 is planned for early next year.
On November 19th, the robotic arm on the Kibo module of the ISS (the Japanese lab) was used to deploy several small "cubesats" into orbit. This is the second time the ISS has been used as a launching platform (last time was in December 2012 also using Kibo).
On November 20th, the International Space Station program celebrated the 15th anniversary of the first module launch – the Russian "Functional Cargo Block", or more poetically "Zarya" (Sunrise)*. Here's a short but amazing ISS timelapse to celebrate (via Universe Today).
*Nobody in Mission Operations at NASA JSC calls it Zarya.
Around the Solar System
The big story this past month (apart from recent Chinese success) has been comet ISON – the comet-of-the-century that wasn't. ISON was a fun story to follow because the steep-diving comet (which grazed by the Sun at less than one solar diameter on Thanksgiving Day) was so dynamic that astronomers were having a hard time predicting how and when the comet might brighten, dim, or die. I had spent a week prior to perihelion (the name for closest approach to the sun) hoping I could get up in the morning and spot ISON before dawn, but the Houston weather would not cooperate. As evidenced by this amateur photographer, the comet was naked-eye in the right conditions. Anyway, ISON's story ended shortly after perihelion, where the nucleus seemingly broke up in the extreme heat. The disintegrating rubble pile that emerged from the far side of the sun brightened very briefly, and is now dispersing and dimming, currently at 8th magnitude. As the writers at "Sky and Telescope" joke in their summary: "ISON now ISOFF".
On December 1st, the Indian Mars orbiter Mangalyaan (now being referred to as "MOM" in all the english language media I follow) completed a successful rocket firing to leave high Earth orbit and go into solar orbit, on its way to Mars in September 2014. MOM is now cruising through interplanetary space behind NASA's MAVEN orbiter, which successfully launched towards Mars on November 18th. Here's a shot of MAVEN back in August when it was being readied for launch.
The European Exomars project – which consists of two missions in 2016 and 2018 – has chosen the name "Schiaparelli" for the 2016 lander. Schiaparelli was the Italian astronomer in the late 19th century who mapped Mars (and incorrectly deduced that Mars was covered in canals).
The Mars rover Opportunity (still roving almost 10 years after landing!) has found a winter post. Opportunity will hang out for the next 6 months on a north-facing slope called "Murray Ridge". Murray Ridge is named after Bruce Murray, an influential planetary scientist from JPL who died earlier this year.
Out There
Astronomers have used the Hubble Space Telescope to detect water in the atmosphere of 5 "hot Jupiters" orbiting nearby (in galactic terms) stars. Since the planets are Jupiter-like rather than Earth-like, there is nothing Earth-shattering (or Jupiter-shattering) about the finding. However, future studies should be able to analyze the atmospheres of smaller and smaller worlds, leading us closer to finding a true Earth twin.
There is a new naked-eye nova in the sky. Don't go running outside expecting to see something as bright as Venus – it is only magnitude ~5 and is not visible from Northern latitudes.