Archive for the 'Friday Links' Category
Down To Earth
Some good stuff from NASA's astronaut office this week. First, the members of ISS Expeditions 48, 49, and 50 were announced. The crews have some veterans such as Jeffrey Williams and Peggy Whitson but also some rookies such as Katie Rubins and Takuya Onishi. Then, the Expedition 45 crew gave us this awesome mission promo poster.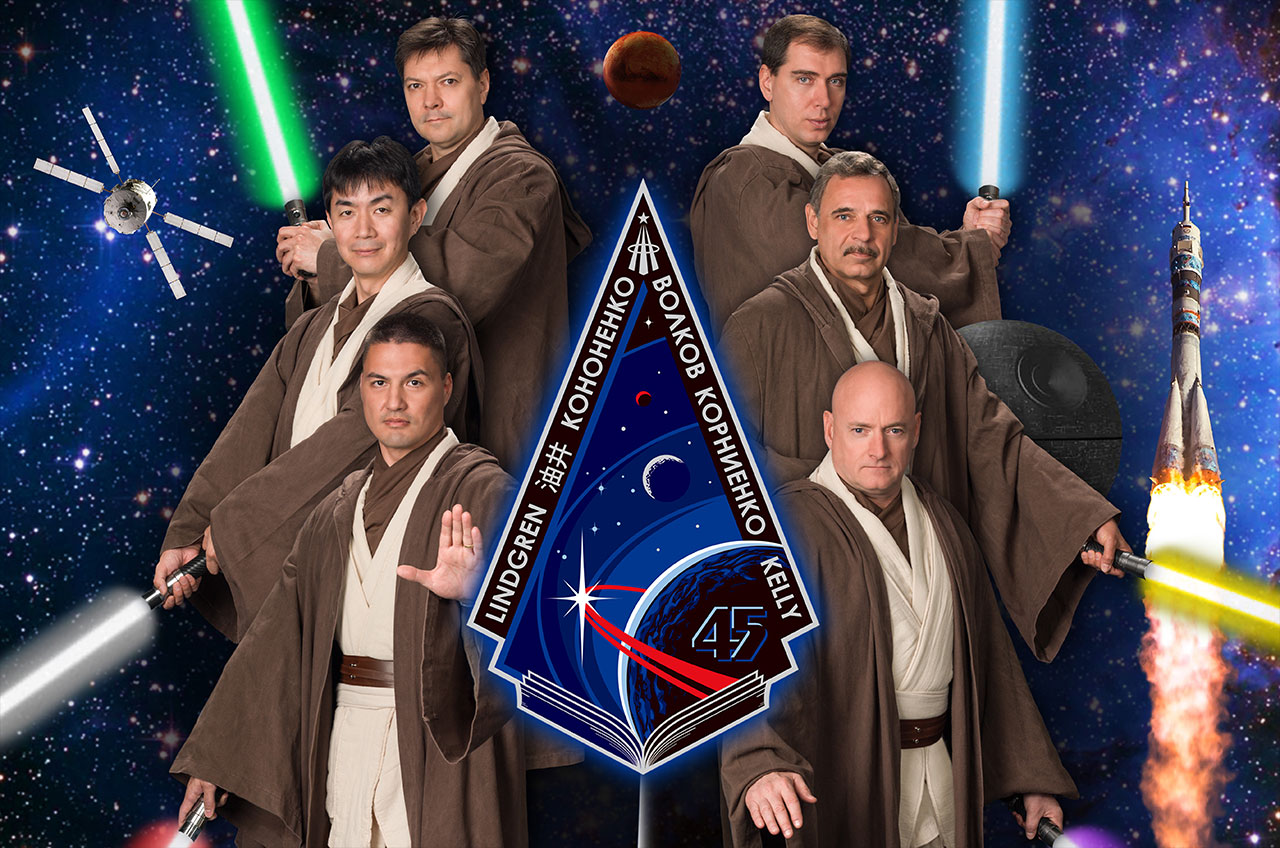 Arianespace scooped some recent commercial launch contracts that SpaceX probably would have liked to win. Interestingly, the two companies each won 7 new contracts last year.
Items from a long-forgotten bag of odds and ends from the Apollo 11 mission are on display at the National Air and Space Museum in Washington, D.C. The bag was found in Neil Armstrong's closet by his widow. You can't make this stuff up!
In Orbit
It has been a busy week in space! On Tuesday, SpaceX brought home a Dragon capsule from the ISS and then a day later launched another Falcon 9 rocket, this time with NOAA's DSCOVR spacecraft. The launch was at just about sunset making for some great pictures, which are all over the internet: Spaceflight Now has some good ones, or you can just browse Twitter.
Relive Wednesday's sunset launch in photos → http://t.co/TTlXYEaKHV pic.twitter.com/JIOwsPcJGm

— SpaceX (@SpaceX) February 13, 2015
Also on Wednesday, ESA launched a Vega rocket on a suborbital test mission of a small reusable spaceplane-like spacecraft (technically a "lifting body"). Watch how fast this rocket jumps off the pad!
#IXV safely aboard recovery ship, in great shape! Heading back to Europe for full analysis. http://t.co/TRovBGUlCS pic.twitter.com/5t39ZXM57L

— ESA (@esa) February 12, 2015
The excitement extended into the weekend, with the departure of ESA's last ATV cargo vehicle from ISS this morning. Here is the final status report from the ATV mission manager from prior to undocking. Unfortunately, the undocking was during orbital night so it is hard to find any good pictures. Here you can see ATV's navigation lights shining in the darkness.
Hey #SpaceInvader, #ATV5 just left #ISS… wasn't that the spacecraft that brought you up here? #space2iss pic.twitter.com/LtUxXO4raR

— Sam Cristoforetti (@AstroSamantha) February 14, 2015
Next week a new Progress cargo vehicle will launch from Kazakhstan taking ATV's place at the aft port of ISS. Then late in the week, Barry Wilmore and Terry Virts will step outside on the first of three upcoming spacewalks.
With such a busy and memorable week for ESA, it would be remiss of me not to share their Week in Images post!
And of course Terry and Samantha continue to take amazing photos of the Earth and post them quickly on Twitter for us to enjoy! Here is your weekly selection:
Not far from Timbuktu in Mali, the river Niger splits in many streams, highlighted by the sunglint. pic.twitter.com/1n1fmTUaDZ

— Sam Cristoforetti (@AstroSamantha) February 11, 2015
Final stretch for the #Ganges river, most sacred river to Hindus.#HelloEarth pic.twitter.com/8xUQdQkYh1

— Sam Cristoforetti (@AstroSamantha) February 13, 2015
There are things that only the darkness can frame. Turn off the light and turn on the imagination. #MilluminoDiMeno. pic.twitter.com/kHzNRZrcFW

— Sam Cristoforetti (@AstroSamantha) February 13, 2015
bright and sunny day in #NewOrleans pic.twitter.com/UZvsj1kfkt

— Terry W. Virts (@AstroTerry) February 13, 2015
#LongIsland pic.twitter.com/2vjHrcX4CA

— Terry W. Virts (@AstroTerry) February 14, 2015
#Boston pic.twitter.com/braEhRU0Of

— Terry W. Virts (@AstroTerry) February 14, 2015
And a #Florida pic after all the snow, to give people hope for spring. Pitchers and catchers report soon… pic.twitter.com/FDUnkczZ8x

— Terry W. Virts (@AstroTerry) February 14, 2015
Around the Solar System
As always, the rover Opportunity is slowly trudging along on Mars. She is approaching "Marathon Valley," the point where her odometer will reach 26.2 miles. At over 11 years, her time won't break any records; but she sure is determined.
Because it's Cool
Two new episodes of Phil Plait's Crash Course Astronomy are up!
Down to Earth
February 2nd is "budget day": when NASA will announce the preliminary 2016 budget request for the agency as proposed by the White House.
Rookie European astronaut Andreas Mogensen has been posting video blogs of his training for launch. The latest entry is posted from Moscow and focuses on the Sokol spacesuit which is worn in the Soyuz.
The European Space Agency has a new unmanned spaceplane they plan to launch on a technology demonstration on February 11th. The IXV, or Intermediate Experimental Vehicle, has been undergoing launch preparations at the launch site in French Guinea.
Speaking of ESA, here's their Week In Images, which is always a good click.
SpaceX has announced in a statement on their website that they are essentially dropping their lawsuit against the U.S. Air Force over the Evolved Expendable Launch Vehicle (EELV) contract which awarded 36 rocket launches to United Launch Alliance (ULA). SpaceX and USAF have apparently made a deal which allows USAF to honor current contracts with ULA but also work to certify SpaceX's rockets soon and open competition to them for future payloads.
SpaceX also released a new animation to stir up excitement for the first test flight of their Falcon Heavy rocket later this year.
And in the last SpaceX news from last week, the company completed a static fire test on the launch pad in Florida in preparation for their next launch on February 8.
The Planetary Society has secured a launch aboard an Atlas V rocket this May for their LightSail solar sailing prototype. I am super excited for this mission! Check out this great video explaining the spacecraft.
In Orbit
Last week Wednesday, the ISS did a "deboost", or an orbital correction maneuver to slow/lower the orbit. Usually we do reboosts to keep the orbit higher as the ISS is slowly degraded due to drag. In this particular case, the trajectory officers found a deboost the best solution for upcoming trajectory needs, and we had the extra propellant that we could afford it. I was lucky enough to be assigned the early morning shift on Wednesday to command the OPM (Optimized Propellant Maneuver) to spin the ISS around in preparation for the burn – which went well later in the day.
ISS astronauts got some nice photography of the blizzard that hit the US east coast last week:
And here is a selection of a few other great shots from ISS over the last week. If you want to follow Twitter posts from the ISS, follow my list, "people in space," which I will always have updated with any astronauts who are tweeting from ISS.
I wish I could bring all of you up to see this! pic.twitter.com/V1AizkRjqj

— Terry W. Virts (@AstroTerry) January 31, 2015
Tropical cyclone #Eunice this afternoon. Sinister look! Il ciclone tropicale Eunice, ha un aspetto sinistro! pic.twitter.com/5bYj2AUwjl

— Sam Cristoforetti (@AstroSamantha) January 30, 2015
The beginning of the outback- central Australia looking west pic.twitter.com/dw8UGbeB92

— Terry W. Virts (@AstroTerry) January 29, 2015
Three little atolls in a row – jewels of the ocean! / (IT) Tre piccoli atolli in riga come gioielli nell'oceano! pic.twitter.com/szhL45QGVm

— Sam Cristoforetti (@AstroSamantha) January 28, 2015
The ISS over Mauritania. Eye of the Sahara (The Richat Structure) is easy to see even from the space. pic.twitter.com/cpxZU6VrmW

— Anton Shkaplerov (@AntonAstrey) January 27, 2015
Three launches occurred in the last week, bringing this year's total up to 5 launches. NASA's Soil Moisture Active Passive (SMAP) Earth-observing satellite was the third launch of the year – and third from the US – but almost didn't beat a Japanese launch and then a Russian launch due to a scrub first for weather and then for technical issues. They finally got off the ground from Vandenberg Air Force Base in California on Saturday morning. Here's a video.
The other two launches were this morning, Sunday, February 1st. Japan launches a spy satellite on an H-2A rocket (the same rocket that sends the HTV cargo vehicle to ISS) and Russia launched a communications satellite on a Proton rocket from Kazakhstan. This was the 5th successful Proton flight since their most recent failure last May.
Around the Solar System
Newly released high resolution images from the Rosetta spacecraft reveal a rather large crack in the comet 67P/Churyumov-Gerasimenko. Could the comet split in two when it gets closer to the sun? Exciting!
The image release also included some new shots of the Philae lander descending to the comet from the perspective of the orbiter.
Last Monday a rather large asteroid named 2004 BL86 flew by the Earth at about 3 lunar distances (750,000 miles). The asteroid is 325 meters (1,066 feet) in diameter and has a tiny moon! Check out this radar imagery from NASA's Goldstone antenna:
As NASA's Dawn spacecraft gets closer and closer to the solar system's largest asteroid, Ceres, it is now returning images of the world that are better than what Hubble has shown us in the past.
Pop Space
Adidas is releasing a spacesuit-inspired shoe.
Phil Plait's Crash Course Astronomy Episode 3 is up:
Down to Earth
Last week SpaceX secured a $1 billion dollar investment from Google and Fidelity. Google's interest in the company is supposedly tied to their plans for an Earth-wide satellite internet system.
Orbital Sciences has signed a contract with RSC Energia (the Russian state-owned corporation which includes NPO Energomash) to purchase enough RD-181 rocket engines to power 10 Antares flights. The engine replacement is needed to replace the AJ-26 engines which are implicated in the loss of an ISS cargo resupply mission last October.
British singer Sarah Brightman has started her cosmonaut training in Russia. She will launch to ISS for ten days later this year.
In Orbit
If you aren't on Google+, one reason to join is to follow Samantha Cristoforetti's posts from the ISS. She posts almost-daily updates on how her mission is going, which is a pretty good read. Her most recent posts include a summary of the false emergency last week and a cool student robotics competition they hosted onboard.
These nighttime photos of cyclone Bansi are some of the most amazing pieces of Earth photography I have ever seen from the ISS.
#Bansi a few days ago, w/ lighting brightening up the eye of the cyclone. #Bansi con l'occhio del ciclone illuminato. pic.twitter.com/jzgUT4v6sc

— Sam Cristoforetti (@AstroSamantha) January 17, 2015
And a look from above into the eye of the cyclone! E uno sguardo dall'alto nell'occhio del ciclone. #Bansi pic.twitter.com/1IKScsJekl

— Sam Cristoforetti (@AstroSamantha) January 17, 2015
Here is an interesting pair of photos from Terry Virts.
A beautiful night pass tonight over Seoul, South Korea pic.twitter.com/hsKZ7izTK3

— Terry W. Virts (@AstroTerry) January 20, 2015
And here is Pyongyang, North Korea. pic.twitter.com/iewBFc4zYc

— Terry W. Virts (@AstroTerry) January 20, 2015
The Atlas V launch of a Navy communications satellite was successful on January 20th. This was the second orbital launch of the year, following SpaceX's Falcon 9 launch on January 10th.
Coming up this week, NASA's Soil Moistive Active Passive (SMAP) satellite will launch on a Delta II rocket from Florida on Thursday, January 29th.
Pop Space
Phil Plait's new web series, Crash Course Astronomy, kicked off. Here are links to episodes 1 and 2:
Patrick Stewart was announced as the narrator for the new Journey to Space film which is coming out next month. Here is the trailer, which was released last month (and does not feature Stewart). I am excited for this!
Down to Earth
Elon Musk released photos on his Twitter feed of the moment that the SpaceX Falcon 9 rocket first stage hit their "autonomous spaceport drone ship" (see, barge) and blew up. This occurred a few minutes after the launch of the latest Dragon resupply craft last Saturday. It seems like they hit their target but came in too hard. Maybe better luck on their next flight in a couple of weeks.
@ID_AA_Carmack Residual fuel and oxygen combine pic.twitter.com/5k07SP8M9n

— Elon Musk (@elonmusk) January 16, 2015
@ID_AA_Carmack Full RUD (rapid unscheduled disassembly) event. Ship is fine minor repairs. Exciting day! pic.twitter.com/tIEctHFKHG

— Elon Musk (@elonmusk) January 16, 2015
Update: Just a little while after I wrote this post, the SpaceX twitter account posted this amazing Vine video.
Close, but no cigar. This time. https://t.co/JowUE6a1D7

— SpaceX (@SpaceX) January 16, 2015
NASA completed a "hot fire" test of the new RS-25 liquid fueled engine at Stennis Space Center in Mississippi. The RS-25 is a modified Space Shuttle main engine which will power the SLS.
Much noise has been made about Ted Cruz (R-TX) being assigned to a US Senate subcommittee that oversees the budget of NASA. The main concern is that Cruz is considered anti-science. At the very least, he is anti-science when it comes to climate research, which NASA supports with a fleet of Earth-observering satellites. Houston Chronicle has the best analysis I have seen of what impact Cruz may actually have on the NASA budget. If you are concerned about this topic, you should read Eric Berger's post. Here's a longer more technical analysis at Space Policy Online.
Virgin Galactic is teaming up with a small satellite company known as OneWeb to launch a large constellation of satellites to bring broadband internet to the entire world. Replacement satellites will be launched by the LauncherOne rocket dropped from Virgin's WhiteKnightTwo carrier aircraft.
There is an idea floating of a new reality show which would be a competition between inventors and scientists to get their research flown to ISS. Sounds cool!
In Orbit
Two big things happened on the ISS this week. on Monday, the latest SpaceX Dragon resupply craft arrived. This was the first cargo delivery to ISS from the US since the loss of an Orbital Sciences Antares rocket in October. There was one Russian Progress resupply flight back in November.
Opening the Dragon hatch for the first time- it has that "new spaceship smell"- very nice! pic.twitter.com/OSe66Ygzsu

— Terry W. Virts (@AstroTerry) January 13, 2015
The SpaceX flight was quickly overshadowed by an emergency alarm onboard the ISS on Wednesday morning. The alarm was for a toxic leak of ammonia, which cools the space station avionics hardware in fluid loops on the outside of ISS. In certain failure cases (for which there is multiple layers of redundancy to prevent) the ammonia can break into the internal fluid lines (which carry water) and endanger the astronauts.
Ground teams and the astronauts took immediate safety actions, as we train for hours and hours for, and evacuated to the Russian side of the space station, which does not have ammonia coolant lines. The emergency alarm was eventually determined to be false, caused by a computer glitch, and the astronauts were allowed to open the hatch to the rest of the station late in the day on Wednesday.
While the astronauts are safe, cleanup from such a major (potential) failure takes some time because of all of the automatic safing software that shut down ISS systems on Wednesday. The Flight Control Team will still be diligently working towards bringing the ISS back to "nominal" during my evening shifts this weekend.
Spending some time with the #Exp42 crew yesterday admiring the cautions and warnings from our false alarm pic.twitter.com/Syk9BkhD3v

— Terry W. Virts (@AstroTerry) January 16, 2015
Around the Solar System
NASA's New Horizons probe has technically begun science operations for its Pluto encounter, although it is still more than 100 million miles from Pluto.
The long-lost Beagle 2 lander has been found on Mars by NASA's Mars Reconnaissance Orbiter (MRO). The lander was lost during EDL phase (Entry, Descent, and Landing) back in 2003, which was a huge disappointment to the United Kingdom's space agency. Incredibly, although the world had assumed that Beagle 2 crashed into the surface – hence the loss of communication – the MRO images show the lander safely on the surface, partially deployed. In honor of deceased mission designer John Pillinger, I think this image deserves an update to show that Beagle 2 made it to the surface.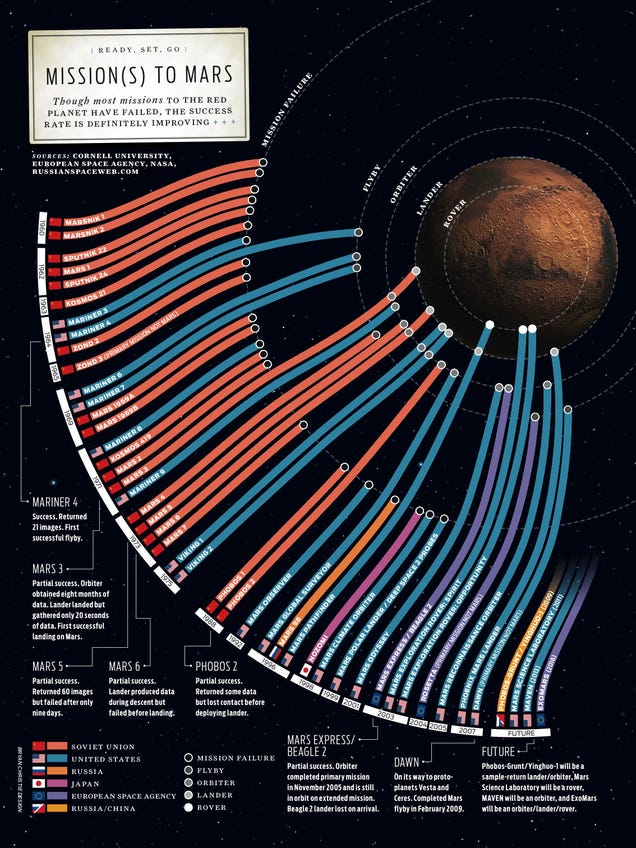 Check out this colorized view from Opportunity on the summit of Cape Tribulation. Image processing done by @mars_stu at his blog The Road to Endeavour (click to embiggen, of course).
Down to Earth
As of Friday night, the next SpaceX Falcon 9 rocket to send a Dragon capsule to the ISS is still on the ground. But the issue that caused launch abort on Tuesday has been dealt with, and the SpaceX launch team is busy prepping for another attempt in just a few hours. Launch is scheduled for 4:47 AM Eastern, Saturday, January 10th. I will be getting up to watch mostly because of the crazy attempt to land the first stage on a barge… I mean autonomous drone ship.
At the Smithsonian's National Air and Space Museum on the National Mall in Washington, D.C., a new exhibit just opened called Outside the Spacecraft. The exhibit celebrates 50 years of Extravehicular Activity (EVA) which started with Russian Alexei Leonov's first spacewalk in 1965.
In Orbit
Space Adventures has announced they have signed on another ISS "spaceflight participant" (or, tourist, if you prefer) – Japanese advertising mogul Satoshi Takamatsu. It is likely that he is the "backup" for Sarah Brightman, who will be flying to ISS later in 2015.
The week in images, from ESA.
Have to include some obligatory tweets from space.
#Wrangell Mountains #Alaska – home to some of the highest peaks in #NorthAmerica pic.twitter.com/z9ETTvl2eJ

— Terry W. Virts (@AstroTerry) January 8, 2015
Port au Prince, Haiti pic.twitter.com/oRHiKrURF7

— Terry W. Virts (@AstroTerry) January 8, 2015
Smooth sailing along the English channel / La Manche. (IT) Il Canale della Manica. #HelloEarth pic.twitter.com/n6C96ltGAy

— Sam Cristoforetti (@AstroSamantha) January 9, 2015
Around the Solar System
NASA's amazing Mars rover Opportunity finally summited Cape Tribulation this week, the highest point Opportunity will see during her mission. She is now over 400 feet above the vast plains that she drove across for years to reach Endeavour Crater. Here is the view.
Out There
2015 is 25 years since the launch of the Hubble Space Telescope, which is still returning amazing astronomical results. The Hubble team knows how to celebrate right, and this week released two amazing images: first a new view of the Pillars of Creation and second an amazingly huge view of the Andromeda galaxy.
Because it's cool

Randall Munroe of XKCD does some fun calculations about building a swimming pool on the moon.
I love these exoplanet "travel posters".
This response, which injects a dose of realism, is even better:
I really liked those @NASA Kepler travel posters so I doodled my own. pic.twitter.com/E4OxUExjXO

— Olly Moss (@ollymoss) January 8, 2015
Down to Earth
The Chinese rocket that launched on December 31st was only carrying a Chinese weather satellite – not super exciting. But check out these incredible images of the first stage of that rocket, which appears to have landed in the middle of a road in a rural Chinese town. I am glad that in the US we have more concern about where our spent rocket stages end up…
The SpaceX Falcon 9 rocket that was supposed to launch to ISS Tuesday is still stuck on the ground. A problem with a hydraulic actuator for the second stage's Merlin 1D engine lead to a launch scrub. They will try again on Friday, January 9th. Here are some shots of the rocket on the pad.
In a pretty awesome outreach move, Elon Musk did an "Ask Me Anything" hour on the website Reddit on Monday night (on the eve of their launch attempt). Here is the link to the whole thread, or you can read some highlights at Parabolic Arc.
The new SpaceX launch site at the extreme southern coast of Texas is likely going to seem more and more real throughout 2015. Just this week, SpaceX has begun posting job openings for the new location near Brownsville, Texas.
Richard Branson wrote a blog post about his thoughts in the immediate aftermath of the SpaceShipTwo accident, and his continued resolve to move forward with Virgin Galactic. As always, Doug Messier has some excellent commentary and dissects Branson's writing.
The US Government Accountability Office has denied Sierra Nevada's protest regarding the awarding of the CCtCap contract for commercial crew flights to ISS. That means that NASA's decision to fund only SpaceX and Boeing will stand.
In Orbit
The Atlantic had an extensive feature article about the ISS titled "5,200 days in space: an exploration of life aboard the International Space Station, and the surprising reasons the mission is still worthwhile." It is one of the most compelling stories covering the ISS that I have ever read.
Surprisingly, at about the same time, Time ran a cover article about Scott Kelly, who will be launching in March for his one-year stay aboard the ISS. It is also a very good story that touches on the human side of life in space.
And of course, our friends in orbit continue to dazzle us on Twitter with views from orbit. Here is a sampling.
#sunrise over #Australia pic.twitter.com/NTc8PCXJX9

— Terry W. Virts (@AstroTerry) January 3, 2015
Some of the amazing geology in Niger #Africa pic.twitter.com/YHxoDvn0OZ

— Terry W. Virts (@AstroTerry) January 3, 2015
A lonely #thunderstorm casts its evening shadow across the Indian Ocean toward #Mumbai. pic.twitter.com/vA7MqBJiHc

— Terry W. Virts (@AstroTerry) January 2, 2015
Some serious air traffic over the Appalachian Mountains in the #US! #HelloEarth pic.twitter.com/yzus1kcOow

— Sam Cristoforetti (@AstroSamantha) January 7, 2015
Hello #Sicily and Mount #Etna, a touch of snow suits you! / Ciao Sicilia ed Etna, la neve ti dona! #Italy #HelloEarth pic.twitter.com/9LlvzVeMiE

— Sam Cristoforetti (@AstroSamantha) January 6, 2015
Around the Solar System
The Mars Exploration Rover Opportunity is getting very close to the summit of Cape Tribulation on the rim of Endeavour crater. It amazes me every time I read an update on Opportunity that the mission is still going and still so successful 11 years later! (Edit: and here is a more detailed MER update from the Planetary Society blog)
On the other side of the planet (Mars that is) Curiosity has made some exciting discoveries. The rover has proven the existence of organics in the rocks of Gale crater and also that there is detectable concentrations of methane in Mars' atmosphere. The methane is important because, due to chemical reactions that must necessarily occur, the methane is transient – meaning something is producing it. A very detailed discussion of this new finding is at the Planetary Society blog. The research was also published in the journal Science.
Out There
The Kepler team announced yesterday that a number of newly confirmed planets (based on old Kepler data) brings the total exoplanets discovered by the space telescope to 1,000. 8 of these new worlds can reasonably be considered "Earth-sized" and even in their stars' habitable zones. Because we don't have details on their composition or atmosphere, we can't actually know how likely it is that life could live on these planets. But, as Phil Plait writes, this is further confirmation that the universe is full of small planets. Eventually, we will find Earth's twin.
Because it's cool
This creative short film titled "Shoot for the Moon":
New footage from the Marianas Trench documents the deepest known fish. An alien world in its own way.
Down to Earth
I am continually puzzled by large-scale aerospace projects using crowdfunding sites. In the latest installment, a company called Bristol Spaceplane (who have apparently been around at least since the Ansari X Prize days) is looking for 10,000 GBP (that's about 15,500 USD) to build a remote controlled scale model of their spaceplane concept (via Parabolic Arc). How they intend to turn $15,000 of crowdfunding into a multi-billion dollar spaceplane project is not mentioned on their fundraising page.
SpaceX has picked up a Qatari telecommunications launch for 2016, adding to their already packed manifest. The Falcon 9 launch rate will be one of the big stories to follow in 2015. SpaceX is still on track for a January 6th launch to resupply the ISS.
In some continued minor fallout from the Virgin Galactic accident earlier this year, a company called Virool (I hadn't heard of them) has changed up the prize in a previous contest: instead of winning a SpaceShipTwo ticket, the prize is now just a ride on a "vomit comet" style airplane.
In Orbit
In a quick flurry of launches, the Russian space program lofted 3 successful missions to end 2014 on a very positive note last week. The launches were all unmanned and unrelated to the ISS program. First, on December 23rd, the first flight of the new Angara rocket put a "dummy payload" into geosynchronous orbit.
Next, on December 26th, a Soyuz rocket put the Resurs P2 Earth observing satellite into orbit.
Lastly, on December 28th, a Proton rocket launched a European communication satellite to geosynchronous orbit. This was the 4th successful Proton launch since the failure in May. Proton is notorious for failures (one failure a year since 2010), and is intended to be replaced by the new Angara rocket.
Up on the ISS, the crew celebrated Christmas last week by putting out cookies for Santa Claus and exchanging presents. Astronaut Terry Virts shared their celebration with a few pictures on Twitter.
No chimney up here- so I left powdered milk and freeze dried cookies in the airlock. Fingers crossed… pic.twitter.com/zr5MzGbaPe

— Terry W. Virts (@AstroTerry) December 24, 2014
opening presents – I got a harmonica frome Elena Serova. Now I need to learn how to play! pic.twitter.com/rT0E9ZqynO

— Terry W. Virts (@AstroTerry) December 25, 2014
Out There
A new study with the Hubble Space Telescope has discovered a previously unknown "dwarf spheroidal" galaxy only 10 million light years from our galaxy. These types of small galaxies filled with older stars are expected to help astronomers improve models of star formation. The new galaxy is in our "Local Group" and is called KKs3. Hopefully someone at the IAU can come up with something more catchy.
Back in 2013, when Kepler's second of four reaction wheels failed, it looked like the space telescopes science days were over. However, earlier this year the mission was relaunched as "K2″. The new mission uses the two remaining reaction wheels and solar wind pressure to keep the spacecraft pointed accurately enough to do science. The pointing is not as accurate as the original mission, but the first exoplanet discovery of the new mission proves that Kepler is not dead! Kepler found HIP 116454b, which is a small planet 2.5 Earth diameters in size.
With Christmas and New Year's fast approaching (and Chanukah already here), everyone stays a little less connected, since more time is devoted to family and friends. So this week I have a rather short update on space news in the past week. I have plans for a pretty detailed "year in space" retrospective on 2014, which I will write after the holidays. So read this right quick and get back to the post office to ship those late gifts!
Down to Earth
SpaceX did not manage to get their CRS-5 (or 5th ISS resupply flight) off the ground as planned this week. They had an issue with their first attempt at the "static fire test" of the rocket on the pad and had to try again on Friday, December 19. The Friday test went well and launch is now no earlier than January 6th with rendezvous two days later.
In other SpaceX news, the company was awarded an $87 million contract with NASA to launch the Transiting Exoplanet Survey Satellite (TESS) on one of their Falcon 9 rockets in 2017.
The Commercial Cargo Resupply contract, which SpaceX and Orbital Sciences currently hold, will be coming up for rebid (for launches starting in 2018). Boeing is now on record that they plan to bid on the contract with their CST-100 vehicle, which, just this year, received an award for NASA's commercial crew transfer contract.
In Orbit
In a little talked about test flight, India had a successful launch of its new GSLV Mark III rocket, which was carrying a rudimentary test article for a future crew module. Although I put this news in the "In Orbit" section, since it went to space, the mission was actually just a quick sub-orbital hop to 126 km. It's an impressive step for India, but clearly there is a lot of work between here and a manned program.
Things are pretty quiet on the ISS, with the slip of the SpaceX mission to next month and the Christmas and New Year's holidays coming up. With no Dragon to capture this weekend and a day or two off for Christmas next week, I imagine the astronauts will be taking lots of great photos of the Earth, as they always do. You should keep following Terry and Sam especially. Their Earth photography is always fun to look at and posted in near real-time, like this incredible shot of Cyprus in the Mediterranean.
Around the Solar System
Unfortunately, the Venus Express spacecraft could not hold out until 2015. The European Space Agency (ESA) has announced that the spacecraft ran out of fuel and is no longer gathering science data. The mission is over. Congratulations to ESA on an impressive 8 year campaign at Venus!
The two weeks since my last "links" post have been very busy with mostly good news. The best news being a number of successful rocket launches (two of them space exploration related), helping to make up for the bad taste in everyone's mouth from the loss of the Antares rocket back in October. I tried counting how many rockets have launched from Earth this year using this launch log at Spaceflight Now, but its so many that I decided to go with the highly scientific "a lot".
Down to Earth
Let's quickly get a few boring but important things out of the way. We've got a couple of space budget updates from around the world.
First, economic sanctions from the EU on Russia may make it hard for Roscosmos to live up to their current ambitions.
At the European Space Agency ministerial meeting, a few key decisions were made. First they agreed to start development on the new Ariane 6 rocket, which will be a direct competitor with a few American made launchers including those from SpaceX. The Ariane 6 will replace the current Ariane 5, which launches European communications satellites, as well as the ATV to ISS. Secondly, ESA has only agreed to fund their commitment to ISS until 2017. It is assumed at their next meeting in 2016 the funding will be extended until at least 2020.
Back in the USA, Congress has passed a 2015 federal spending bill (in both houses) that includes a boost for NASA. Here is how the bill is summarized by The Planetary Society:
The total amount provided for NASA in this bill is a very solid $18.01 billion. That's about $549 million above the President's request for this year and $364 million above last year. This extra money supports increases to critical programs without raiding others.
The bill still needs to be signed by the President. Follow the link above for a more detailed breakdown. Parabolic Arc has the same data tabulated.
The spending bill also includes $20 million of federal funding to repair the Wallops Island launch pad that was damaged in the Orbital Antares rocket explosion in October. This is an interesting provision because $20 million was the initial assessment of what it would cost for all the repairs – meaning it will be completely paid for with federal money.
Speaking of Orbital Sciences, an announcement was made on December 9th that Orbital will be buying a couple of United Launch Alliance Atlas V rockets to fulfill their CRS contract with ISS. Orbital needs to buy someone else's rocket to fill the gap while they figure out how to upgrade their Antares rocket to no longer use the AJ26 engine, which we can presume is implicated in the rocket failure. Even with the ULA deal, it seems the next launch of cargo aboard a Cygnus spacecraft won't be until late 2015.
In Orbit
Of course, the big news, big enough to get coverage in all the major news outlets in one way or another, was the launch and successful recovery of NASA's Orion spacecraft on its first unmanned test flight. The EFT-1 mission launched one day late, on Friday, December 5th, but other than that the flight pretty much went perfectly. There was a big of a glitch with the airbags at splashdown (they didn't all deploy), which seems to be the only noteworthy problem. Here is a nice photo essay of the mission. Regardless of what you think of NASA's current programs and roadmap for the future, congratulations are deserved by the whole team – especially my colleagues in Flight Operations – who worked on the mission. It is definitely worth getting excited for the next flight, EM-1, but it sure is a long way away.
While I don't usually write about DoD launches, the Atlas V launch from Vandenberg Air Force Base on December 12th was notable because of the time of the launch. The Friday night launch, after sunset at 7:19 PM PST, lit up the sky all the way in Los Angeles, as evidenced by Twitter. It's just too bad that people aren't better informed so that the could have known they had an opportunity to see a rocket launch!
Aboard the International Space Station, the new Made In Space printer is still churning out test prints. Since I last wrote, they have created a jar with a screw-on lid and a ratchet handle for a socket wrench (although I'm not sure it actually "ratchets"?). Here's ISS Commander Butch Wilmore showing off the "honey jar":
Coming up on the ISS before Christmas, the next SpaceX Dragon cargo resupply will be launching this Friday, December 19th. Rendezvous will be on Sunday, December 21st, sometime in the morning. Here's some details about press conferences and NASA TV coverage.
Lastly, if you want to keep up with what's going on on the space station, you should be following Terry Virts and Samantha Cristoforetti on Twitter. Cristoforetti is also active on Google+ where she posts logbook updates. If you want details about specifically what science the astronauts are up to, AmericaSpace has a nice week recap.
Around the Solar System
As usual, there is a lot of activity all over the solar system, since humanity seems to have spacecraft everywhere! Unfortunately, that won't last forever. In the first weeks (or months if we are lucky) of 2015 we will lose both our only active spacecraft at Mercury, NASA's MESSENGER, and our only active spacecraft at Venus, ESA's Venus Express. Both spacecraft are running low on fuel. MESSENGER may be able to do another boost in January to keep it from crashing until the Spring, but Venus Express will not be so lucky.
Back to some good news: on December 3rd, JAXA (that's the Japanese space agency) launched the Hayabusa-2 probe. Hayabusa-2 is a follow-on mission to the successful Hayabusa sample return mission that visited asteroid Itokawa. Check out the launch replay below.
With all these great launches, we are looking to finish out 2014 right, especially if SpaceX gets Dragon to the ISS next weekend.
Elsewhere in the solar system, the Mars rovers have been quietly carrying on their missions. Opportunity is still exploring the rim of the large Endeavour crater, despite some flash memory problems with the rover. Opportunity recently passed 41 kilometers on the odometer and will hit 11 years on Mars in 2015. On the other side of the red planet, Curiosity is busy looking at rock sediments at Mount Sharp. NASA announced earlier this month that Curiosity has discovered that Gale Crater, which contains the central peak of Mount Sharp, once contained a lake – meaning standing water. This is significant in that it means conditions on ancient Mars were warm enough, and had sufficient atmospheric pressure, to maintain a more permanent water cycle.
Speaking of water, Rosetta results recently released by ESA show that the isotope of water found on comet 67P does not match the isotope found on Earth. This means that if Earth's water did come from comets, it was not the same kind of comet at 67P.
Because it's Cool
And of course I need to share this awesome video.
Lots of cool stuff this week. Read all the way to the end for a special treat of a video.
Down to Earth
The James Webb Space Telescope, under assembly and testing at Goddard Spaceflight Center, did a full secondary mirror deploy test in November. NASA published this timelapse of the test, which gives a great sense of the immense scale of this space telescope. Note that this test is with the actual flight hardware.
The iconic – and very old – countdown clock at NASA's Kennedy Space Center was disassembled last week to make way for a new modern clock, which should be ready for the EFT-1 launch later this week.
Admit it, whenever you are catching up on space news, you are wondering what will happen next with the two recent (but unrelated) space accidents – the loss of SpaceShipTwo and an Orbital Sciences' Antares rocket. Well, not a lot has happened in recent weeks. A couple little things have happened, such as Land Rover offering alternatives prizes in their Galactic Discovery Competition and initial damage assessments coming in from the Wallops Island launch pad. In the meantime, you can read this to-the-point discussion of what the accidents say about risk aversion (or acceptance) in the industry.
In Orbit
Last week, NASA and Made In Space were very excited to announce the first replacement part which was printed aboard ISS with the first 3D printer in space. The part was a simple plastic cover for the printer itself, but the point is the proof of concept. Much excitement surrounds the prospect of 3D printers in space – with the Made In Space printer being the first of several printers to make it aboard the space station. This article from the Space Review puts the idea in perspective, by summarizing the findings of the National Research Council Committee on Space-Based Additive Manufacturing.
Also on the ISS last week, the rather large "SpinSat" was deployed using the Japanese robotic arm. SpinSat is a 125 pound satellite designed by the U.S. Naval Research Lab to test out their ground surveillance technologies using lasers. You can read more about it in an NRL press release here. Here are some pictures that ISS commander Butch Wilmore took of the satellite being deployed.
Later this month, the 5th official SpaceX Dragon resupply mission to the ISS will launch from Florida aboard a Falcon 9 rocket. The launch is currently set for December 16th. Although every one of these missions is still exciting (if you haven't seen a Falcon 9 launch, get down there), this mission will be especially interesting to follow because of what will happen to the rocket's first stage. On previous flights, SpaceX has practiced "controlled landing" of the first stage in the open ocean. On this flight, the rocket will actually land on an autonomous floating platform. Elon Musk revealed a picture of the craft on his twitter, and I admit, it's pretty slick. In addition, "grid fins" will help the rocket's guidance on entry – here's a picture of those as well.
The biggest story of this week should be the launch of EFT-1 (or Exploration Flight Test 1), which is the first test flight of the Orion spacecraft, which is the new NASA exploration vehicle. Although the spacecraft will be flying aboard a ULA Delta IV Heavy, rather than the Space Launch System (which isn't ready yet), this is still a major milestone for NASA. The four-and-a-half hour, two-orbit mission will be the first non-ISS spacecraft operations from NASA's Mission Control Center at the Johnson Space Center since STS-135 landed in 2011. Flight controllers (colleagues of mine, no less!) have been training hard for months and years for this first dress rehearsal of our new program.
Parabolic Arc has a great summary of the mission and the Planetary Society put together a very readable timeline of the mission's events. The launch window opens at just after 7 AM EST on Thursday morning, December 4th. I highly suggest you tune in!
Around the Solar System
As if not to be outdone by EFT-1, a big moment in human spaceflight, the world of robotic planetary science has a big launch this week as well: Hayabusa-2. This is a JAXA follow-up to the first Hayabusa mission, which successfully returned samples of asteroid Itokawa in 2010. Hayabusa-2's overall design is at its core the same as the first mission, with some important upgrades ("lessons learned" have no doubt been incorporated). The mission will hopefully launch from Tanegashima on Wednesday, December 3rd, and make it's way to asteroid 1999 JU3 by 2018, where it will collect samples to return to Earth in 2020.
And last but not least, check out this awesome imaginative short film about the future of humanity throughout the solar system: Wanderers.