Archive for the 'Friday Links' Category
Down to Earth
SpaceX officially received certification from the United States Air Force (USAF) to launch military payloads.
NASA has officially ordered the first official crew rotation flight to ISS under the contracts awarded to Boeing and SpaceX last year. Boeing is expected to make this flight (after a demo flight) in late 2017.
At NASA's Stennis Space Center, the new RS-25 rocket engine went through a long duration test firing. The RS-25 is a modified space shuttle main engine and will be used on NASA's new SLS rocket. Here is the full video of the 450 second (7.5 minute) test:
A new venture called MarsPolar hopes to work with SpaceX to mount the first expeditions to Mars. They have a rather shiny website (and an awesome logo). There are a lot of ambitious people promising big dreams these days, which is exciting. But it is hard to take these announcements seriously until we start seeing results. I wish them luck!
In Orbit

The big event on ISS last week was the relocation of the Permanent Multipurpose Module (PMM) from the bottom of ISS to another out of the way port, so that the previous location can be used as a docking port. Here are some images and timelapses of the operation:
More time-lapse from yesterday- "PMM" module 10000kg mass being moved smoothly and precisely by #Canadarm2. pic.twitter.com/0K0dbiKuCH

— Terry W. Virts (@AstroTerry) May 28, 2015
Back at @ISS_Research today after a busy week cleaning out and moving our storage closet (PMM). #YearInSpace https://t.co/6GPDLNaBK5

— Scott Kelly (@StationCDRKelly) May 29, 2015
The now free Common Berthing Mechanism with petals open, just after PMM was moved away, then with petals closed. pic.twitter.com/WyYnJ6vtmC

— Sam Cristoforetti (@AstroSamantha) May 30, 2015
Peaking through the little window in the Node 1 nadir hatch as PMM was moved yesterday. #RemodelingInSpace pic.twitter.com/AY7zoXkILg

— Sam Cristoforetti (@AstroSamantha) May 28, 2015
The ISS is currently in perpetual twilight during a time of year we call "high beta". This often means frequent and very bright ISS passes for much of the world. My favorite way to look up whether ISS will be flying over my location is with the website Heavens Above.
In rocket news, only one orbital rocket launched in the past week: an Ariane 5 rocket carrying a DirecTV satellite. The next ISS related launches are expected to be a SpaceX launch late in June and hopefully also the next Progress launch.
Around the solar System
As New Horizons is now less than two months from closest approach to Pluto, we are getting higher resolution images of the dwarf planet every week. Here is the latest batch. Here's an animation of the imagery (via APOD):
These images are more than just pretty pictures. The New Horizons mission control team is watching Pluto and its moons closely throughout approach to ensure no hazards will destroy the spacecraft at the close encounter. Analysis so far is good.
If you are excited about the Pluto mission, maybe you should download the new "Pluto Safari" iPhone app. I have downloaded it, but not played with it yet.
This post will have to cover the last two weeks, as I missed last week's update partly due to being on the evening shift at the ADCO console. I happened to be on duty in mission control when the lost Progress cargo ship re-entered the Earth's atmosphere over the Pacific. Unfortunately, ISS was too far away for us to see anything from the onboard cameras.
Down to Earth
The crew of Expedition 43 will not be coming back down to Earth as planned this month. NASA and the other ISS partners announced this week that upcoming crew rotation dates will be delayed due to the ongoing investigation of the Progress resupply craft that failed to reach ISS. The next launch was also postponed by a couple of months.
Fortunately, the astronauts aboard ISS seem to be in high spirits and are making the best of it:
Looks like it's not time to get my spacesuit ready yet… what a present! #MoreTimeInSpace http://t.co/i26pwWu8Oo pic.twitter.com/HzSuRjFQpE

— Sam Cristoforetti (@AstroSamantha) May 12, 2015
Today was our original landing date but we got extended, @astrosamantha, @antonastrey and I are very glad to stay! pic.twitter.com/DKDax710XZ

— Terry W. Virts (@AstroTerry) May 13, 2015
In a seemingly unrelated announcement, British singer and spaceflight hopeful, Sarah Brightman, has postponed her plans to fly on a Soyuz to the International Space Station, according to a press release on her website. No official word yet if her backup Satoshi Takamatsu will take her Soyuz seat on TMA-18M later this year.
A new astronaut movie called Pale Blue Dot will star Reese Witherspoon. Let's hope it lives up to the pedigree of its namesake. Based on what little we know about it so far, I don't know if I am convinced.
The company that designed the capillary flow coffee cups for serving espresso on the ISS wants to commercially produce the cups for sale on Earth. You can pledge to their Kickstarter here.
The UAE space agency has produced a pretty interesting promo video for their Martian orbiter mission plans:
In Orbit
Check out this awesome video blog from Smarter Every Day about the window shutters in the Cupola on ISS (via Bad Astronomy).
Here are some of my favorite posts from the astronauts in space from the last week or so:
Looking at the sands of #Earth it's hard to imagine there are more stars than every grain on our planet.#YearInSpace pic.twitter.com/NJlP9Hi6eD

— Scott Kelly (@StationCDRKelly) May 8, 2015
The rising sun casts shadows upon the US #SouthWest this morning creating a striking image. #YearInSpace pic.twitter.com/dj4aB2hyoq

— Scott Kelly (@StationCDRKelly) May 8, 2015
Subtropical Storm #Ana churns off the East coast of USA. #Wx from @Space_Station. #YearInSpace pic.twitter.com/uaMRGDO8JG

— Scott Kelly (@StationCDRKelly) May 8, 2015
Massive lightning storm over #India. A majestic performance that inspires awe and respect. #SpaceVine https://t.co/yrMpOV2J1D

— Terry W. Virts (@AstroTerry) May 9, 2015
These dark clouds in the US heartland look very threatening. Be safe! #wxreport #YearInSpace pic.twitter.com/eIFbbKAxsi

— Scott Kelly (@StationCDRKelly) May 10, 2015
Fishing boats… what an intriguing visual effects as the light shines through a cloud layer! pic.twitter.com/ugdIYu2m6I

— Sam Cristoforetti (@AstroSamantha) May 11, 2015
Fun with candy: I am a human centrifuge in this #spacevine https://t.co/IQh1wr4kQv

— Sam Cristoforetti (@AstroSamantha) May 11, 2015
My first look out the window today. #YearInSpace pic.twitter.com/61hpRPE9KB

— Scott Kelly (@StationCDRKelly) May 14, 2015
Around the Solar System
The small Japanese probe Procyon was unable to recover its ion engine in time for a needed course correction and will miss its asteroid rendezvous. Procyon launched with Hayabusa 2 in December.
New Horizons is now close enough to Pluto to image all 5 of its known moons!
The "tiger stripes" on Europa could be "sea salt" from beneath the surface.
In other icy moon news, the geysers on Enceladus, seen by the Cassini probe, may actually be curtains rather than geysers.
Check out this awesome Vine from Saturn:
And How could I not share this sunset image taken by the Curiosity rover on Mars.
Out There
Astronomers may have found the first volcanoes on a planet around another star.
Astronomers from Yale University discovered the most distant galaxy ever seen – a stunning 13 billion light years distant.
Down to Earth
Ok, politics out of the way first. A committee in the US House of Representatives recently marked up a version of a budget bill for NASA that funds the agency at healthy levels but takes a bunch of money from Earth science and gives it to the manned exploration programs. Here is Administrator Charlie Bolden's official statement on the bill.
Dr. Dava Newman, of MIT, has been confirmed by the US Senate as the new deputy NASA administrator.
SpaceX will conduct their first Pad Abort Test of the manned version of their Dragon capsule on Wednesday. Details of the test can be found here. The unmanned test will be streamed live on NASA TV. Here are some pictures of the Dragon on the pad waiting for the test.
Also, here is a new awesome picture from the failed droneship landing of the SpaceX Falcon 9 booster last month.
My favorite shot from the last rocket landing attempt on the droneship pic.twitter.com/8a403c7Fv1

— Elon Musk (@elonmusk) May 3, 2015
Blue Origin tested their New Shepard vehicle on April 29. The launch got them very close to space, only a few miles short of the Karman Line. Here is a video they released of the test.
Mark Kelly will appear on Celebrity Jeopardy! later this month.
The Adler Planetarium in Chicago is currently running a special exhibit about Apollo 13.
In Orbit
SpaceX successfully launched their 5th flight of the year, launching a comm satellite for Turkmenistan on April 27th.
On April 28, a Soyuz rocket carrying an unmanned Progress resupply craft launched from Kazakhstan, headed for the ISS. Unfortunately, a problem occurred at or near separation from the upper stage and the vehicle spun out of control. Mission controllers in Russia were not able to recover the spacecraft and it is expected to crash back to Earth this week. NASA and its partners have a plan for continued logistical support of the space station without the Progress (SpaceX is launching another resupply very soon) and Russia is conducting an internal investigation.
Meanwhile, up on the ISS, the crew has some distractions to keep them from thinking about the logistical challenges. They have installed their brand new espresso machine (or ISSpresso) and also setup a new projector movie screen.
"Coffee: the finest organic suspension ever devised." Fresh espresso in the new Zero-G cup! To boldly brew… pic.twitter.com/Zw2CllJgzF

— Sam Cristoforetti (@AstroSamantha) May 3, 2015
Had my first cup of fancy coffee yesterday from the much anticipated @Space_Station #espresso machine. Not too bad. pic.twitter.com/tpnHyTczul

— Scott Kelly (@StationCDRKelly) May 4, 2015
#Movie night in micro #Gravity aboard #ISS on our new HD projector which we use for conferences, tech software, etc.. pic.twitter.com/Mhb03U3alz

— Scott Kelly (@StationCDRKelly) April 25, 2015
Sam recorded a quick tour of her "hygiene corner" on the ISS.
Around the Solar System
NASA's MESSENGER probe crashed into Mercury (deliberately) last week, after a successful 4 year orbital mission.
Check out these awesome new images of Pluto from the New Horizons probe… getting closer!
Because its Cool
You can always count on the Onion to make fun of NASA in the best way possible.
It was a bit of a slow week in spaceflight, with only one rocket launch of note and a few bureaucratic developments. Meanwhile, the people of Nepal were hit hard by a major earthquake and over 3,000 are dead. USA Today has a list of charitable organizations (such as UNICEF, Red Cross, World Food Program, and more) that are mounting relief efforts. Here is the link. I gave to American Red Cross.
Down to Earth
NASA's decision on the next set of contracts for ISS cargo resupply has been delayed until September. This is the re-bid of the contract currently being fulfilled by SpaceX and Orbital ATK.
The US House of Representatives has marked up their first draft of a spending bill for NASA which includes both 2016 and 2017. There is some good news is that the overall NASA budget is going up, pretty much matching the increase requested by the White House. However, the bill from Congress has a significant difference in funding levels for exploration systems and Earth science.
ESA could join NASA's Europa Clipper mission, planned to launch in 2022, by providing a lander of some kind. Cool!
ABC released a trailer for "The Astronaut Wives Club". Check it out.
In Orbit
An Ariane 5 rocket launched from French Guiana today with a pair of communications satellites. SpaceX's next Falcon 9 launch is currently scheduled for tomorrow, from Florida.
Canada has budgeted support of the ISS through 2024 in their latest federal budget. Hooray!
This past week, many in the scientific community celebrated 25 years since the Hubble Space Telescope was launched into orbit. In fact, many not in the scientific community were also celebrating!
Images taken by @HubbleTelescope are being displayed in #TimesSquare to celebrate #Hubble25! http://t.co/JCvv5FxTuT pic.twitter.com/pBsP6fDV2D

— Times Square (@TimesSquareNYC) April 23, 2015
With operations planned until at least 2020, Hubble will likely overlap in operations with its successor, the James Webb Space Telescope, scheduled to launch in 2018.
Around the Solar System
The intriguing bright spots seen by the Dawn spacecraft on the asteroid Ceres have come back into view. Check out this imagery from the mission!
Down to Earth
Ron Howard is working on a TV a miniseries based on Elon Musk and his plans to colonize Mars.
Bulgaria has joined ESA as a "cooperating state".
Orbital ATK has been contracted by Lockheed Martin to provide the launch abort motor for Orion.
Blue Origin will reportedly resume test flights of their New Shepard rocket later this year.
Check out these very creative animations of NASA's Apollo mission patches (via CollectSpace).
The members of the Made in Space ISS 3-D printer team received their shipment recently. In fact, you can watch them unboxing it on YouTube (via Parabolic Arc):
In Orbit
SpaceX will launch their next ISS resupply mission today, April 13, and will also be giving the barge landing another shot. The static fire test happened on Saturday, which is an important milestone before launch. I suspect they won't stream imagery of the barge landing live (like last time) but hopefully they will have dramatic imagery of a success or failure to share afterwards! Among other cargo, food, and science that this CRS-6 mission is hauling to the ISS, there is also a cubesat known as Arkyd-3, which is a demonstration mission for the asteroid mining company Planetary Resources.
Brown: next SpaceX CRS flight, SpX-6, will carry 8 CubeSat deployers, including 14 Planet Labs sats and Arkyd-3 reflight. #NRISSWorkshop

— Jeff Foust (@jeff_foust) February 17, 2015
The forecast for the launch window is only 60% as of last night. There is another launch window on Tuesday. Here is Spaceflight Now's live stream with "mission status center".
And of course I need to share a few recent tweets and pictures from the ISS:
#Namibia, in southwestern Africa, home to the tallest sand dunes on earth. pic.twitter.com/OMI7419JFR

— Terry W. Virts (@AstroTerry) April 10, 2015
#Riodejaneiro You seem to have much to offer. Need to see up close someday. #YearInSpace pic.twitter.com/YG1h1tLhUT

— Scott Kelly (@StationCDRKelly) April 10, 2015
Moonglint over the Mediterranean. Il riflesso della luna sul Mediterraneo. #HelloEarth pic.twitter.com/Bwv5TbUPa7

— Sam Cristoforetti (@AstroSamantha) April 11, 2015
Some more #ColorsOfTheEarth! pic.twitter.com/txct9XuEqZ

— Sam Cristoforetti (@AstroSamantha) April 11, 2015
A touch of everything #SpaceVine. https://t.co/DjBg6F57ki

— Terry W. Virts (@AstroTerry) April 12, 2015
Last glow of the Sun before orbital sunset. L'ultimo bagliore del Sole prima del tramonto in orbita. pic.twitter.com/07AVp5YlnB

— Sam Cristoforetti (@AstroSamantha) April 12, 2015
Not sure what is going on on this beach in #Mexico but it's a striking image. #YearInSpace pic.twitter.com/RUQwMk7F2R

— Scott Kelly (@StationCDRKelly) April 12, 2015
"Starry Night," it's not quite Van Gogh, but a pretty cool perspective from up here in space. pic.twitter.com/TcAAiiAOQ5

— Terry W. Virts (@AstroTerry) April 13, 2015
Around the Solar System
Curiosity has been very busy in Gusev Crater on Mars ever since the team resolved the issue with the instruments on the robotic arm earlier this year. They recently did a few good drives and got some great images. You can see them and follow along with the mission at The Martian Chronicles blog. I love this picture. Curiosity should be reaching the 10 kilometer mark soon.
NASA's MAVEN spacecraft has completed 1,000 orbits of Mars.
Mission planners for ESA's Rosetta are rethinking their future close flybys of the comet 67P due to the navigation hazard caused by dust. A flyby in March sent the spacecraft into safe mode.
And don't forget Cassini, still orbiting Saturn taking amazing pictures and doing science!
Down to Earth
The California Senate has voted to replace one of their statues in Statuary Hall in Washington, D.C. with a likeness of late astronaut Sally Ride. Awesome! The bill still has a few legislative hurdles before it is law though.
The user-proposed LEGO model of the ISS has received enough votes for the company to move it to "production review".
United Launch Alliance announced their plans for their Next Generation Launch System (NGLS) which will replace the Atlas family of rockets in a few short years (hopefully). The new rocket will be named Vulcan and will be ULA's answer to the US Congress's order to stop using the Russian built RD-180 engine to launch DoD assets. Not only does Vulcan solve the RD-180 problem by contracting with Blue Origin to develop a new liquid propellant first stage, the BE-4, but it answers SpaceX's innovative attempts at reusability with their own system (see graphic below).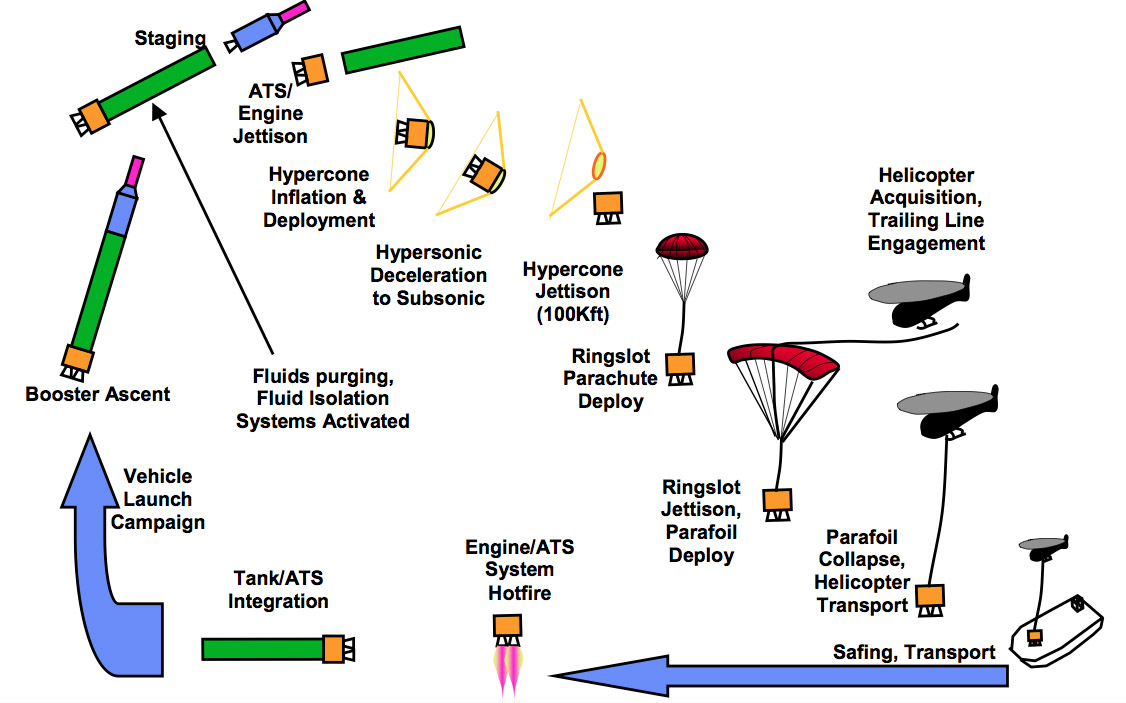 Sierra Nevada Corporation and the Germany space agency DLR signed an agreement to cooperate on future uses of the Dream Chaser space plane.
In Orbit
SpaceX launched CRS-6, another ISS resupply mission, last Tuesday. The cargo arrived safely on Friday when Samantha Cristoforetti captured the vehicle with the Canadarm-2.
Congrats @SpaceX and @NASA team on a successful launch! Watched with my crewmates aboard #ISS. #YearInSpace pic.twitter.com/kVeCevGCjQ

— Scott Kelly (@StationCDRKelly) April 14, 2015
Great job @AstroSamantha and @AstroTerry capturing #SpaceX Dragon this morning! #YearInSpace pic.twitter.com/mECacqaGhV

— Scott Kelly (@StationCDRKelly) April 17, 2015
The Dragon spacecraft has a new ISSpresso machine onboard, built by an Italian company to be delivered while Samantha Cristoforetti is on ISS.
SpaceX's attempt to land their Falcon 9 rocket's first stage on a barge (ahem, the Autonomous Spaceport Droneship) was not successful. Luckily, we got what we were all waiting for: awesome footage of the not-landing! Good job, SpaceX! They will likely stick it next time (YouTube link via Parabolic Arc).
Some SpaceX employees had some fun (honestly, I don't know how they found the time) producing a music video parody of Uptown Funk entitled Launch You Up. Enjoy. (Update: I've been informed that these are not actually SpaceX employees. The video is by Cinesaurus which is in the business of producing parodies on YouTube. It is entertaining nevertheless)
Those guys better get back to work. The next Falcon 9 launch is scheduled for April 27, which would be the fastest time between two Falcon 9 launches, 10 days, beating the previous record of 13 days.
This Hyundai commercial entitled "A Message To Space" may be an ad, but it is still inspirational and I love seeing the ISS on TV. I hope to see more things like this in the future!
And here's the obligatory list of best pictures taken from the ISS astronauts over the last week. They never fail to impress:
I've never heard of #Moa #Cuba but it's a very colorful place from @Space_Station. #YearInSpace pic.twitter.com/eX3gFXIQOS

— Scott Kelly (@StationCDRKelly) April 15, 2015
An unknown river snakes its way through the #Amazon jungle. I didn't notice it until it caught the sun glint. pic.twitter.com/q4L3yCe3SK

— Terry W. Virts (@AstroTerry) April 15, 2015
Salut #Paris! pic.twitter.com/Lmgq09tArT

— Sam Cristoforetti (@AstroSamantha) April 16, 2015
Performed spacesuit torso transplant w/ @StationCDRKelly. 1st time that has been done in space. #SpaceVine https://t.co/wFUEo47XrS

— Terry W. Virts (@AstroTerry) April 18, 2015
.@AstroTerry and I in our #Dragon slaying gear (vehicle entry protection equipment) today. #YearInSpace pic.twitter.com/UVv42Hit5Q

— Scott Kelly (@StationCDRKelly) April 18, 2015
Physics is fun in zero gravity. Spinning chain #SpaceVine shows centripetal force causes circular shape. https://t.co/C28dPDM7uC

— Terry W. Virts (@AstroTerry) April 19, 2015
The future of human space exploration – #Moon and #Mars setting behind one of our solar arrays. pic.twitter.com/45JI8GHaGU

— Terry W. Virts (@AstroTerry) April 19, 2015
Around the Solar System
Measurements from the Curiosity rover indicate that liquid water could exist in the soil at night on Mars. In short, the speculated process requires two key factors: salts in the soil, and then humid air during the day that freezes into frost in the evening. This frost then combines with the salts to make a brine which has a higher freezing point, such that it might melt and exist as liquid. Exciting!
Curiosity also stopped to watch a sunset on Sol 956 last week in order to catch images of a Mercury transit. As far as I have found, the images have not been released yet.
Meanwhile, Dawn is getting closer to Ceres and New Horizons is getting closer to Pluto. Both probes returned some exciting new imagery over the last week, including the first color view of Pluto and Charon from New Horizons.
I just learned about the small probe PROCYON that is heading towards asteroid 2000 DP107. PROCYON was launched as a secondary payload with Japan's Hayabusa-2. Unfortunately, PROCYON is having a bit of a problem with its ion propulsion. I hope they get it fixed soon!
Sorry for the delayed post this week. It has been a busy month, as I prepare for my trip to the 31st Space Symposium in just over a week. Plus, I recently got a new Amazon Kindle and have been diving into the world of spaceflight historical fiction (I know, I was surprised too!). I recently finished reading both Zero Phase and Public Loneliness by Gerald Brennan. Check them out!
The most exciting space news since my last post on March 20th of course was the launch of Soyuz TMA-16M last Friday. Here's a video of the launch. More on what's been going on ISS under "In Orbit", below.
Down to Earth
United Space Alliance is having a public contest to vote on the name of their new rocket, which they hope will replace their medium lift Atlas V and Delta IV rockets by the 2020s.
Speaking of naming contests, the SETI Institute has launched the "Our Pluto" campaign for the public to help suggest names for features on Pluto, which will soon be discovered by the New Horizons spacecraft. From what I can tell, NASA and the IAU are onboard, so the names may actually become official.
Ellington Airport, just a few miles from the Johnson Space Center, has a new agreement with Sierra Nevada Corporation to land unmanned Dream Chaser spaceplanes here in Houston. If Sierra Nevada is awarded the CRS-2 contract, this could provide a nice logistical advantage for the ISS program.
The next SpaceX Falcon 9 launch, which is another cargo resupply flight to ISS, has been delayed to April 13 (a 3-day slip).
NASA has selected "Option B" for the Asteroid Redirect Mission (ARM). The mission will involve an unmanned robotic mission retrieving a small boulder from the surface of a Near Earth Object (NEO) which will be visited later by astronauts in lunar orbit.
In Orbit
Lots of rocket launches in late March, in addition to the Soyuz launch that sent Scott Kelly, Mikhail Kornienko, and Gennady Padalka to ISS. The list of launches includes: an Atlas V with a new GPS satellite, A Japanese reconnaissance satellite on an H-II rocket, two European Galileo navigation satellites on a Soyuz rocket, and at least one other Indian, Russian, and Chinese rocket. The Chinese launch reportedly included a test flight of a new mini-space plane. The number of rocket launches this year now stands at 21 to orbit, with no failures.
As for that Soyuz flight to the ISS, it was a picture perfect launch, rendezvous, and docking, with Kelly and crewmates arriving at ISS only 6 hours after departing Kazakhstan. The number of humans off-world is now back up to 6, and the number of people tweeting from space is now at 4, with Kelly joining Cristoforetti, Virts, and Shkaplerov. Here's a sample of their recent posts:
A clear moonlit Mediterranean turns into an impressive #thunderstorm over Turkey. https://t.co/S5BeysqJUg

— Terry W. Virts (@AstroTerry) March 31, 2015
Emergency training today with the full 6 person Expedition 43 crew. pic.twitter.com/3zZFMnDqUH

— Terry W. Virts (@AstroTerry) March 30, 2015
Colorful #aurora dancing behind our Soyuz. #spacevine https://t.co/7GLtz3sem9

— Sam Cristoforetti (@AstroSamantha) March 30, 2015
Soyuz 42S launch as seen from @Space_Station. It's quieter than in person, but a very cool view! pic.twitter.com/KDHlHA24FK

— Terry W. Virts (@AstroTerry) March 27, 2015
Commands respect even from #space: we just flew over typhoon #Maysak. pic.twitter.com/w86GnxmaO2

— Sam Cristoforetti (@AstroSamantha) March 31, 2015
Around the Solar System
The annual Lunar and Planetary Science conference took place in March, which usually means interesting news from spacecraft exploring the solar system. Some of the best stories from this year's LPSC are:
Out There
I was excited to learn that there are still astronomers diligently watching the Alpha Centauri system, with HST even, to try to confirm the potential worlds detected orbiting there several years ago. The latest data indicates that perhaps there are two worlds, not just one, orbiting Alpha Centauri B. Unfortunately, the data is not strong enough to say they are there for sure… yet.
Down to Earth
Last week, on Wednesday, March 11th, Orbital ATK conducted a successful static test fire of one of the solid propellant rocket motors that will be used for the SLS rocket.
This is too cool! This is our rocket Booster test as seen from an airplane! #SLSFiredUp #JourneyToMars #OrbitalATK pic.twitter.com/tOctJRTB48

— Gordie (@BoosterBud) March 12, 2015
The next day, on the 12th, the Soyuz carrying Butch Wilmore, Elena Serova, and Alexander Samokutyaev returned to Earth. Check out these incredible pictures of their descent and landing. Looks like it was a beautiful (cold) day in Kazakhstan.
With Butch and crew on the ground, Expedition 43 is underway with only three crew members onboard – Terry Virts, Samantha Cristoforetti, and Anton Shkaplerov. They are a good trio to have onboard together, as they are all very active on Twitter, providing us awesome views of Earth from on orbit! However, they will be joined very shortly by Scott Kelly, Gennady Padalka, and Mikhail Korniyenko who are launching next Friday, March 27th.
On March 18th, many space fans celebrated the 50th anniversary of the first ever spacewalk, conducted by Alexei Leonov on the Voskhod 2 mission.
First space walk 50 years ago today. Congratulations Major General Alexey Arkhipovich Leonov! pic.twitter.com/zbpO0W6cVR

— Scott Kelly (@StationCDRKelly) March 18, 2015
Поздравляю, Алексеи Архипович Леонов! 50 years ago today; the first #spacewalk; March 18, 1965 http://t.co/V1ftY2jROw pic.twitter.com/iLBYhKQNrP

— Douglas H. Wheelock (@Astro_Wheels) March 18, 2015
Leonov is 80 years old, and did a press circuit for the occassion!
Leonov interviewed in front of Sergei Korolov's house in Moscow. The 50-yr 1st EVA celebration continues today pic.twitter.com/DCnIaVdlcE

— Christer (@CFuglesang) March 19, 2015
In less fun news, there has been a lot of talk about a couple of space-related hearings in Washington, D.C. that happened earlier this month. Let me break it down into the biggest talking points for you:
1. On March 4th, NASA Administrator Charles Bolden appeared before the "House Appropriations Committee" for a budget hearing. Some folks latched on to a discussion between Bolden and Congressman John Culbertson about whether NASA has a plan for ISS if Russia decides to no longer participate. Given that the program is a joint venture that depends on both parties, it seems to me like an unfair premise.
2. On March 12th, Bolden appeared before the "Senate Subcommittee on Space, Science, and Competitiveness". One of the big takeaways was Bolden's comments about why the Opportunity's rover's budget is being cancelled in 2016. The Planetary Society has a pretty good explanation of why that is a bad idea.
3. In the same hearing, Bolden was asked by Texas Senator Ted Cruz why NASA spends so much time on Earth science instead of exploring space. Of course, Earth science is part of NASA's core mission. Parabolic Arc explains why Ted Cruz doesn't seem to know what he is talking about.
4. Lastly, the senate held an "Army and Air Force hearing" on March 18th. There was some discussion about the RD-180 engine issues (see my earlier post) and whether the Air Force could provide a replacement by the 2019 deadline. USAF and ULA officials say it is not possible. Some of the senators scolded that no progress has been made. However, Aerojet recently conducted a test of their new AR1 engine, which may be a starting point for a replacement.
In Orbit
I will optimistically put this news in the "in orbit" section: with bids on the CRS-2 (commercial resupply services) contract due, both Lockheed Martin and Sierra Nevada have been promoting their ideas for how to get cargo to and from the ISS. Lockheed Martin has a unique design involving a reusable cargo ferry that stays in orbit and transfers cargo to a rocket stage with a robotic arm. Sierra Nevada is proposing an unmanned variant of their Dreamchaser spaceplane, which recently lost out on the ISS crew transfer contract (CCtCAP).
Speaking of ISS cargo, NASA has extended the contracts with SpaceX and Orbital ATK by a few additional flights in 2017 to close the gap between CRS and CRS-2.
Alright, back to the fun stuff. Up in space, the pretty pictures from the ISS crew just keep on coming:
Captivating view… Progress cargo spaceship ablaze in a ghostly green and red glow. #OurOutpostInSpace pic.twitter.com/bkEykYCM93

— Sam Cristoforetti (@AstroSamantha) March 18, 2015
#HappyStPatrickDay with best wishes from the #E43 crew! From space you can see the "Emerald Isle" is very green! pic.twitter.com/cMdhCd0zCb

— Terry W. Virts (@AstroTerry) March 17, 2015
An unusual self-portrait in the #cupola. pic.twitter.com/THPGTXvcjE

— Terry W. Virts (@AstroTerry) March 16, 2015
#Europe fisheye https://t.co/C5B5lbvKnD

— Terry W. Virts (@AstroTerry) March 13, 2015
Today there is a total solar eclipse in the Northern Atlantic and Arctic. Hopefully the astronauts can get some views from the ISS! In fact, Cristoforetti just posted the below picture just a few minutes ago, as I write this.
I think this is it: the umbra. Looking aft on our flightpath around maximum obscuration time. #SolarEclipse pic.twitter.com/rYz7UTpHLv

— Sam Cristoforetti (@AstroSamantha) March 20, 2015
Around the Solar System
Recent observations of Jupiter's moon Ganymede using the Hubble Space Telescope confirms the presence of a sub-surface ocean. Wicked.
Meanwhile, Cassini has discovered evidence or hydrothermal activity below the surface of Saturn's moon, Enceladus.
The MAVEN spacecraft has discovered ultraviolet aurora at Mars.
Out There
There is a new nova in the constellation Sagittarius bright enough to see with binoculars. It was too cloudy this morning in Houston to spot it but I will keep looking!
Before I get into my recap of what has happened over the past week and a half, I want to make sure to note that tomorrow, Wednesday, March 11, there will be two big events covered on NASA TV. First, Orbital ATK will conduct a test firing of a solid rocket motor in support of SLS development. The coverage will start at 11 AM Eastern with the test firing at 11:30 AM. Secondly, Soyuz TMA-14M will undock from the ISS at 6:44 PM Eastern and land at around 10:07 PM in Kazakhstan. There is NASA TV coverage throughout the day, including at 3 PM for hatch closing. Here is the change of command ceremony from earlier today:
Down to Earth
Sci-fi icon Leonard Nimoy (Mr. Spock on Star Trek) died on February 27th.
"Of all the souls I have encountered.. his was the most human." Thx @TheRealNimoy for bringing Spock to life for us. pic.twitter.com/mE12wLQKrU

— Sam Cristoforetti (@AstroSamantha) February 28, 2015
One of Chris Hadfield's old flight suits (not worn in space) was bought at a random Toronto thrift store. Seriously.
Although SpaceX's lawsuit against the USAF seems to have been resolved, there has been another interesting piece of space legal work going on. SpaceX is suing over Blue Origin's patent on landing a rocket stage on a platform at sea.
United Launch Alliance plans to retire the Delta IV launch vehicle (but not the Heavy variant).
China has made some of their future manned spaceflight plans public, including the launch of a new larger space station next year.
I don't know what to call this other than a "trailer". Check out this video about the LHC starting up again this year:
In Orbit
A USAF weather satellite known as DMSP-13 broke apart at a 500 mile altitude in early February.
On March 1st, SpaceX launched its third Falcon 9 launch of the year. Quite a good pace so far in 2015…
Also on March 1st, astronauts Terry Virts and Butch Wilmore completed the third of their trilogy of spacewalks outside the ISS to "wire up" the US segment for the new docking ports to be delivered starting later this year.
ISS Commander Butch has been posting some excellent Vine's in his last few weeks aboard. Here is a sample (follow @space_station on Twitter or Vine):
"Rise and shine! Full #moon over the Gulf of Mexico. Less than one week before I come home." #AstroButch https://t.co/3nMdEYcdkp

— Intl. Space Station (@Space_Station) March 5, 2015
"From sea to shining sea, the #UnitedStates is a beautiful place to be." #AstroButch #SpaceVine https://t.co/VIQpeTlTop

— Intl. Space Station (@Space_Station) March 8, 2015
Of course, Samantha Cristoforetti has been just as busy on social media. Here is a shot she got of some cubesats recently launched from the Japanese robotic arm on the ISS.
And here they start to go their separate ways! #Cubesats pic.twitter.com/WhbmyL1pZR

— Sam Cristoforetti (@AstroSamantha) February 27, 2015
Around the Solar System
The Dawn spacecraft has reached Ceres! However, as you can see in the animation below, the spacecraft is in a bit of an odd "orbit" above the dark side of the asteroid until early April. That is why we won't get better sunlit images of the asteroid for several weeks.
Check out this awesome shot of Mars' moon Phobos in silhoutte, by India's MOM.
Check out this picture that the Rosetta spacecraft took of its own shadow.
Some scary news from Mars at the end of last month – a short circuit in the instruments at the end of Curiosity's robotic arm caused the missions's flight control team to halt operations for troubleshooting. It sounds like as of this week, they have determined it is safe to continue operations. Excellent!
Down to Earth
Hungary is the newest member of the European Space Agency (ESA). With the addition of Hungary and Estonia, ESA will need to revise their astronauts' flag-covered shoulder patch (seen below on Andre Kuipers' flight suit).
Since I mentioned ESA, it is always nice to share their Week in Images post.
The Intelsat 603 satellite, which was rescued to a higher orbit on the first 3-person EVA on STS-49 in 1992, has been disposed of in a "graveyard orbit".
Eddie Redmayne, who won the Oscar for best actor last weekend, is a NASA supporter.
It's a rare week that goes by without some news related to SpaceX worth mentioning. A few things this week. First, SpaceX has a new contract with SES for the launch of two communications satellites which may be the first to launch from the new facility in the Southernmost part of Texas. Secondly, SpaceX has started construction of their hangar near launchpad 39A at the Kennedy Space Center. 39A is one of the two historic launchpads built for the Apollo program and also used during the Space Shuttle program. Lastly, SpaceX will be launching their next Falcon 9 rocket in a few days. The current date is listed by Spaceflight Now with an uncertain "March 1/2″. This launch is of commercial payloads and will liftoff from Florida.
In Orbit
No notable rocket launches this week, except for a Russian military satellite on a Soyuz rocket, which launched this morning. Instead, there was another spacewalk up on the ISS. Terry Virts and ISS Commander Butch Wilmore have one more spacewalk this coming weekend to finish out their tasks laying cable for future commercial crew dockings.
#AstroButch in the vacuum of space today. #spacewalk pic.twitter.com/kXcdvk4t7e

— Terry W. Virts (@AstroTerry) February 25, 2015
Speaking of the ISS, the Russian Federal Space Agency (I'm not sure what to call it, as they are in the middle of a re-organization) announced this week that they now intend to continue ISS operations through 2024. Previously, Russia had only committed through 2020, so this is good news.
The Soil Moisture Active Passive (SMAP) satellite, launched by NASA on a Delta II rocket earlier this year, deployed its impressive sensing array this week and is getting ready to start its science campaign. Here's an animation of what it would have looked like.
Around the Solar System
NASA's Curiosity rover took an impressive self-portrait (or "selfie", if you must) of its current location on the foothills of Mount Sharp on Mars. Curiosity is currently at a site called Pahrump Hills where it has been drilling various rocks.
Meanwhile, out in the asteroid belt, NASA's Dawn spacecraft is just a week away from entering orbit around Ceres, the largest asteroid. The pictures coming down are already remarkable and include a strange pair of bright spots in a crater.