Archive for the 'China' Category
Down to Earth
Elon Musk was busy this week entertaining his fans with tidbits about future SpaceX plans, including the tweet below, as well as this picture on Instagram of a tool for their next larger rocket, the BFR.
And then land on a bouncy house

— Elon Musk (@elonmusk) April 16, 2018
NASA's Planetary Science Division Director, Jim Greene, is now the agency's new chief scientist.
Check out this music video by Snow Patrol which uses imagery from the ISS and was partially filmed at ESA.
In Orbit
There were three orbital rocket launches since my last post:
On Monday, April 16th, A SpaceX Falcon 9 rocket will launch carrying NASA's Transiting Exoplanet Survey Satellite (TESS) space telescope.
Around the Solar System
The International Astronautical Union (IAU) has approved official names for features on Pluto's moon Charon, some named after iconic sci-fi figures such as Stanley Kubrick and Arthur C. Clarke.
Because images of Saturn are just so damn stunning, here's Saturn's moon Dione as imaged by the late Cassini spacecraft.
Down to Earth
NASA announced last week that the James Webb Space Telescope (JWST) launch date is slipping about a year to May 2020.
Apollo 8 astronauts Frank Borman and Jim Lovell celebrated their 90th birthdays.
Ars Technica got Chris Hadfield to open up on some details of his viral Space Oddity video, shot on the ISS.
The Chinese Tiangong-1 space station completed its long-anticipated uncontrolled re-entry today, somewhere over the South Pacific.
In Orbit
Last Thursday, March 29, astronauts Drew Feustel and Ricky Arnold exited the ISS airlock for a full six-hour spacewalk to conduct repairs and maintenance.
There were five orbital rocket launches since my last post a week ago:
Tomorrow, Monday, April 2, SpaceX will be launching a Falcon 9 rocket carrying a Dragon capsule to the ISS. Below is a video from CASIS with an overview of the science launching on the mission.
Out There
Astronomers have discovered a galaxy which has no dark matter – the first galaxy discovered of this kind.
Down to Earth
Dr. Stephen Hawking died on March 14th, at age 76. The New York Times published a thorough review of his life and accomplishments.
NASA's acting administrator Robert Lightfoot is retiring.
The startup rocket company Rocket Lab plans to launch their first commercial flight this spring. The rocket will be named It's Business Time which follows in the naming tradition of their first two test rockets: It's a Test and Still Testing.
Speaking of small rocket startups, Firefly Aerospace used the popular South by Southwest conference to publicly demonstrate an engine test (video below). The engine would power the upper stage of their planned Firefly Alpha rocket.
If you like rocket engine tests, then watch this new video of Blue Origin's BE-4 engine, posted by Jeff Bezos last week.
New test video of Blue's 550K lbf thrust, ox-rich staged combustion, LNG-fueled BE-4 engine. The test is a mixture ratio sweep at 65% power level and 114 seconds in duration. Methane (or LNG) has proved to be an outstanding fuel choice. @BlueOrigin #GradatimFerociter pic.twitter.com/zWV0jWXIvx

— Jeff Bezos (@JeffBezos) March 13, 2018
The US federal government passed a new funding bill for the remainder of Fiscal Year 2018 last week. The large omnibus bill includes $20.7 for NASA. If you'd like a comparison of NASA's budget over the years, check out this Wikipdia page.
In Orbit
Over the past two weeks there have been only two orbital rocket launches. The first was a Chinese Long March 2D rocket carrying an Earth-observing satellite. The second was a Soyuz rocket launched from Kazakhstan carrying 3 crew members on their way to the International Space Station.
Oleg Artemyev, Drew Feustel, and Ricky Arnold docked to the ISS successfully this past Friday, two days after launch. They join Anton Shkaplerov, Norishige Kanai, and Scott Tingle for the ongoing Expedition 55 mission.
ソユーズ宇宙船が宇宙ステーションに到着し、第55次長期滞在クルー6人が揃いました!

ゲームかアニメで、最後の敵との大決戦の前に、仲間が全員集まったかのような感じがします。
船外活動、ドラゴン宇宙船の打上げなど、大きなイベントが目白押しですが、みんなで協力して乗り切りたいと思います。 pic.twitter.com/Xc67DuzywT

— 金井 宣茂 (@Astro_Kanai) March 24, 2018
Swarm Technologies launched four very small satellites in January without license from the FCC. In fact, the FCC had specifically asked them not to launch because they were too small to track. Now Swarm may not be able to receive future licenses.
Around the Solar System
Mission managers on the New Horizons project have chosen the name Ultima Thule for the small Kuiper Belt object which will be visited by the probe next year. The name would not become official until the International Astronomical Union (IAU) can weigh in.
Recent observations from the Dawn spacecraft reveal that the surface of the asteroid Ceres is dynamic, with changing amounts of visible ice and other materials.
The Kepler space telescope, launched in 2009, will likely run out of fuel this year.
Out There
A couple of interesting new exoplanet systems were announced recently:
Down to Earth
Mattell launched a new line of "Inspiring Women" Barbie dolls. The release includes a doll of NASA's Katherine Johnson, made famous by the movie Hidden Figures.
JPL posted a 360-video from inside the InSight lander test lab (this is the next mission to Mars launching in May).
Westworld director Jonah Nola showed the below video during a SXSW panel this weekend.
National Geographic's March issue features NASA astronaut Peggy Whitson on the cover and an article by Nadia Drake which profiles a handful of other astronauts.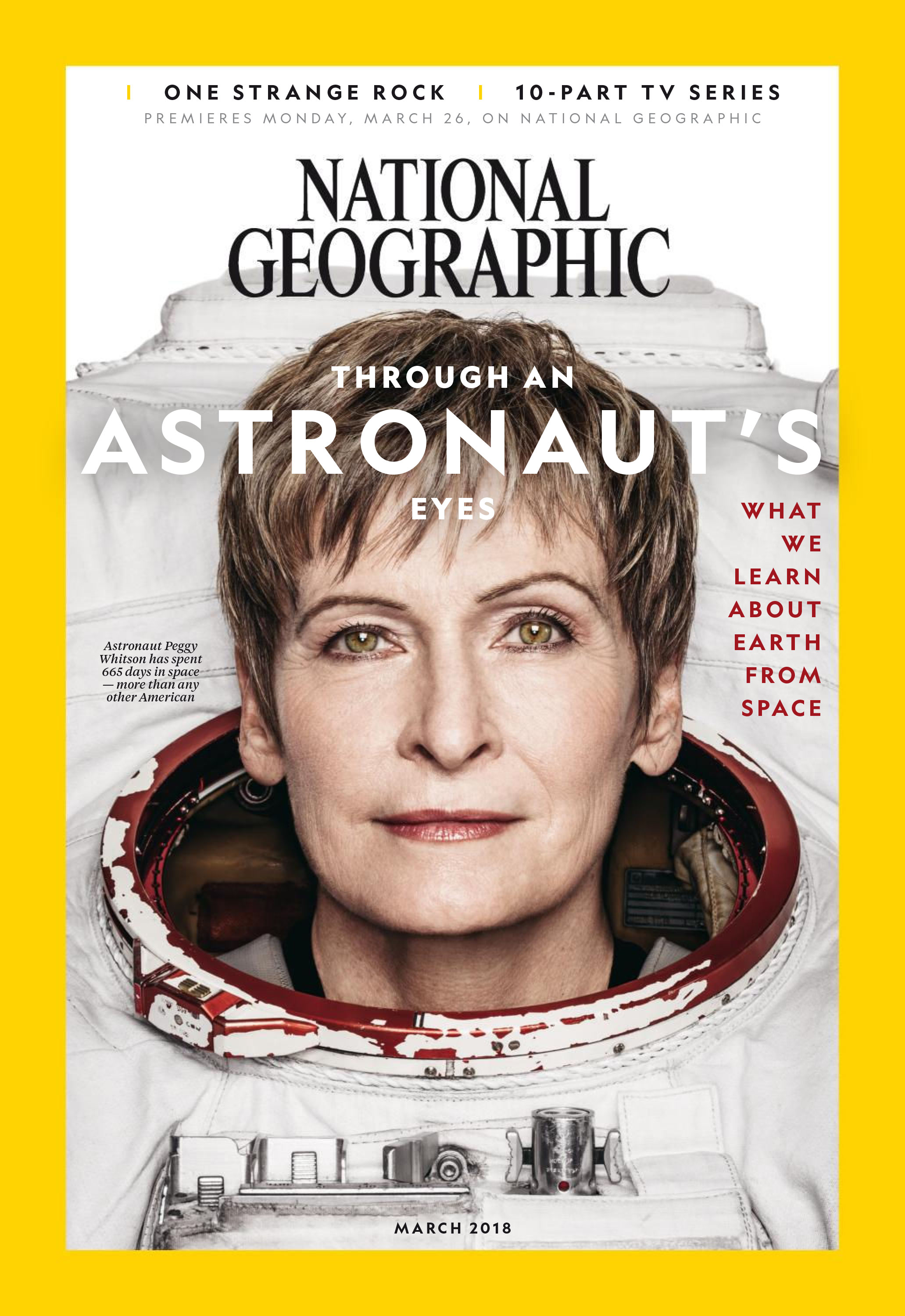 In Orbit
Two rocket launches since my last post a week ago:
March 6 – SpaceX launched a Falcon 9 rocket carrying two satellites for commercial companies.
March 9 – Arianespace launched a Soyuz rocket from Kourou carrying three communications satellites for O3b.
There has been a lot of talk lately of China's defunct Tiangong-1 space station, and it's imminent uncontrolled plunge back to Earth. Predictions are for early April.
Around the Solar System
NASA released some new imagery data and science results from the Juno probe in orbit of Jupiter. Some of the intriguing mysteries uncovered include the strange polar cyclones and the 3,000 kilometer deep wind patters. Phil Plait has an excellent summary at his blog.
Out There
Another asteroid on an interstellar hyperbolic orbit has been discovered. This object is likely from the Oort cloud, which makes it different than 'Omuamua, which is believed to have originated in interstellar space.
Down to Earth
The Center for the Advancement of Science In Space (CASIS)  – the organization that manages the ISS as a national laboratory – will be looking for a new executive director after Gregory Johnson steps down.
The White House released their proposed federal budget for 2019, including details for NASA. Here's a summary from Parabolic Arc of what the budget would include for the space agency. The Planetary Society also has a great summary up on their blog and also covered it in a recent podcast.
Kennedy Space Center's visitor center has opened a new interactive "Astronaut Training Experience".
In Orbit
After the launch of a Progress resupply craft to the ISS was scrubbed last Sunday, it was launch successful on Tuesday and docked to the ISS two days later.
Other than the Progress, launched on a Soyuz rocket from Baikonaur, the only other launch last week was a Chinese Long March 3B rocket carrying two global navigation satellites.
ESA celebrated the 10th anniversary of the Columbus modules launch to the ISS.
Two astronauts, Mark Vande Hei of NASA and Norishige Kanai of JAXA, completed a spacewalk on Friday to fix the SSRMS, as well as some other maintenance tasks.
Around the Solar System
The Opportunity rover has now spent more than 5,000 martian days (or "sols") on Mars. To commemorate the occasion, the JPL rover team commanded Opportunity to take a "self-portrait" mosaic using the cameras on the end of its robotic arm. This is the first time this has been done with Opportunity.
New Horizons has broken the record held by Voyager's famous Pale Blue Dot image for farthest images taken from Earth. The probe is on its way to an encounter with 2014 MU69 next January. While it is cruising through the Kuiper Belt, it took advantage of its "near" pass to two other objects and took some low resolution images of 2012 HZ84 and 2021 HE85.
Down to Earth
A new Kickstarter campaign seeks to build replicas of the Apollo guidance computer DSKY (Display and Keyboard) interface.
NASA's 15th Human Exploration Research Analog (HERA) mission started last week at Johnson Space Center. Four crew members will spend 45 days isolated on a simulated deep space mission.
The much anticipated Falcon Heavy launch is now less than 48 hours away. Eric Berger of Ars Technica has an excellent discussion about the new rocket and what it could mean for the industry (if successful).
In Orbit
Four successful orbital rocket launches since my last post
A spacewalk conducted by Alexander Misurkin and Anton Shkaplerov on the International Space Station broke the Russian record for longest spacewalk, at 8 hours and 13 minutes.
An amateur astronomy discovered a NASA satellite that had been missing for over 10 years.
Around the Solar System
NASA published a beautiful composite panorama from the Curiosity rover looking back down the slopes of Mt. Sharp.
Curiosity also took a new selfie, looking the other direction.
Out There
Astronomers have announced that using gravitational microlensing they have discovered evidence of planets in another galaxy for the firs time.
Down to Earth
The US federal government was shutdown briefly over the past weekend, and had some impacts to NASA, but ended by Tuesday morning. The federal budget decision has been moved by Congress to February 8th.
SpaceX completed the long-awaited "hot fire" test of their Falcon Heavy rocket on the launch pad in Florida. The company has reportedly set their launch date February 6th.
The flight controller consoles in NASA's Historic Mission Control at Johnson Space Center began being removed this week as part of a longterm restoration effort.
NASA's InSight lander, the next mission to Mars, launching this year, had its solar arrays tested at Lockheed Martin.
During the "Year of Education" onboard the ISS, astronauts will record lessons originally planned for Christa McAuliffe's teacher-in-space flight on Challenger in 1986.
Johnson Space Center director Ellen Ochoa plans to retire this year.
The Google Lunar X Prize will end this March with no team winning the $20 million prize for sending a private rover mission to teh moon.
In Orbit
There were two rocket launches last week:
The Ariane 5 rocket had some kind of anomaly with the upper stage and placed the payloads in the wrong orbit.
ISS astronauts Mark Vande Hei and Scott Tingle completed a spacewalk last Tuesday to service to Canadarm-2. Unfortunately, an issue discovered after the spacewalk has caused a change of plans, and a second excusion planned for this coming Monday will be used to enact some repairs.
Around the Solar System
Some news from Mars:
Researchers hope to observe a global dust storm on Mars in the near future to validate a theory that dust storms contribute to the loss of the planet's atmosphere.
Data from NASA's Mars Reconnaissance Orbiter (MRO) has found potential ice sheets at mid-latitudes on the red planet.
Down to Earth
Some recent crew assignment changes for the ISS have been receiving a lot of press, including the replacement of Jeanette Epps with Serena Aunon-Chancellor for a launch this summer. NASA has not provided specific details on the reason for the change.
As of Saturday morning, the US federal government has no official funding and must shutdown many services. This shutdown affects NASA and its field centers. The specific impacts to NASA operations will become more clear if the shutdown extends into the work week on Monday morning. In the meantime, NASA will press forward with the ISS spacewalk on Tuesday.
There was a lot of talk last week about an update on the schedule for NASA's Commercial Crew Program, which has slipped according to a report from the Aerospace Safety Advisory Panel (ASAP). There was also a Government Accountability Office (GAO) report on the same topic.. The reports outline a few issues that the commercial providers – SpaceX and Boeing – both need to work through before their rockets and capsules can be certified to flight NASA astronauts to the ISS. Both companies answered questions at a congressional hearing following the report on Wednesday.
SpaceX still has not conducted a static fire of the Falcon Heavy rocket on Pad 39A. They are expected to try again this coming week with a potential launch before the end of the month.
In Orbit
The following rocket launches occurred last week:
Out There
A detailed study of Fast Radio Burst (FRB) 121102, one of the few repeating signals, has yielded a new hypothesis that these highly energetic events are caused by massive black holes.
NASA has demonstrated the concept of deep space navigation using neutron stars with the NICER payload onboard the ISS.
Down to Earth
Virgin Galactic conducted their first glide flight of SpaceShipTwo since last August.
SpaceX's Falcon Heavy has been attempting to conduct a static fire test ahead of launch, but has scrubbed three days in a row. It has been rescheduled for Monday.
#FalconHeavy static fire update: Looks like static fire is moving to Monday with an approximate target time of 1600 EST (2100 UTC) for the opening of the test window.

— Chris G – NSF (@ChrisG_NSF) January 13, 2018
In Orbit
Launches this past week included:
Long March 2D successfully launched Land Survey Satellite 3 from Jiuquan Satellite Launch Center today. pic.twitter.com/jSMCTPy95Y

— CGWIC (@CGWIC) January 13, 2018
In the case of the SpaceX launch, there have been many reports from reliable journalists over the past week that the classified Zuma payload perhaps did not reach orbit. However, no official statement has yet been forthcoming.
Upcoming launches of interest include a ULA Atlas V from Florida on Jan 19, the next Rocket Lab Electron launch attempt on Jan 20, and SpaceX's Falcon Heavy test flight (possibly on Jan 25?).
On the ISS, the 13th SpaceX Dragon mission ended successfully with release and splashdown. SpaceX ships are currently retrieving the capsule to return its science samples.
ドラゴン宇宙船が、大切な貨物を積んで出発しました。
この1ヶ月は、このドラゴン宇宙船で地上から届けられたさまざまな実験に追われて大忙しでしたが、期限どおりに送り出せて、ホッと一安心です。 pic.twitter.com/L2XKjCGbAZ

— 金井 宣茂 (@Astro_Kanai) January 13, 2018
The year of 2017 will be remembered by most of my readers for reasons totally unrelated to spaceflight. It was a tumultuous year with political turmoil, social strife, acts of violence, and devastating natural disasters. Unfortunately, it is these negative stories that tend to embed themselves in our memories as we witness the arc of history unfold. Even when we zoom out to a wide angle view of decades or centuries, it is violence and conflict we remember. What were the biggest events of the 20th century? Wars, economic collapse, threats of annihilation, and social strife. I don't have to remind you though, as a space fan, that most of the world shares at least one bright memory of the difficult last century: Apollo 11.
In a similar way, I'm hoping that through all the difficult times we face as a society in the 21st century, that spaceflight can be one of those bright spots that is a source of optimism and hope (although, surely not the only source). As Bill Nye is fond of saying "space brings out the best in us." Spaceflight is an outlet for positive creative energy. Spaceflight applies technology in new ways, often leading to new inventions and sometimes entire industries. Spaceflight allows us to conduct important research that applies directly to the interests and concerns of everyone on Earth – from medical studies onboard the ISS to weather and climate satellites to space telescopes looking out for Near Earth Objects (NEOs).
Spaceflight is a bipartisan endeavor universally loved by young and old alike because it taps into something innate in us. Whether it's the love of exploration and discovery or just the appeal of astronauts as wholesome hometown heroes, space has always been an easy sell to the public. Very few other uses of time and money are as generally noncontroversial (although we like to argue over specifics). There was a chance for space to get swallowed up in the political turmoil in Washington, DC this past year. Luckily, that didn't happen. Instead, the space industry had another great year with very few setbacks.
Some readers may take issue with that statement and want to argue that it was not a great year for space. After all, NASA still has no confirmed administrator, XCOR went out of business, several programs slipped their launch dates (JWST, SLS, Orion), and Cassini ended its mission at Saturn (leaving us with a dearth of outer solar system probes). But if we look at those space programs or missions that are active and flying, we see lots of success in 2017 with few failures. The loss of Cassini should probably be spun as a positive story anyway – the planned retirement of a historic program of exploration – 13 years in Saturn orbit.
Other than the few things I listed above, the only other major setbacks of 2017 would be the five complete launch failures shown below (there were one or two other partial failures). Both Japan and New Zealand (Rocket Lab) lost rockets on their maiden launch. India, China, and Russia all lost one rocket each. The two remaining major space powers – ESA and USA – did not have any launch failures.
| | | | |
| --- | --- | --- | --- |
| Country | Vehicle | Payload | Maiden launch? |
| Japan | SS-520 | nanosat | Yes |
| New Zealand | Electron | none | Yes |
| China | Long March 5 | Comm sat | No |
| India | PSLV | Nav sat | No |
| Russia | Soyuz | Various | No |
2017 actually had the lowest launch success rate since 2011 and yet overall it felt like a very successful year (launch success was about 93% instead of the usual 95%). A few things contribute to this being a good year for rockets. First of course, is that 2 of the failures were test launches. If you remove them from the accounting, we are back at 95%. The second big reason is that none of the other failures led to an interruption in logistical support for the ISS. From 2014 to 2016, ISS operations lost four uncrewed logistical support rockets. After a string that bad, the last 13 months of successful flights (ten missions in all) feels positively blissful.
The third, and maybe most important reason this was a great year for rockets, was that SpaceX had no failures this year. In 2015 they lost an ISS resupply mission on ascent. In 2016 their year was cut short at 8 missions when a rocket blew up on pad 40 at Cape Canaveral. The backlog of customers was looming for a long 6 months while SpaceX worked on recovering from that latest failure. Then, last January they returned to flight with a launch for Iridium and haven't let up since. Their accomplishments include: no launch failures, a record 18 launches, a record 15 first stage recoveries, and first reuse of a first stage. The other American providers, ULA and Orbital ATK, also had good years with 8 and 3 successful launches each with no failures.
As long as we get to space with chemically propelled rockets, everything hinges on how well our rockets are flying. We can't really do a retrospective on the year without looking at these numbers. This has always been true, but what is particularly poignant from 2017 are those 18 launches from SpaceX. That's fully 20% of all launches. Not only that, but they flew a lot of important missions. In 2017 alone they launched four times to the ISS and at least twice for the US military. In 2018 they plan to launch several times for NASA, including to the ISS as well as the Transiting Exoplanet Survey Satellite (TESS). At this point, it's pretty clear that when SpaceX has a good year, the space industry has a good year.
In addition to the 10 successful cargo launches to the ISS this year, there were also 4 flawless crew launches to keep the record of 17 straight years of crewed operations going. NASA stepped up to 4 full-time USOS crew (which includes Japanese, Canadian, and European flyers), enabling even more research. NASA is now in full utilization mode of the ISS. Hundreds of experiments are being conducted each year – from physical science to medicine to biology to botany to astronomy – and each SpaceX Dragon brings up more externally mounted autonomous payloads such as last year's aerosol monitoring payload (SAGE III) and a neutron star telescope (NICER), among others. The ISS has become an important platform for efficiently deploying small satellites, with dozens launched from the Japanese robotic arm last year.
The ISS looks well positioned for the future, with a healthy manifest of crew and payloads coming up as well as the exciting prospect of even larger crews, once Boeing and SpaceX successfully demonstrate flight of their new crew transportation systems. In the meantime, important maintenance has been ongoing to ensure that ISS can operate well into the 2020s. Early in the year a Japanese cargo vehicle, an HTV, brought up a new set of lithium ion batteries, the first in a series of battery replacements over the next few years that will keep the solar power flowing. The batteries were replaced in a series of 3 spacewalks last January. Ultimately, ISS astronauts would complete 10 successful spacewalks last year with no major issues.
The year in ISS was underscored by Peggy Whitson's amazing flight. At 57 years old, Whitson now holds the record for most days in space of any American astronaut in history (665) as well as an impressive 60 hours of EVA time that puts her number 3 all time behind Anatoly Solovyev and Michael Lopez-Alegria. Peggy's 289 day mission was almost entirely unprecedented. Not only was Whitson praised as a "space ninja" by her crew mates for her work onboard the ISS, but even made a wide impression outside of NASA and received a Woman of the Year award from Glamour Magazine. The crews aboard the ISS continue to bring the wonder of spaceflight home to us through their social media engagement and excellent educational outreach events. If you aren't checking this link for the latest pictures from space every morning, you are missing out on a little bit of daily wonder.
The ISS is of course not the only game in town. NASA has very active planetary science and astronomy programs, not to mention similar missions from ESA, JAXA, and other agencies. 2017 saw no new launches of solar system probes (that's right, zero) but many active missions made progress and the only "failure" being the end of Cassini. Mars is incredibly active with 8 missions. Two NASA rovers, Opportunity and Curiosity, are providing a wealth of insights into the wet history of Mars. The most exciting discoveries from those robots are likely yet to come. Two asteroid sample return missions, OSIRIS-Rex from NASA and Hayabusa 2 from JAXA, remain in interplanetary cruise phase. New Horizons is on its way to visit a Kuiper Belt Object next year, Juno remains in orbit at Jupiter, and Dawn continues to explore the largest asteroid, Ceres.
Some of these missions we heard big news from this year, such as Cassini's analysis of the ocean plumes from icy Enceladus. We also gained a new understanding of the winds and storms of Jupiter from Juno. Not to mention the absolutely stunning images we have been treated to from JunoCam.
But overall, space exploration, especially planetary exploration, is a long game. Spacecraft take years to reach their targets and then spend sometimes months or years (at least for orbiters and rovers) slowly collecting the data they need to learn something new from our mysterious solar system neighbors. So there were no splashy launches or touchdowns in 2017. Instead, the hard work from years past continued to pay off with well built spacecraft going about their daily business. 2017 was a great year in this respect. Years like this lay the foundation for big discoveries to come; it's just that we have to wait a bit for the papers to be published. The only real downer this year is probably that Curiosity's drill is still out of commission.
There is of course, a lot more to cover. Spaceflight is a big industry that goes far beyond just the ISS or big planetary exploration missions. New Space, for instance, had a lot of interesting updates this year. In addition to Rocket Lab making their first launch attempt, Blue Origin demonstrated further progress on their New Shepard vehicle as well as their BE-4 engine, Virgin Orbit moved a few steps closer to their first test launch with several engine tests, and Sierra Nevada conducted their first free glide flight in several years.
Then there's astronomy. So much is happening in astronomy these days that it deserves a lengthy retrospective all its own. Here are some highlights of last year in a quick paragraph. Many interesting exoplanets were discovered, such as the fascinating Trappist-1 system with three potentially habitable planets. But Ross 128b is my favorite potentially habitable planet, because it is less than 11 light years from Earth. Let's go! Other exciting developments in astronomy included more neutron star collisions discovered via gravitational waves and also the fascinating cigar shaped something known as 'Omuamua which flew through our solar system from somewhere this past October (more to come on this we hope).
As we look to the future, we can see that there is a lot to learn. The ISS has years of science to conduct – managers are furiously looking for more ways to maximize timelines and target the most likely breakthroughs. Meanwhile there are dozens of worlds here at home in our solar system yet to explore, not just with probes already launched but many to come (launches to Mars, Mercury, and the Moon in 2018). And most intriguing of all, there are thousands upon thousands of worlds to explore out there, beyond our own star.
The more we look, the more we find. And the more we find, the more questions we think to ask. This is the optimistic and worldview expanding impact of science. We are losing the explorers of the last century – Apollo legends Gene Cernan, Dick Gordon, and John Young all passed away in their 80s in the past year. But it's hard not to see the vast opportunity available to the current generation of explorers in this century. Perhaps some day we will look back at this time period as a changing of the guard. It is hard to say without the benefit of hindsight. If nothing else, for those of us that are inspired by scientific discovery and exploration, 2017 showed us that spaceflight can be – and probably always will be – a candle in the dark.
 Previous year in review posts