Down to Earth
The California Senate has voted to replace one of their statues in Statuary Hall in Washington, D.C. with a likeness of late astronaut Sally Ride. Awesome! The bill still has a few legislative hurdles before it is law though.
The user-proposed LEGO model of the ISS has received enough votes for the company to move it to "production review".
United Launch Alliance announced their plans for their Next Generation Launch System (NGLS) which will replace the Atlas family of rockets in a few short years (hopefully). The new rocket will be named Vulcan and will be ULA's answer to the US Congress's order to stop using the Russian built RD-180 engine to launch DoD assets. Not only does Vulcan solve the RD-180 problem by contracting with Blue Origin to develop a new liquid propellant first stage, the BE-4, but it answers SpaceX's innovative attempts at reusability with their own system (see graphic below).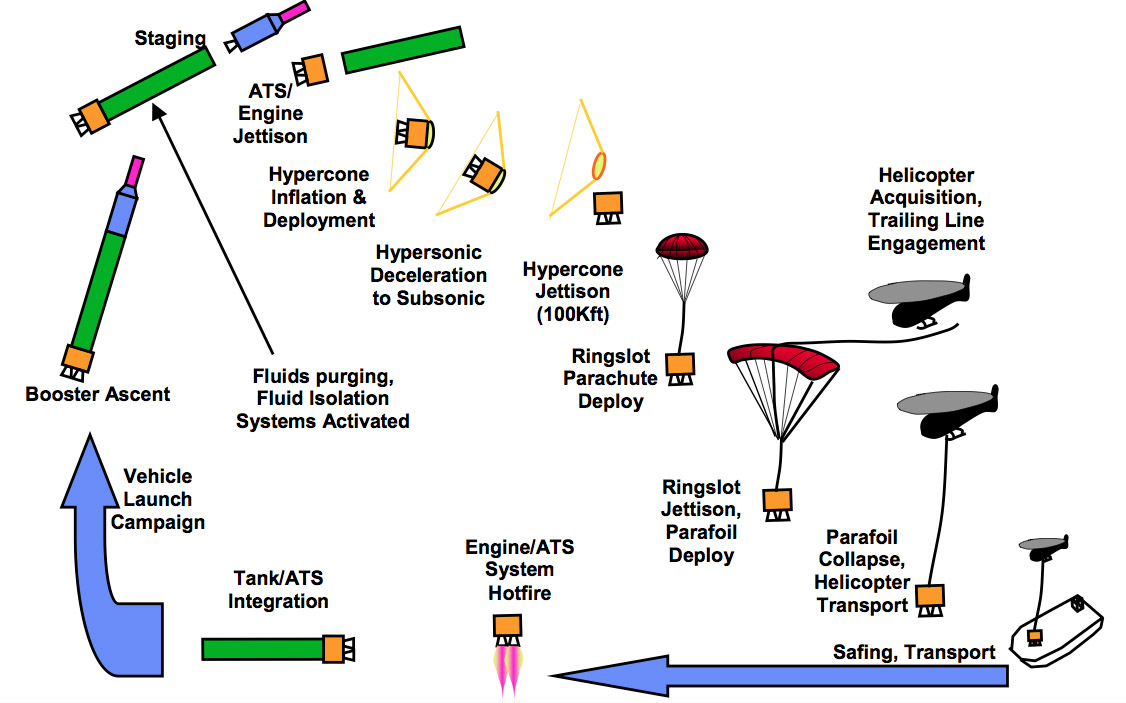 Sierra Nevada Corporation and the Germany space agency DLR signed an agreement to cooperate on future uses of the Dream Chaser space plane.
In Orbit
SpaceX launched CRS-6, another ISS resupply mission, last Tuesday. The cargo arrived safely on Friday when Samantha Cristoforetti captured the vehicle with the Canadarm-2.
Congrats @SpaceX and @NASA team on a successful launch! Watched with my crewmates aboard #ISS. #YearInSpace pic.twitter.com/kVeCevGCjQ

— Scott Kelly (@StationCDRKelly) April 14, 2015
Great job @AstroSamantha and @AstroTerry capturing #SpaceX Dragon this morning! #YearInSpace pic.twitter.com/mECacqaGhV

— Scott Kelly (@StationCDRKelly) April 17, 2015
The Dragon spacecraft has a new ISSpresso machine onboard, built by an Italian company to be delivered while Samantha Cristoforetti is on ISS.
SpaceX's attempt to land their Falcon 9 rocket's first stage on a barge (ahem, the Autonomous Spaceport Droneship) was not successful. Luckily, we got what we were all waiting for: awesome footage of the not-landing! Good job, SpaceX! They will likely stick it next time (YouTube link via Parabolic Arc).
Some SpaceX employees had some fun (honestly, I don't know how they found the time) producing a music video parody of Uptown Funk entitled Launch You Up. Enjoy. (Update: I've been informed that these are not actually SpaceX employees. The video is by Cinesaurus which is in the business of producing parodies on YouTube. It is entertaining nevertheless)
Those guys better get back to work. The next Falcon 9 launch is scheduled for April 27, which would be the fastest time between two Falcon 9 launches, 10 days, beating the previous record of 13 days.
This Hyundai commercial entitled "A Message To Space" may be an ad, but it is still inspirational and I love seeing the ISS on TV. I hope to see more things like this in the future!
And here's the obligatory list of best pictures taken from the ISS astronauts over the last week. They never fail to impress:
I've never heard of #Moa #Cuba but it's a very colorful place from @Space_Station. #YearInSpace pic.twitter.com/eX3gFXIQOS

— Scott Kelly (@StationCDRKelly) April 15, 2015
An unknown river snakes its way through the #Amazon jungle. I didn't notice it until it caught the sun glint. pic.twitter.com/q4L3yCe3SK

— Terry W. Virts (@AstroTerry) April 15, 2015
Salut #Paris! pic.twitter.com/Lmgq09tArT

— Sam Cristoforetti (@AstroSamantha) April 16, 2015
Performed spacesuit torso transplant w/ @StationCDRKelly. 1st time that has been done in space. #SpaceVine https://t.co/wFUEo47XrS

— Terry W. Virts (@AstroTerry) April 18, 2015
.@AstroTerry and I in our #Dragon slaying gear (vehicle entry protection equipment) today. #YearInSpace pic.twitter.com/UVv42Hit5Q

— Scott Kelly (@StationCDRKelly) April 18, 2015
Physics is fun in zero gravity. Spinning chain #SpaceVine shows centripetal force causes circular shape. https://t.co/C28dPDM7uC

— Terry W. Virts (@AstroTerry) April 19, 2015
The future of human space exploration – #Moon and #Mars setting behind one of our solar arrays. pic.twitter.com/45JI8GHaGU

— Terry W. Virts (@AstroTerry) April 19, 2015
Around the Solar System
Measurements from the Curiosity rover indicate that liquid water could exist in the soil at night on Mars. In short, the speculated process requires two key factors: salts in the soil, and then humid air during the day that freezes into frost in the evening. This frost then combines with the salts to make a brine which has a higher freezing point, such that it might melt and exist as liquid. Exciting!
Curiosity also stopped to watch a sunset on Sol 956 last week in order to catch images of a Mercury transit. As far as I have found, the images have not been released yet.
Meanwhile, Dawn is getting closer to Ceres and New Horizons is getting closer to Pluto. Both probes returned some exciting new imagery over the last week, including the first color view of Pluto and Charon from New Horizons.
I just learned about the small probe PROCYON that is heading towards asteroid 2000 DP107. PROCYON was launched as a secondary payload with Japan's Hayabusa-2. Unfortunately, PROCYON is having a bit of a problem with its ion propulsion. I hope they get it fixed soon!
April 10, 2015 7:45 am
One Response to "Weekly Links"