Down To Earth
Some good stuff from NASA's astronaut office this week. First, the members of ISS Expeditions 48, 49, and 50 were announced. The crews have some veterans such as Jeffrey Williams and Peggy Whitson but also some rookies such as Katie Rubins and Takuya Onishi. Then, the Expedition 45 crew gave us this awesome mission promo poster.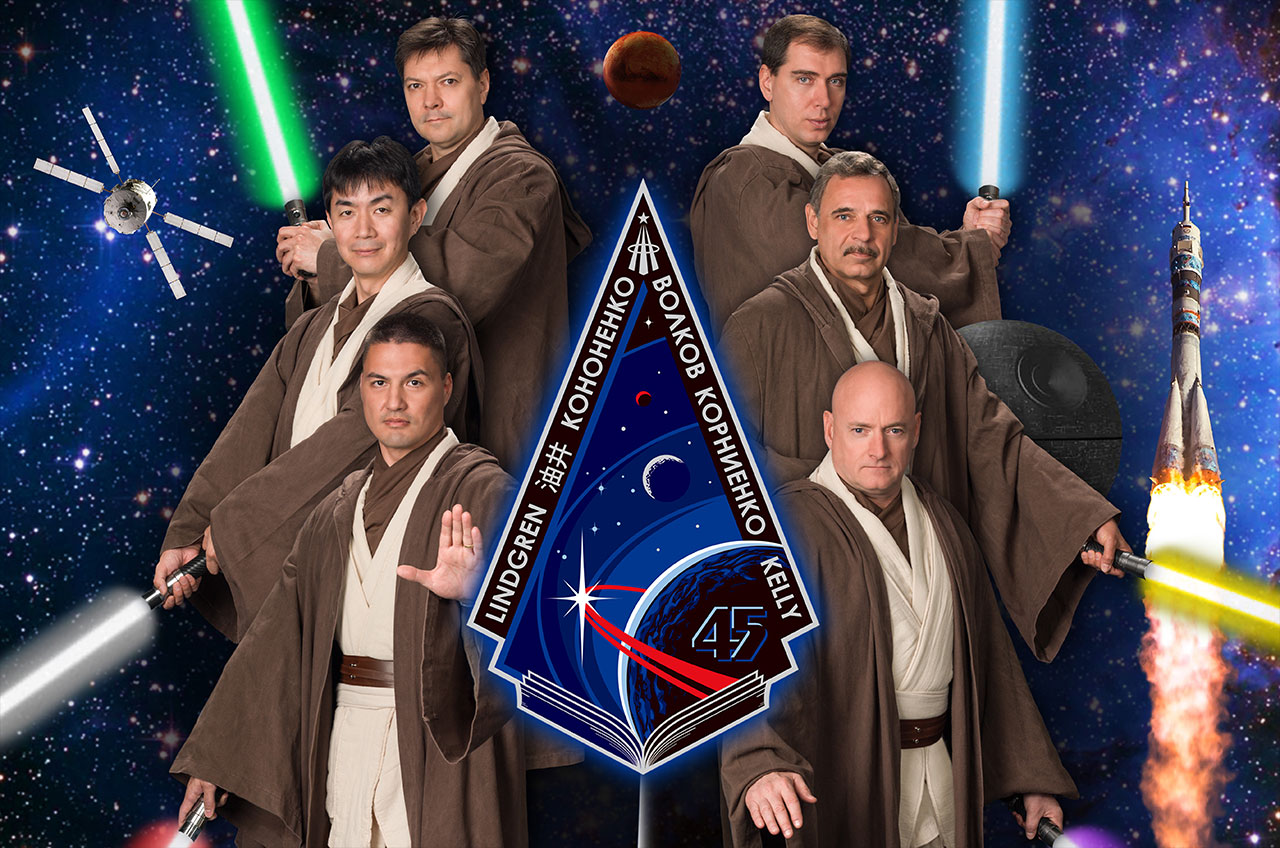 Arianespace scooped some recent commercial launch contracts that SpaceX probably would have liked to win. Interestingly, the two companies each won 7 new contracts last year.
Items from a long-forgotten bag of odds and ends from the Apollo 11 mission are on display at the National Air and Space Museum in Washington, D.C. The bag was found in Neil Armstrong's closet by his widow. You can't make this stuff up!
In Orbit
It has been a busy week in space! On Tuesday, SpaceX brought home a Dragon capsule from the ISS and then a day later launched another Falcon 9 rocket, this time with NOAA's DSCOVR spacecraft. The launch was at just about sunset making for some great pictures, which are all over the internet: Spaceflight Now has some good ones, or you can just browse Twitter.
Relive Wednesday's sunset launch in photos → http://t.co/TTlXYEaKHV pic.twitter.com/JIOwsPcJGm

— SpaceX (@SpaceX) February 13, 2015
Also on Wednesday, ESA launched a Vega rocket on a suborbital test mission of a small reusable spaceplane-like spacecraft (technically a "lifting body"). Watch how fast this rocket jumps off the pad!
#IXV safely aboard recovery ship, in great shape! Heading back to Europe for full analysis. http://t.co/TRovBGUlCS pic.twitter.com/5t39ZXM57L

— ESA (@esa) February 12, 2015
The excitement extended into the weekend, with the departure of ESA's last ATV cargo vehicle from ISS this morning. Here is the final status report from the ATV mission manager from prior to undocking. Unfortunately, the undocking was during orbital night so it is hard to find any good pictures. Here you can see ATV's navigation lights shining in the darkness.
Hey #SpaceInvader, #ATV5 just left #ISS… wasn't that the spacecraft that brought you up here? #space2iss pic.twitter.com/LtUxXO4raR

— Sam Cristoforetti (@AstroSamantha) February 14, 2015
Next week a new Progress cargo vehicle will launch from Kazakhstan taking ATV's place at the aft port of ISS. Then late in the week, Barry Wilmore and Terry Virts will step outside on the first of three upcoming spacewalks.
With such a busy and memorable week for ESA, it would be remiss of me not to share their Week in Images post!
And of course Terry and Samantha continue to take amazing photos of the Earth and post them quickly on Twitter for us to enjoy! Here is your weekly selection:
Not far from Timbuktu in Mali, the river Niger splits in many streams, highlighted by the sunglint. pic.twitter.com/1n1fmTUaDZ

— Sam Cristoforetti (@AstroSamantha) February 11, 2015
Final stretch for the #Ganges river, most sacred river to Hindus.#HelloEarth pic.twitter.com/8xUQdQkYh1

— Sam Cristoforetti (@AstroSamantha) February 13, 2015
There are things that only the darkness can frame. Turn off the light and turn on the imagination. #MilluminoDiMeno. pic.twitter.com/kHzNRZrcFW

— Sam Cristoforetti (@AstroSamantha) February 13, 2015
bright and sunny day in #NewOrleans pic.twitter.com/UZvsj1kfkt

— Terry W. Virts (@AstroTerry) February 13, 2015
#LongIsland pic.twitter.com/2vjHrcX4CA

— Terry W. Virts (@AstroTerry) February 14, 2015
#Boston pic.twitter.com/braEhRU0Of

— Terry W. Virts (@AstroTerry) February 14, 2015
And a #Florida pic after all the snow, to give people hope for spring. Pitchers and catchers report soon… pic.twitter.com/FDUnkczZ8x

— Terry W. Virts (@AstroTerry) February 14, 2015
Around the Solar System
As always, the rover Opportunity is slowly trudging along on Mars. She is approaching "Marathon Valley," the point where her odometer will reach 26.2 miles. At over 11 years, her time won't break any records; but she sure is determined.
Because it's Cool
Two new episodes of Phil Plait's Crash Course Astronomy are up!
February 14, 2015 9:39 am