Down to Earth
In early January, Boeing announced that it will be leasing Orbiter Processing Facility 1 (or OPF-1 to NASA) near the VAB at KSC for launch processing of their X-37B spaceplane, which flies secret missions for the United States military. There are three OPFs at Kennedy Space Center. OPF-3 is already under a lease contract by Boeing for processing of their CST-100 crewed space capsule. CST-100 is one of three spacecraft (along with SpaceX's DragonRider and Sierra Nevada's DreamChaser) competing for commercial ISS crew transport contracts with NASA.
Speaking of the commercial crew contract, Sierra Nevada announced in January that they will be purchasing a United Launch Alliance (ULA) Atlas V rocket for an unmanned test flight of the DreamChaser in 2016. The launch would be from existing ULA launch sites at Cape Canaveral Air Force Station in Florida.
Also launching in 2016 is the first part of the European ExoMars mission. The core module of the European Space Agency's (ESA) ExoMars Trace Gas Orbiter was delivered in Germany last month. ExoMars is a flagship ESA mission to explore Mars, which will consist of an orbiter, a lander, and a rover.
A LEGO model of NASA's Mars rover Curiosity was launched in early January.
Since operations at KSC are ramping up for new spacecraft (like the Orion flight this fall) the VAB will be closing for tours on February 23rd. I am very happy to have seen space shuttle Endeavour in the VAB back in 2011.
The small town of Webster, adjacent to NASA's Johnson Space Center here in the Clear Lake area of Houston, is planning an ambitious visitor center that will pay tribute to America's space program and feature an 80-foot tall astronaut statue.
Former astronauts Jerry Ross and Shannon Lucid will be inducted into the astronaut hall of fame this year.
In Orbit
Up on the ISS, the first official Orbital Sciences' Cygnus cargo mission arrived on January 12th. The private spacecraft is expected to stay another week or two before departing and burning up in the atmosphere.
Meanwhile, SpaceX had another successful Falcon 9 version 1.1 launch, putting a commercial payload into geosynchronous orbit. Their next launch is a Dragon cargo spacecraft on its way to the ISS, with a plethora of other launches on the manifest for this year. The ISS flight was recently moved to a March 16 launch.
Around the Solar System
On Mars, a big anniversary happened last month. January 4th was the 10-year anniversary of Spirit landing at Columbia Memorial Station and just a few weeks later Opportunity landed at Eagle Crater on January 28, 2004. Today, Opportunity is still trucking along at Endeavour crater, after driving over 35 kilometers since landing. Pretty good for a rover expected to live 90 days and drive maybe a kilometer or two.
There were a lot of NASA media events and discussions of the missions online. Universe Today put together a list of the top 10 discoveries made by the MER rovers. The Smithsonian National Air and Space Museum is running an exhibition on the MER rovers through September.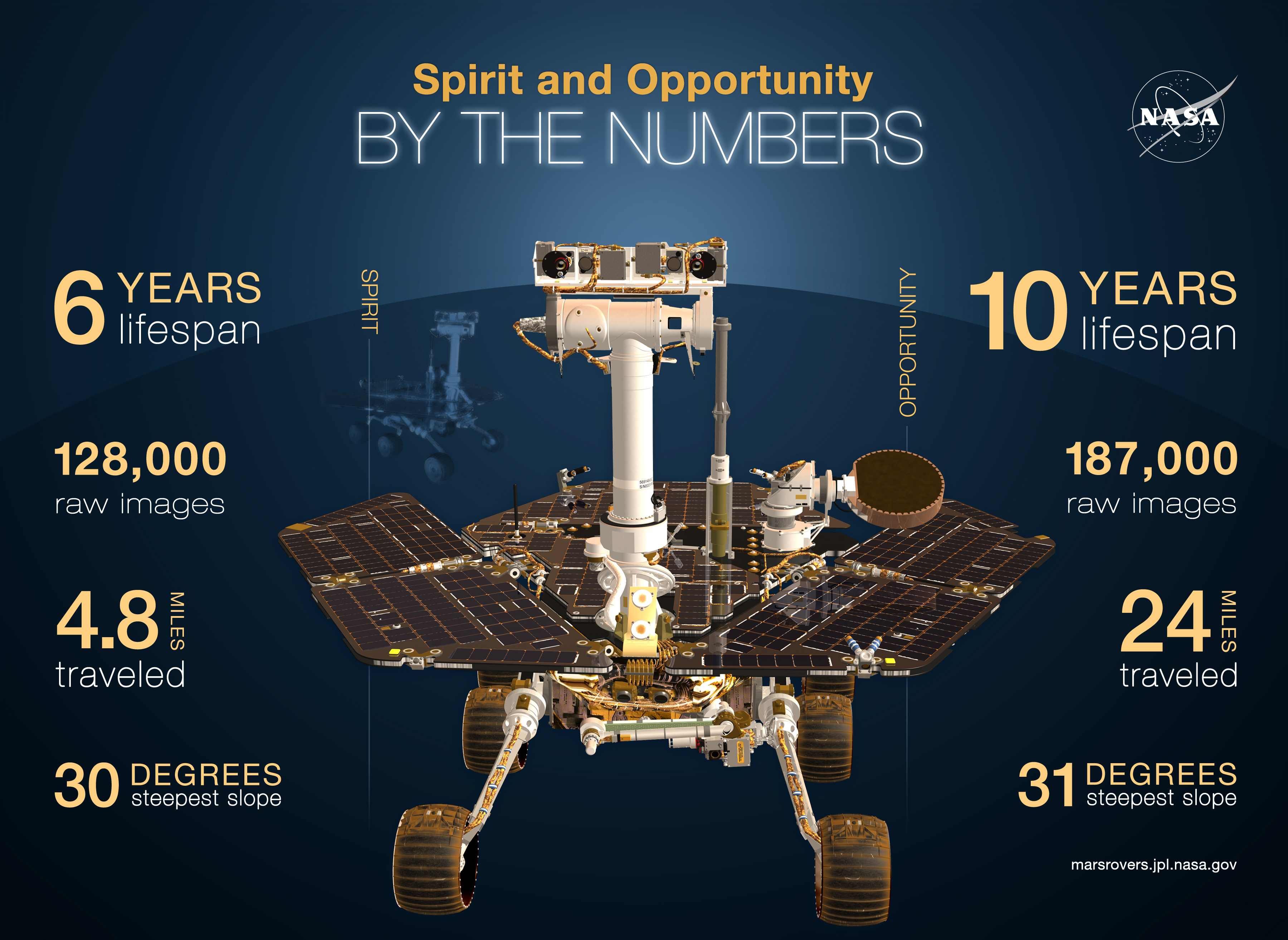 For some nice retro entertainment, here's the landing video from 2004. Most of the exciting stuff is in the first minute or two, so you don't have to watch all 8 minutes.
Opportunity is currently on the rim of Endeavour Crater – where she has been exploring since 2011. She has had some mild winter weather and is expected to make it through the solstice coming up in February. While exploring some rock outcrops at her winter stop point, Opportunity did a bit of a piroute and noticed something strange. In an area that had already been imaged by the rover, sat a new mysterious rock.
Leading theories initially were that it could be a fallen meteorite or ejecta from a meteorite impact somewhere nearby. Other theories are that it was simply dislodged by Opportunity's wheels and simply "kicked" or dropped into the new location. An interesting mystery for the 10 year anniversary. Rove on, Opportunity!
Meanwhile on the other side of Mars, the younger but much larger Curiosity rover is navigating the "Dingo Gap" on its way to Mount Sharp and was currently parked atop a sand dune when I started to draft this post early last week. Nice view. Since then, Curiosity has successfully made it over the dune into the "valley" beyond. Curiosity is getting closer and closer to Mount Sharp, but spending lots of time stopping to do science along the way.
While waiting to cross the dune last week, the rover team released a stunning image of Earth in the Martian sky, as photographed by Curiosity on a clear twilit day. Beautiful.
Speaking of rovers, on the moon, the Chinese rover Yutu headed into its second lunar night in late January. Unfortunately, reports from the Chinese space program are that the rover suffered some kind of mechanical anomaly and is in danger of not surviving the two week "night". It seems that some of the mechanical systems that are supposed to fold up the solar panels to provide thermal protection for sensitive components did not work properly. There has been no new news since the first reports more than a week ago. We will likely have to wait until "morning" on the moon (sometime next week) to know the rover's fate.
Farther out in the solar system, the European comet-chasing spacecraft, Rosetta, has been woken up from hibernation. The spacecraft will be approaching comet 67P/Churyumov-Gerasimenko later this year and in an exciting and challenging mission will drop a lander onto the comet's surface.
Out There
A new sensitive camera on the Gemini telescope in Hawaii took an impressive infrared light image of the distant planet Beta Pictoris b. This kind of direct imaging is certainly the future of exoplanet astronomy.
The NEOWISE mission (a re-purposing on the WISE infrared orbital observatory) has found its first near-Earth asteroid.
Astronomers at the European Southern Observatory were following up on an interesting binary star system, two brown dwarfs only a few lightyears from Earth, when data suggested that the star system contains a third companion, a jupiter-mass planet.  More study is expected to confirm the planet's existence.
February 8, 2014 4:45 pm