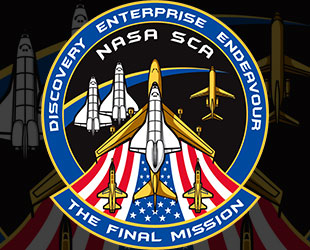 Tomorrow morning the Space Shuttle Discovery (OV-103) will leave the Kennedy Space Center in Florida on the back of her modified 747 carrier aircraft on her last flight (check out the airplane). Discovery will arrive in the DC area for what is likely to be a spectacular flyover at 10-11 AM (ish). Weather in Washington looks reasonable for the flight. There is a public event at the Smithsonian in Dulles to celebrate her arrival – I wish I could go!
I may not be able to be there in Dulles but on Sunday morning I had the privilege of having this view of Discovery being prepped for departure at the Orbiter Mate-Demate Device at the Space Shuttle Landing Facility at KSC.
Even after 3 years at this job and well over a year working in the ISS Flight control Room I'm still a fan boy – I take photos like a tourist all the time. When I took this shot I didn't intend for it to have special meaning – but when I looked at it at home some symbolism happened to jump out at me. I got the shot just at orbital sunrise for the ISS, which you can see on the screen on the right. With the sun setting on the Space Shuttle program, the sun is still shining on the ISS program, and the sun is hopefully rising on a new era of the Space Age. Just today the NASA Flight Readiness Review (FRR) gave approval for the SpaceX Dragon launch on April 30 to dock to the ISS.
Tomorrow at Dulles there may be a lot of people thinking about the past to celebrate Discovery's accomplishments, and she deserves it. But I will be in the Mission Control Center tonight and tomorrow night doing my small part to help look to the future. Let's not get so distracted by the glory and excitement of what the Space Shuttle program was that we get pessimistic about the future. Old things we love pass away but new things come along.
April 15, 2012 9:00 pm
One Response to "Something old, something new"